Source: zephirartistry.tumblr.com/
The warm weather has finally sprouted and that means its time to show off your beautiful skin. Makeup doesn't have to be a complicated art form. We have all the rights tips to help you recreate the perfect 2013 Spring/Summer wedding makeup look for your wedding day. This seasons 2013 Spring/Summer wedding makeup trends are flirty, bold, and youthful. Whether you are the fashion forward bride or the classic romantic these new makeup trends will having looking radiant and perfectly polished as you walk down the aisle.
Source: zephirartistry.tumblr.com/
Nude lips and flawless dewy skin are glorious options for a summer beach wedding. The era of lashes a black winged liner are back for the retro bride. Bright smokey eyes are breezing down many aisles for the dramatic bride who embraces full color washes to accentuate her eyes. Which ever 2013 Spring/Summer makeup trend tickles your fancy we are absolutely positive you will look divine on your big day.
Trend: Barely There Makeup
The nude look is probably a favorite look for most brides especially with the warm weather and the constant requests of a groom who just wants his bride to look like her natural self. However this look requires an expert professional to execute the look because of the flawless detail needed to make the skin appear supple, radiant, and contoured without evident layers of makeup. Often times makeup artists like myself use high tech primers and foundation tints to layer the skin while keeping its glow. It is essential to have as much clear skin as possible because of the sheer liquids used on the skin. The products used for this look tend not to conceal problematic skin as effortlessly as cream and powder, due to the transparency of the liquids. So brides-to-be, start your facial regime a year before the wedding and stack up on fruit and water to assure radiant skin. I love to add loads of mascaras to the eyes and use sheer bronzers to contour the face and highlight the cheekbones. Finish the look with a soft pink or peach lip with a little gloss and you're all set!
Barely there makeup via pinterest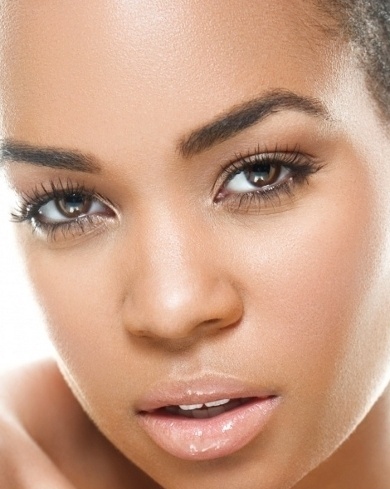 Barely there makeup via pinterest
Trend: Bold Lips and Retro Liner
This makeup look as recycled itself into the latest once again after the likes of Marilyn Monroe and the Mod 60's. But this chic look almost never goes wrong and can work for any bride whether you choose to do it matte or dewy. This makeup trend is definitely less traditional and more bold than an average bridal look and adds just the right edge for every bride. Pair this look with a great lash and a fuller brow for a more contemporary look. Instead of a red lip try a bold magenta, coral, or even purple to switch things up a bit, its summer!
How to wear purple lipstick via pinterest
Source: thestyleandbeautydoctor.com
Trend: Pastel Smokey Eye
We are used to seeing smokey eyes for brides depending on the time or theme of their wedding, but this season makeup artist tried nontraditional color for the eyes to add a different feel for the smokey eye. You can still have much eye drama without the dark colors of navy, black, or gray. Have your makeup artist try pastels like lilac, mint green and baby blue, with a touch of metallic for a statement. If you are still not feeling those colors you can always layers shades of mocha, chocolate, and bronze to achieve the same effect.
Sourec: themanesource.com
Spurce: beautylish.tumblr.com
Remember take some risks with a skilled professional and have fun!! Practice and experimenting makes perfect!