Ann-Janelle and Kevin's love story is not your typical workplace romance. Their initial meeting was definitely more business than pleasure, as Ann-Janelle was Kevin's boss when they first met. " I was actually his supervisor at the time, I remember he was always trying to pursue me but I wasn't having it," said Ann-Janelle. "I wouldn't give him the time or day, until one day something in me decided to give him a chance. We went out for lunch and we hit it off right away, the chemistry we had was undeniable." Ann-Janelle and Kevin became inseparable and embarked on a journey to true love! The two celebrated their union with a Summer wedding, beautifully captured by Samantha Clarke Photography!
Bride: Ann-Janelle Smith, 34, Bank Manager of Customer Service
Groom: Kevin Smith 33, Logistics Management
Place of residence: Toronto, Canada
Wedding date: 7/25/14
Wedding location: Toronto, Ontario
Honeymoon Destination: Bahamas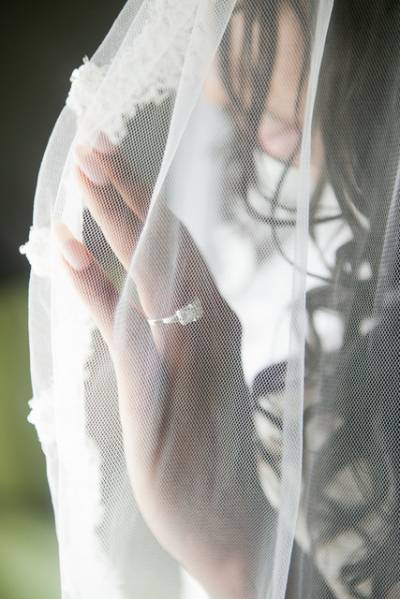 Engagement story:
We made plans to go out for dinner to celebrate Kevin's new promotion at work, little did I know Kevin had other plans in store. He made reservations at the same restaurant we went to on our first date and even requested we sat in the same seats. While at dinner we reminisced about the past and even talked about the future, he started getting extremely sentimental and started expressing all the things he loved about me and before I knew it he was down on one knee asking me to marry him, I instantly started crying and said yes.
What makes your love special?
Our love is special because we have amazing chemistry. We have the most respect for each other, we love each other wholeheartedly and we have the most fun together, we make the best out of every situation.
What are you most looking forward to as a married couple?
Building a strong family unit, and growing old together.
From the Bride:
At some point at your reception on your wedding day take the time to just look at all your guest and appreciate all the people and all the love in the room and realize that they are there to celebrate your love and your union.
Advice for a Bride/Groom on their wedding day:
Our best advice for the Bride and Groom on their wedding day is to put God first on your special day and he will work out whatever kinks or hiccups that may occur during the day. Most of all don't stress, enjoy every single moment of the day.
Congratulations to Ann-Janelle and Kevin! We wish you many more years of wedded bliss!
Vendors:
Photographer:
Ceremony location: Revival Time Tabernacle
Reception location: On The Rox
Bridal gown: Avenue 22 Bridal
Cake: Jamila Fabian- Sommersol
Hair: Glamor Cuts
Makeup: Nadia Stephens
Flowers: Bloom Theory
Stationery: Golden Apple Graphics
Curated by our Wedding Features Editor, C.K. Alexander. C.K. is the owner and founder of Love Ink and Brownstone Bridal. Keep up with C.K. on Twitter here: @Love_Ink