There's nothing quite as elegant as the combination of a minimalist vibe with luxe details. This styled shoot did just that with a simple color palette of white, grey, and pops of greenery along with stunning décor. Read more about the vision behind this shoot put together by Event Planner Cory LaNora of Events by Cory LaNora, and a team of talented vendors:
"As a native plant to Africa, baby's breath symbolizes compassion, sincerity and everlasting love. The pure meaning of this plant inspired me to create a beautiful styled shoot using it as the main attraction. From ceremony to reception, all of the décor was chosen to exude simplicity, luxury and purity."
Shoot location: The East Angel, Los Angeles, CA, United States
Shoot theme/motif/inspiration: Everlasting Love – A baby's breath inspired wedding
Color combinations: White, grey & greenery
Favorite detail: The dramatic, yet simple ceremony structure of baby's breath & the dessert area (the cake seemingly floating on a bed of baby's breath)
Décor Details
Linens: soft grey chiffon table runner
Centerpiece Description: clear cylinder vase holding a cloud of baby's breath on top with smaller hurricane vases on both sides containing baby's breath and floating votive candles
Place Settings: White-trimmed, clear dinner plates, white-handle/ silver top silverware and elegant wine, champagne and water glasses
Favors: silver trimmed heart-shaped cookies with baby's breath ornamenting the corners
Please share unique details from your shoot:
Hints of baby's breath were used in many details of this shoot, including the brides head-piece, the hurricane vases lining the ceremony aisle and the customization of the cookies.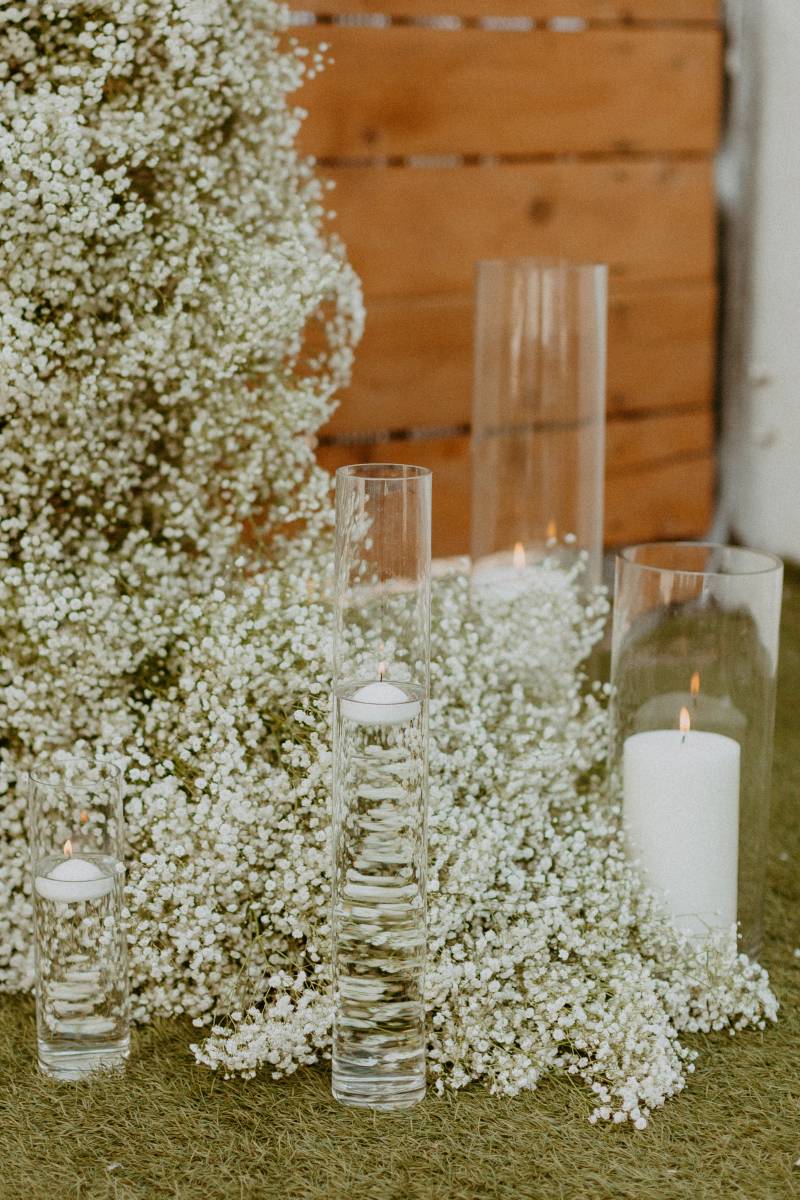 We are in love with this gorgeous styled shoot! Let us know your favorite detail in the comments!
Sources
Events by Cory LaNora|The East Angel|Montana Crumlish Photography|Event City LA|Balloons by Beverly|Bouquet LA|Here comes the bride SD|Friar Tux|LB Custom Wood|Bake Up|Shaunis Sweet Shop|Trifecta Beauty LLC