Achieving luscious and defined natural hair is easier than ever thanks to the geniuses at Miss Jessie's. And with five new innovations added to their beauty arsenal, we couldn't wait to give this brand a whirl. Our PR package included a moisturizing cream, oil, gloss, refresher spray and edge control gel – all of which are designed to style curls, kinks, waves and every texture in between.
After an impromptu at-home hair bleach and color session and a subsequent baecation in Aruba, my hair was in desperate need of TLC. Can these recent additions restore my hair to its previous glory? I put this African American hair care staple to the test for 30 days to find out if it is worth the splurge as you prepare for your wedding day and beyond. Here are my findings:
As someone that is a lover of honey and has a full head of curls that range from 3b to 4a, the new Miss Jessie's Honey Curls feels like it was made just for me. With sweet almond oil and of course, Mother Nature's nectar blended into a lightweight cream, textured locks are sure to receive the hydration and definition they deserve. Unlike other styling products out there, Honey Curls is made with emulsifiers — which is a fancy term for saying the oil its composed from can actually mix with water, so hair can be moisturized all day long while you're out and about.
Now, in terms of consistency, I generally prefer the heaviest cream or butter I can find, but I'm glad to say Honey Curls is still a win for me. Squeezing the product into my hand was a breeze and I couldn't help but notice it had an almost whipped feeling. Moreover, spreading this conditioning cream was as easy as spreading butter on warm bread. What was my end result? Incredibly soft and moisturized hair that coils the way it should and looks shiny to boot.
If you have thick, long and porous hair like me, you might need to use a little more product than you think necessary. My tip: section your hair in half after washing, and section each half into four so you have a total of eight sections. After you're all sectioned out, apply an equal amount of product to each section based on your individual length and density. Once you have all your Honey Curls in, you can either let your hair air dry or use a diffuser to get queen bee approved tresses.
Before I go on to speak on the Miss Jessie's Grow Strong Mafura Hair Oil, I want to preface my review by saying I'm a believer in the LCO method – that's liquid, cream, oil for the uninitiated. Now, I know there are some who prefer the LOC method (liquid, oil, cream), but for the sake of this product review, I think it's important to share the order in how I applied these products. But I digress, when it comes to this oil, your hair will be treated to a versatile blend that's sourced from mafura seed butter, soybean, avocado, castor, jojoba and argan seed, sweet almond, coconut oil and more. Therefore, this nourishing formulation can be used as a sealant or scalp and hair treatment. Additional benefits include encouraged hair growth and minimized split ends.
Since I have colored treated hair, I like to use the Grow Strong Mafura Hair Oil on my delicate ends to strengthen and add some natural luster. It pairs really well with the Miss Jessie's Honey Curls and all I need are a few drops to fortify these fragile strands. Applying the oil was a pleasant experience and it never felt greasy or heavy in the palms of my hand. In fact, this oil is so delightfully lightweight that I found myself tempted to massage the rest of my skin with it. Luckily, I have some semblance of impulse control and only rubbed the product on my scalp as directed. For reference, my scalp tends to be on the drier side and this oil appeared to alleviate that issue. I personally find the dropper super convenient for this reason; just a few squeezes and you're able to instantly hydrate parched spots.
The only time I really use a gloss for my hair is when I've traded in my curls for straight locks — which is literally only once a year. With so many hair products containing moisturizing oils, it never feels like a "worth-it" investment. However, Miss Jessie's Gloss So Good has proven me wrong. It comes in a convenient and travel-friendly spray bottle that allows you to spritz on some shine whenever you think you need it. Though, I'd advise to not overdo it since this mist is designed to be the last step in your styling regimen.
I exclusively used Gloss So Good on my curly hair, so I cannot attest to how it feels on straightened or relaxed tresses — but after taking a look at the ingredients, there's no trace of water so hair shouldn't revert if you've undergone a temporary style. However, I'd recommend doing a test patch before applying it to your whole head.
What I like most about Gloss So Good is that it provides adequate smoothing and sheen if I happened to miss a section of hair with my prior styling products. And it did this without leaving an icky silicone coating as I've experienced with other glosses. In fact, Gloss So Good is enriched with an abundance of natural oils that are optimum for hair health, such as safflower seed oil, olive fruit oil, sesame seed oil, tamanu oil, primrose oil, argania spinosa oil and more.
I know what I'm about to share is going to make some readers revoke my "black card," but I have no care in the world for edge control gels and find the baby hair look strange overall. I don't knock anyone that likes to show off their edges, however, the aesthetic just doesn't work for me and my face. If you have frequent flyaways or prefer a sleek hairline, the Miss Jessie's Hold Me Down is an edge control gel worth looking at. It's formulated to provide a flake-free hold that can last all day. Your hair will not only be tamed with this gel, but it'll also add a non-greasy shine thanks to its coconut and argan oils. Your tresses will also be fortified with the Hold Me Down's hydrolyzed silk protein.
When I tested out the Hold Me Down on my edges, the gel worked as expected. It spread on easily without leaving questionable residue or flakes (and thankfully it is clear). Although, it applied easily, I never got a sense that it fully dried. The consistency remained a bit on the waxy side, which wasn't an unpleasant experience – it was just little different from what I'm used to. I attempted to apply the Hold Me Down to the rest of my hair for curl definition, but it was a tad bit too heavy for an application such as this. However, I won't knock this gel for not getting high marks in this area since it is intended for your edges exclusively after all. I'm at least pleased to see this gel stays true to its name in the hold department and see myself using this gel in the future when I style my hair in twisties or flexirods.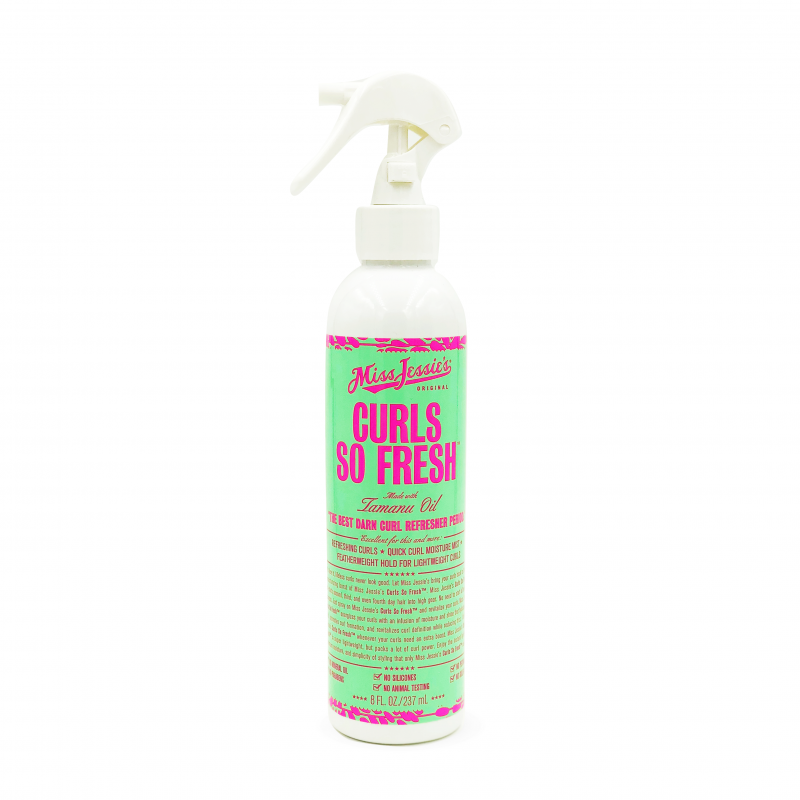 Last but not least is your new secret to reaching second-day hair and beyond. I'm talking about the Miss Jessie's Curls So Fresh, which is a moisturizing spray that's meant to extend your hairstyle. Unlike the Gloss So Good, the Curls So Fresh is designed to deliver next-level hydration that penetrates deeper for revitalized coils. All you need are a few spritzes to infuse restored shine and moisture into your locks thanks to this spray's silk amino acids and tamanu seed oil. If you have a busy schedule like myself, Curls So Fresh is a godsend when it comes to helping you spread out (the sometimes dreaded) wash day.
I usually don't have an issue achieving defined week-long curls after my wash-and-go because I'm a dedicated satin bonnet queen. However, there are times when frizz strikes. And this is when the Curls So Fresh comes in handy. The application is simple since it comes in a convenient and ergonomic spray bottle, and if I'm being really honest, I'm more partial to the Curls So Fresh packaging than the gloss. The squeeze handle just makes it easier to distribute product while its built-in lock can be switched on and off to prevent unintended spraying or vice versa. Though, this is just my opinion and personal preference. Other than these few minor details, the Curls So Fresh revived my curl formation whenever they decided to go awry.
At this point, you probably think I sound like a broken record saying all these products are moisturizing — however, in the case of Curls So Fresh it was super apparent that this spray is an overachiever in the bunch. I say this with conviction because the proof is in my immediate before and afters. Curls that looked stretched out and scraggly shrunk up after being coated in this refresher spray. And if you're in touch with the natural hair community, you know that shrinkage is the number one sign of healthy, hydrated hair. When I wasn't grabbing this product in between wash days, I found myself using a few spritzes after applying Honey Curls for an ultra-defined style.
My Bottom Line
All in all, I think Miss Jessie's has outdone itself with these new additions. As a curly girl, these products did wonders on my textured locks – especially when they were used in conjunction. If I had to pick my favorites, it would definitely be the Honey Curls, Grow Strong Mafura Oil and Curls So Fresh. Though, I'll admit Gloss So Good and Hold Me Down are worth the splurge if you want a full-fledged hairstyling regimen.
Which new Miss Jessie's product are you eager to try? Let us know in the comments below! Also, keep an eye out for our exclusive interview with Miko Branch in our upcoming Fall-Winter 2018 issue of Black Bride Magazine, which is set to launch on Christmas Day!
At Black Bride, we're here to help you navigate the bridal market and beyond. All of our featured picks are independently selected and curated by the editorial team. If you buy something we link to on our site, Black Bride may earn a small commission. This helps us keep our site and magazine running along with organized events. We thank you for your support.
Sources