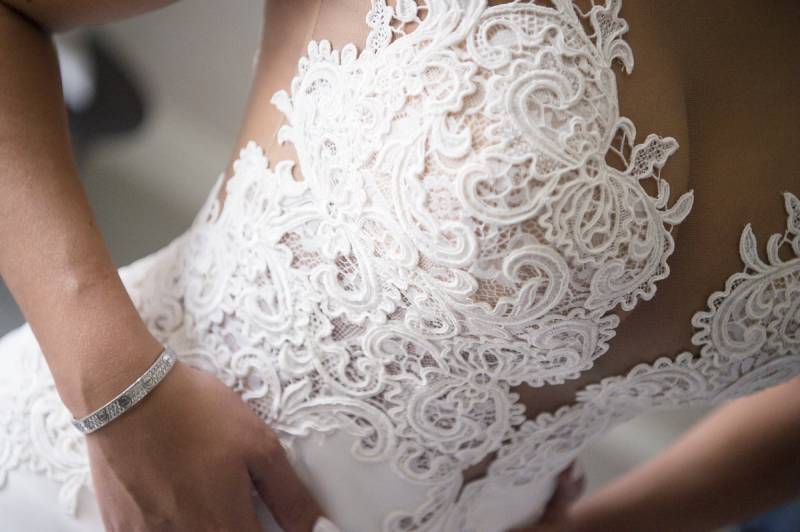 We're not sure who made up the size chart, but for women of color, who have curves and are just shaped uniquely, wedding dress alterations can truly take any dress from normal to extraordinary. Besides, it's not everyday you get to wear the dress of your dreams. Many brides will agree that the perfect dress will change your life forever if it fits like a glove. But, when the dress doesn't fit just right, it can ruin the entire wedding experience. Whether the bust is too loose or the draping falls away from your figure, tailoring your wedding dress to "fit" perfectly to your body is an absolute must. Here are five questions you should definitely ask a seamstress.
Are you capable of doing the alterations?
In theory, a seamstress should be able to customize any garment, especially given the fact that they are paid to sew. However, we know that's not always the case. Therefore it is essential to research a seamstress who can handle your precious wedding dress with care. First things first, your seamstress should have experience working with wedding gowns. Yelp is a great resource for scouting out the best seamstresses and tailors in your area. We advise not to go to the first establishment that says "cheap seamstress." Even if your dress was a bargain, one seamstress can take a dress apart and have no idea how to put it back together with the right fit in mind!
Ask a seamstress if they can show before and after pictures.
Check yelp for the businesses reviews or the company's website for work samples. If your dress is vintage or one-of-a-kind, the seamstress should have some kind of knowledge of the garment's fabric make-up, which you can then ask if they ever worked with delicate fabrics before, if so, you want proof. This is especially important when an heirloom is considered. After all, it's priceless!
How many fittings will I need?
This is crucial to know so that you can plan your schedule around these very important doctor appointments. You don't want a fashion emergency on the days leading up to your wedding day. Usually, wedding gowns require 2-3 fittings to accommodate basic alterations. Even if your dress requires a simple alteration to a single hem (1 layer of material/fabric), shortening a dress can sometimes change the physicality of the dress. Just imagine altering a halter dress into a sweetheart neckline… it may take weeks! As a rule of thumb, set aside enough time to get all of your requests (and concerns) addressed appropriately.
How much time do you generally take for each fitting and execution?
Perhaps the most important question you will need to ask is how fast ( or slow) your chosen seamstress works with garments. If the seamstress is backed up with clients, that can be a good or bad thing. What if the seamstress overbooks and totally forgets about your fitting appointment? Generally, a thorough seamstress will need about 3-10 days for execution. A fitting only takes less than an hour, sometimes even 10 minutes. Keep in mind, seamstresses can often tell by "eye-sight" what needs to be done to a garment, like how many inches need to be taken off the dress to fit your body perfectly. However, the wedding diet is real for many brides. The associated activities can drastically affect how many fittings you'll need. So make sure to take notes!
Does the pricing include everything I want done?
Having an alteration done on your gown is a luxury that requires money. Alteration rates can get pretty pricey. In some cases, alterations can be more expensive than the actual dress. A basic alteration at a notable establishment can start at $400 and increase with detailed customization. If your alterations cost less than $100, this should be a red flag. Everything that's inexpensive is not always the best quality.
Melissa Henderson is an international fashion and lifestyle writer who lives in New York City. Follow her on social @melspainn.
Sources