Ariel and Chene attended the same high school, and Chene made multiple attempts to get Ariel's attention with no luck. That all changed when the two were reintroduced by a mutual friend after a homecoming pep rally. This time, they exchanged numbers. It only took a few short months of long phone conversations, Starbucks dates, and basketball games for the couple to fall in love. After nine years of a long-distance romance the couple's love finally found home when they settled in their careers in South Jersey. In preparation for their May 2021 wedding, Ariel and Chene had a gorgeous engagement photo session with Sheronda Seawright Photography behind the lens.
Bride: Ariel Pryor, 27, Regional Communications Leader
Groom: Chene Phillips, 28, CEO Righway Capital Solutions and Zone Manager
Place of residence: Philadelphia, Pennsylvania
Engagement Shoot Location: Philadelphia Art Museum
Wedding date: May 15, 2021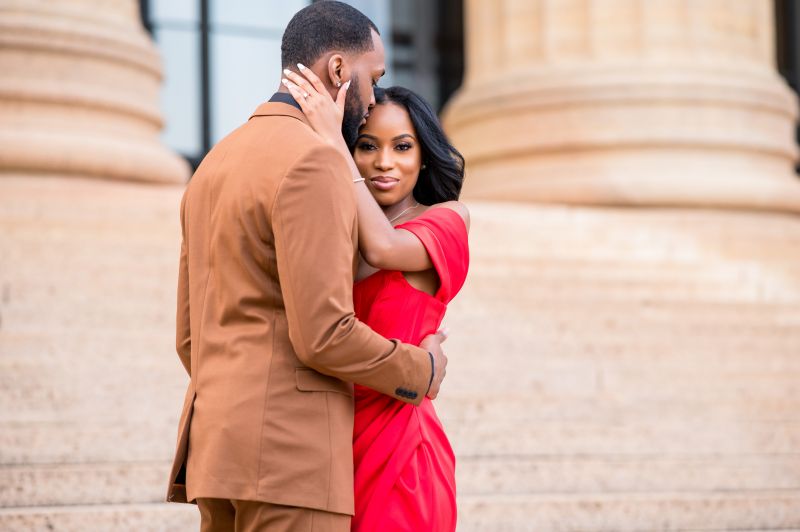 Engagement story:
On December 1, 2017, our long-distance relationship came to an end when our careers allowed us to live in the same city, and we decided to move in together. To our surprise, that same month we discovered that we were expecting our first baby. Chene recommended that I travel to Detroit to see my family for Christmas. He would then visit his mother in Charlotte since this would be the last time we would spend Christmas apart and with our families alone. On December 28, Chene met me in Detroit and insisted that we go on a date. I tried everything to cancel but, finally agreed to go to a restaurant.
After we completed our dinner, he mentioned that he had a surprise for me while guiding me to the restaurant's backroom. A hostess opened the door for me, and 50 of our close family and friends welcomed me into the room with their cameras flashing. I instantly knew that this was the moment I had been waiting for, and I. CRIED. LIKE. A. BABY. When I finally turned around, Chene was down on one knee and trying to find my voice in the midst of all of my tears, I said YES. It was amazing!
For the Groom: Walk us through the behind the scenes of creating this special day
Ariel is so nosey, so it is a real miracle that I could genuinely surprise her. I knew that she would be moving in with me, so I tried to plan as much as I could ahead of time. I purchased her ring in September and had my dad hold it so she wouldn't find it. I then invited our family and friends to the proposal dinner in October since some of our family had to fly in from out of state. December came, and we found out about the baby two weeks before the proposal. At that very moment, I knew that this proposal would be the icing on the cake for her.
What makes your love special?
Him: From high school until now, we have evolved and changed as individuals. Through all of life's changes, our love has remained the same. Her loyalty is second to none.
HER: We have dealt with extreme separation while being long distance for seven years. We've also dealt with extreme closeness while being new parents living in a state without family or friends. These instances come with many challenges that most relationships can't handle, but our love has withstood it all. We can get through anything together.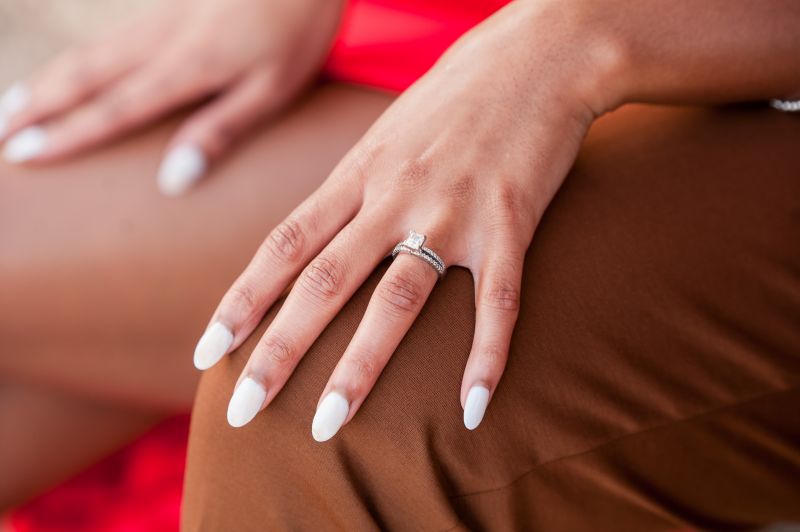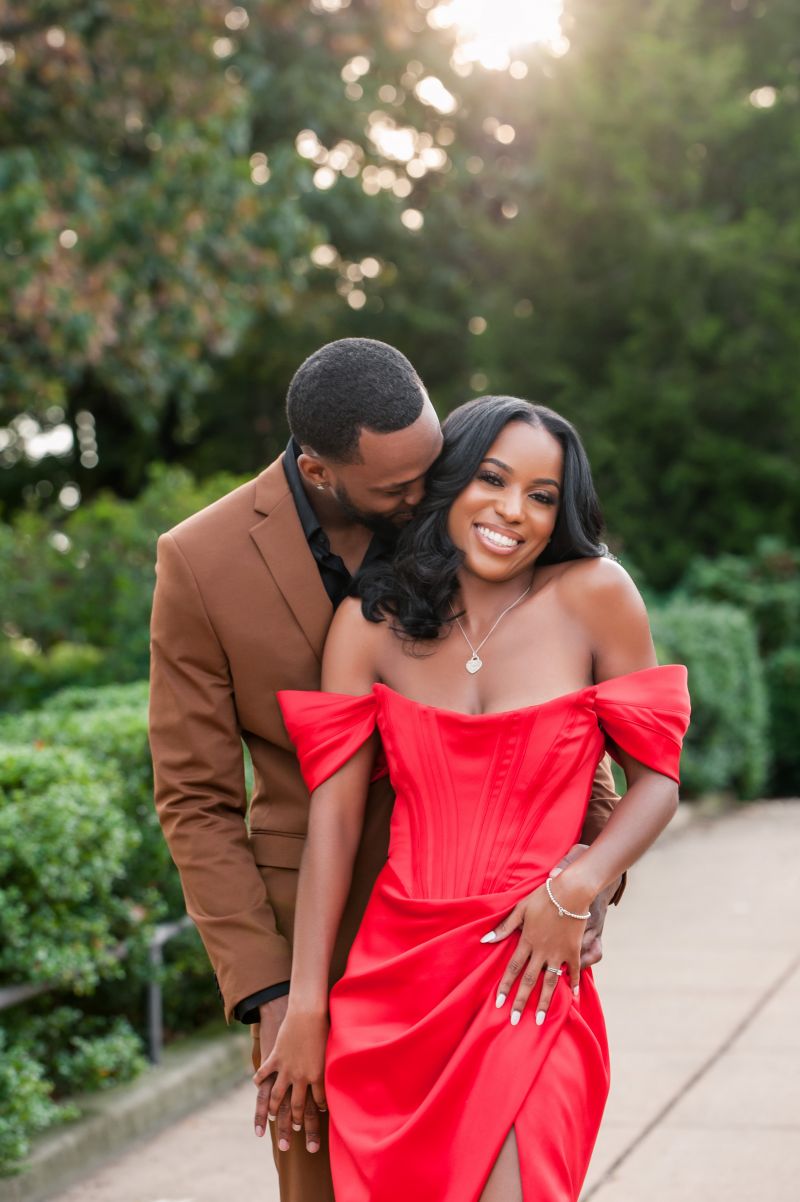 What was the theme of your shoot?
We wanted to capture our love and strength as a couple. We have been through so much over the last 10 years and we are still standing. Philly is where we built our family so the Rocky steps were perfect!
Were there any memorable moments during the shoot?
Getting feedback from Sheronda (our photographer) about how great we were doing. We both went into this shoot nervous. We are so happy they came out exactly how we envisioned them.
What are you most looking forward to about your wedding?
We both are looking forward to finally being married! Hence our wedding hashtag #FinallythePhillips lol
Have you started planning your wedding?
Yes, wedding planning started but because of COVID things have changed drastically. We will be having our wedding ceremony at Ariel's grandfather's church and having an intimate dinner party (reception) because of COVID. We are going for a Fairytale Romantic theme that highlights our love story.
Congratulations to the happy couple! We wish them a fruitful marriage and many years of wedded bliss!
Sources
Sheronda Seawright Photography|House of CB|Ryan Skye|Makeup by Gorpu