Cimani and Kerry met in 2014 just when she started a new job in her career field. One day as she walked away from the time-clock, she saw Kerry working in a storeroom. She thought to herself that she'd never seen him before. Later that day, he was working in the front office department, the same department where she worked. By this point, they passed each other a dozen times. Kerry was the observant bystander out of the pair. Their love story officially started a week later. Kerry began to come to Cimani's phone operator station frequently and made small talk during his breaks. Ms. Mary, the matriarch of the phone operator office frequently commented on how nice he was and as time went on, they became more invested in getting to know each other better. Cimani would always tell Ms. Mary she was too busy as a graduate student and working full-time to even consider dating. After a few advisory sessions, Cimani followed Ms. Mary's advice and went against her usual practice of not dating coworkers. In between the guest calls and smiles, he somehow managed to make the move to exchange numbers. On March 31, 2014, they had our first date and never looked back. Four years later, they tied the knot with an elegant affair that featured 2018's Pantone Color of the Year, Ultra Violet. Check out how they utilized this bold color palette with other key details, captured by LaJoy Cox Photography.
Bride's full name, age, and occupation: Cimani Robinson,27, Senior Event Manager
Groom's full name, age, and occupation: Kerry Robbins, 32, Guest Service Specialist
Place of residence: Atlanta, Georgia
Wedding date: May 26, 2018
Wedding location: Agnes Scott College, Decatur, Georgia
Wedding theme: Elegance in Ultra Violet. Our inspiration was centered around my love of blue hydrangeas. As a child, they grew outside my window in the warm months. With a summer wedding, I knew I would have to incorporate them as the floral centerpiece of the wedding. We paired a rich blue for the floral with vibrant purple and silver accents to bring the joyful colors of the summer months into our clean and elegant look.
Honeymoon destination: 7-Day Norwegian Cruise (Mexico, Belize, Honduras)
Engagement story:
The week of our engagement was a very busy week for me at work, I was preparing to host a 700-person gala that weekend and had final details and appointments to finish before taking some vacation time for the Thanksgiving holiday. To give a little more insight a few weeks prior, my director mentioned to me and a few coworkers that there was an event that she needed us to attend for the company in the coming weeks for young leaders. This was very common for us since we are asked to attend industry events on behalf of the company. As the week approaches, my coworkers told me about the event was a masquerade theme. As I was the only woman selected to attend amongst my coworkers, I asked around the office to my colleagues about the attire for the event. They stated that they had been before and that everyone attending the event would be dressing in evening attire. The ladies in the office encouraged me to dress to impress.
I purchased a new dress, made a hair and makeup appointment and on November 16, was ready for the event. The night of the event approached and needless to say I was quite overwhelmed. I was the youngest manager on my team at the time and was really looking forward to networking at what I thought was a Young Leaders Dinner. As we arrived at the venue, my coworkers and I discussed our plan on how we will network throughout the room. As we entered the room, we were escorted by the greeter. The room was very dim and everyone was wearing a mask. As we made our way to the buffet, a presenter asked for the crowd's attention and stated they had a small presentation. We all cast our eyes toward the monitor and I began to see pictures of my relationship. At that moment, I knew instantly that this was not a work event.
Of course, by this point, the tears were rolling through my mask as I watched memories of us over the years all ending with extra special videos of family, friends, and relatives. After the video ended, I saw one of my dearest friends from college. I hugged her tight and said, "I can't believe you're here." As I'm still in shock and awe, I finally turned around to see more of the room filled with00 familiar faces. As I turn back to my friend, she guides me to Kerry and he pulls me toward the window where you can see the most beautiful city view of Atlanta. Then and there he proposed with all our family and friends overlooking our favorite view.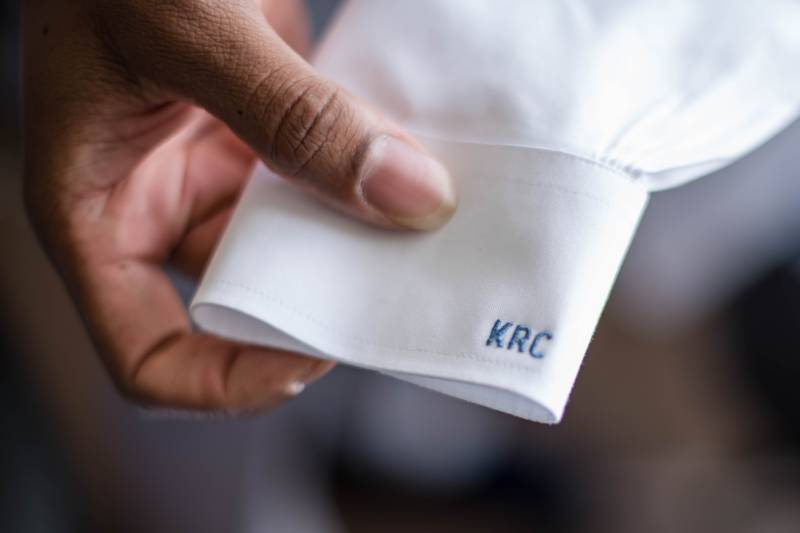 What makes your love special?
Two words we would use to describe our love and why it is special is that it's "familial" and "tangible." Kerry and I wouldn't say our relationship was love at first sight but it was like we had known each other forever time. The statement, "When you know, you know," fits our love story perfectly. And this was so much so that our families instantly felt it and saw it when we were together.
We also both treasure the power of love with parents and grandparents, whose marriages span 30 and 60 years. Love and marriage build families, generations and so much more, and we never want to take our love for granted. We know that falling in love has the power to change lives by being a couple with a purp
ose.
From the Bride:
As an event professional in the hotel industry, I have sent so many brides down the aisle and planned logistics down to the minute. But, my wedding day was one day I had no timeline for because I knew it was a day that would change my life forever. On my wedding day, I woke up bright and early to the silence and stillness of the Atlanta Skyline from the 49th floor of my hotel room.
Looking at the view of my hometown and thinking on what the day would bring, I felt so much peace. I was calm and so ready for the decision I was going to make, though a big change, I knew it was going to be one of my best decisions ever.
From the Groom:
The wedding experience was truly amazing, I was hands-on in the planning because I truly viewed our wedding as something we did together and I wanted to be a part of that. On our wedding day, I felt unbelievably loved. Being surrounded by family and friends who truly loved us was one of the best feelings I have ever felt. There were so many feelings as I walked down the aisle. I couldn't believe this day had come and that I was ready to marry the woman of my dreams.
Your most memorable moment:
Our last dance was most undoubtedly our most memorable moment, even more special than our first dance or even walking down the aisle. If you had asked us both prior, we both would have had very different answers, but something truly unexpected and special happened. After dancing the night away surrounded by family and friends, the DJ plays the last song Bruno Mars "Versace on the Floor." The melody seemed to put both of us in a trance and it was like no one else was there but us.
We danced and sang our hearts out to every word of the song but as we got to the chorus we looked up and all our guests had joined hands and created one big circle around us while we danced in the center. It was truly as if everyone and everything at that moment stopped for those two minutes to celebrate with us. It was unplanned and unexpected, and it was just us living in that moment of our first few hours as husband and wife.
Wedding song:
Our wedding song was "Angel" by John Legend featuring Stacy Barthe. This song, of course, was originally a classic by Anita Baker but something about this rendition and duet always takes us back to our relationship's start. Kerry's first gift to me was a watch with the word angel engraved on the back. This song is a reminder of how we truly feel each one of us was a gift from heaven
Favorite wedding detail:
Grooms Cake: My groom is an avid watch collector, so I surprised him with a cake styled as one of his favorite watch brands, Invicta.
Grooms Attire: My custom tuxedo by Miguel Wilson. Not only did I feel like a groom, but also I looked the part.
What are you most looking forward to as a married couple?
We look forward to more love, more inside jokes, and the journey of aging our love by being with one another in every stage of life. Each of our big milestones in our relationship has brought us closer. We also look forward to leaving a legacy as a married couple, one in which we use our strengths together to impact others in a more powerful way than we could have done alone. We don't seek to be perfect but to love each other deeply and to be what each other needs.
Advice for a Bride and Groom on their wedding day:
Enjoy the moment! Remember the reason why you are there. It is so easy to get wrapped up in everything going on around you but take in that this moment is about the two of you. Be intentional about your enjoyment and make the day truly yours, whatever that means for the both of you. When the day is over and you look back, the only thing you should remember is one another, because your love starts and ends with the two of you.
Congratulations to the happy couple! We wish you many years of wedded bliss!
Sources
< label>Photography LaJoy Photography|Agnes Scott College in the Julia Thompson Smith Chapel|Agnes Scott College in the Letitia Pate Evans Hall|Winnie Couture|Bella Bridesmaids|Miguel Wilson|Frantastic Cakes|The Fete Loft|Exquisite Sound Entertainment|Replenish Salon|Vintage The Barbershop|J. Denelle of Jovanti Robinson|Devae's Divine Designs|BB Warren Productions