Shanice and Vincent met at Union College in Schenectady, New York. It was in October of 2011, at a party that both their friends roped them into going to for the first time in weeks. Vincent laid eyes on Shanice rather quickly after she walked into this party with a group of her friends. After assessing whether she was with anyone there, he worked up the courage to ask her to dance. It was getting late and she had wanted to leave the party around the same time he did. Their nine-minute walk back to our dorms were filled with laughter and the realization that they were studying the same thing, mechanical engineering! They did not exchange phone numbers at the time, mostly because they were not sure how they felt about each other.
Every weekend after that, Vincent went to parties in hopes of running into her but he had no such luck. A few weeks later, as he was entering their science and engineering building on campus, he saw Shanice exit. He held the door open for her and it was as if everything was in slow motion. They smiled and they did not get the words out to say hello but from that day on, he made a promise to himself to have a conversation with her whenever he would see her again. He did not get the chance to see her again before their summer break, but he noticed she was staying on campus for the summer to do research with one of her favorite professors. So, Vincent reached out to a friend of a friend to get her number, and then he proceeded to text her and planned a visit.
What started out as a joke, soon turned into a reality. He had a friend staying on campus for the summer, too. The plan was to take Shanice on a sweet first date and leave her wanting more. Their first date was at a Thai restaurant and it quickly turned into watching infomercials and eating popcorn. This quickly became every date for them. The rest was history and they have been together for six years. Through graduations, study abroad and long-distance. They have never, ever looked back and Vincent has never regretted walking up to her that night in October. This well-matched pair made their union official at the Four Seasons Miami. Check out their special day, captured by Suzanne Delaware Studios.
Bride's full name, age, and occupation: Shanice Alexia Vivenzio, 25, Recruitment Operations Manager
Groom's full name, age, and occupation: Vincent Anthony Vivenzio, 26, Survey Crew Chief & CAD Operator
Place of residence: Hopewell Junction, New York
Wedding date: September 2, 2018
Wedding location: Four Seasons Miami, Miami, Florida
Wedding theme: Metallics on White
Honeymoon Destination: Thailand (Bangkok, Surat Thani, Phi Phi Island & Phuket)
Engagement story:
Well, if there is one thing I knew about Shanice, she is a princess in the most beautiful way and she loves Disney World. We booked a trip to visit her family in Florida for her youngest sister's kindergarten graduation. I, of course, asked her entire family for their blessing that weekend we were down there. We had no plans on the Saturday we were down there, so I asked Shanice if she wanted to take a "spontaneous trip" to Disney World. Of course, she really did think this was out-of-the-blue but I had been planning this for months
When we arrived in Orlando, after a three-hour drive, I started to get nervous and I wasn't sure if it was because of the heat or because I was about to ask the love of my life to marry me. We stood in line to get our tickets and right after, the first thing Shanice wanted to do was grab souvenirs; which is such a Shanice move. I asked Shanice if she wanted to grab lunch at Cinderella's Castle and she said we could try but they take reservations months in advance. Of course, I knew that because I made our reservation weeks prior, however, I asked the hostess and they played along saying they just had a reservation cancel.
We enjoyed a wonderful lunch and as we wrapped up, the waiter and I gave each other a signal. He distracted Shanice with a silver platter and dome while I dropped to my knee. The waiter uncovered the platter to reveal a glass slipper sitting atop a bed of roses. Shanice looked at me and when she saw me on my knee, she immediately started to ball her eyes out. I started with my speech and proposed with her full name asking her to marry me. She screamed "Yes," and the entire restaurant applauded us while a photographer took photos. We got engaged in a castle for the Queen of my Heart.
What makes your love special?
Have you ever felt undeserving of all good things? That's how we felt before meeting each other. Our love is a light in this scary game of life. It fuels us. Our love powers our souls. Our love is the gravity that grounds us. Our love is special because it's ours and cannot be replicated. Never have we ever met anyone on the planet that understands exactly what we need, when we need it. We feel grateful that we found each other so early in life because, now we have so much longer to live for each other.
From the Bride:
Not sure how brief I can make it. One thing I will definitely say is that if I could, I would do everything we did over and over and over again. I was nervous from the moment I woke up but that quickly subsided with texts from Vinny. Honestly, I'm not sure if it's bad luck or whatever but I needed to keep talking to him until I saw him. Leading up to our first look, I got the jitters and didn't really eat but when I saw my si
sters, mom, and bridesmaids, I started to get incredibly excited.
There was such a buzz in our get-ready room with all these incredibly strong women surrounding me along with the wonderful and sincere spirits of our glam squad. Out of nowhere, it was time to put on my gown and take some pictures with my sisters and do a first-look with my bridesmaids. My sisters getting me ready was so incredibly special. I was humbled and grateful at the moment that they were getting me dressed.
Of course, doing a first-look with my bridesmaids was fun, as well. Nothing, though, nothing prepared me for my first look with Vinny. It was the moment I was waiting for! His back was turned and I walked down a very, very long corridor under beautiful trees to tap him on my shoulder. I basically started running because I could not wait to see the face of my fiance and soon-to-be husband. Then, he turned around and we both teared up a little bit. Honestly, it was the third happiest moment of the day.
We had that look of shock and gratefulness at that moment. We really don't know how we got so lucky and I think that's how I felt that entire day. Blessed, lucky, grateful, and my heart was overflowing.
From the Groom:
To be honest, leading up to the big day, I was extremely nervous. So much so, I could barely eat or drink. Luckily, I had my amazing family and friends to help me work through the nerves. The best moment was when Shan and I did our first look. Wow, how stunning she was! Aside from her looking like a real-life fairy tale, her presence was comforting. Looking into her eyes and holding her hand made everything go away. I was complete again and having her by my side made me feel invincible.
After seeing her, everything was smooth sailing. The ceremony was incredible. Having her father perform the ceremony for us made it that much more special for us. I would have to say having him up there with us was one of my favorite details of the wedding. It was seeing the man who raised this incredible woman, give her away in an emotional and metaphorical sense. He put his hands on my shoulder a few times throughout the ceremony and it felt that he was considering me as his son.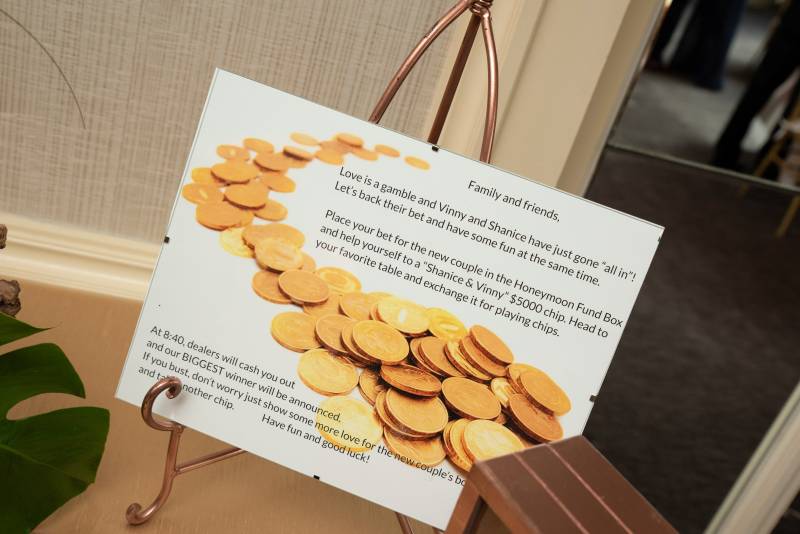 Your most memorable moment:
There are so so many! Of course, saying "I do" was a special moment. Having both my parents give me away and having my father officiate was another amazing moment. But, the best moment of all was when we were on our stunning dance floor with the wedding crest that meshed our initials together, and we addressed all of our guests to thank them for being there. We had a small wedding of 117 guests and we had a memory with each and every one of them. Being able to look out at our tables filled with our loved ones and thanking them for their love and support for the past six years was a humbling and inspiring memory. One we will definitely never forget.
Wedding song:
"I Get to Love You" by Ruelle was our wedding song. Honestly, we are pretty sure we may have heard it as the background of a CW show once but when we were looking for songs to do our first dance to, the lyrics spoke to everything we felt.
Looking at each other after a crazy phone call or a bizarre day where nothing in the world makes sense, makes us whole again. We aren't sure how we found each other but we know why and we are paraphrasing here, but loving each other is the best thing that we don't have to do but we get to do.
Favorite wedding detail:
This is a tie for us. Vinny is saying the flash-mob. That's right, our maid of honor was giving her speech and she broke out in dance with Anthony Vasquez and his troop out of nowhere. A number of guests stood up and joined in on an epic dance. That was incredible! Imagine, we had guests travel from four countries and eight states, and somehow, most of them were able to not only learn choreography over video chat, but they also practiced at a late night rehearsal after our welcome reception and absolutely killed it at our wedding. We had no idea that it was happening, which made it that much better.
Another favorite detail was the live painter. He captured one of the most breathtaking moments we have together. When we say breathtakin
g, we mean every time we look at the moment Ramon painted, we hold our breath for a second because it's so beautiful. He painted us while in our first dance with all of our guests standing around crying, swaying, beaming. We only know now what the guests were doing during our first dance from the photos which brought out so many emotions!
What are you most looking forward to as a married couple?
We love to travel and explore. We love to eat. We love culture. It's not that we couldn't do that before we got married but it's way cooler now that we are married. There are so many incredible places in this world to have an adventure and we hope to accomplish a lot before we start our family together.
Advice for a Bride and Groom on their wedding day:
Steal moments when you can to breathe and take it all in. It goes by so quickly because you're having so much fun but do you best to close your eyes, inhale, exhale, and then open your eyes again to absorb the love, laughter and happiness that is around you. We have never experienced anything like that and it is quite a moment when you do.
Please feel free to include any other interesting anecdotes from your big day!
I think another fun and unique thing for our guests was our Hora Loca! We had more dancers and men on stilts playing the drums and had strobe lights. It was so, so fun and the guests had no idea it was happening. We loved seeing our guests so excited, thrilled, and best of all, surprised!
Congratulations to the happy couple! We wish you many years of wedded bliss!
Sources
Suzanne Delawar Studios|M&J Productions|Sky Bridge of Four Seasons Miami|Grand Ballroom of Four Seasons Miami|Stello|Eduardo de Las Casas|JoS. A. Bank|Elegant Temptations|Four Seasons Miami|t's and i's Productions|Petergay de Souza and Shanice Vivenzio of t's and i's Productions|Event Factor|Marilyn Dennis, Kimberly Smith & Sharon Smith|Nordia Cameron-Cunningham|Elvi of Style Me Elvi|Michelle Williams of t's and i's Productions|Lilian Designs Studio|Potions in Motion|Over The Top Inc.|Black & Wine Events|Royal Casino Events|Asy Alisade Violin Studio|Dipp PhotoBooth|Anthony Vasquez|Ramon Malerei