Dating Game Night. Corner Social. Brooklyn Museum. Harlem. These are all places that Nate and Natasha saw each other for two years straight every now and then. Nate scoped Natasha out during their on-again-off-again run-ins until one day he had to ask her on a proper date. After a long and somewhat complicated summer, the couple eventually became inseparable. On September 4, 2013, Nate asked Natasha to officially be his girlfriend, and the rest is history. Check out Natasha and Nate's engagement session at the Brooklyn Botanical Garden in New York, captured by Ian Joseph Jones Photography.
Bride's full name, age and occupation: Natasha Betty, Senior Marketing Manager
Groom's full name, age and occupation: Nate Greene, Saxophone Player
Place of residence: New York
Engagement Shoot Location: Brooklyn Botanical Gardens, Brooklyn, New York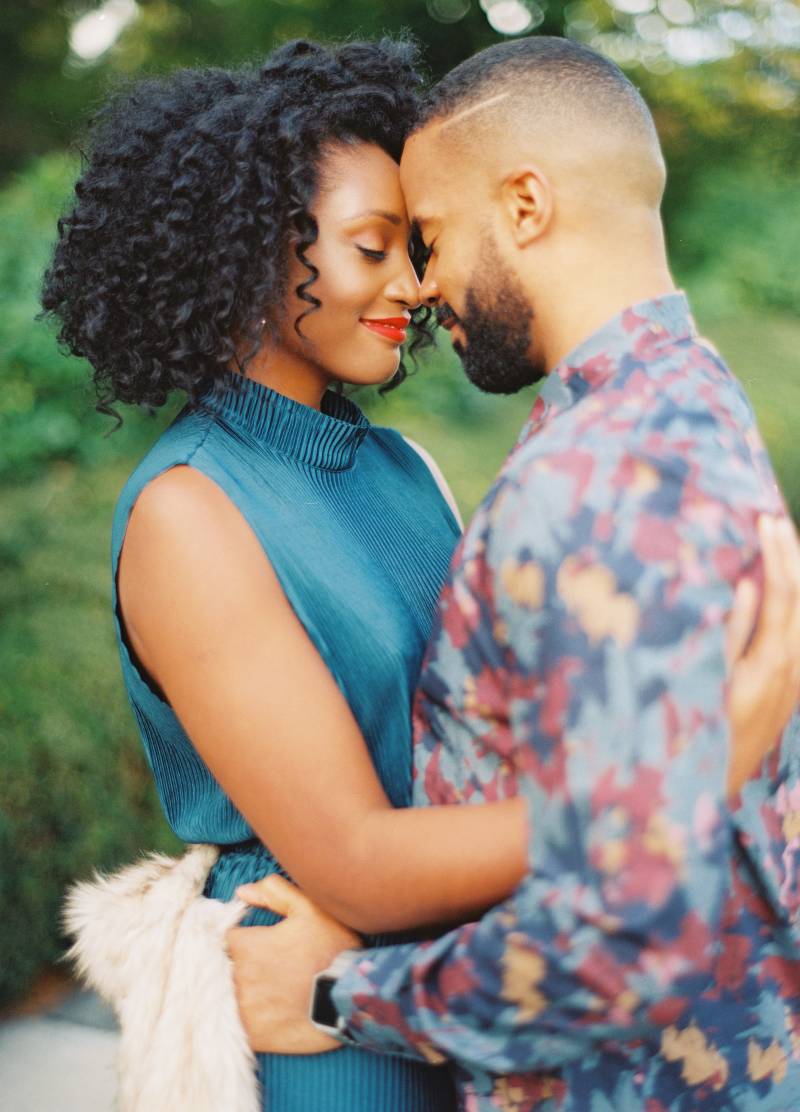 Engagement story:
While celebrating their four year anniversary on September 4, 2017, Natasha expected that Nate was going to propose. It made perfect sense to do it on their anniversary, or so she thought. However, Nate had other plans up his sleeve. The week after their anniversary, Nate set up a Friday night date with Natasha at City Vineyard in Tribeca. It was all of Natasha's favorite things wrapped up into one romantic setting, a gorgeous sunset and wine. After dinner, the couple took a romantic walk along the pier to finish watching the gorgeous sunset.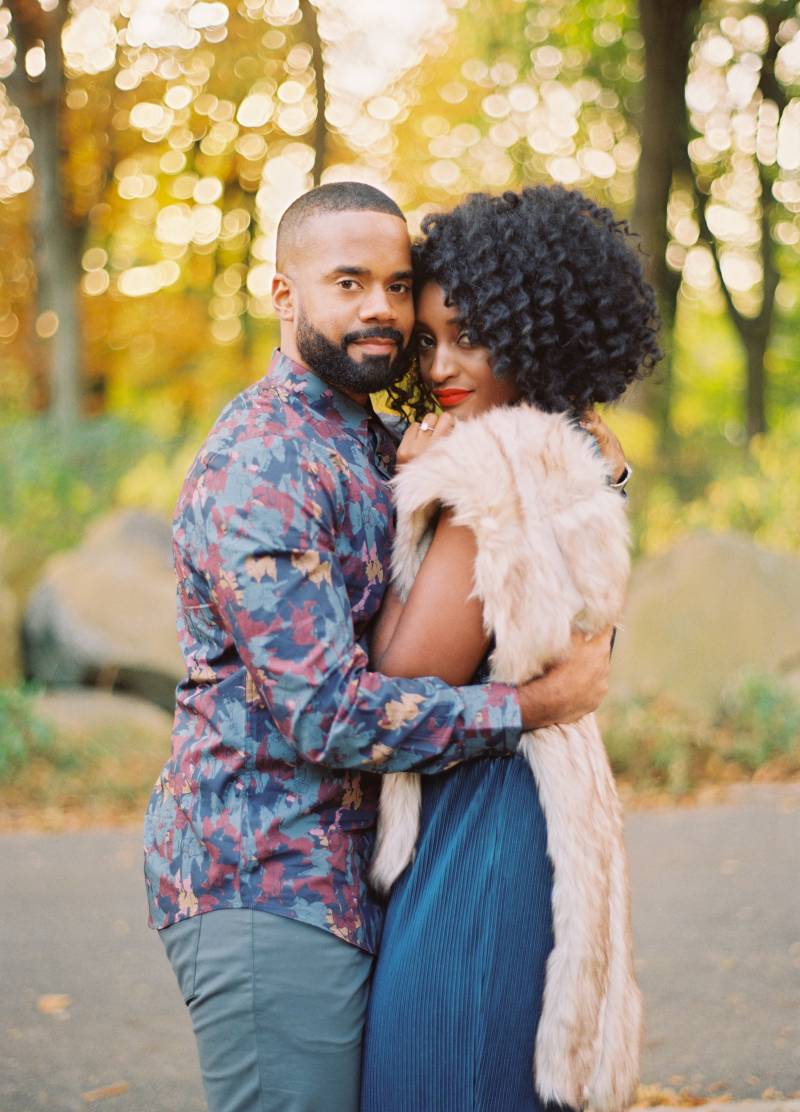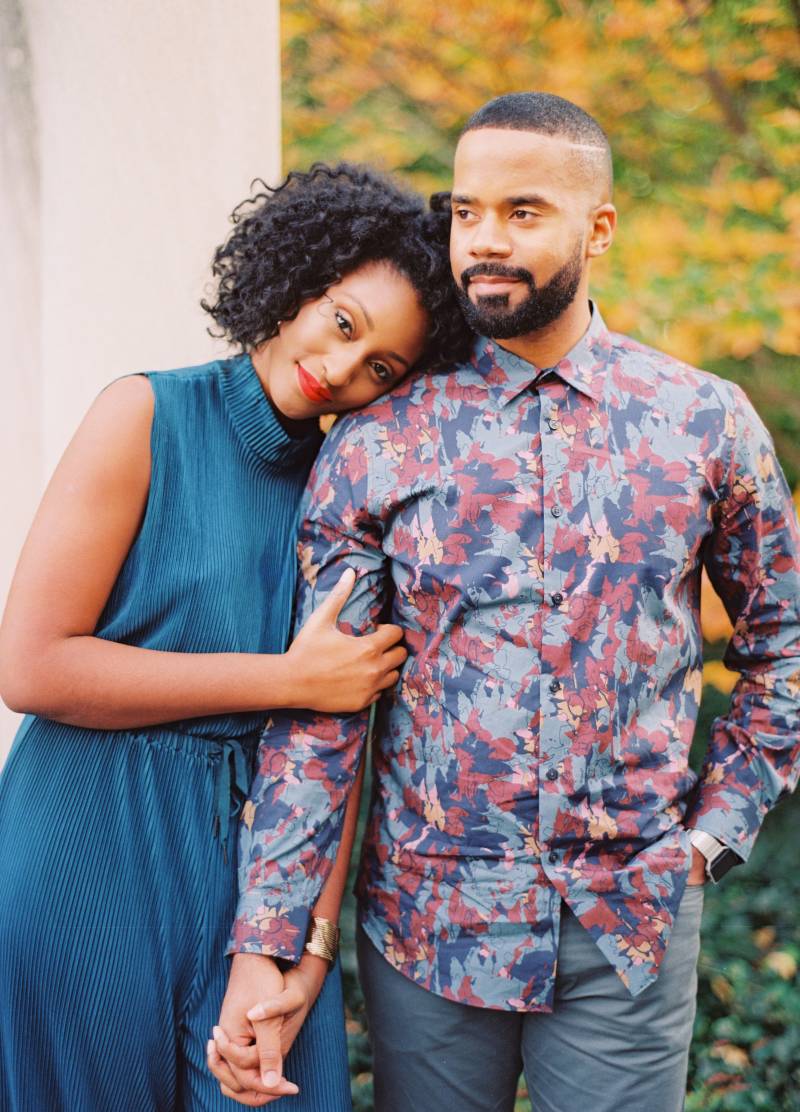 For the Groom: Walk us through the behind the scenes of creating this special day.
I actually kept my cool that day. I woke up like any other day and got ready for work and did my normal routine. Unbeknownst to Natasha, I didn't go to work that day and was actually waiting for her ring to be delivered! After it came I was a little more at ease and went along with the plan for the day. That night we had plans to have dinner at City Vineyard in Tribeca and I got to the restaurant about an hour before Natasha did and met up with my friend to give him our camera to capture the engagement. I really was super calm throughout the whole process and didn't give anything away. We dined and had an amazing dinner without me slipping up and giving away any clues.
What makes your love special?
I think what makes our love so special is the way we love one another. Nate is the sweetest and most genuninely supportive man I've ever met. He pushes me to do and be better in every facet of my life. We are friends, lovers and everything in between. He's my person and I am his.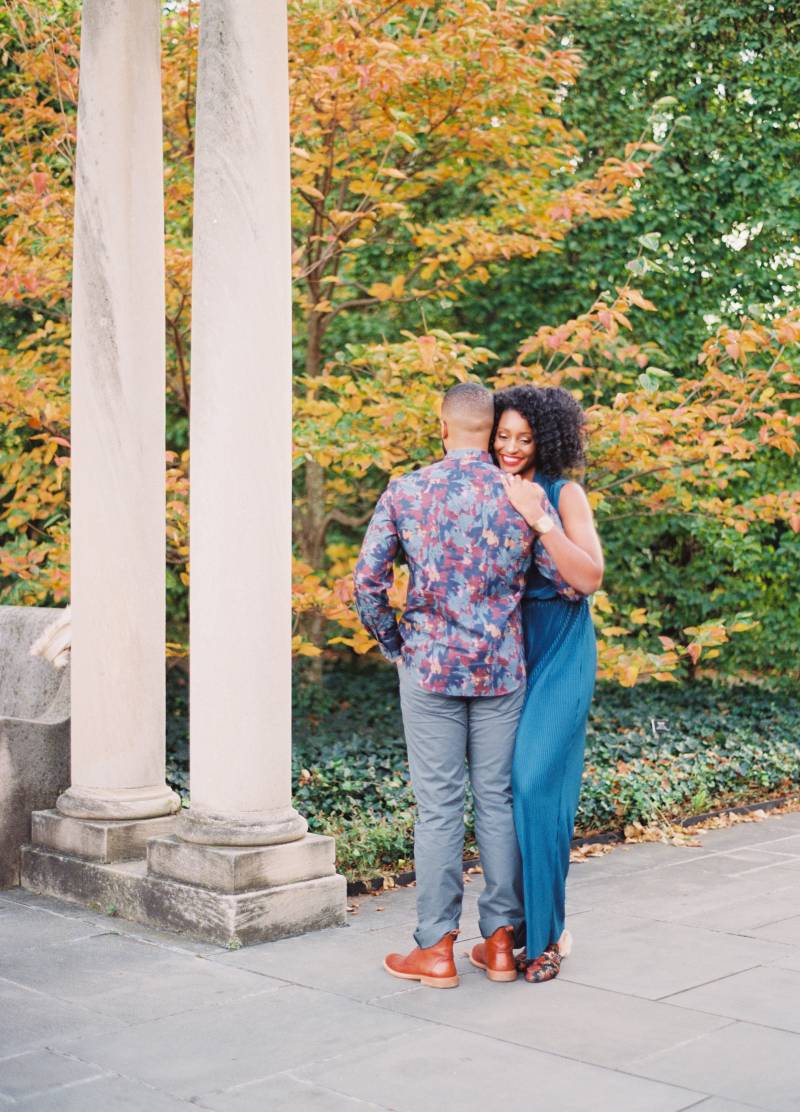 What was the theme of your shoot?
If I was to give the shoot a theme it would be "Love In The Fall." We simply wanted to capture the gorgeous changing leaves in a very simple and whimsical background. The botanical garden offered just that. Our photographer captured most of those shots in under 20 minutes as the park was about to close. We had another outfit so we popped over to the Brooklyn Museum, which was next door to get some final shots before the sun went down. It was perfect.
Were there any memorable moments during the shoot?
It was actually really neat to do part of the shoot on the stairs of the Brooklyn Museum because that's where Nate and I would frequently run into each other during the First Saturday events back in the day before we started dating. It was quite surreal to be taking our engagement photos on the same steps where we were once strangers.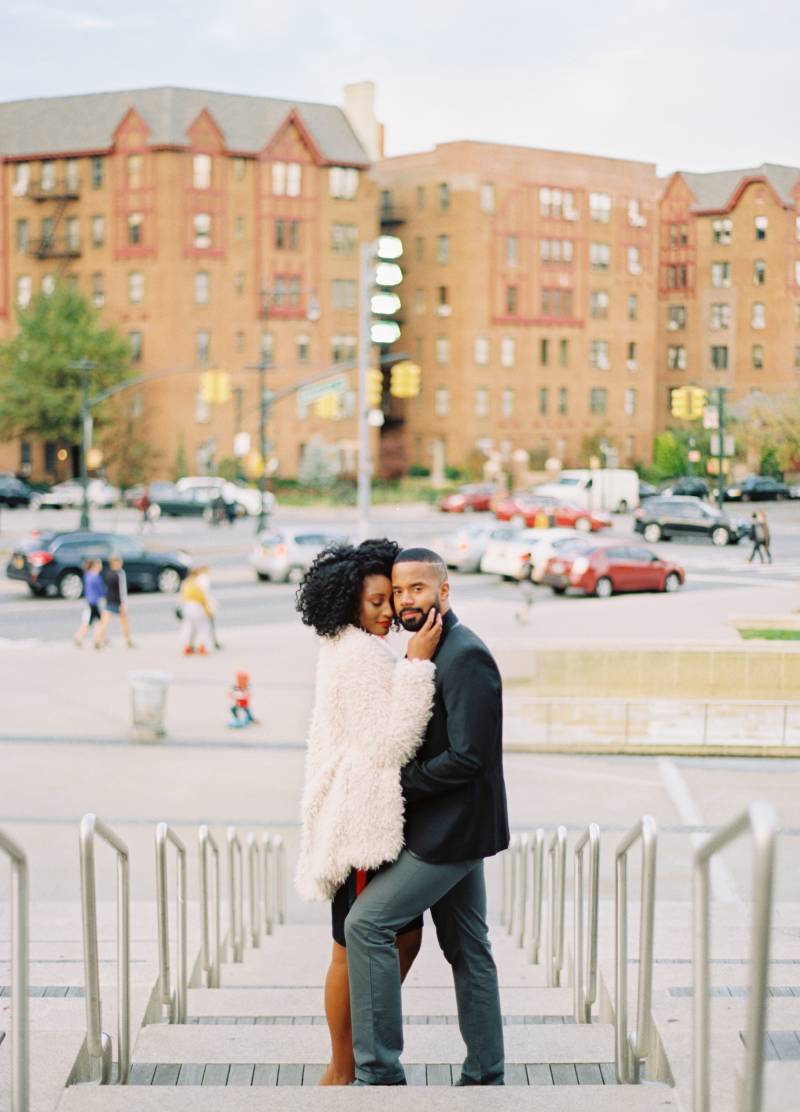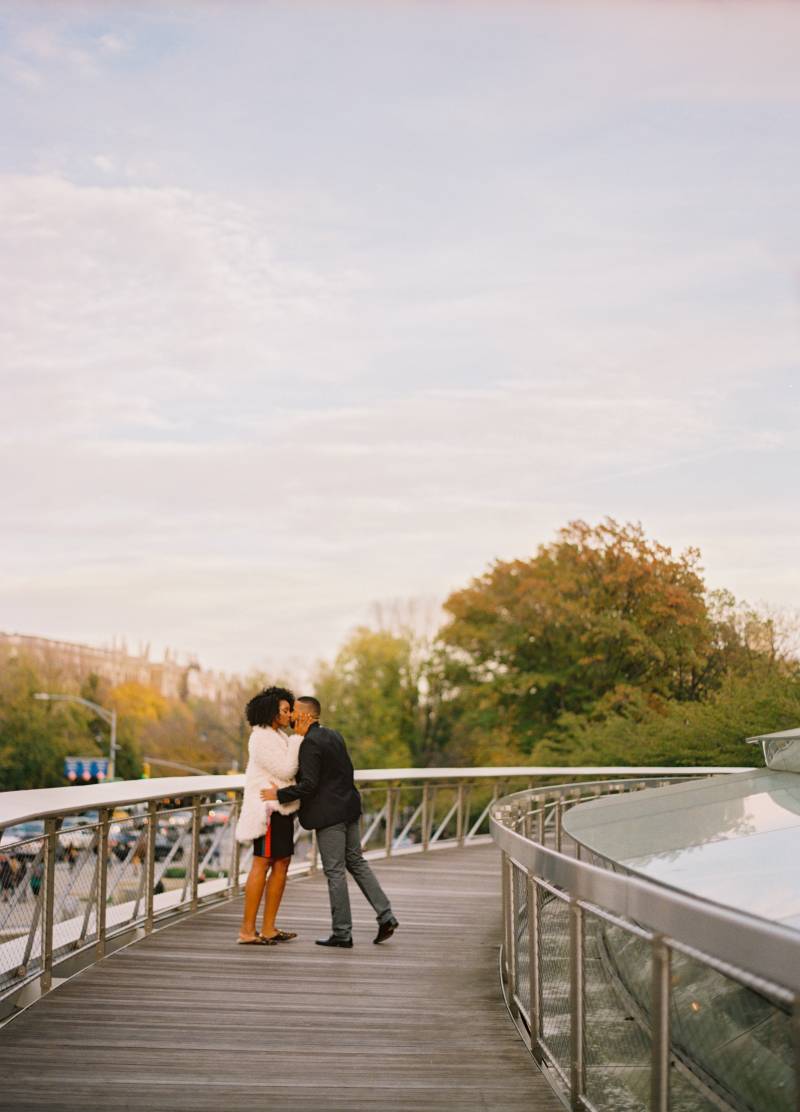 What are you most looking forward to about your wedding?
I'm most looking forward to walking down the aisle, seeing Nate's reaction and exchanging vows! I think he's excited for the same. We're also can't wait to celebrate with friends and family at the reception, which will be epic!
Have you started planning your wedding?
Yes! In fact, the planning is just about over. We have just about two vendors to secure and we will be all done.
Congratulations to the happy couple! We wish you a wonderful wed
ding and marriage.
Sources