Shonte and Katakyie met in 2001 while they both were attending the Rochester Institute of Technology. After their first meeting the two quickly became close friends. However, Katakyie ended up transferring to another school and their communication was lost soon after. Eight years later the two reconnected over AOL instant messenger. Katakyie was living in the Bronx, New York and Shonte in Atlanta, Georgia, at the time. The two rekindled their friendship and overtime their love for each other grew past their distance. In July 2010, Shonte and Katakyie made their relationship official and chose to have a long distance relationship for almost two years until Shonte finally decided to follow her heart and move to New York to be with Katakyie. The lovely couple has been inseparable ever since. Check out this awesome Times Square "Perfect Pair" engagement shoot captured by Kesha Lambert of Lash to Lens Photography.
Bride: Shonte E. Floyd, 34, Implementation Associate
Groom: Katakyie Ofori, 31, Senior Membership Coordinator
Place of residence: Mount Vernon, NY
Engagement Shoot Location: Times Square, NYC
Wedding date: 7/6/13
Engagement story :
It was a beautiful afternoon at Briscoe Park at the bridge where it was laced with Sunflowers (her favorite flower) for the love of his life. The venue was cleared out for their life changing event. Shonte had no clue that Katakyie was even at the park. She was invited to a non-existent event by their friend Deana. As she walked towards the bridge, Deana points out a man behind an umbrella. Surprise, it's another friend, Lawrence! Lawrence hands Shonte sunflowers and a telephone. Guess who's on the phone? It's Katakyie!! Katakyie then begins to say "Happy Anniversary Honey." Shonte replies "What Anniversary and what's going on?" "Today marks the first day I laid eyes on you. I'm sorry I could not be there but I have a surprise for you. Please look into the camera and tell me what our love means to you." As Shonte begins to speak Katakyie begins to walk behind her and when she's done he whispers in her ear "I love you more." He then begins to say the words from his heart "Shonte Ebony Floyd, love is an understatement when it comes to you and I. Happiness is an emotion that takes over my spirit when I am with you. I thank you for being my everything and giving me the privilege of being your partner in life. We have a bond that cannot be broken. Time and distance has proven that there is no boundary to our love and there will never be one. Will you make me the happiest man in the world and be my wife? Shonte Ebony Floyd will you marry me?" She said YES!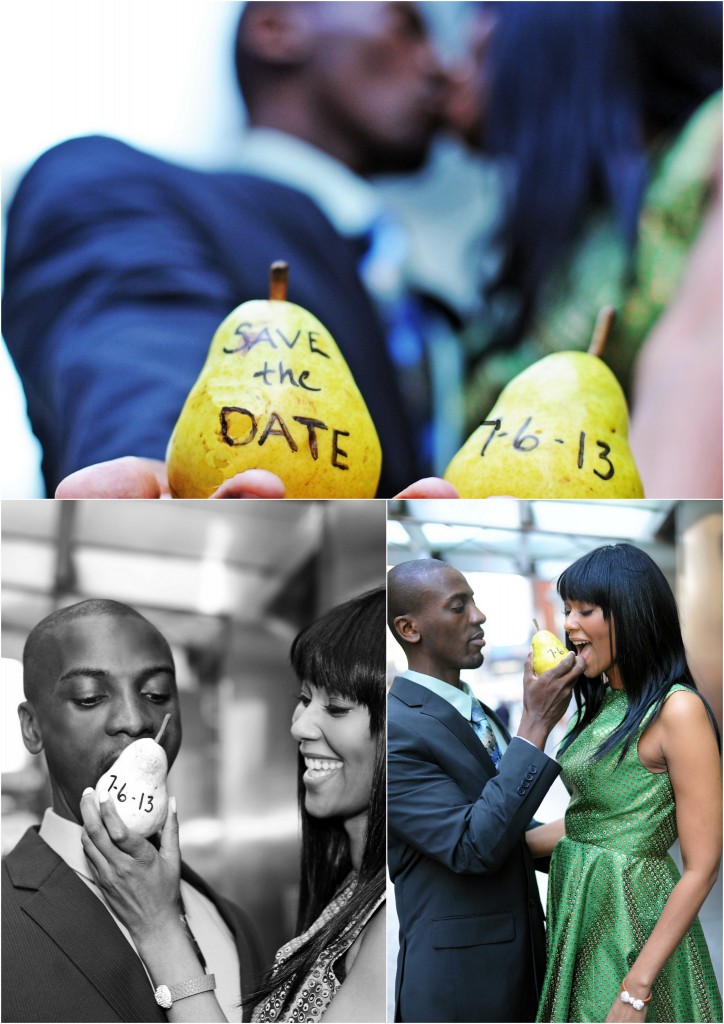 A Special Bond:
Our love is special because it's genuine. We've gone through so much apart and together that it makes us love, respect and value what we have more and more each day.
What are you most looking forward to about your wedding?
We are both looking forward to meeting each other at the alter in front of our families, friends and God to profess our love for one another and inspire everyone to be in love and be happy.
Congratulations to the lovely couple who will be getting married at the Rochester Plaza Hotel in Rochester, NY on July 6th! We wish you many years of love and happiness.
Vendors: Photographer: Kesha Lambert of Lash to Lens Photography/ Wedding Coordinator: Jocelyn Tejeda/ Fashion: Rent the Runway /Make-Up: Charlene Armstrong