Courtni and Dale met while they were both students at Howard University, in Washington D.C. Courtni was a sophomore and Dale was a junior, when they first met at the co-ed dormitory where they both lived. "We were both living in Meridian Hill Hall at the time and ended up hanging out through mutual friends in the dorm," said Courtni. This year marks their nine-year anniversary. Courtni and Dale are planning a Black -Tie wedding next Spring. Check out their chic collegiate themed engagement session, captured by Wale Ariztos Photography.
Bride: Courtni Guevara, 28, Physician Assistant
Groom: Dale Cooper, 29, Chief of Logistics of SIPAM
Place of residence: Courtni- Maryland, Dale- Congo Brazzaville
Engagement Shoot Location: Howard University, Washington D.C.
Wedding date: 4/16/16 (tentative)
Wedding location: TBD
Engagement story from the bride-to-be:
On the morning of June 2, 2014, I took Dale to the metro before I headed to work so he could go to the airport and travel back to Congo. He had been stationed there for work for a little less than two years, and we tried to see each other as much as possible. Driving to the metro, I was devastated; we had such an amazing time and quite frankly, I just didn't want him to leave. He consoled me as I cried in the car and told me he'd see me soon. Little did I know, it'd be sooner than expected! After tons of tears and "I love you"s, I finally got to work but could barely focus. I kept checking his flight on Google to see if everything was going smoothly, dying for him to land so I could talk to him. At around 4:30pm, when my day was almost over, my receptionist told me that my boss wanted to see me in one of the patient's rooms. "Your boss needs to see you" is never an exciting thing to hear, and after the emotionally worn out day I was already having, I thought to myself "Great, this will be the icing on top of the cake." I knocked and walked into the room and there was Dale, on one knee holding my dream ring. I couldn't even wrap my mind around what was going on, especially since I thought he was somewhere flying over the Atlantic Ocean! Through lots of tears, I managed to say "of course, babe!" We then went out with my family for sushi to celebrate afterward. It sounds cliché, but it was literally a dream come true. Throughout his time at home, I had had little ideas that he was going to ask me this day or that day, so when it didn't happen, I honestly was a little bummed. When I left him that morning, I had convinced myself "it's okay; he'll propose next time." Next time ended up being just 7 hours later! I could not have asked for a better start to forever with him.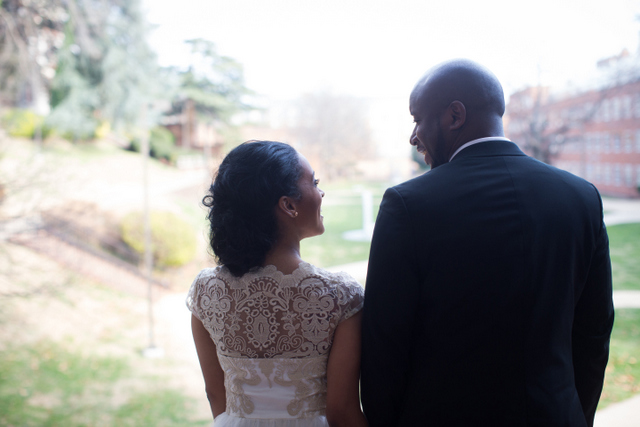 From the Groom- Walk us through the behind the scenes of creating this special day:
I planned the engagement surprise so far in advance that I knew that there were very few instances in which she would find out. I was only going to be home two weeks for vacation from my job overseas so this all began with lying about my booking. I told my fiancé that my departure date would be two days earlier than it actually was. So the morning she was taking me to the airport, she was particularly fed up with our long distance relationship, which was a good thing for me because I knew then she really believed I would be boarding a plane later on that day. So, when she dropped me off at the train station we said our tearful goodbyes (she was the only one crying), and I pretended to get on the train to head to the airport. Needless to say, I never got on the train. I waited a few minutes in the station and proceeded to go back home. Later that morning, I called her job and told the receptionist at her office my plans and of course she was all for it. So in the afternoon towards the end of the day, her co-workers snuck me into one of the examination rooms. They told Courtni that there was an emergency in that room and the doctor needed her immediate assistance. When she walked in, I was there waiting for her with ring. And the rest is history. By the way, this was all caught on video by her mom.
What was the theme of your Engagement session?
Originally, I didn't even want to take engagement photos at all—so ridiculous, I know. After Kanye and Kim's Vogue photos came out, I decided I wanted to do one just like it—even more ridiculous, I know. I don't think it was ever a question where we'd take the photos. Our story started at Howard, and we definitely wanted to highlight its importance—and our Bison pride—through our engagement photos.
What makes your love special?
Courtni: To put it bluntly, we're both extremely sarcastic. And contrary to popular belief, that similarity is what initially sparked and continues to ignite our flame towards one another. No one understands me the way he does. Dale loves everything that I hold close to me: God, my family, my friends, my obsession with Coldplay, and so much more. We've developed this mutual patience for each other, knowing that we can both be difficult to deal with at times. Because we're so much alike, we get it. We just get it. We understand each other's goods and bads and support each other through every success and failure. We're always willing to help each other be the best we can be. I think we singlehandedly disprove the "opposites attract" theory!
Dale: What I believe makes our love special is all that we've endured throughout the years to keep our love alive. I also believe that we have other factors other than love that make our bond special: God, compatibility and commonality are things we lean on to solidify our relationship.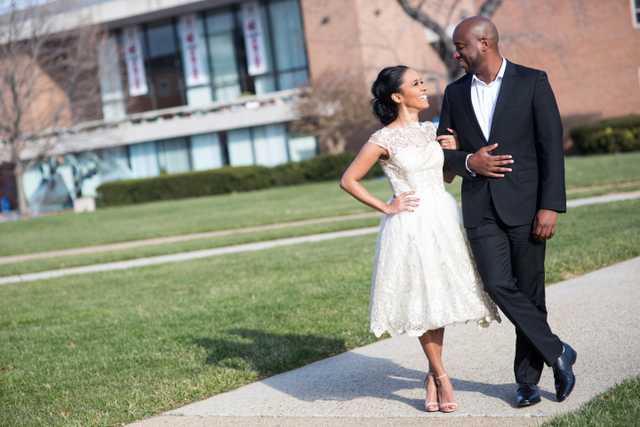 What are you most looking forward to about your wedding?
Courtni: I'm extremely excited about seeing Dale's face when I walk down the aisle. I also can't wait to celebrate with everyone that I love, each and every one of them having supported Dale and me through these long and crazy nine years!
Dale: I'm most looking forward to seeing my fiancé in her dress and the look that will be on her face. But I'm also looking forward to enjoying the experience with our closest family and friends.
Have you started planning your wedding?
Dale has been helping me plan our wedding remotely through email, Skype, and Google searches! My sister and my mom have been a humungous help thus far. We're in the process of viewing different venues and weighing out our options. My bridesmaids and I have done a little dress shopping, which was a lot of fun. Fortunately, I've had my dress for a while (before I was even engaged—Black Friday 2013 Sample Sale deal!), so that's one stressor that I don't have to worry about. Dale and I have an overall idea of everything we want our wedding to be; now, we just have to make those definite.
Congratulations to the happy couple Courtni and Dale! We wish you a wonderful wedding and marriage.
Vendors:
Photographer: Wale Ariztos Photography
Hair & Make-Up: Latavia Lewis – Elle Alise Artistry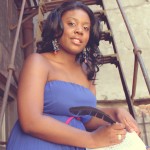 Curated by our Wedding Features Editor, C.K. Alexander. C.K. is the owner and founder of Love Ink and Brownstone Bridal. Keep up with C.K. on Twitter here: @Love_Ink