Chere is a registered nurse working at one of the top trauma centers in Atlanta, Georgia. Yohann, on the other hand, is a doctor who is getting ready for residency. The pair met when we were 5-years-old in school; they were both living on the tiny island called Antigua (located in the Caribbean). Yohann moved away when he was 8-years-old, and they eventually lost contact. Technology wasn't as big back then and they were only kids. Fast forward to their college years, and Yohann never left Chere's mind. With Facebook becoming popular for college students, Chere searched for him, and the very first picture that reminded her of him. She immediately added the person and sent him a message. Yohann remembered here too, and so their reconnect started. He was studying to be a doctor and was also in a relationship. Chere was studying to be a nurse and in a relationship as well. Few years after graduating they somehow connected again on Facebook Messenger, exchanged numbers in 2013 and started communicating regularly. Luckily for both of them, they were both coming out of bad relationships and knew they weren't ready for anything serious again just yet. But they continued to talk and enjoy each other's company although they hadn't seen each other since age eight. Their lives and careers kept both of them busy and they couldn't seem to find time to meet again. In January 2017, Chere organized a trip to finally meet this amazing guy again who she had fallen for over the phone. They met, and it was like magic. They instantly connected and hit it off! And now this fated pair is ready to intertwine their lives forever as husband and wife. Check out their romantically red engagement session in Paris, France, captured by Fran Boloni of The Paris Photographer.
Bride's full name, age and occupation: Chere Amsterdam, 30, Registered Nurse
Groom's full name, age and occupation: Yohann Greaves, 29, Medical Doctor
Place of residence: Atlanta, Georgia
Engagement Shoot Location: Paris, France
Wedding date: January 13, 2019 (tentative date)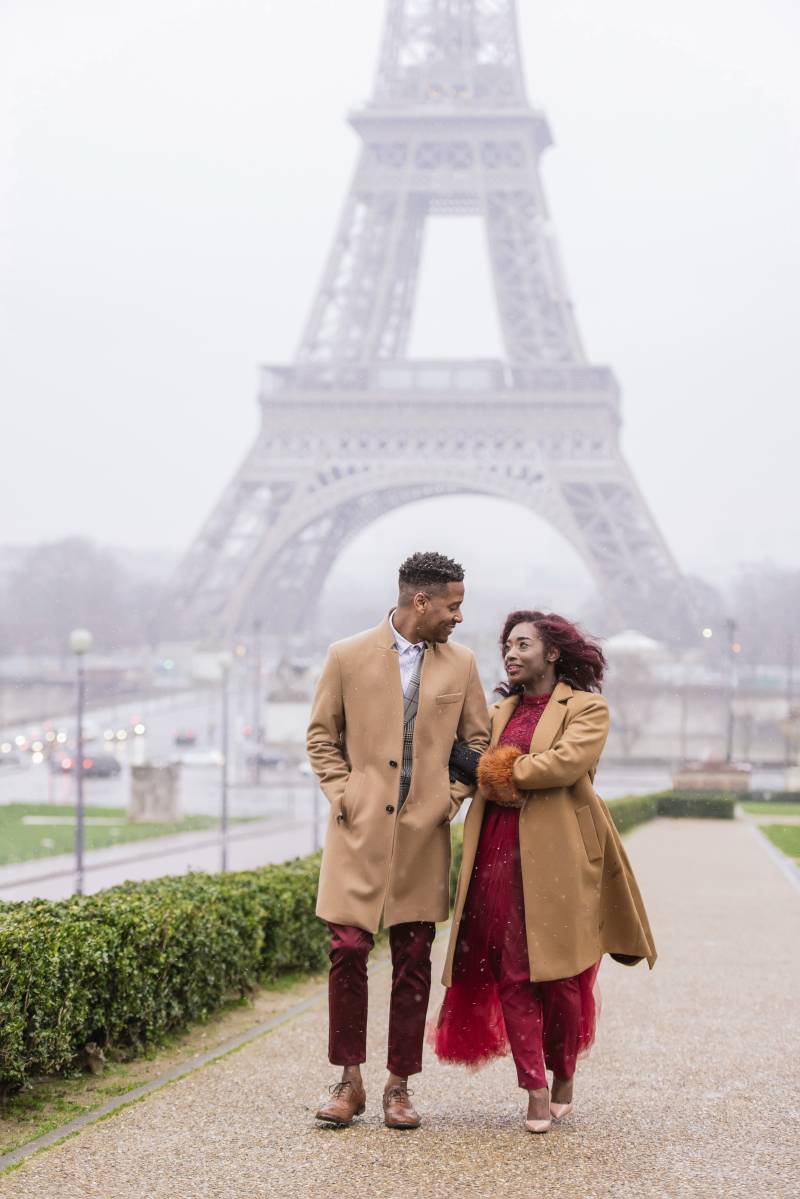 Engagement story:
February 7th was my birthday, I was blessed to see another year and turn thirty. Yohann and I celebrated my 29th birthday together last year for the first time in Barbados. This will be the second time we were together in a different country for my birthday. Last year we were just meeting and figuring out our crazy lives, careers, schedules and how best to combine it. We finally did and made the decision to commit to each other forever. We both enjoy traveling and seeing the world. On my bucket list was Paris, so we decided to visit there for my big 3-0. I also enjoy taking pictures so what better way to celebrate my 30th in Paris with a photoshoot.
These photos were meant to symbolize our love, the start of something new, and our official "we are a couple photos". While talking we still hadn't made it official as a couple, although we both knew we were fully committed to each other after our first meeting in 2017. What better way to announce it but on your birthday in the "City of Love". After all it was the love month. I reached out to a friend of mine who had done an engagement shoot in Paris and she recommended Fran Boloni at The Paris photographer. I contacted him myself and we set it all up as a birthday/couple shoot. Little did I know Yohann reached out to Fran himself and organized a whole engagement shoot. We had ordered some heart-shaped balloons for the shoot since it was almost Valentines Day, five balloons were delivered that morning before the shoot. I could have sworn I saw the lady who delivered them leave in a car. Little did I know she returned, and when I was standing taking some shots by myself Yohann was behind there getting two extra balloons that had the words "Say Yes" and "Marry Me" on them.
When I saw him walking up to me during the solo shots with the balloons, I still didn't suspect anything until I saw him kneeling down on one knee with a little box. I literally ran away laughing thinking it was a joke. He kept kneeling saying "Babe, yes…no…maybe;" I then ran back screaming "Yes!" I couldn't believe he had planned this and they all hid it so well from me. I'm still in shock that two kids who lost contact after so many years would reconnect and now be engaged. I'm still on cloud nine! I can't believe I get to spend and share the rest of my amazing future with the most amazing guy. I really think God knew what he was doing when he placed us side by side in class at the tender age of five. What an awesome birthday present, what more can a girl ask for at 30? This will be the most memorable birthday ever!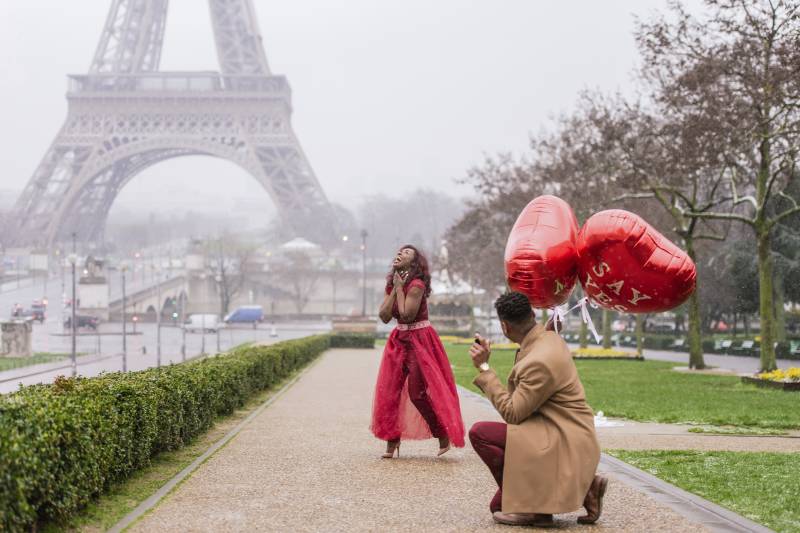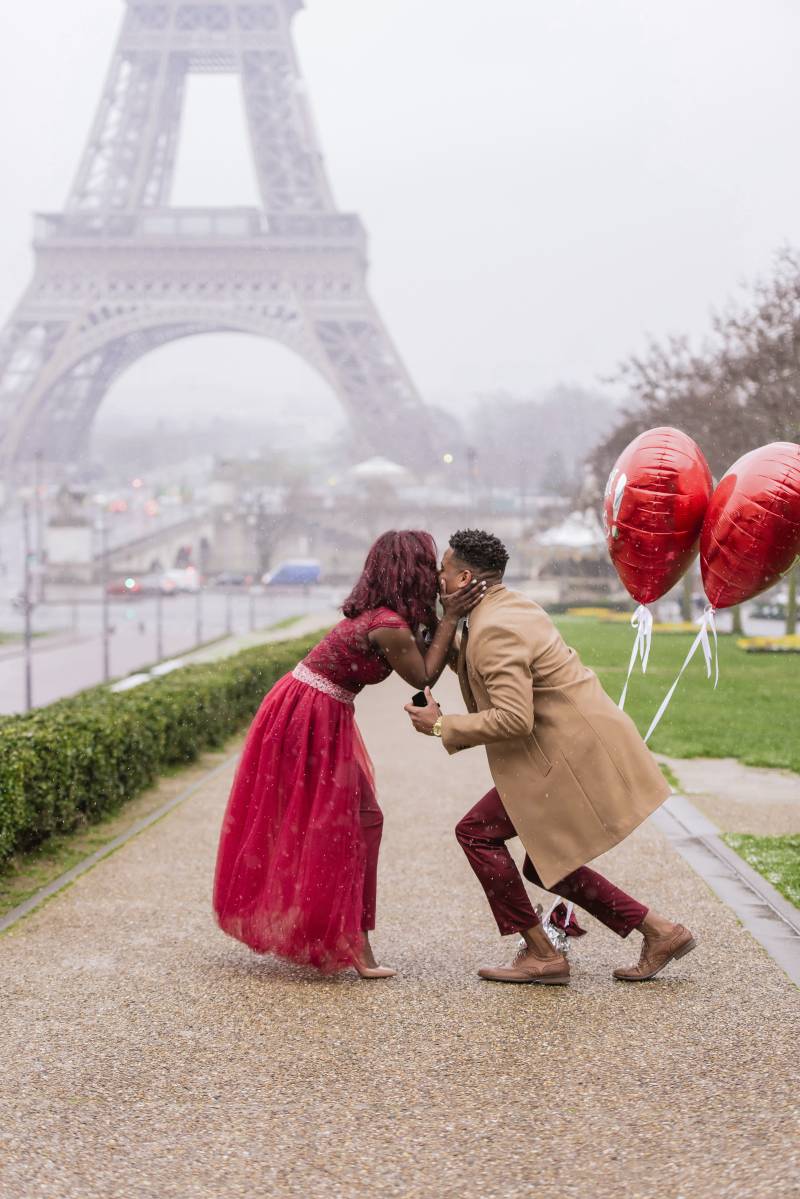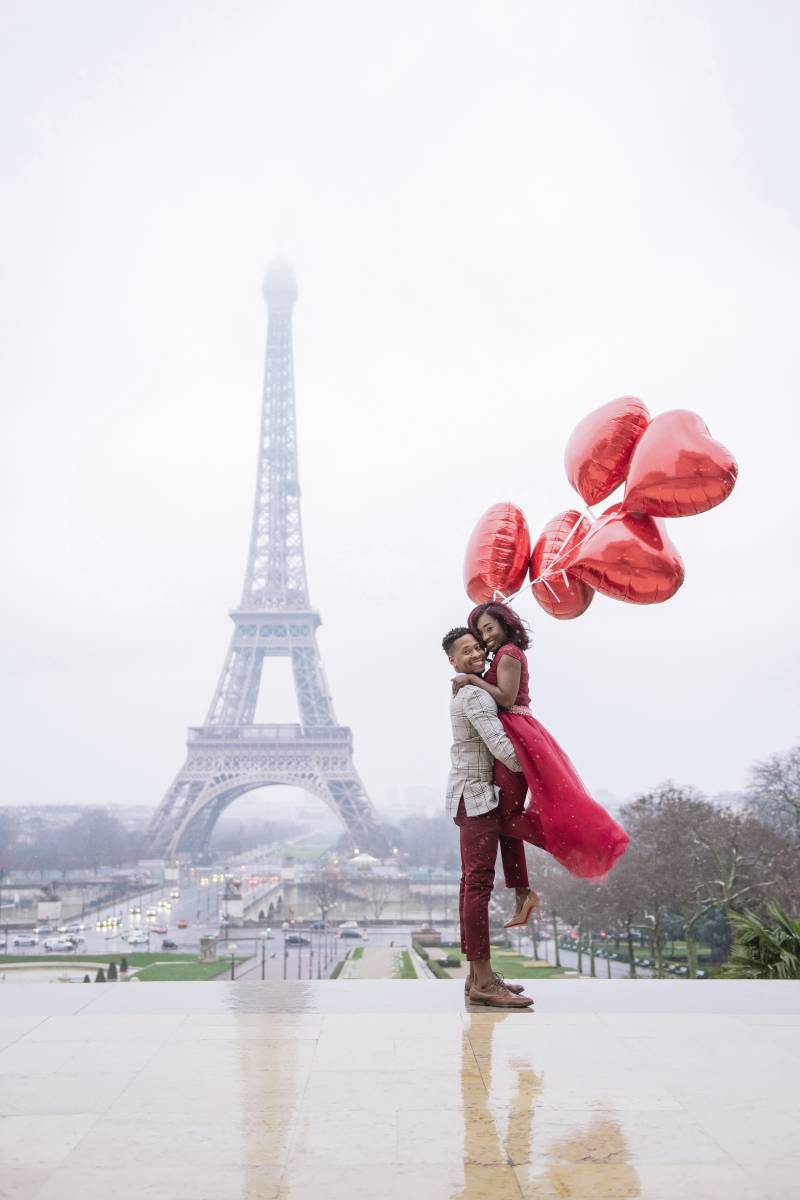 For the Groom: Walk us through the behind the scenes of creating this special day:
I was hesitant at first to reach out to Fran because I was not sure the ring would have been made or arrive in time for our Paris trip. Let me take it back to the beginning. What happened was, I had been searching for a couple months for the perfect ring. Yes, I had a few ideas on what she wanted but everything I saw didn't give me that "I found the perfect one" effect. Then one day there it was. It was like it was waiting for me saying "here I am… please buy me…Chere is gonna love me!" So I couldn't resist. I ordered it and had it delivered to her house where I believe she signed for her own ring when it came at the door and had no clue…#priceless!
Now it was time to plan! I emailed Fran telling him about my deception and he loved it. He was automatically
onboard. This whole time Chere is thinking that she is just doing her birthday shoot. Little did she know a life-changing event was in the making. At first, I wanted to do rose petals all over the ground where we were going to be but the weather wasn't going to allow that due to a snowy forecast. So we opted for balloons saying "marry me" and "say yes" and while she was distracted doing solo pictures with Fran, I was going to swoop in from behind and assume the position on one knee. It worked like a charm!
I think it worked too well. She was totally surprised and literally "ran away" in excitement, shock, and a little confusion. But of course, she came back jumped in my arms and said YES! I was definitely happy with the embrace and it was super cold that day. It couldn't have gone any more perfect. My simple little surprise came to fruition.
What makes y
our love special?
I think what makes our love so special is the fact that we met when we were 5-years-old and lost contact at age 8, only to reconnect again at age 25. Little did we know that we'd end up with each other forever. I did not see this coming. I knew I always liked and admired Yohann but our lives were taking different turns and our paths had never seemed to cross. We attempted many times before to travel and reconnect but situations or circumstances would occur not allowing this to happen. We both still dated and spoke to other people during this time but for some reason, we both agreed that no matter who we were talking to at the time we always seemed to lead back to each other. Even if weeks passed by and we never spoke, when we finally did it was like we just spoke yesterday. That's what makes our love special, that no matter the circumstance, distance or time we both had each other on our minds. It was "him" the moment I met him. I was done and my decision was made likewise Yohann knew the moment we met also.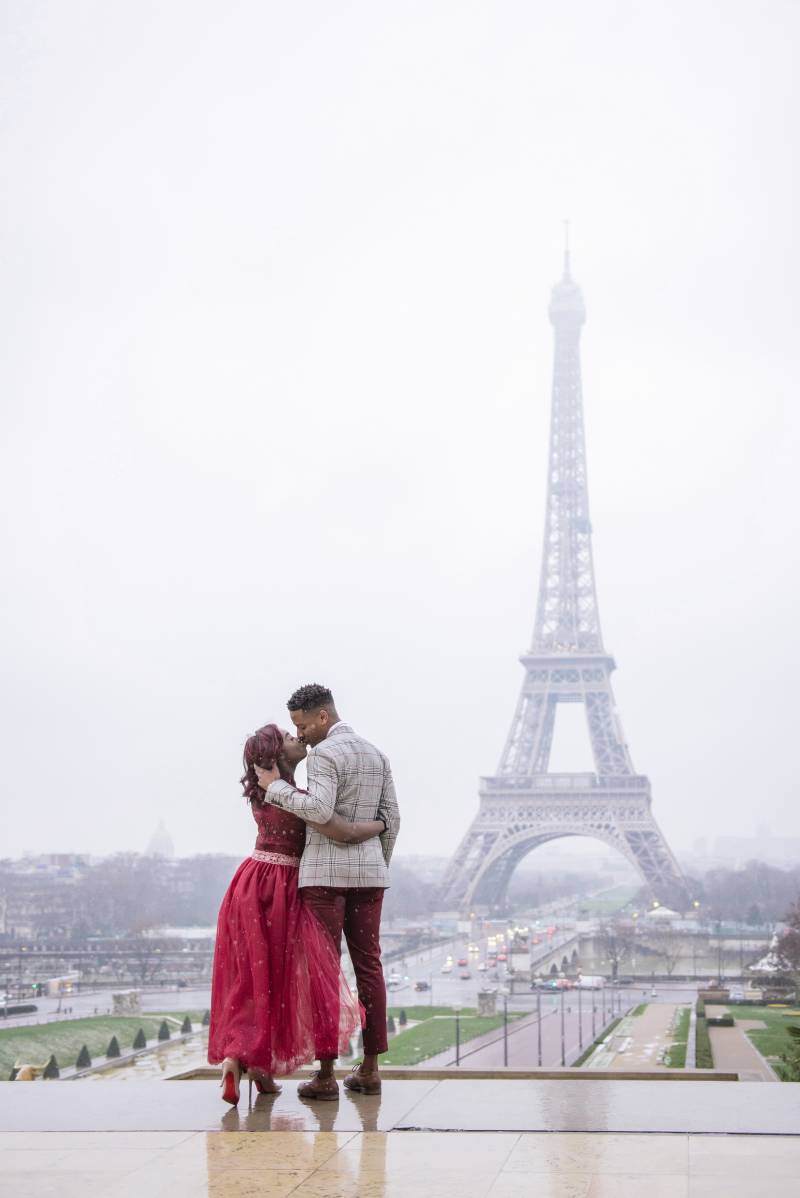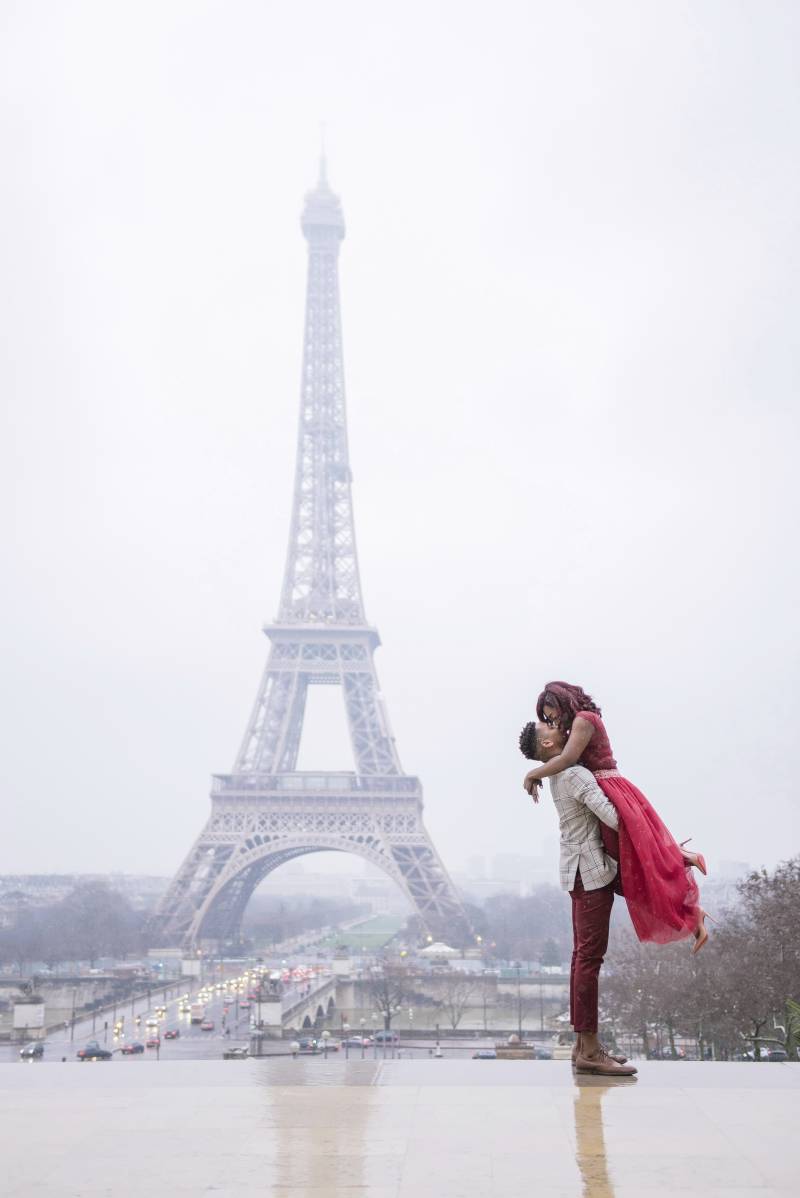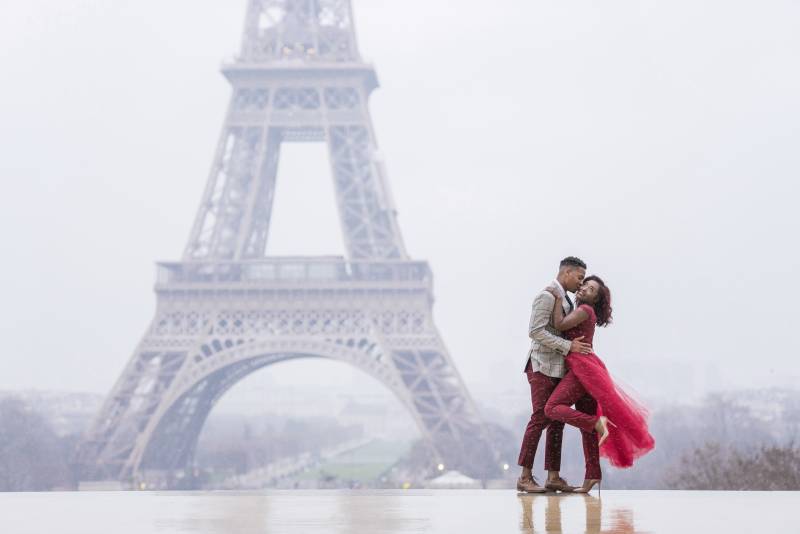 What was the theme of your shoot?
The theme of the shoot was "Love in Paris."
Were there any memorable moments during the shoot?
The most memorable moment during our shoot was seeing the man of my dreams on his knees. I was in shock; this is what every woman dreams about. To know that it was all happening and in Paris on my 30th birthday made it even more priceless and memorable. The snow falling was also memorable for us. We were told that it hadn't snowed in Paris for the past five years so our photographer was not only excited but it was his first pictures with a couple in the snow. Fran also loved the idea that the proposal was "real" and he was happy to catch every shot in the moment with every bit of my reaction.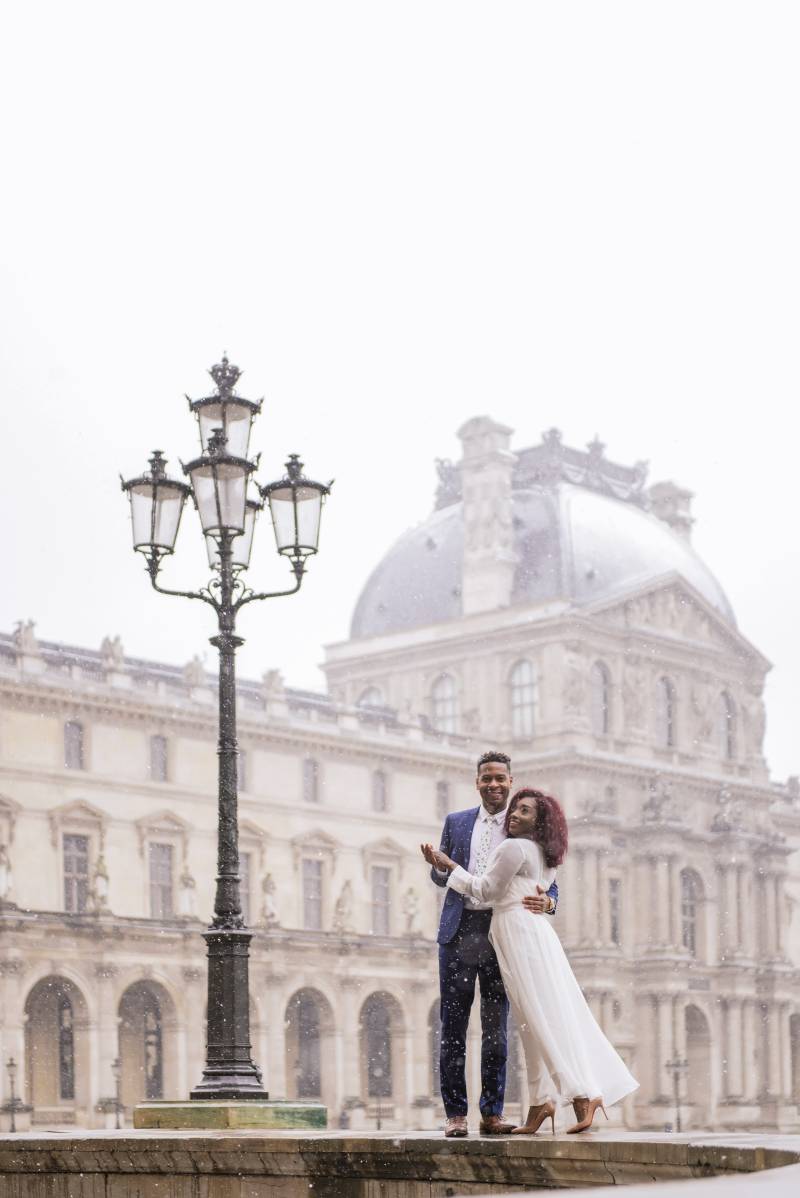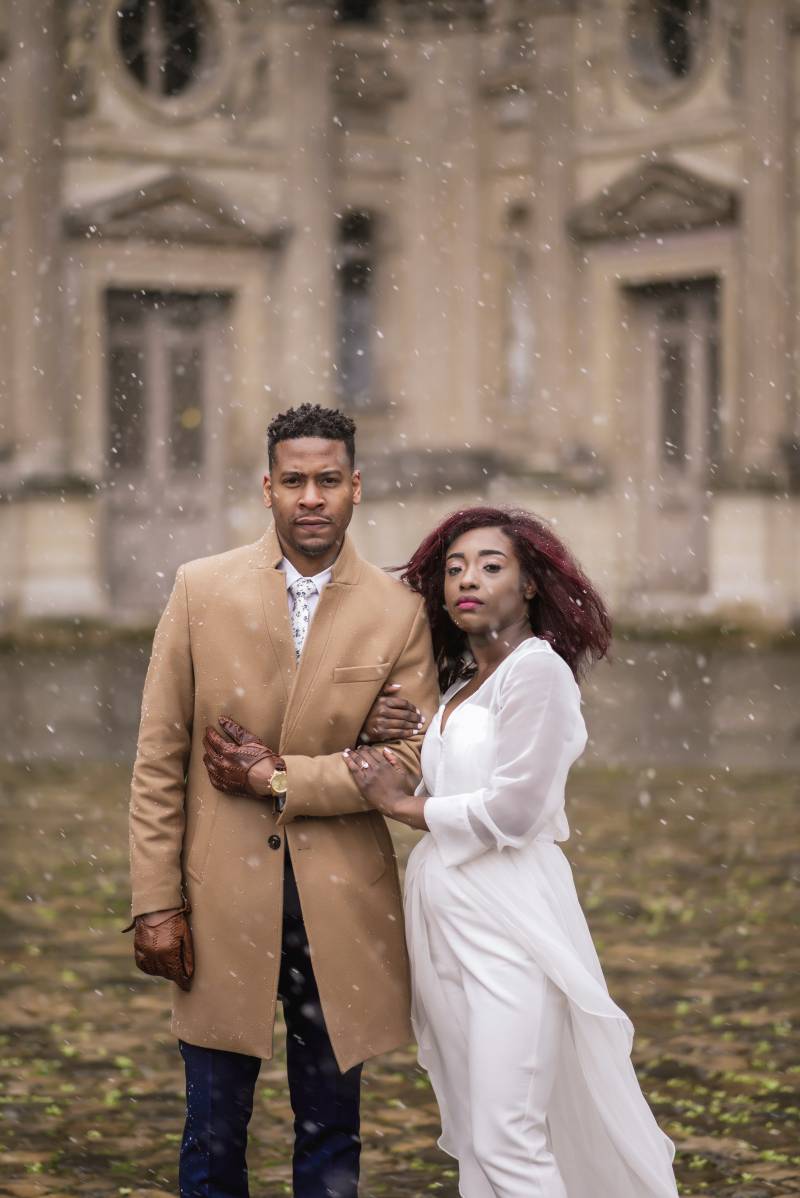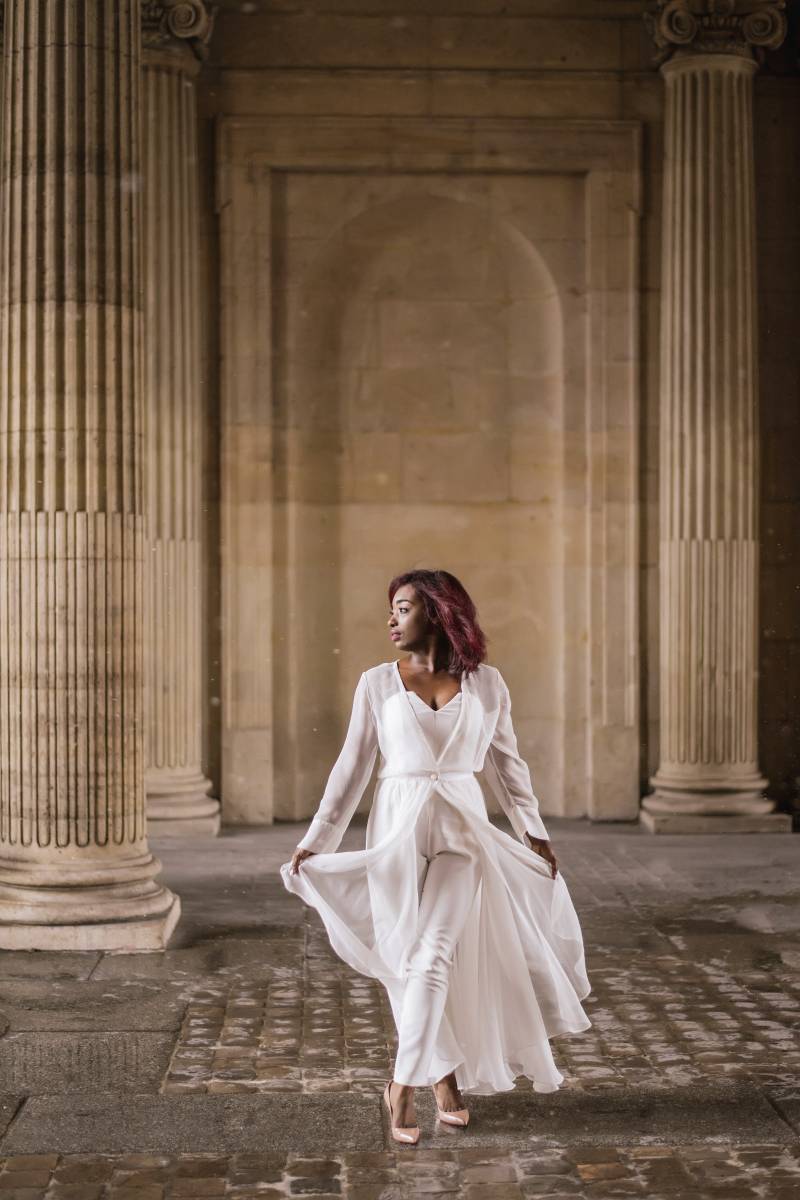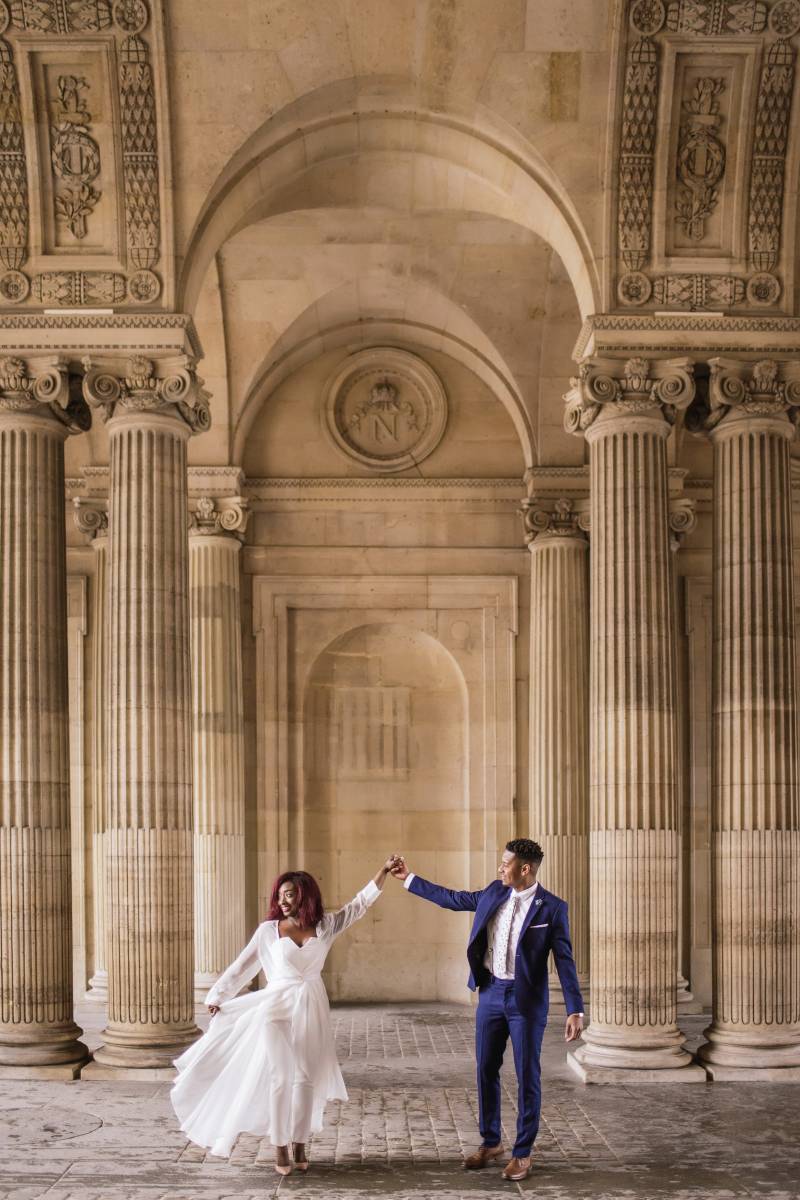 What are you most looking forward to about your wedding?
I am most looking forward to having my mom walk me down the aisle and having the first dance with my husband. I cannot wait to have these memories for a lifetime. My mom knew how much I would talk about Yohann while growing up. I'd ask her if there was a way she could get contact with his parents and get his number for me. And then to finally know that God was looking out for me all this time and had my husband ready for me all along.
Have you started planning your wedding?
Yes, I have started planning our wedding. We both did after meeting and knowing we wanted to be each other forever. Whenever we spoke we would say bits and pieces of what we both wanted or would love in our wedding. So far, we have our location, Barbados. January 13, 2019 is the date we set, this was the date we met for the first time after so many years in 2017. Our date can change depending on how busy our work schedules are. We have selected our colors, theme, photographer, wedding planner and DJ.
Congratulations to the happy couple! We wish you a fruitful wedding and marriage.
Sources