For Jasmine and Razzie sports always came first until they met each other and found love. Jasmine was a division one athlete who ran track and field, and Razzie was a division one football player. The two met through mutual friends in 2009; Razzie was a senior at Boston College and Jasmine was a sophomore at University of Maine. Although they lived in different states, they always kept in touch and soon enough they began a serious relationship in 2012. The pair bonded over their love of sports and competition. "I didn't think I would ever meet someone as competitive as myself until I met Razzie," said Jasmine. After years of living in different cities, the happy couple were finally in the same state and ready to start a life together. The happy couple celebrated their nuptials this Spring. Check out their elegant Tuscany inspired engagement session, captured by Corner House Photography.
Bride: Jasmine Amber Smith, 27, Human Resources Officer
Groom: Razzie Lee Smith IV, 30, Financial Systems Analyst
Place of residence: Boston, Massachusetts
Engagement Shoot Location: Orlando, Florida
Wedding date: April, 15, 2017
The Proposal Story:
Razzie told me that he wanted to take me out for dinner one night, so I got dressed for our normal date night. We went to a new restaurant right outside of downtown Boston. As we were driving home, I noticed he was taking a detour. I kept asking questions because we never take the long way home! Razzie kept reassuring me that I would like this detour. We pull up to this empty parking lot at like 9pm. At this point I was so confused as to what was happening. We got out of the car and started walking (Yes, I was still asking a TON of questions). As we got closer to the edge of the parking lot you could see the skyline of Boston reflecting off the water. It was so gorgeous! I grew up in a small town in Maine, so I have a special love for city skylines. It was a typical chilly New England night, so Razzie was standing behind me to keep me warm. I could feel his heart pounding on my back, and just as I turned around to ask him "What's wrong?" he was down on one knee with the ring in hand.
From the Groom: Walk us through the behind the scenes of creating this special day:
I bought the engagement ring about 5 months before the proposal. I knew that I wanted to propose to Jasmine somewhere with a nice city view. There's a pier on the south shore of Boston with a great view of downtown. On May 3rd 2014, I told Jasmine we would be going out to a nice restaurant. I tried to keep it cool most of the day, but I was so anxious knowing my plans were to propose to her later that evening. After dinner, we were on our way home and I told Jasmine we would be taking a quick detour. Along the way she kept asking "where are we going" and I just kept saying "you will see, trust me you will like it." Once we got to the pier Jasmine's eyes lit up. It was a clear night so we could see the breathtaking view of downtown Boston. It was a little cool that night, so I held Jasmine to keep her warm. My heart was racing and I knew she could tell I was nervous. I took a step back, she looked at me confused. I got down on one knee, took the ring out and asked her to marry me. She was crying with excitement. The entire day was exactly how I planned it. It was perfect!
What makes your love special?
This is by far my favorite question. Our love is special for so many reasons. We are so vulnerable with one another that it allows for an indescribable bond and connection. We both take time to stop and appreciate the little things, from folding the laundry to cooking. We remember to say thank you and show appreciation at all costs. We have been in a relationship for over 5 years, and after EVERY meal I cook for him, he ALWAYS says "thank you so much for cooking, that was great" (even when I know it isn't haha). Our love is special because we're so patient and in tune with one another's feelings, even those unexpressed. We know how to start fresh, even during those times when we don't quite see eye to eye. Let not the sun go down upon your wrath.
What was the theme of your shoot?
The theme of our shoot was elegance and class. We really wanted to get dressed up in our Sunday's best to show off our style, to do something that captures our character! Our photographer, Samantha suggested the location for the photoshoot. It was a perfect location. The architecture of the building really matched our elegant theme.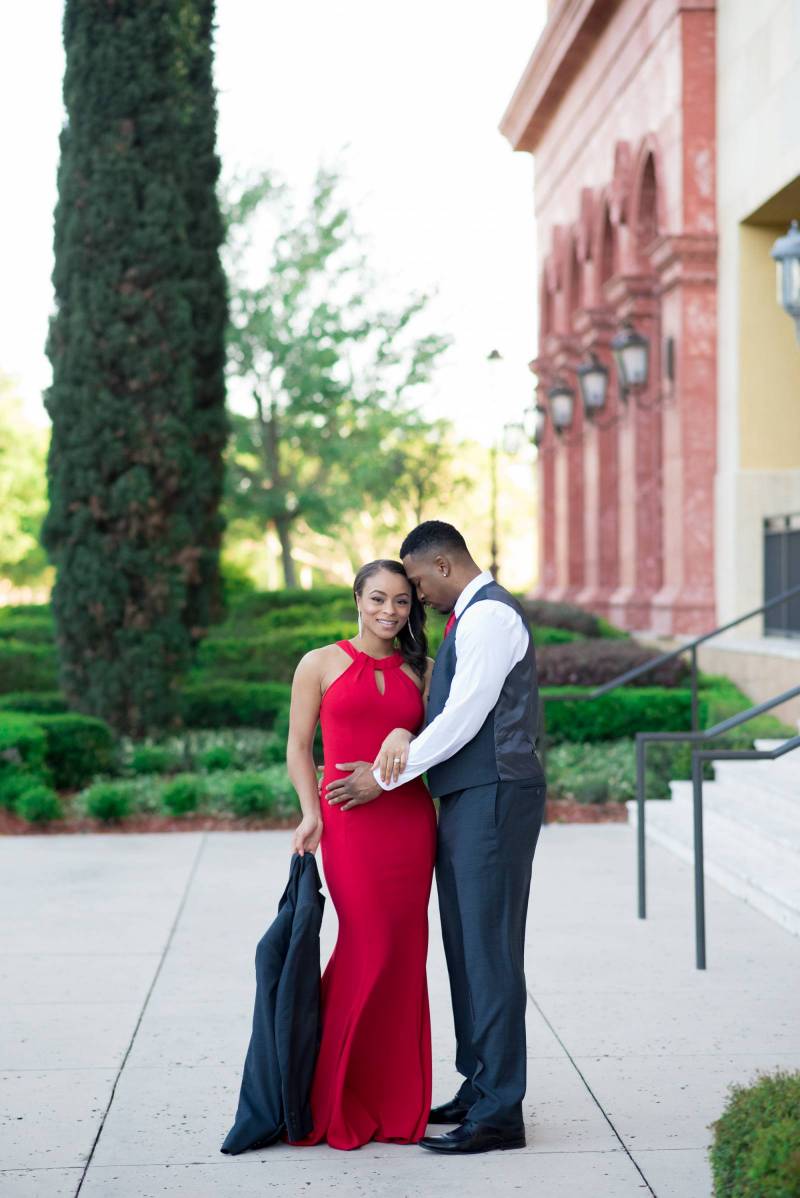 Were there any memorable moments during the shoot?
I am a goofball and find humor in almost everything, so the best part of our shoot was me constantly tripping on my dress. My heel was getting stuck on it every time I moved! Our photographer, Samantha was amazing. She laughed with us, helped with clothing malfunctions, and cheered us on when the poses were perfection.
What are you most looking forward to about your wedding?
We looked forward to our first dance. Being able to share that moment with Razzie was so special. Although we were in a room full of people, it truly felt like it was just the two of us. We also looked forward to our families meeting. During our
dating years, it was so hard to get everyone in the same place at once, since I grew up in the New England area and Razzie grew up in Florida. Both families got along so well, almost like they had known each other for years. They had a great time at the wedding.
Have you started planning your wedding?
We recently got married, April 15th to be exact. We live in Boston and got married in Florida, so some areas of planning were a little difficult. Our wedding planner, Rebekkah was a tremendous help during the planning process and on wedding day. Wedding day went so smoothly and we are so appreciative of her hard work. Our family was amazing and our vendors were great! I hate to sound cliché, but the wedding planning was close to flawless.
Congratulations to the happy couple. We wish you many more years of wedded bliss.
Sources