Stacie and Roland's love story began their freshman year of high school in 2nd period homeroom. The two would develop an undeniable bond that continued throughout high school and long after graduation. Seventeen years later, these high school sweethearts tied the knot at the Asian Art Museum in San Francisco, California. Check out Stacie and Roland's romantic day captured by Chloe Jackman Photography.
Bride: Stacie Collins-Jenkins, 32; Child and Adolescent Psychiatry Fellow
Groom: Roland Jenkins, 32; Physical Therapist
Wedding date: August 10, 2019
Wedding location: Asian Art Museum, San Francisco, CA
Wedding theme/motif/inspiration: Pretty and Romantic
Honeymoon Destination: Kuala Lumpur, Malaysia, and The Maldives
Engagement Story:
Wanting the proposal to go off without a hitch, Roland made reservations at a romantic restaurant overlooking the water and had been in contact with one of the waitresses ahead of time. Unfortunately, the waitress went on break as soon as Roland and Stacie arrived at the restaurant, and the waiter covering for her had no idea what was going on. The celebratory champagne was brought out before Roland even had a chance to propose! The whole thing was confusing but in the end, it was perfect.
What makes your love special?
Roland and I have been through so much together. From going to college on opposite sides of the country, to putting in long, grueling hours to complete medical school and physical therapy school, our love for each other never wavered. And because we've been together from such a young age, we really have helped shape each other into the people we are today. In that way, we really were made for each other.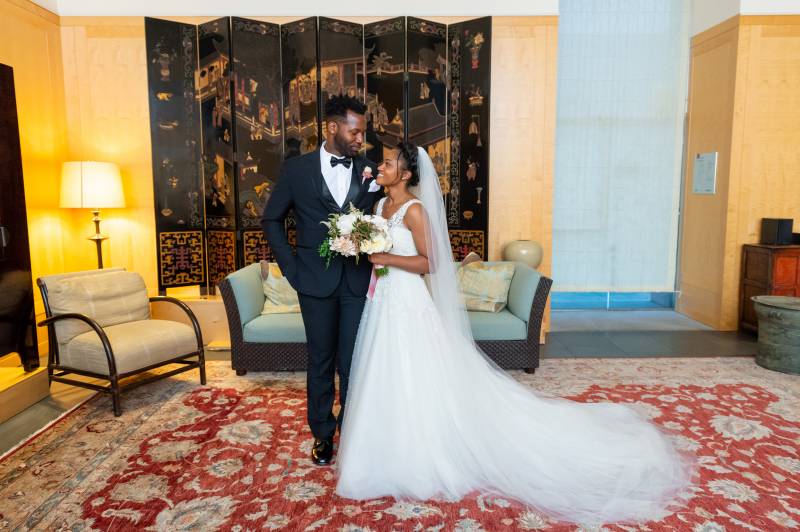 From the Bride:
I felt special! I usually do not like to be the center of attention, but it was a good feeling having all of our friends and family there to celebrate us.
From the Groom:
Things were very fast-paced. It feels like every minute was filled with a memorable experience with our friends and loved ones. I'm so thankful that we were surrounded by love on the best day of our lives.
Your best/most memorable moment:
Definitely meeting each other at the altar! After being together for so many years it felt a little surreal to finally be getting married. I kept thinking, "What would our 14 year-old selves think of us now?"
Wedding song, explain choice for song:
"Nothing Even Matters" by Lauryn Hill and D'Angelo. We've always loved the song and it has a really sweet message that really rang true for us. At the end of the day not matter what else happens, if we have each other, we have enough.
Favorite wedding detail:
I was in complete love with our venue- the architecture was absolutely gorgeous. Truthfully, I already had my heart set on this venue years before we were even engaged.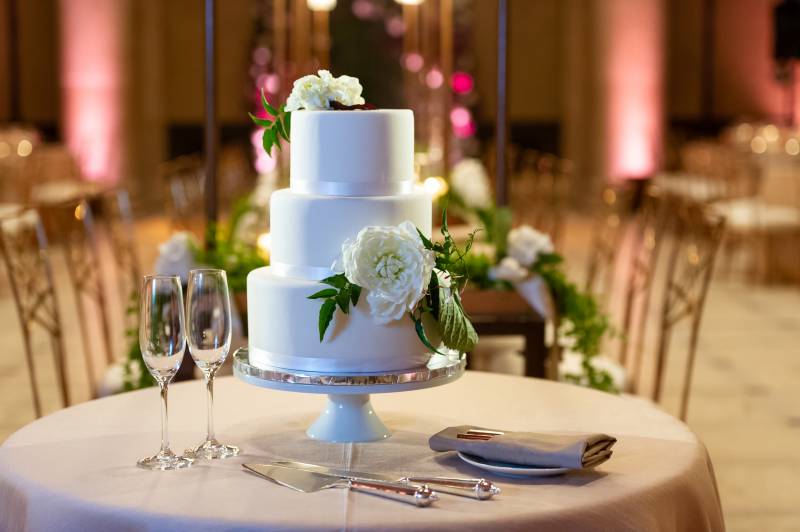 What are you most looking forward to as a married couple?
Being with Roland makes even mundane everyday things more fun. Whether we're grocery shopping, cooking dinner, or standing in line at the post office, if we're together, it's a good time and I'm looking forward to a lifetime of happiness with my favorite person.
Advice for a Bride/Groom on their wedding day:
I know this sounds cliché, but enjoy the day! It's true when they say the day goes by fast, so focus on enjoying yourself and do not get hung up on the little details.
Congratulations to the happy couple! We wish you a fruitful marriage and many years of wedded bliss!
Sources
Chloe Jackman Photography|Shine Event Productions|Asian Art Museum of San Francisco|Sabrina Dehan; Glamour Closet|Men's Wearhouse|Taste Catering|Taste Catering|Event City Design|Elmo the DJ|Dani Faye|Taste Catering|Flemings Printed Affair