Rolanda and Daniel met in 2013 while volunteering at the Urban League of Broward County Young Professionals Network in Fort Lauderdale, Florida. At that time, they would see each other at general body meetings and volunteer events and spoke briefly. When Daniel learned that Rolanda loved the Miami Heats, and she learned that LeBron James was his favorite athlete, they began to talk and text for hours about basketball. They had also went to rivaling schools, Florida State and University of Florida respectfully, which resulted in playful teasing. One memory that stands out to the couple was the 2014 Miami Heat scrimmage game. Rolanda saw that Daniel was a good natured down to earth person so she invited him to attend the annual season opener with her inner circle of friends. Since that outing, the pair formed a friendship that grew stronger and eventually turned into love over their interests in serving the Lord, others, and watching basketball. Weeks leading up to Valentine's Day 2015, Daniel did some investigative work and asked Rolanda's friend what some of her favorite restaurants were. On Valentines Day, after an Urban League community service event, Daniel asked Rolanda if she wanted to grab something to eat. A few minutes after the hostess at Foxy Brown (Rolanda's favorite brunch spot) seated them, Daniel told Rolanda he was going to the restroom and came back with a dozen roses. Three days later, they were officially dating. Check out Rolanda and Daniel's romantic surprise engagement session, captured by Gerome Ogeris Photography.
Bride: Rolanda Joanice, 32, Senior Attorney
Groom: Daniel Y. Nicolas, 34, Director of Human Resources
Place of residence: Fort Lauderdale, Florida and Akron, Ohio
Engagement Shoot Location: Washington, D.C.
Wedding date: August 4, 2018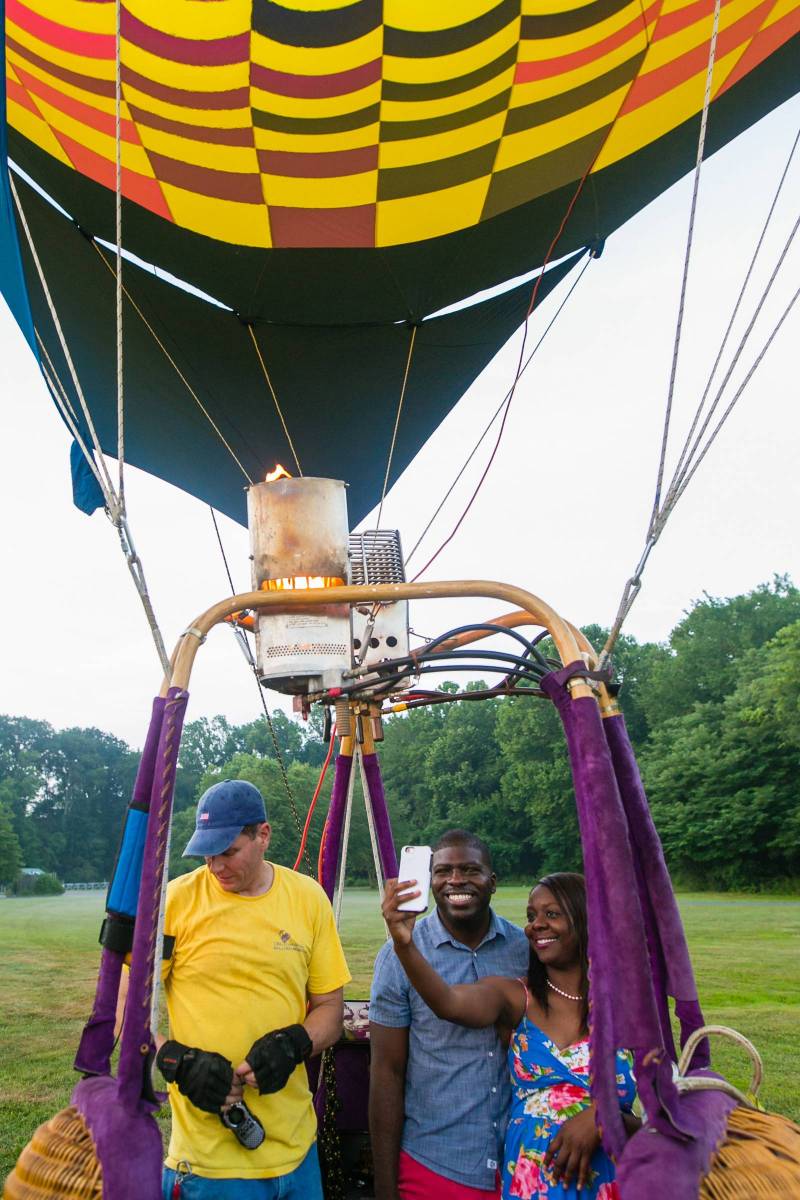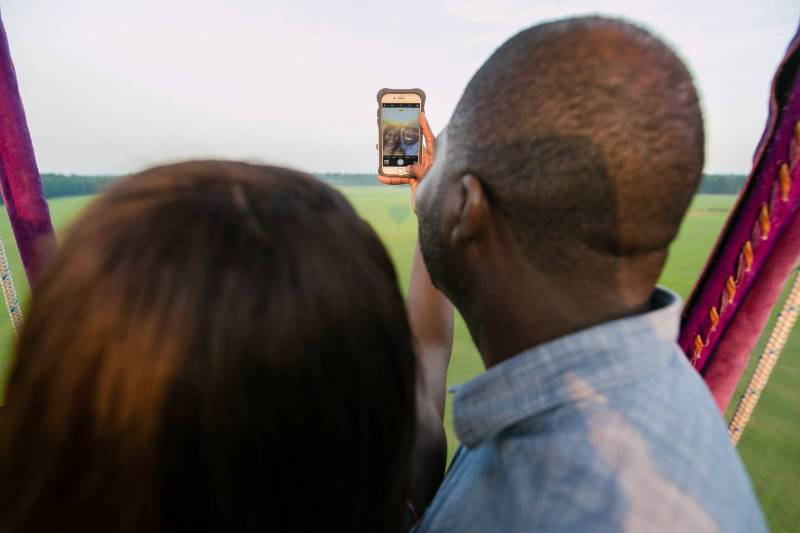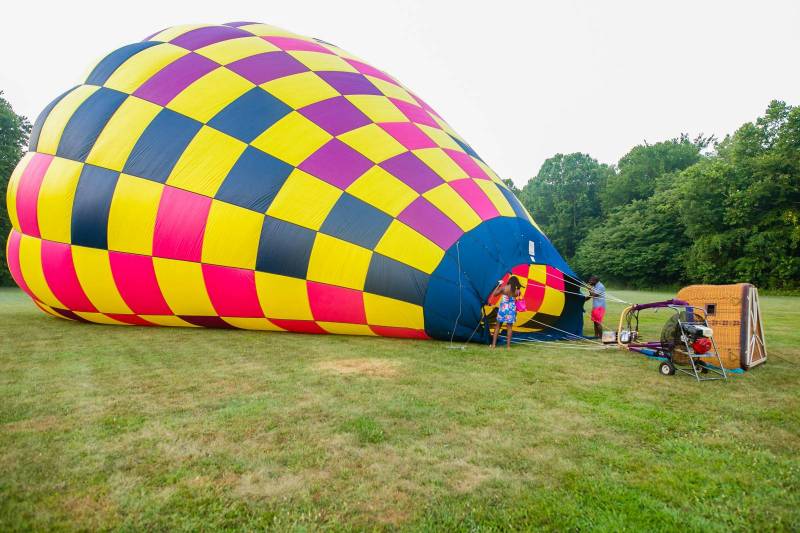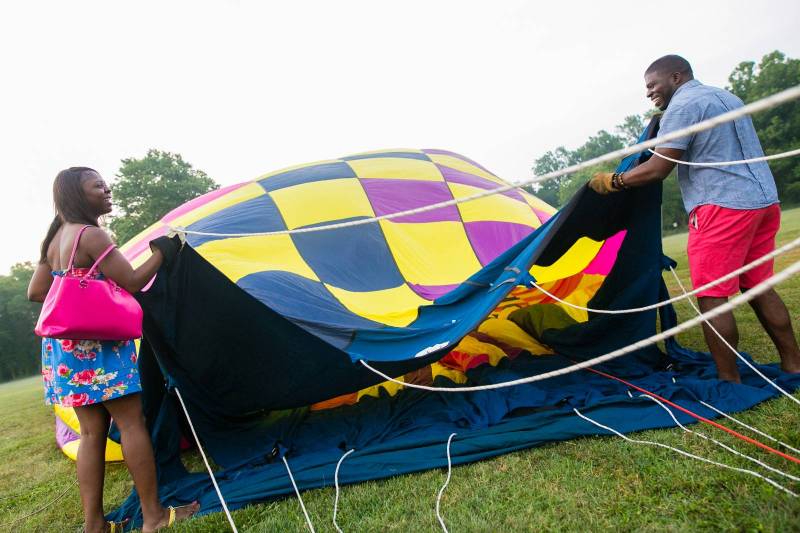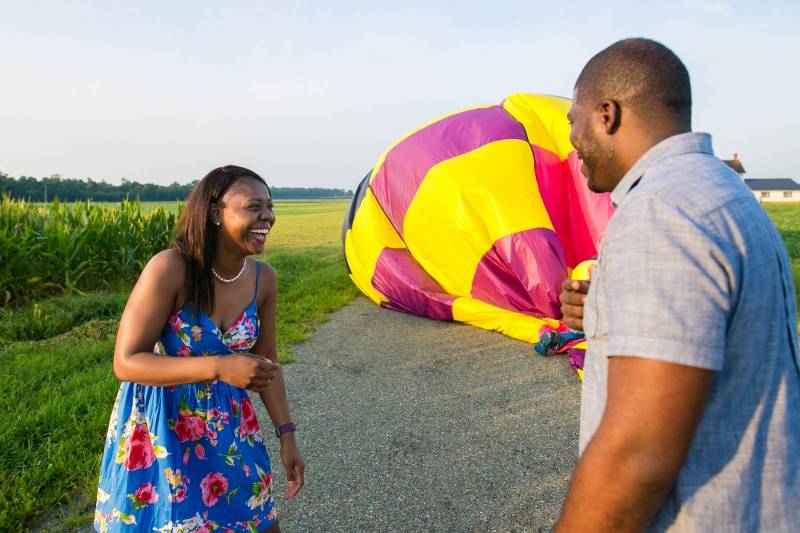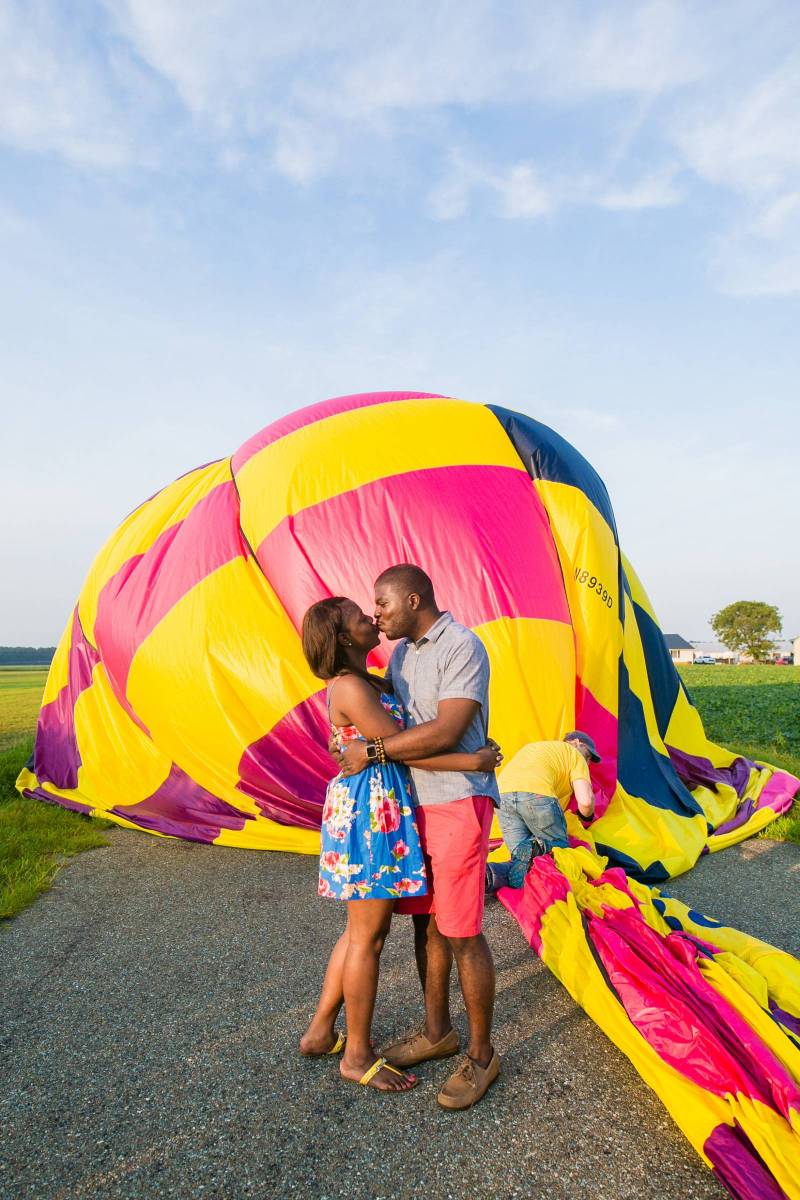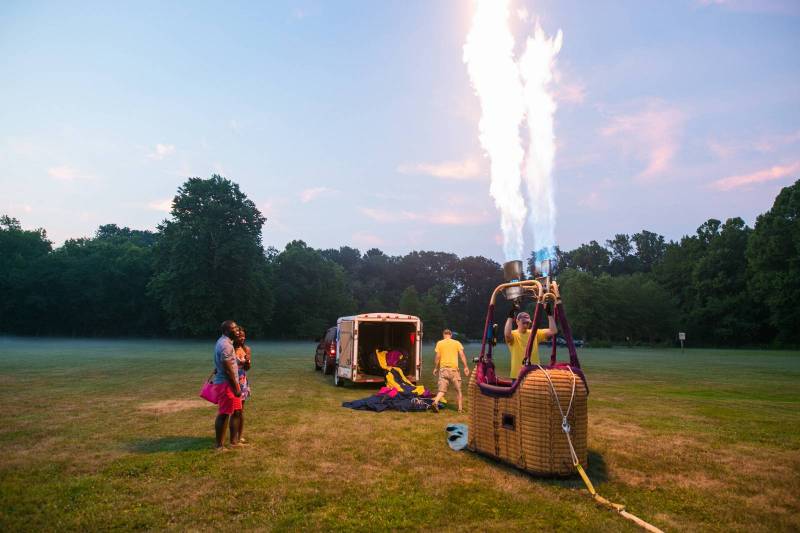 Engagement story:
To set the tone for a romantic proposal, Daniel thought it was a good idea to make it an "engagement surprise weekend." The surprise started off watching the sunrise on a hot air balloon that Friday. Rolanda later admitted that she thought Daniel was going to propose on the balloon. The next day, they went to the beautiful National Harbor in Maryland. To their dismay, it started pouring so there was a slight delay as they waited for the rain to stop. As the "surprise crew" tried to adjust the plan because of the weather (they were given specific instructions not to call Daniel on the day of the engagement) and come up with an alternative plan, but the rain subsided and the original plan was back on. Both Rolanda and Daniel's family and friends were incorporated. Each person held a sign which spelled out, "Will You Marry Me?" Daniel took Rolanda to "The Awakening" statue which is located in the sandy area that emerges from the Potomac River. His signal was when he saw his cousin he could then begin walking Rolanda back to the general area. This was also his confirmation that the "surprise crew" was in place on the National Harbor green. After his cousin passed the couple, he walked Rolanda up to the green where her friends turned around one by one with the signs. As each person turned around, Rolanda began connecting the dots and realized she knew the sign holders. Even better, the "Will You Marry Me" question was directed at her!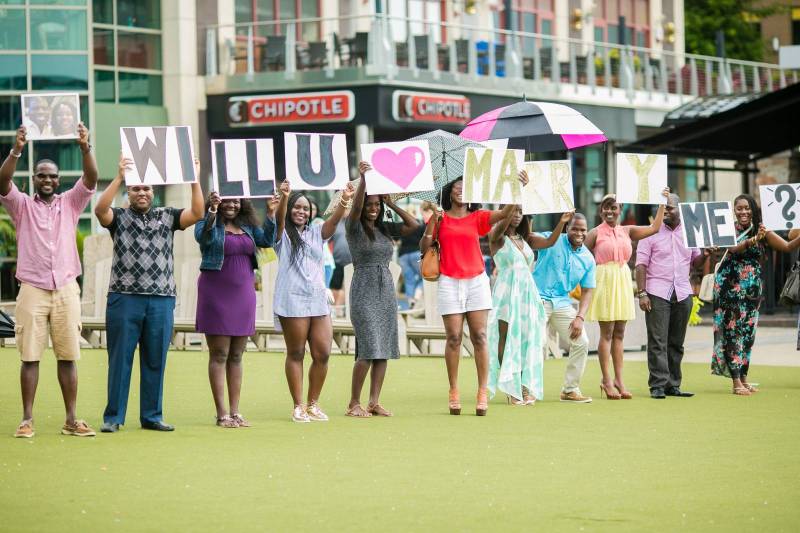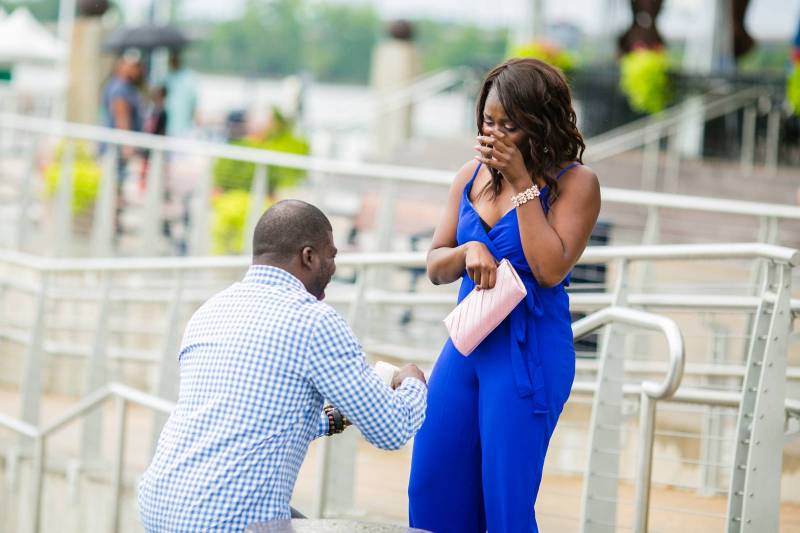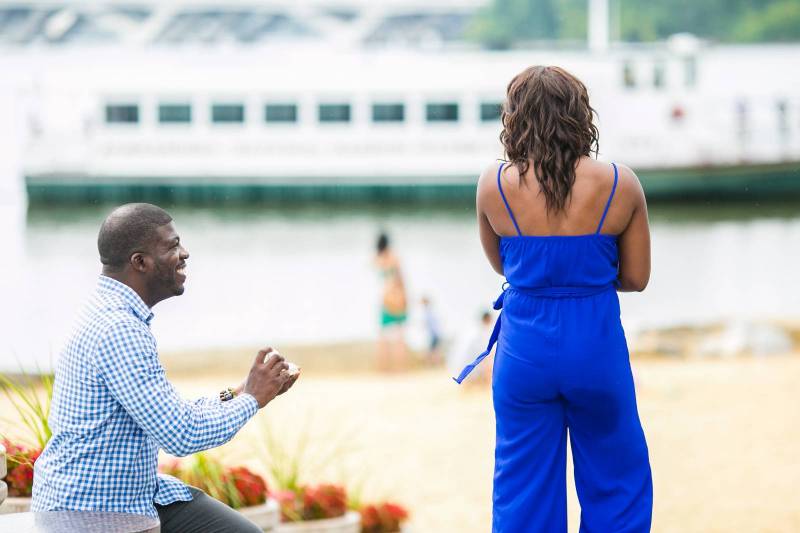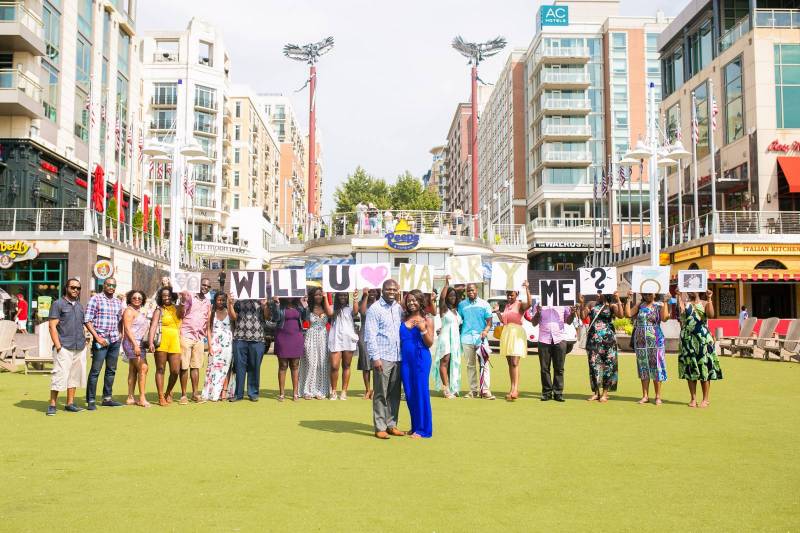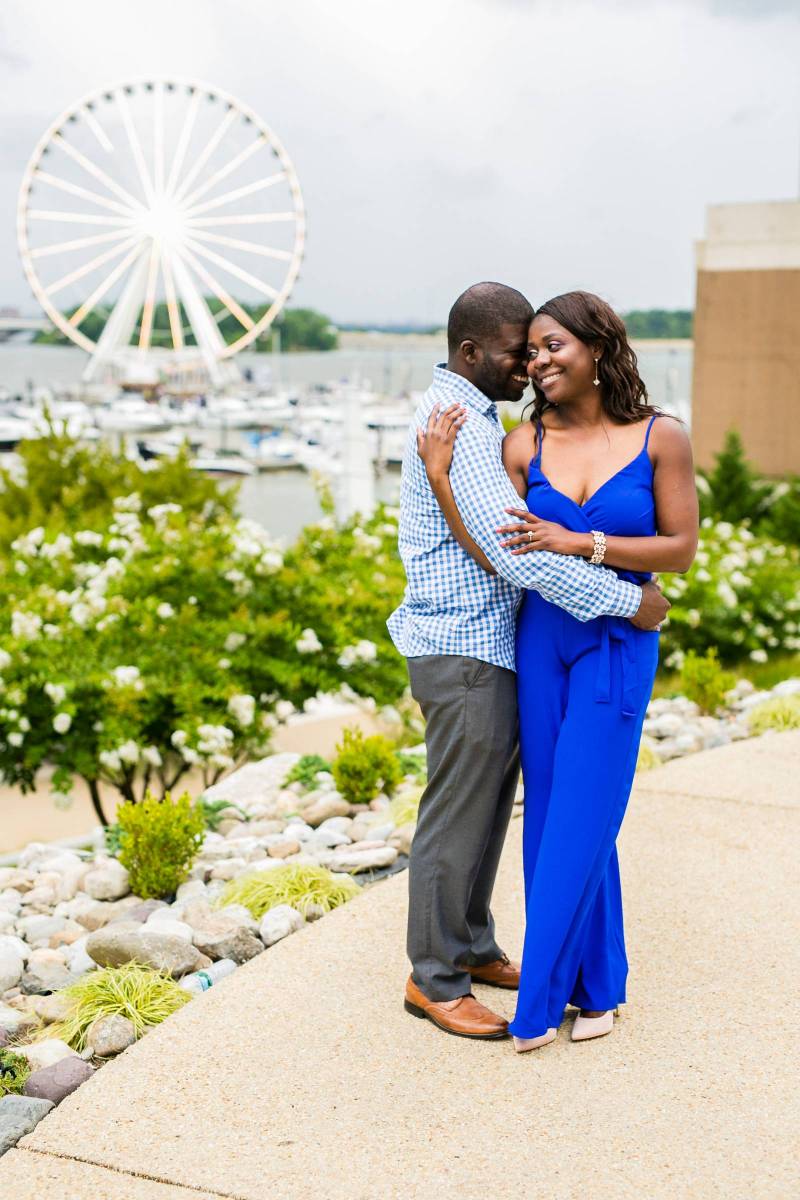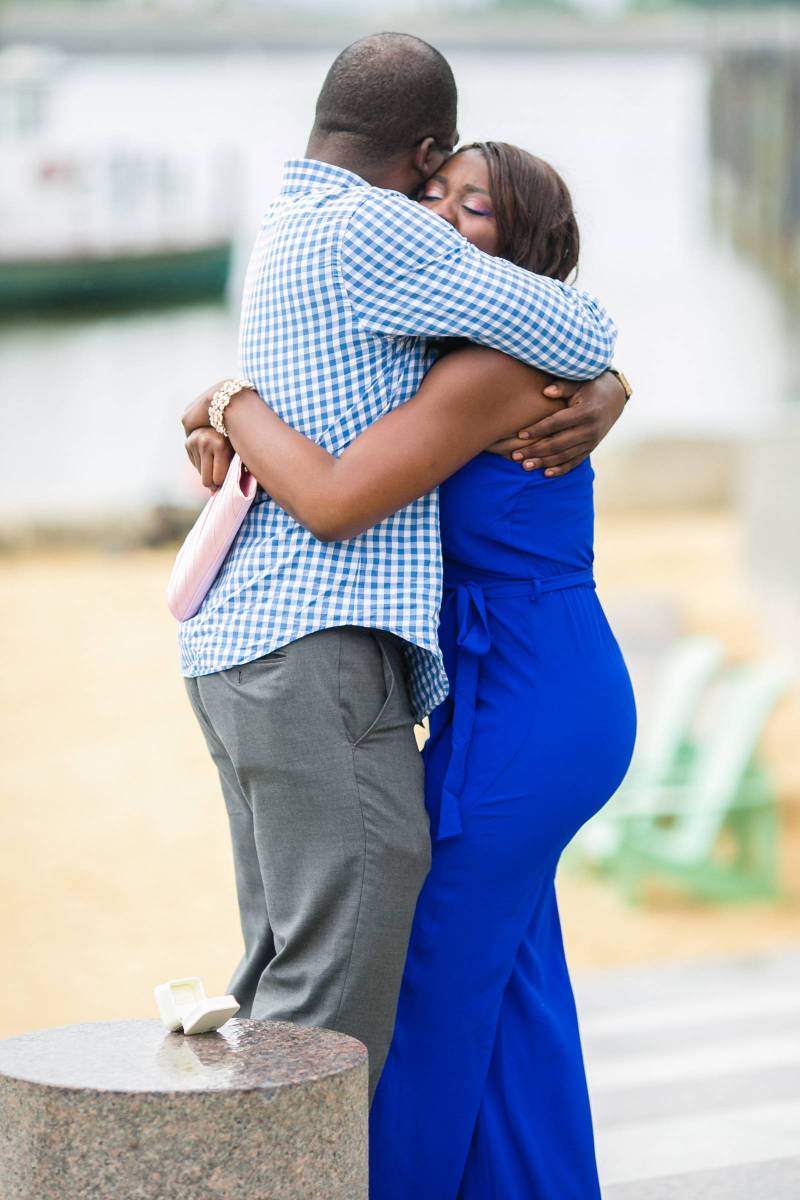 For the Groom: Walk us through the behind the scenes of creating this special day.
Three things that are important to Rolanda are family, friends, and creating memories. Daniel immediately recruited Rolanda's sisters to help him plan the surprise. Accordingly, Daniel wanted to create a memorable experience that incorporated her friends whom she considers family. Several months earlier, they planned to meet in D.C. Rolanda agreed to come support Daniel in his Spartan Race that weekend. To keep the element of surprise, I kept Rolanda thinking I was still running the race while I was planning the engagement. Daniel had a detailed timeline which outlined when he was going to speak to Rolanda's parents, invitations, confirmations, securing the photographer, engagement photoshoot locations, and weekend events. Several weeks before the engagement, our "creative team" got together to design and paint the signs. Upon his arrival to the city, Daniel, the photographer and Rolanda's sister did a walk through to ensure all engagement details were taken care of. Close friends and family were contacted and flew into town to take part in the surprise. Guests were part of a group chat and given instructions such as no social media posts to indicate they were in D.C., where to park, weather updates, and of course not letting the secret out of the bag.
What makes your love special?
In the words of Tony Robbins, "Marry someone you love to talk to." And that's exactly what Rolanda and Daniel do. They love talking to each other. Their love for talking has connected them and also deepened their understanding of what it means to date someone. They started off as friends and shared a number of commonalities and interests. Both were raised in Christian households, and as a result enjoy serving their communities and mentoring youth. They also love watching and discussing basketball. Hobbies aside, they both believe that in order to see changes, they have to be part of the solutions. They are connected and committed, and their love is special because their core values align in a divine way.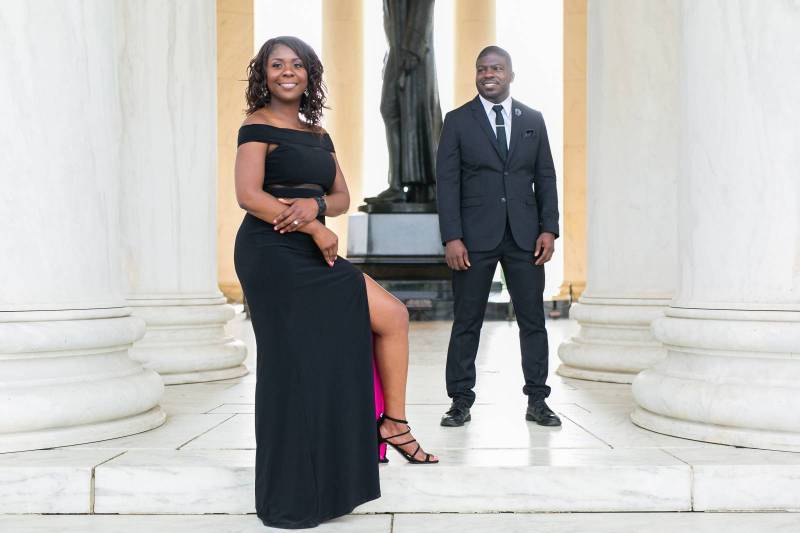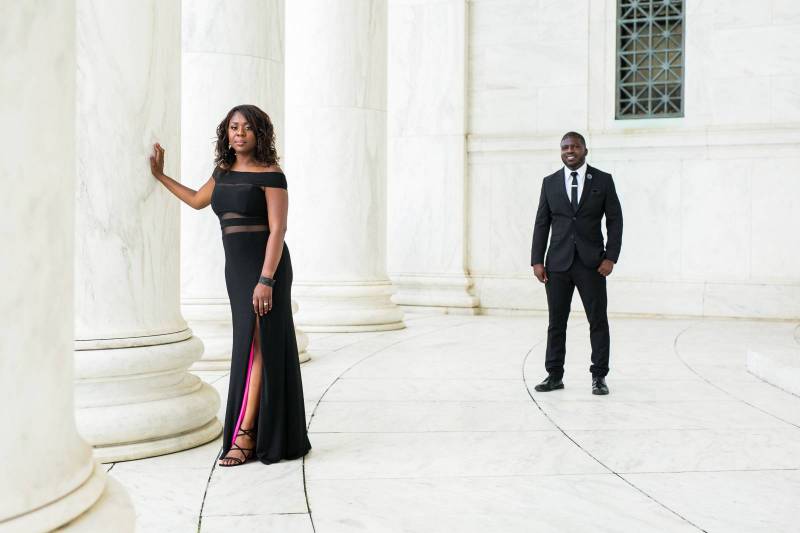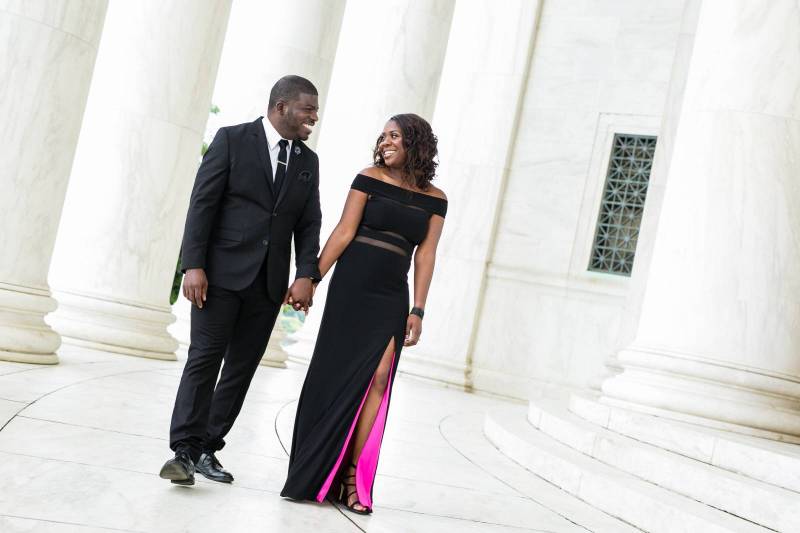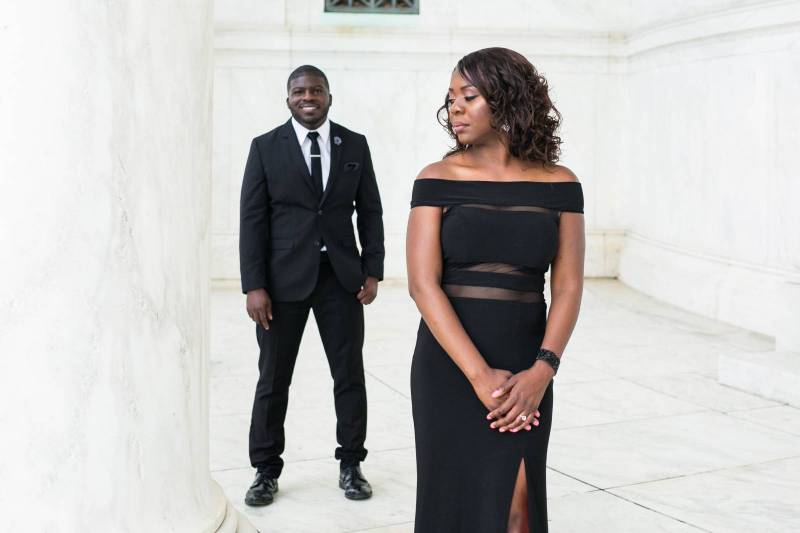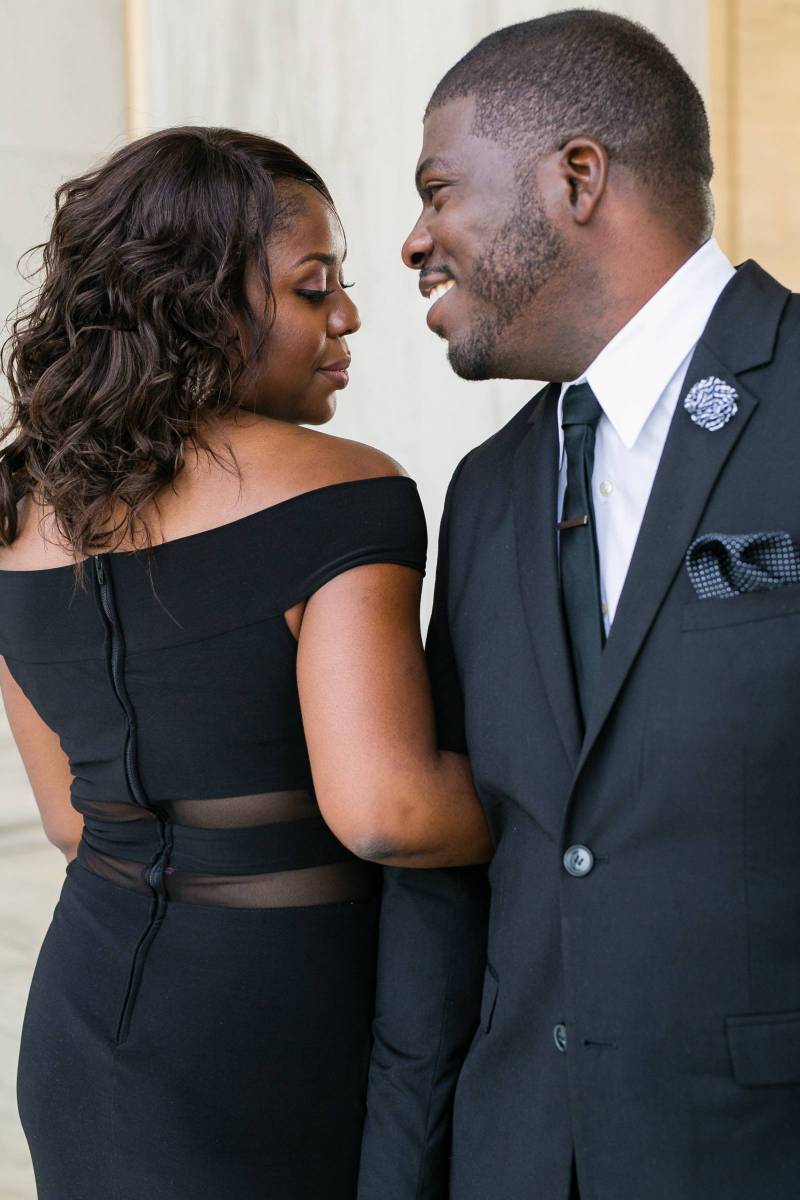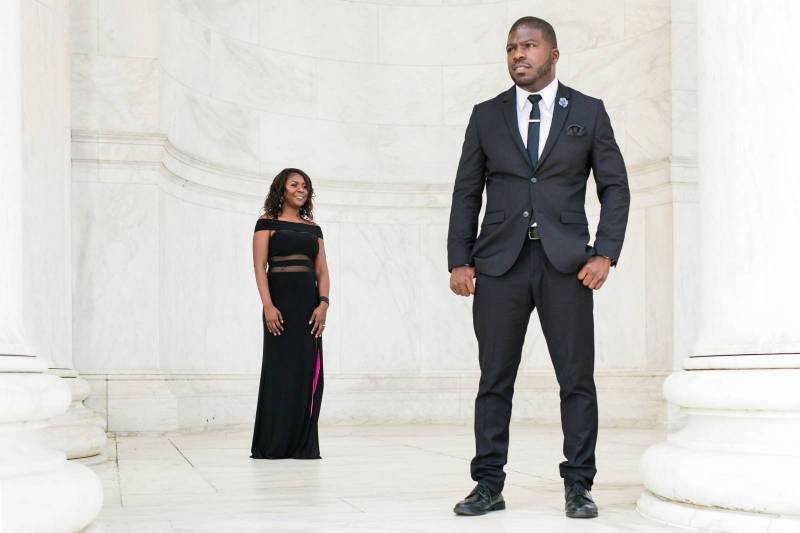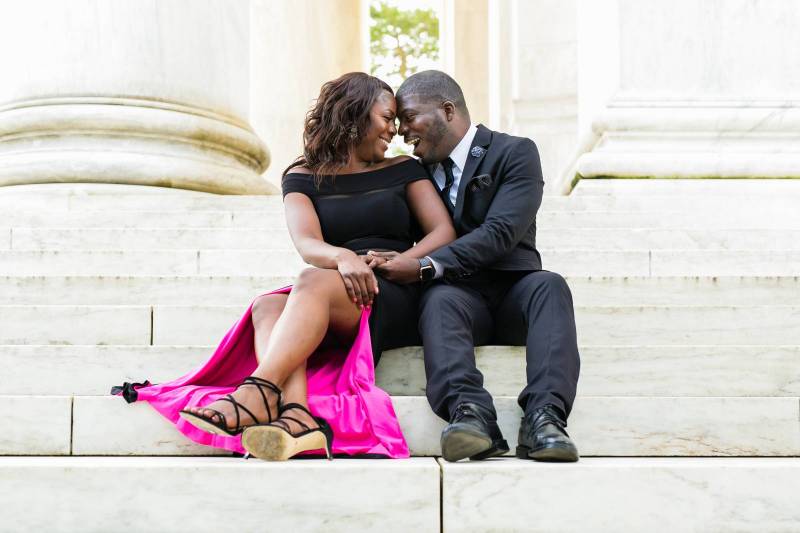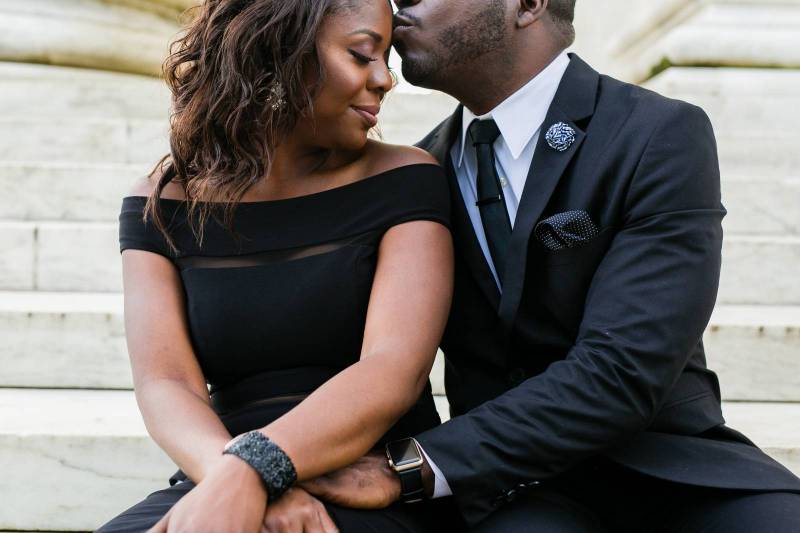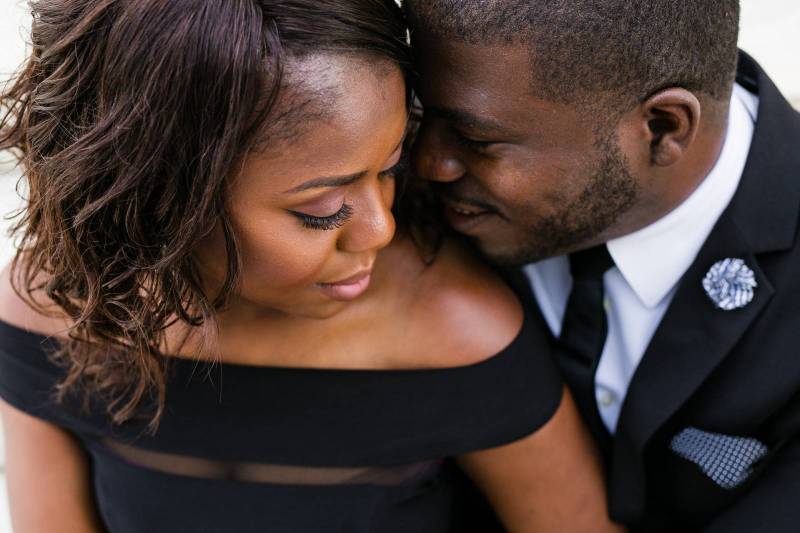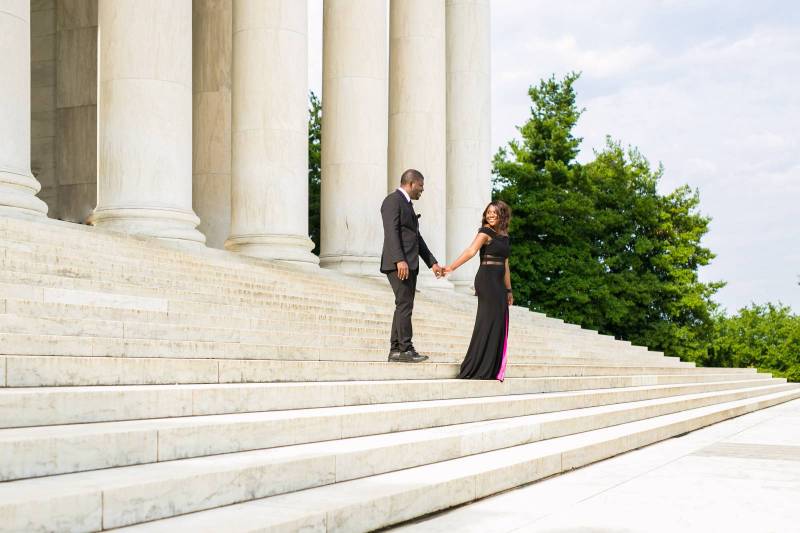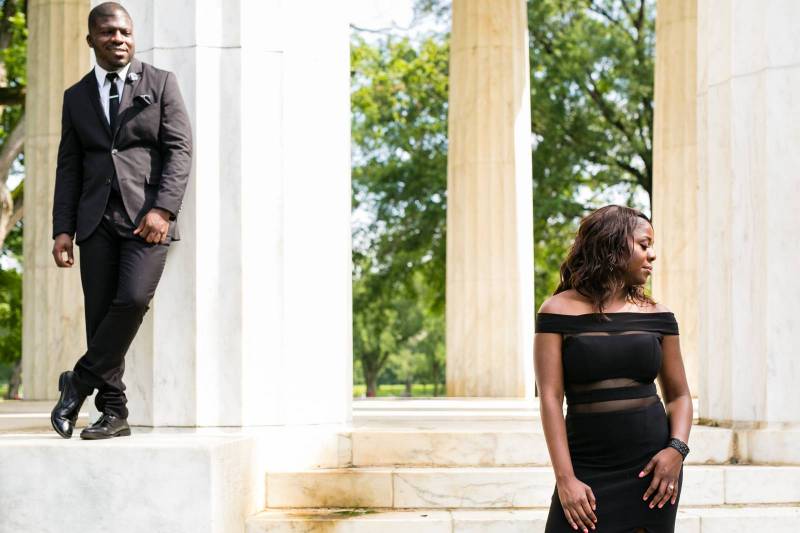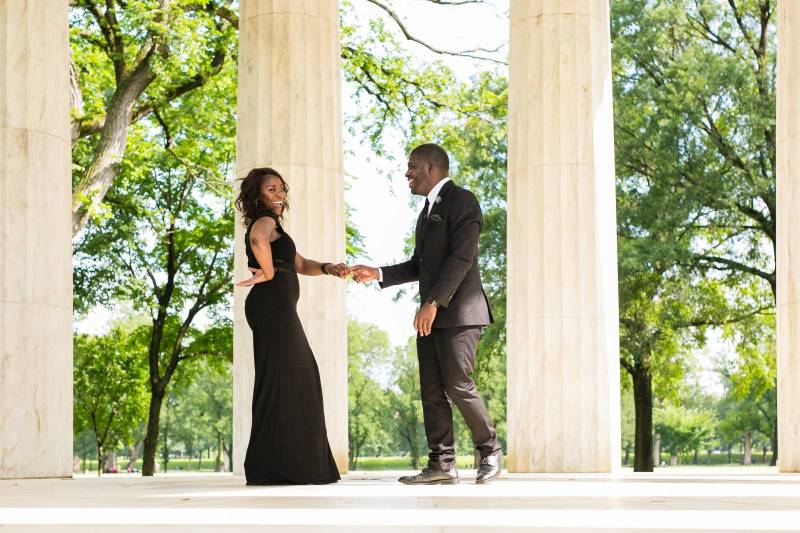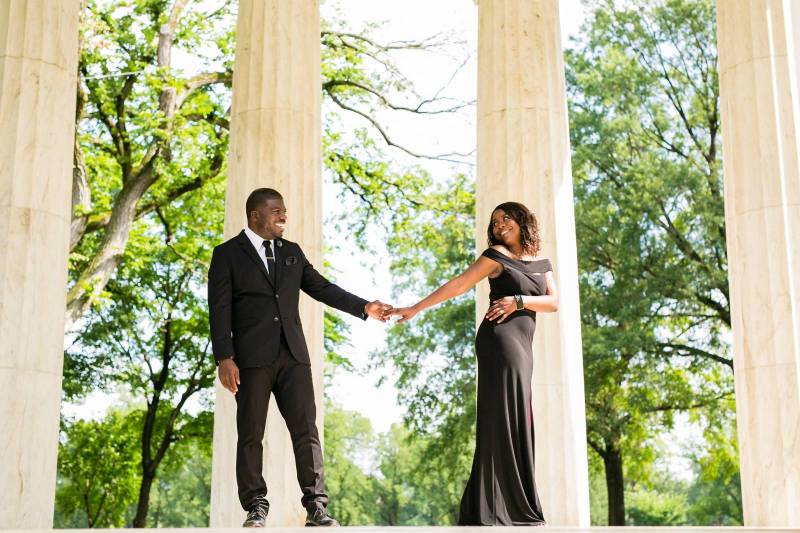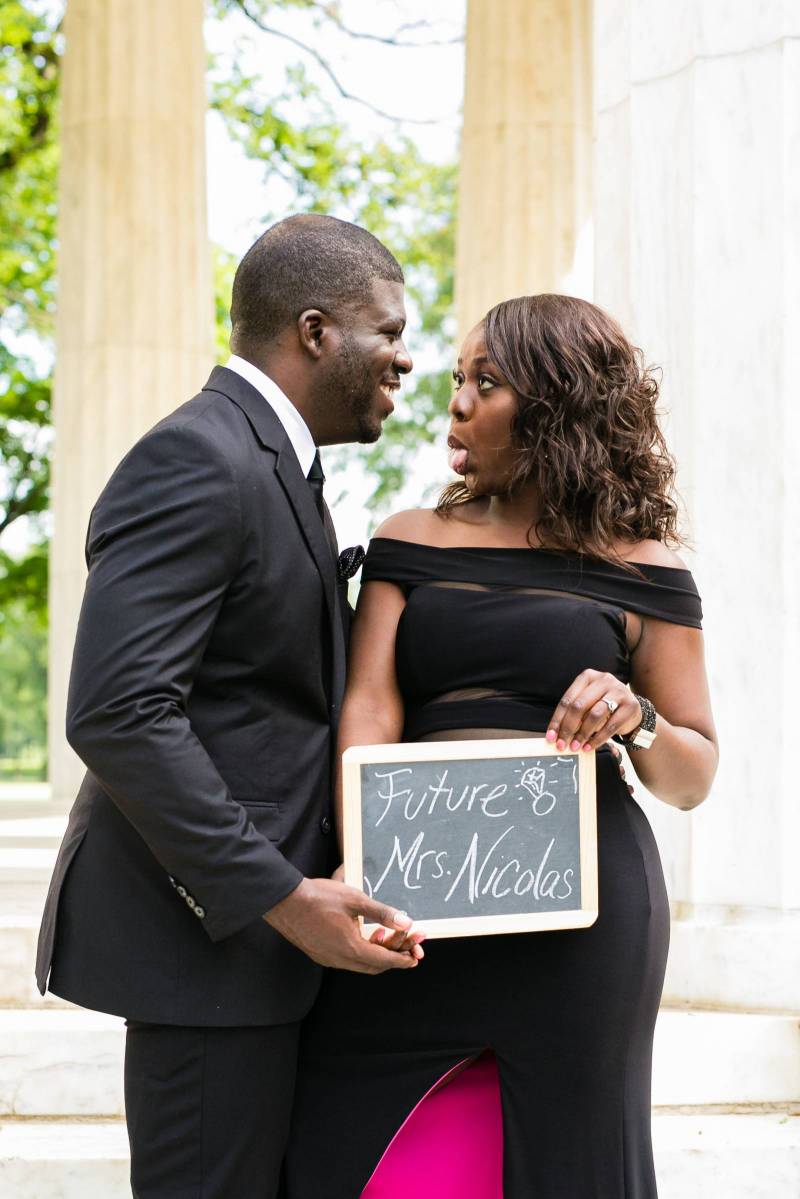 What was the theme of your shoot?
The theme of Rolanda and Daniel's shoot was "This Is Us." They wanted to capture what they had in common, but also what makes them unique. Both wanted to capture an aura of class, strength, and elegance in their shoot. The D.C architecture coupled with the black attire captured that vibe perfectly. If their friends were to use words to describe them as a couple; the words class, strength, and elegance would definitely come up frequently. For their second and third looks they wanted to add two areas that are special to us. Both are incredibly passionate about their alma maters, which brings a lot of laughter to their relationship. Many of their friends poke fun of the fact that they're together despite their schools being rivals. So they also wanted to capture the fun and playful side of their love in this photo shoot. Lastly, they're passionate about uplifting their communities which is evident through their affiliations with Alpha Phi Alpha Fraternity, Inc. and Alpha Kappa Alpha Sorority, Inc. When an APA and AKA join in romantic love, it's affectionately called "Lyle Love."
Were there any memorable moments during the shoot?
The photoshoot in itself was memorable because it was also a complete surprise to Rolanda. Their engagement weekend was a whirlwind and culminated with the photoshoot. Hours after the engagement surprise, they were up at 5 a.m. getting ready, and for Rolanda this was the first time seeing her outfits. With a lot of "white lies," Rolanda's sisters planned her looks and arranged for her cousin who is a make-up artist, to do her makeup. There are a number of amazing places to take photos in D.C. so keeping with the memorable aspect of the weekend, they went to the monuments and Georgetown. The best part is the love from the "surprise crew." They were up early with us on a hot, late July day and accompanied us from location to location where they had bottled water, towels, retouched makeup and helped with outfit changes.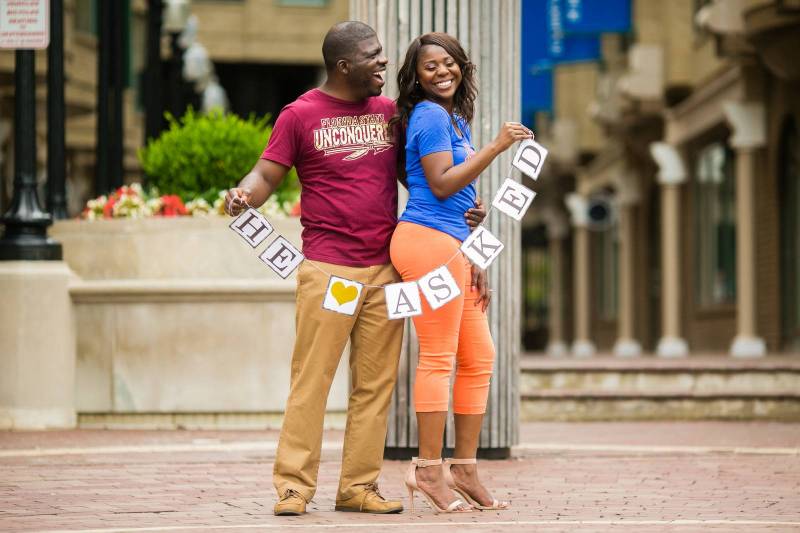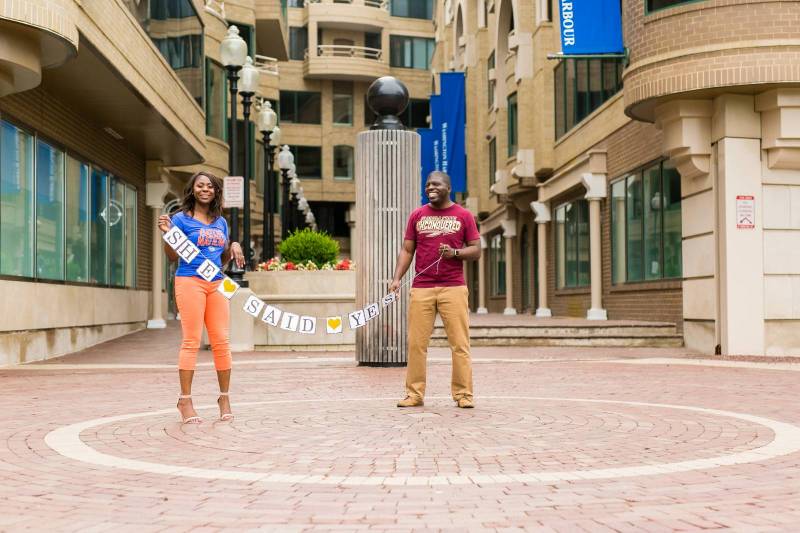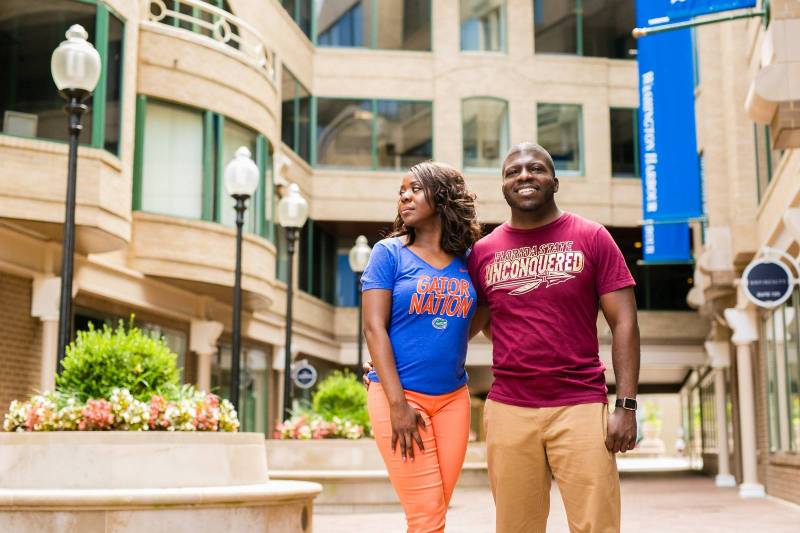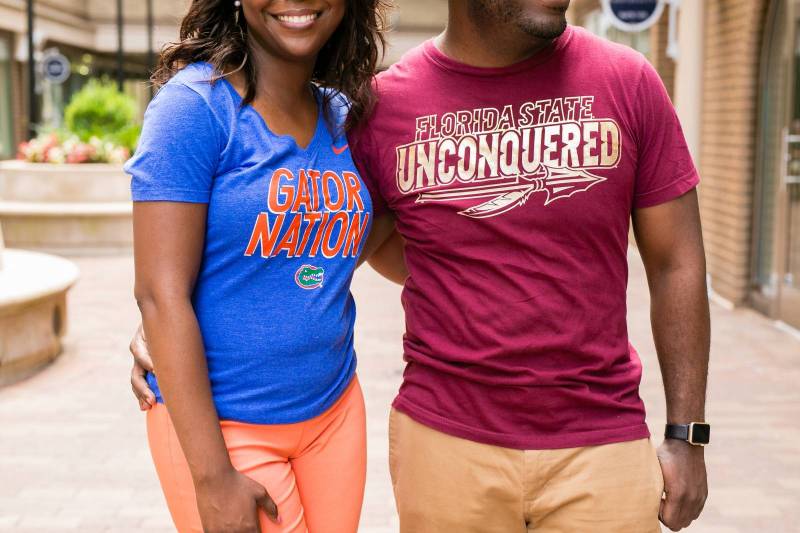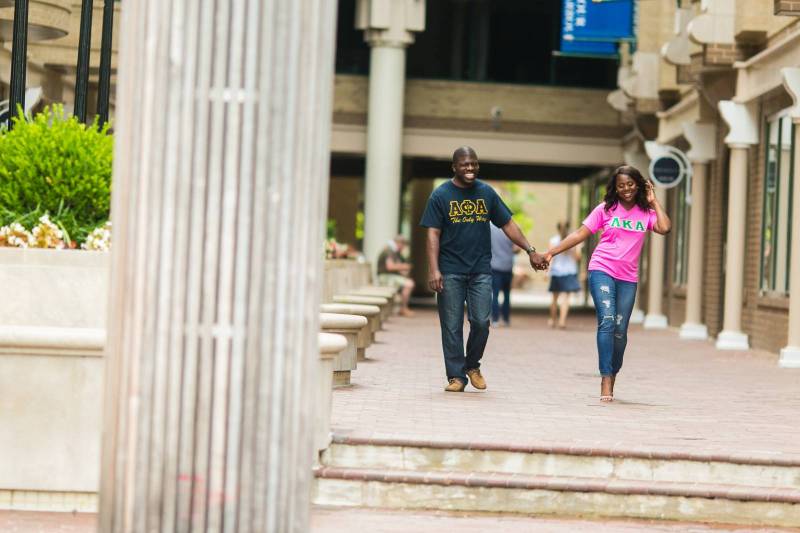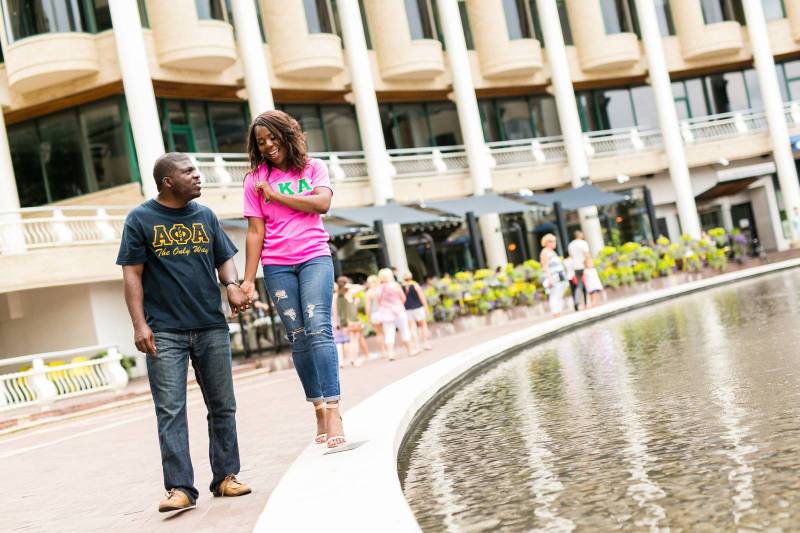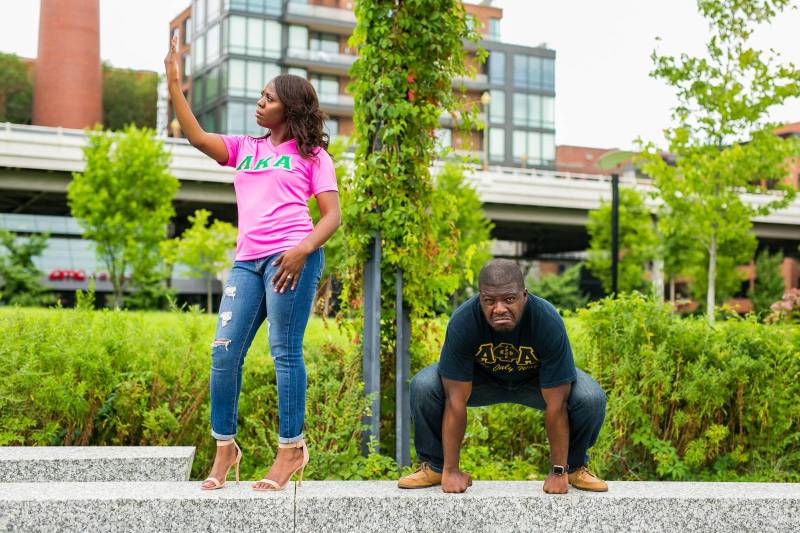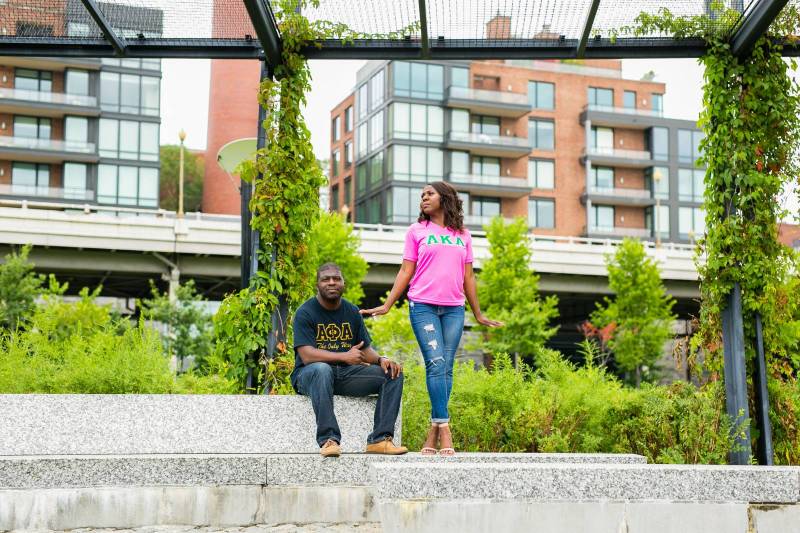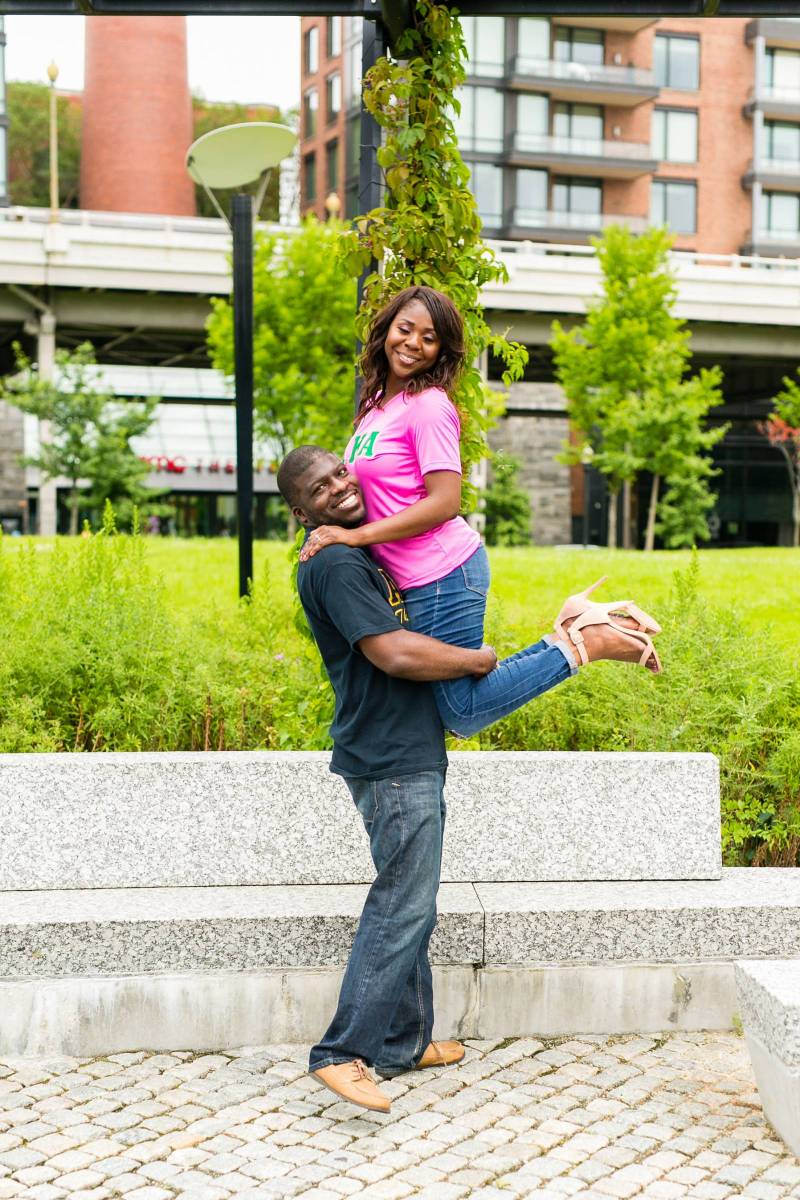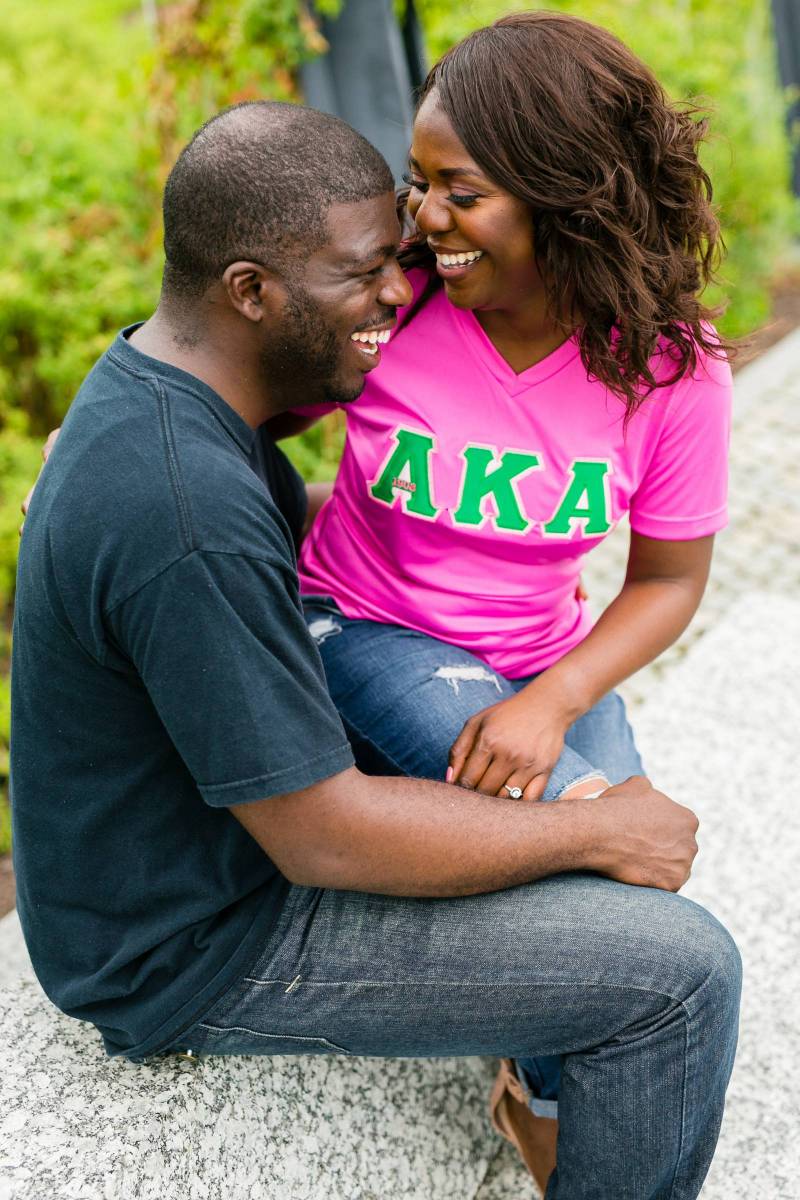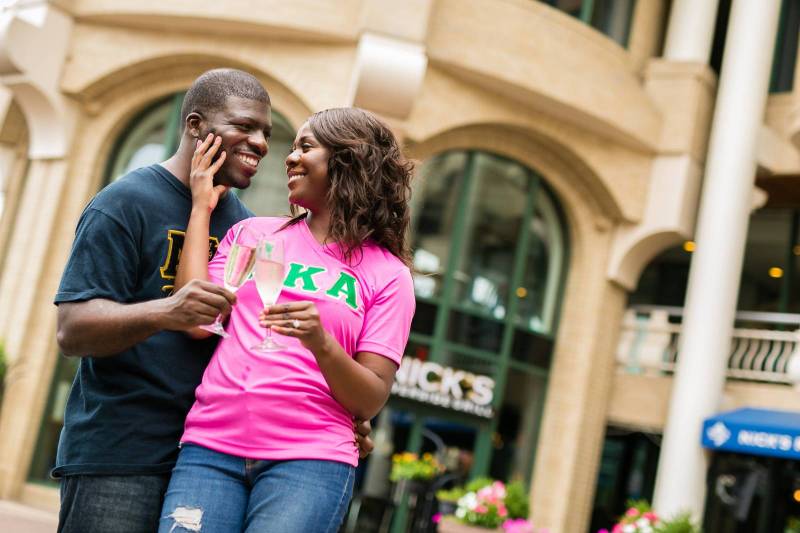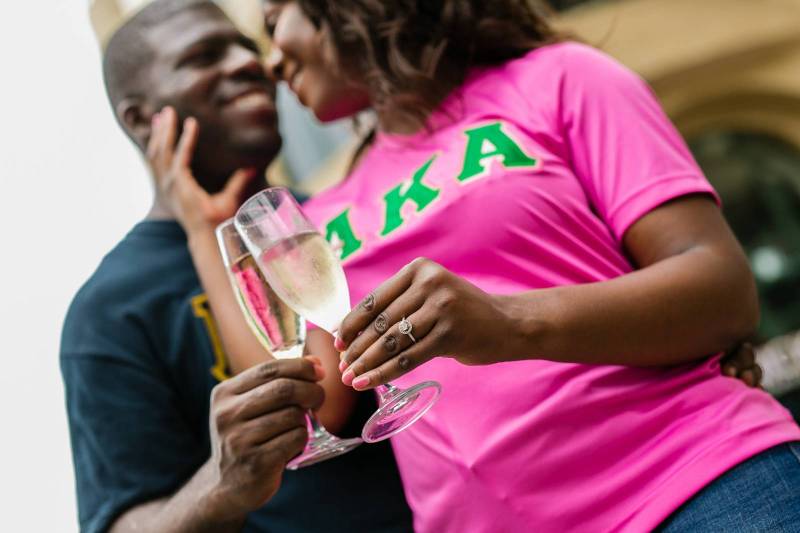 What are you most looking forward to about your wedding?
Rolanda and Daniel are looking forward to establishing their marriage through their faith in Jesus Christ and sharing their Haitian heritage. They also can't wait to celebrate their love with friends and family since they love to party!
Have you started planning your wedding?
When Rolanda and Daniel got engaged, their friends advised them to take a three to four week break to enjoy the moment! Needless to say, they did not exactly follow the advice and immediately started planning! Most venues require booking at least 14 months in advance so it was impossible to wait!
Congratulations to the happy couple! We wish you a wonderful wedding and marriage.