Have a love for floral arrangements and beautiful blooms? Then this culminating workshop led by Holly Heider Chapple, Botanical Brouhaha and a handful of talented, charitable volunteers, this styled shoot used the power of flowers and bridal wear to give back to Historic Downtown Bryan, Texas. Check out how they turned this dream into a reality that captured the heart and people of their hometown, and was captured by Ten23 Photography.
The Mission Behind The Styled Shoot
This styled shoot was executed on the final day of the inaugural workshop in the Botanical Brouhaha Garden Style Workshop series, a project that was born to raise financial assistance for specific needs we are aware of in our community. Specifically, the monies raised from the ticket sales of this workshop were used to provide rent assistance, dental care, transportation needs, learning and training opportunities.
Additionally, the styled shoot employed local community members for services, including modeling, hair and makeup, and workshop team logistics. The workshop students designed the styled shoot set, including wedding bouquets, floral wearables and venue styling.
Shoot location: Temple Freda, Bryan, Texas
Shoot theme: Rustic Romance With A Focus On Blooms
Color combinations: Burgundy, Fuschia, Violet, Coral, Petal Pink & Cream
Favorite detail: The over-the-shoulder floral spaghetti strap.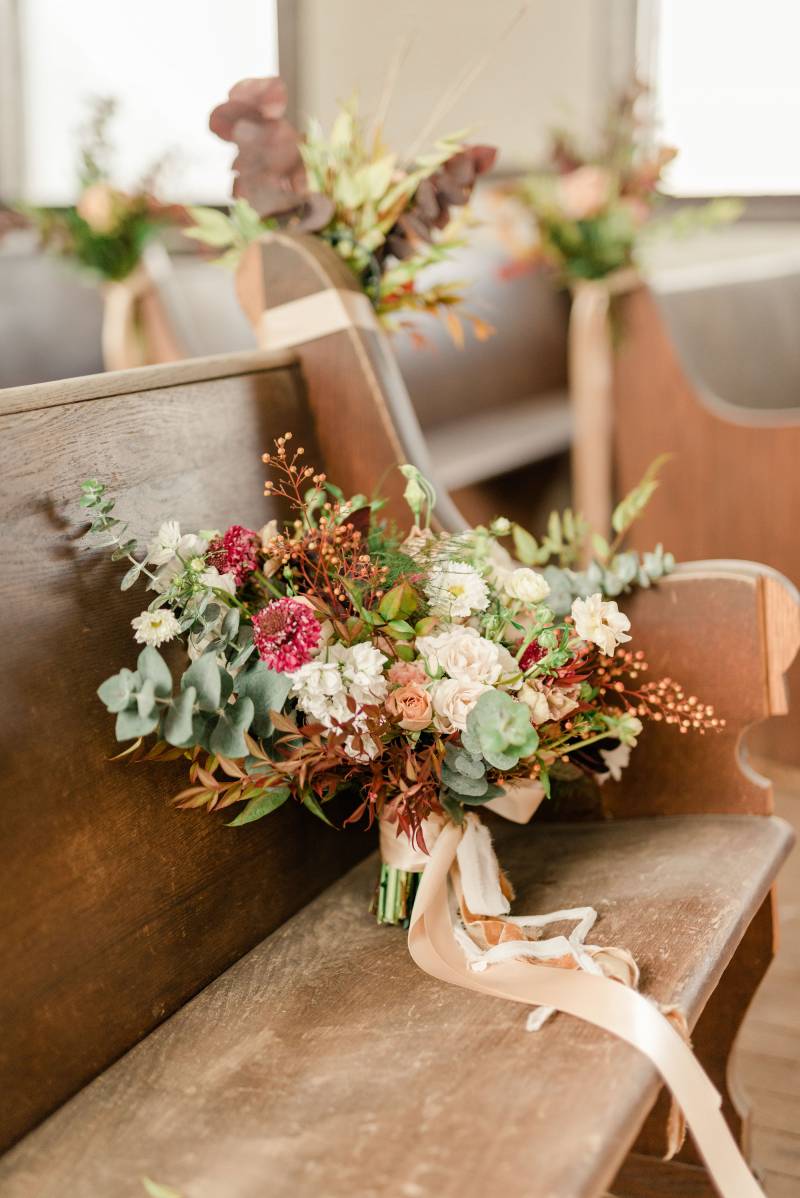 Decor Details:
Flowers:
Holly Chapple and workshop attendees a created pew end and altar arrangement using seasonal blooms from Greenleaf Wholesale and local flower farmers, including fashion-forward favorite blooms like 'Shimmer,' 'Cappuccino,' and 'Romantic Antike' roses, as well as black scabiosa, burgundy ranunculus, chocolate dahlias, brown lisianthus, and caramel carnations. Specialty foliages including golden brown copper beech and several varieties of eucalyptus added movement and depth to the overall aesthetic.
Ceremony:
Trailing East Texas Smilax woven along the architectural details completed the ceremony backdrop. Keeping environmental friendly practices in mind, the floral team used the Egg and Pillow mechanics from Holly Chapple's Syndicate Sales product line to create floral foam-free bouquets, wearables, and pew end arrangements.
Bride:
Our bride, a lovely local model, wore a strapless fit-and-flare Martin Thornburg gown with a hand-beaded sheer lace bodice. She carried a garden-style bouquet designed by Holly Chapple, which used a variety of stems that echoed the overall shoot palette. Silk and velvet ribbons in shades of cream, gold, and caramel trailed from the bouquet and punctuated the vintage feel of Temple Freda.
For a unique reception look, the bride transitioned from her hand-held bouquet to an over-the-shoulder floral spaghetti strap that was attached to her gown, which was one of our favorite elements from the inspiration shoot.
Please share unique details from your shoot:
Drawing inspiration from the architecture and history of Temple Freda, a historic synagogue that was established in 1912, we conceptualized a rustic wedding amid the original wooden pews, hardwood floorboards, and natural light. This venue is currently undergoing restoration, but we decorated it with a palette of caramel, persimmon, and wine, which created harmony with the landscape outside the synagogue's Greek Revival styled building. It complemented the vintage carpet at the front of the ceremony space.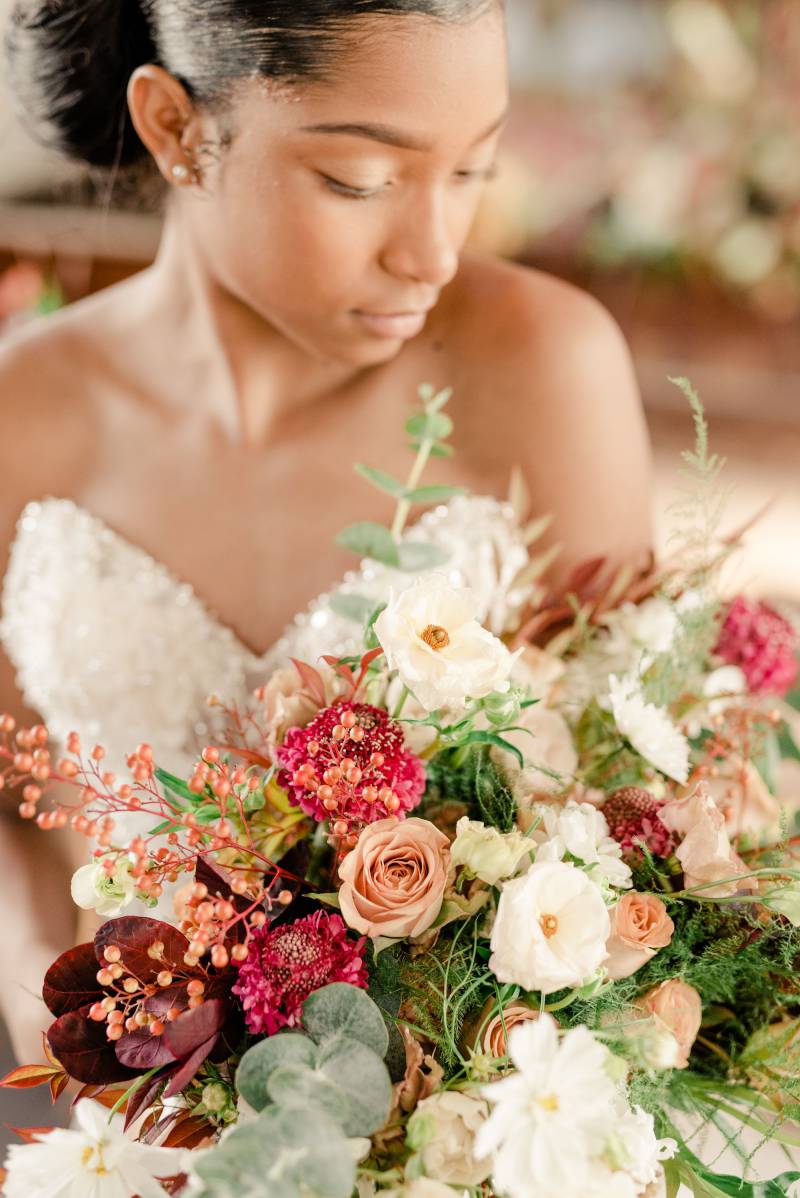 We can't get enough of this gorgeous styled shoot. Share your favorite details in the comments below.
Sources
Ten23 Photography|Temple Freda|Botanical Brouhaha|BB Garden Style|Holly Heider Chapple|Gabe Miller of Market 1023|Love & Lace Bridal / "Vada" by Martin Thornburg|Honey Silk and Co|Walkie Parnell|Symoria Adkins|Holly Chapple Line Egg & Pillow: Syndicate Sales|Holly Chapple Flowers|Urban Rubbish|Curated Blooms|Blooming Blondie|Greenleaf Wholesale|Basecamp Farms|Woodbine Flower Farm|Woodbine Flower Farm|Petals, Ink