Zsaval and Daniel met after they locked eyes at the LegalZoom Christmas Party in 2013. Although they both worked at the same company, they did not know each other prior to that night. Everything changed from that moment on and after three happy years together, they got engaged while they were on vacation in Mexico. Nearly a year later, Zsaval and Daniel got hitched with a sophisticated and romantically rustic wedding at Canyonwood Ridge in Dripping Springs, Texas. Check out their special day, captured by Tony and Elena Smith Photography.
Bride's full name, age, and occupation: Zsaval Walker McMahon, 32, Account Executive
Groom's full name, age, and occupation: Daniel McMahon, 36, Robotic Process Automation
Place of residence: Conroe, Texas
Wedding date: October 22, 2017
Wedding location: Canyonwood Ridge, Dripping Springs, Texas
Wedding theme: Beautiful Central Texas Wedding
Engagement story:
We got engaged almost three years after we got together. It took place in Cancun, Mexico on October 16, 2016. We were overlooking the water of our hotel balcony.
From the Bride:
Our inspiration was rustic and woody. I was initially inspired by small tree trunks being used for the centerpieces at our tables and the theme went from there. I wanted to incorporate soft neutral colors for our gorgeous fall wedding. To reflect our African heritage, we jumped the broom and received an African money dance from all the women in our families.
When it came to our actual wedding, It was an overall great day. I couldn't have wanted anything more. I married the man of my dreams.
From the Groom:
I was excited on our wedding day. I couldn't wait marry my wife and start our life together.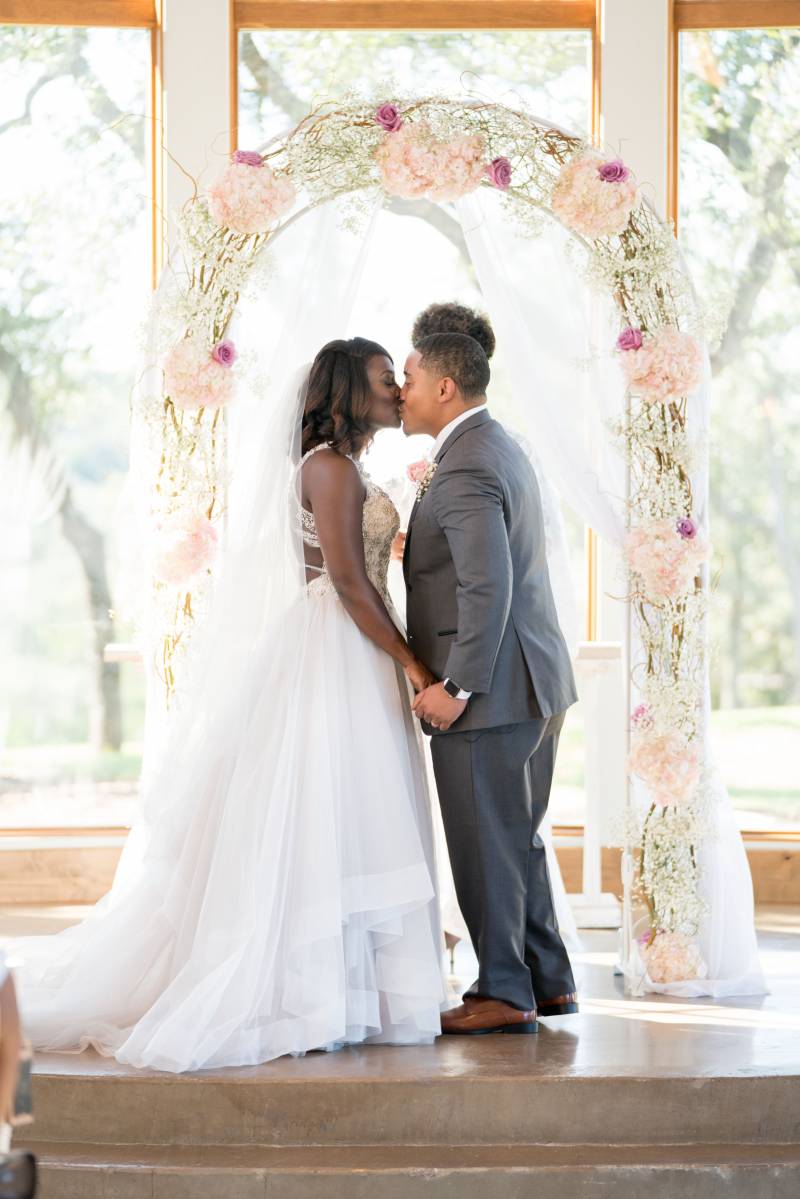 Favorite wedding detail:
I decorated my ceremony with lots of flowers. We flushed them down the aisle and all throughout the altar. We included lots of baby's breath to give it a simple elegant touch but to also create a rustic feel. Most of my reception decor was made up of DIY projects that involved tree trunk cuttings, mismatched vases, and antique silverware. I also created all of our large chalkboard signs of our favorite love quotes, signature drinks, dinner menu, and event schedule. My favorite decoration were two glass window panes I found at a garage sale that we used for our seating charts. I had a calligrapher write everyone's name on the glass window in chalk paint and it turned out beautiful.
Flowers were an important part of our decor. Aside from the baby's breath, we also used pink and off-white garden roses to provide a pop of color. With my bridal bouquet, I used more garden roses, baby's breath and succulents! My bridesmaid bouquets were mostly baby's breath with a single rose while the groomsmen corsages were simple baby's breath with twine.
We personalized the day with our signature drinks the "Dapper Dan" and "Mimi's Caribbean Mist." We also had a caricature artist and a lounge area. Our food reflected our personalities as well with Daniel loving barbecue and myself loving seafood. Our favorite part of the wedding was the first dance, jumping the broom and our gorgeous backdrop of the Texas hill country!
Your most memorable moment:
I think our best moment was jumping the broom during the ceremony. The pastor told us prior to jumping, "Whoever jumps the highest gets to make the decisions for the rest of the marriage". Daniel jumped at least three feet in the air to ensure his win!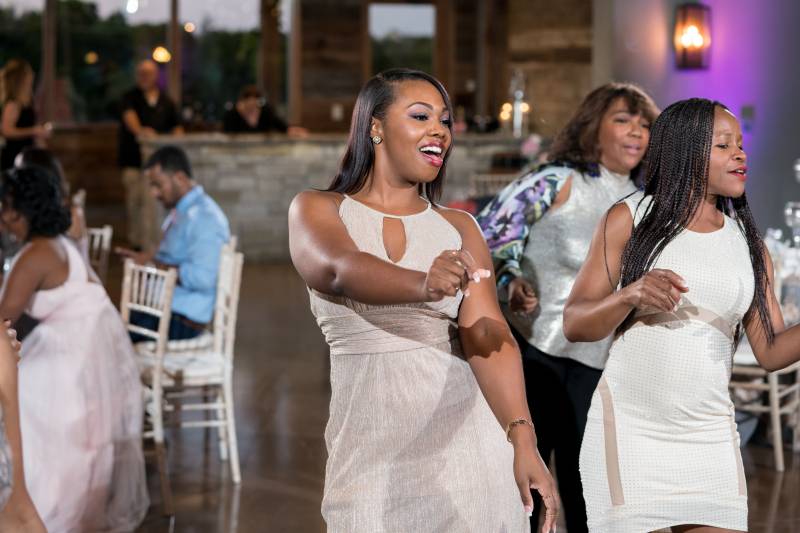 Advice for a Bride and Groom on their wedding day:
My best advice is: do small things early. If there are little DIY projects or small things that need to be taken care of, try to do them first, so you don't forget and get to relax during those last couple stressful days before the wedding. I also think making an effort to take as many pictures with your guests as you can bear. Lots of my guests were bummed they didn't get a chance to get a picture with the bride and groom.
Please feel free to include any other interesting anecdotes from your big day!
We both wanted to keep clean simple looks with our fashion. As the bride, I chose natural makeup, minimal jewelry and kept my hair down. The groom wanted to incorporate pink into his grey suit with brown shoes to give it a rustic look. We wanted everything to be as rustic as possible.
Congratulations to the happy couple! We wish you many years of wedded bliss!
Sources