While I was pregnant, I read tons of books, articles, and blogs to equip myself with the knowledge to prep me for my new role as a mother. Unfortunately, I had a traumatic birth experience, followed by a period of postpartum depression. At the time, I had no idea what was happening to me and why I was feeling the way that I was. I'm now aware that it was due to my hormones being out of control. But, I also couldn't help but wonder, " why didn't anyone tell me that this could happen?" Thankfully, the Continuum Conference is shedding light on important conversations that are not usually had around new mothers' issues.
The Continuum Conference was a phenomenal and spellbinding event nurtured by the amazing doula, Latham Thomas. There were over 40 speakers at this conference from all walks of life who embodied and amplified what it means to be a woman and the various stages that we experience throughout our lives. The Continuum Conference was centered on fertility, pregnancy, birth, motherhood, postpartum, and so much more.
As soon as I walked into the conference, I was immediately greeted by a small group of about five beautiful black women who were mothers, doulas, and healthcare providers. We introduced ourselves, had a light breakfast, snapped some pics by a gorgeous floral uterus, and began to talk. We discussed our pregnancies, birthing experiences, and postpartum life. I felt so comfortable because we all experienced some sort of traumatic experience that led us here for our paths to cross. It was like an unspoken sisterhood that I was a part of. I knew that the rest of the day was going to be amazing.
The event began with a sound meditation experience led by Sara Auster, a sound therapist, and meditation teacher. This exercise was one that I'd never experienced and I didn't know what to expect. Sara said that we needed to get comfortable and listen. It consisted of us doing a series of breathing exercises to set our intentions for the day. The exercise was amazing and afterward, my mind felt clear and ready for the day.
Latham Thomas came in dancing and singing to The Clark Sisters, "You Brought the Sunshine." What an entrance! We couldn't help but dance and sing along with her. The conference is the brainchild of Latham who saw a void in the maternal wellness space for black women and wanted to change that.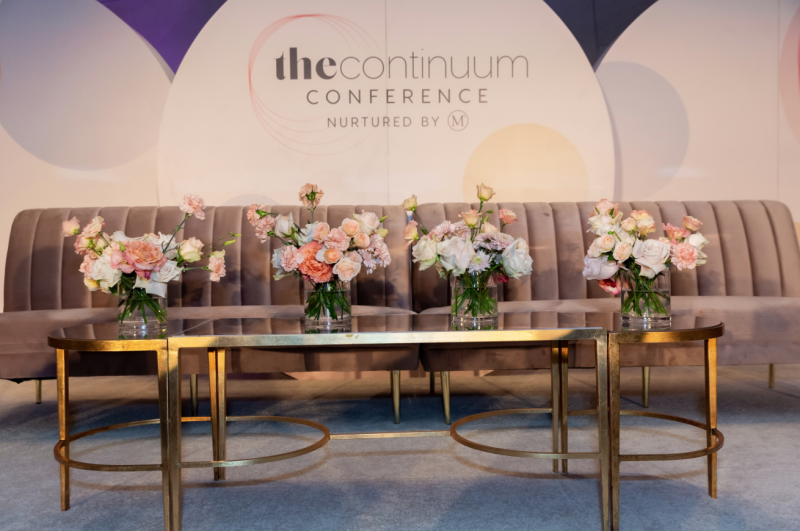 There was so much that took place that day. I want to highlight my favorite takeaways:
The keynote from Dr. Deidre Cooper Owens, a historian and award-winning author of Medical Bondage: Race, Gender, and the Origins of American Gynecology, touched on the deeply ingrained history of racism in American gynecology. One of the stories she spoke about was about a woman named Sarah Baartman, who was uprooted from her native South Africa, under false pretenses, to Europe to be paraded around in freak shows due to her large posterior. She added that this essentially laid the foundation for how black women began to be treated, written about, and experimented on for centuries to come.
Panel: The Current State of Black Maternal Health and What It Means For All of Us
Latham touched on the fact that we've come a long way as far as awareness of black maternal health. There are spaces to discuss how we can fix this issue. We can start now to level the playing field for black women. She also touched on obtaining tools to advocate for yourself.
Stacy Stewart, President, and CEO of March of Dimes added that the issues that black women are facing come from our history. We have to correct them by retraining medical professionals to treat patients equally regardless of how they look, their skin color, language, or other discriminatory factors. We need healthcare providers to respond to us in ways that respect and recognize who were are.
Malika Hodge, NYC Centering Healthcare Program Manager, and a doula is working to train healthcare professionals to have "village care." She's also trying to break down the power structure in medical spaces. It's so easy for women, even educated women, to lose ownership of their bodies. This dialogue hit home for me. I've felt this way many times as if I wasn't being listened to despite the fact that I know my body better than any doctor. Malika also shared that healthcare professionals need to be in a position to listen. She touched upon how there's a difference between how her white clients are treated versus her black clients and shared hard truths that black women face daily.
Panel: Postpartum Depression + Anxiety
Nneka Symister, Psychotherapist said that the term "postpartum depression" is no longer used. Instead, it's referred to as PMADS or Perinatal Mood or Anxiety Disorder because there is a spectrum and it's not just one thing. She mentioned that there is a big difference between the "baby blues" which happens right after birth up until 3 weeks and PMADS, which starts after 3 months. After giving birth to my son, I dealt with postpartum depression and didn't realize that I had it until I came out of it. I just knew that I didn't feel like myself but I couldn't exactly pinpoint why. I didn't experience the baby blues, but I definitely didn't feel like myself a couple of months after giving birth.
She also mentioned in mental health, there is a such thing as the "good enough mom." There is no such thing as a perfect mom. You can only do the best you can. I remember trying to be that "perfect mom." I had a list of things to do around the house, in addition to taking care of my son. I soon realized that was impossible and my mental health and well-being were more important. I had to rest and take care of me the best way that I could so I could be there for my son.
Kimberly Ann Johnson, author of "The Fourth Trimester," made a statement that I have always felt. She said, "everything a new baby needs, a new mom needs." Which is SO TRUE! A loving touch, eye contact, a continual food source – new moms need that as well. She also mentions how the absence of the presence of companionship and support that adults can offer allows women to fall into that rabbit hole of PPD. We don't have the basic needs after having a baby. In addition, we don't have postpartum plans due to the fact that maternal leave in this country is barely enough time for a new mom. This epidemic of women experiencing postpartum depression is a natural consequence of a cultural repair that needs to happen now. Kimberly was spot on with this.
I learned, witnessed, and shared so much at the Continuum Conference and I will forever be changed. I truly feel that it's my responsibility to remain part of these conversations. Black Mothers shouldn't minimize their experiences by not talking about them. We must share them so that we can learn and continue to move forward.
Thank you Latham for allowing us to be open and vulnerable to learning and sharing in the struggles and triumphs of motherhood. Thank you for understanding what mothers are experiencing and deciding to take a stand to bring this conversation to the forefront. Thank you for forcing us to take some time for ourselves at the Continuum Conference and to put ourselves and our needs first. These conversations MUST continue.