Image by Hanifa
Let's keep it real. Although we may appreciate being invited to the wedding of a family member or friend, the process of choosing the perfect guest attire can be a stressful task. Whether it's abiding by the highly encouraged dress code; or deciding what's flatter your figure; finding the most appropriate look usually requires some thought and attention.  You might also realize, after a few hours of rummaging through your closet, that it requires purchasing a new outfit as well. This is where we plug in our reminder to consider a Black designer for your next wedding guest look.
As Black fashion creatives continue to rise in prominence, it's important for us as consumers to recognize the important role we play in ensuring their survival and success. There are numerous, fresh and innovative Black-owned and Black-led fashion brands to choose from to suit your individual style..
However, if you're in need of a few suggestions, you're in luck. Check out our list of wedding guest outfits designed by our favorite Black designers below.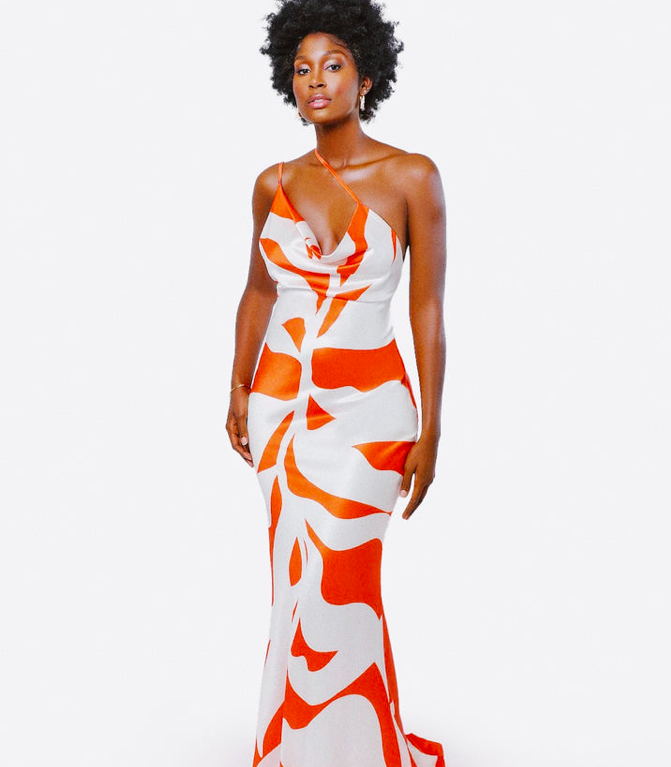 The "Lola" Dress by Hanifa
"Lola" is the perfect pick for an outdoor summer wedding that requires heat-friendly attire. Featuring thin, double-one shoulder straps, plunge neckline, and vibrant white and orange colored print, this gown is for the woman looking to make a statement.
Designed by Anifa Mvuemba.
The "Lotta" Dress by House of Harlow 1960 x Revolve
We love a retro vibe. "Lotta" is a playful number, giving an ode to the 70s with its color-blocked pattern and slightly billowing sleeves. Flirty and fun with a waist tie detail and mini dress cut. This dress could be appropriate for a semi-casual spring/summer wedding.
Designed by Nicole Richie.
The "Laces Light Lo" by Off—White
Streetwear brand Off—White took a step into the world of formal wear with this black, floor-length dress with fuchsia-colored straps. The timeless form and trendy details make this the dress pick for those attending a formal ceremony but still wanting a bit of personality within their outfit.
Designed by Virgil Alboh.
The "Marsh" Dress by Kimberly Goldson
Would you happen to be attending a winter wedding? With its festive neck tie accent and rich red color, "Marsh" gives off the feelings of opulence and holiday glamour.
Designed by Kimberly Goldson.
The "ABBA" Dress by Rendoll
For the wedding guest not afraid to take risks, the "ABBA" dress is sure to suffice. Both it's the striking turquoise color and wrap around flower detail make this dress an immediate eye catcher. The light plisse fabric also make it ideal for the a summer garden wedding.
Designed by Morenikeji Abina.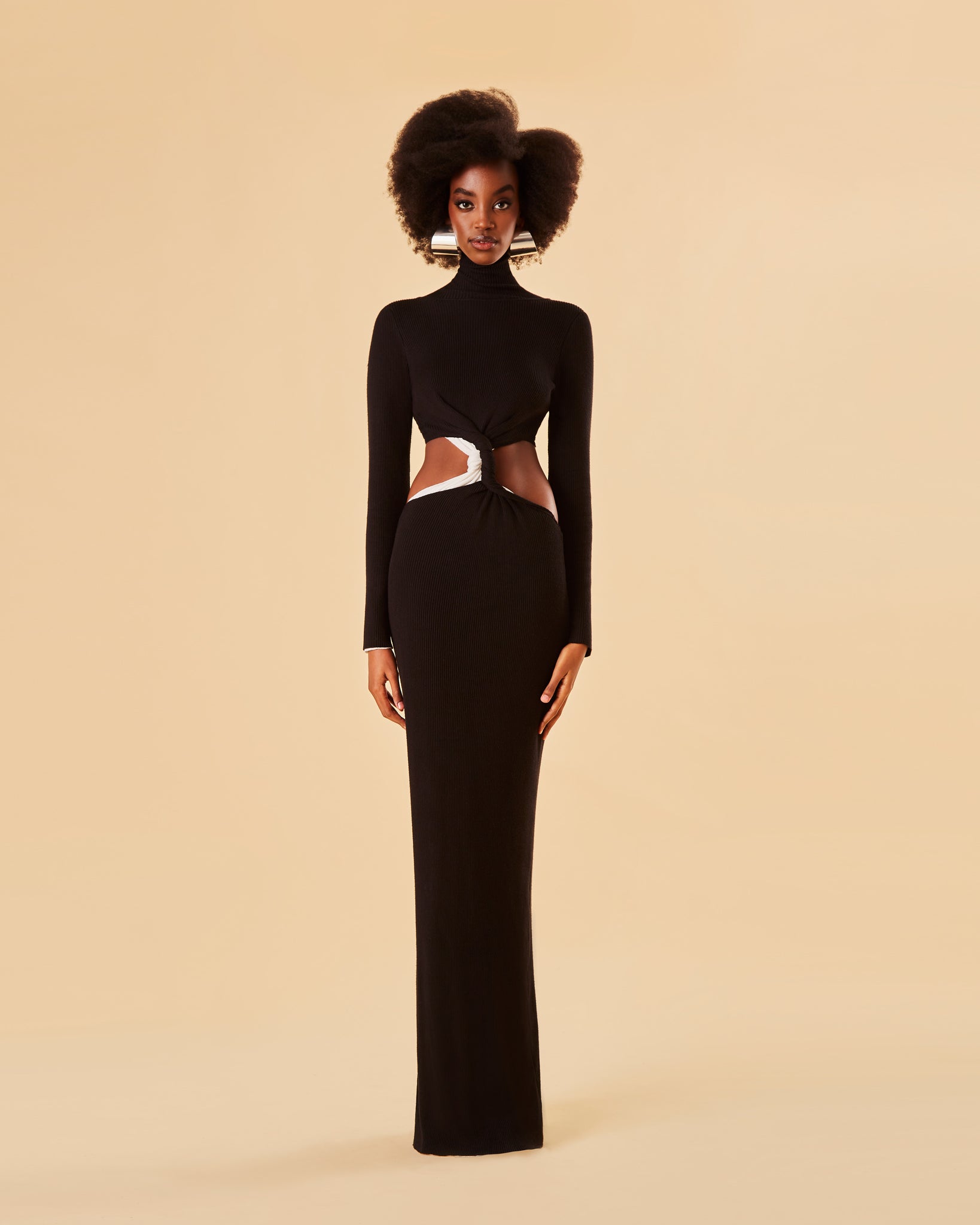 The "BEVERLY" Reversible Maxi Dress by Fumi The Label
"Beverly" is an easy to wear gown playing on on the sides of both sexy and conservative. With its high neck and side cutouts, this may be appropriate for the non traditional wedding where guests are expected to show up and show out. The dress is also reversible, so thanks to its innovative design, you have two wedding looks in one!
Designed by Fumi Egbon.
The "Kamala" Midi Dress by Andrea Iyamah
Andrea Iyamah is now known for her uniquely structured details, which add a touch of high fashion to her looks. The front slit adds a level of sex appeal all while giving a dignified grace for your look. This dress is perfect for an afternoon ceremony.
Designed by Andrea Iyamah.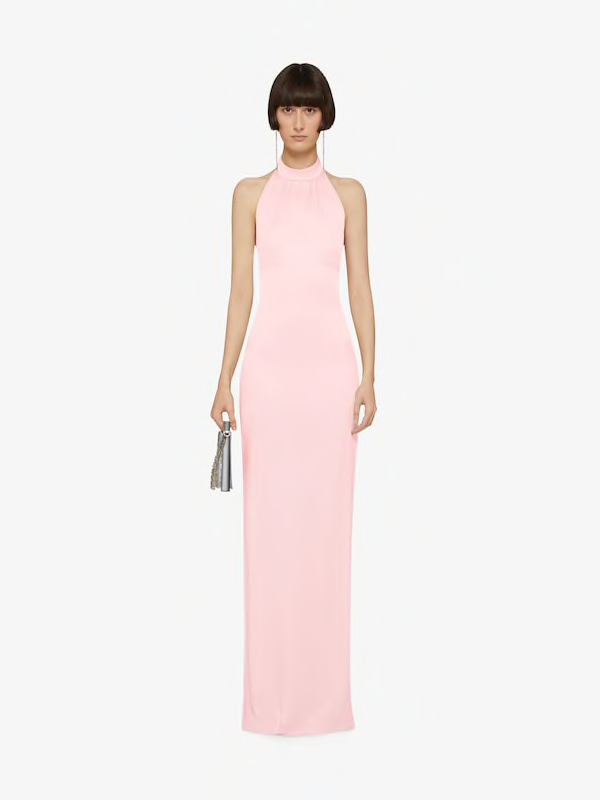 The Mermaid Dress by Givenchy
An elite match for those seeking to exude style without attempting to overtly stand out. The chic high neck paired with gorgeous peach tone gives a sense of ease and effortlessness.
Designed by Olivier Rousteing.
Written by contributing fashion writer, Kennedi LéShea.