The American wedding is unique in its own right, mainly because it can be a combination of many cultures. Here in the U.S. our budget mainly dictates how elaborate our weddings are but for other cultures the wedding is probably one of the most significant life events for a person; especially for a woman. Marriage for a woman brings closure to the single girl life and opens the door to the next stage in life; adulthood, wife, mother. Middle Eastern, Indian and African brides have some of the most extravagant weddings on earth. Besides the ceremony and the parties leading up to the wedding day, these brides put a lot of work in to choosing their dress (or dresses), makeup and hair. In this post we will take a look at the fashion these brides choose for their big day.
Bridal Fashion From Around the World
Middle Eastern Brides
Middle Eastern brides have come a long way, in the sense of how women were able to dress in the past compared to now on their wedding day. Depending on the country brides in this part of the world can be seen in some of the most beautiful wedding gowns. The more fashionable but traditional bride may fancy a beautiful, sleeveless Monique Lhuillier gown but to keep with religious customs, will have sleeves added to it. She may also dawn a beautiful white headdress so that her hair is not to show. The more edgier bride may go all out and choose not to cover her hair and will wear a sleeveless gown. The bride's makeup will also be elaborate; mostly dark colors and the heavy eyeliner they are known for.
Vogue UK: Ralph & Russo
http://www.dressilyme.com/
Instagram: @hudabeauty
Indian (Hindu) Brides
Just like Middle Eastern brides, Indian brides, Hindu brides to be exact, are also known for their choice of wedding attire. However, Indian brides keep with tradition while adding an array of colors to their nuptials. A Hindu bride's tradition garments are based on the region she is from. For example, in the North, brides will wear a silk lehngas, which is a dress that features a short blouse that either ends at the waist or slightly higher. The piece also includes a long A-line skirt. The pieces will also include elaborate bead and jewel work along with various fabrics like Siri fabric. Along with their makeup, which includes the henna artwork mainly seen on their hands, Hindu brides are known for the beautiful jewelry and headpieces.
beinspired.com
Bridal Jewelry: bridalnbridal.net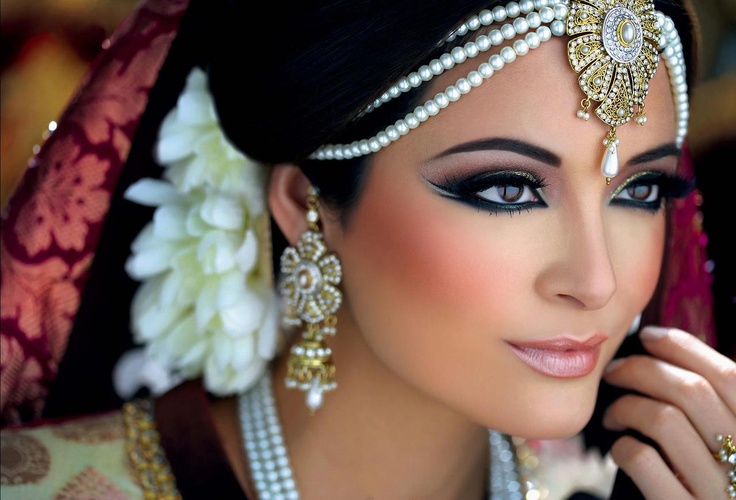 Bridal Makeup: shaddi-basaar.com
African Brides
An African bride's choice in wedding attire is also based on her country or region. African brides incorporate a lot of European and western culture into their weddings. However, the wedding attire of the bride, groom and wedding party tell a different story. A traditional African bride may stick with the traditional white dress or may choose to go with a vibrate colors like bright pink, red or yellow. The dress is usually a mermaid style, fitted around the waist and hips, cut from volie or ankara fabric. She may also choose to wear a head wrap which is typically cut from the same fabric as the dress. In some cases the bride and groom may choose to wear matching outfits; cut from the same fabric.
vibrantbride.com
fmag.com
fmag.com
What are you wearing to your next wedding? Will you be dawning an cultural ensemble?
Share your comments below and on social media @blackbride1998!