Chalon and Steven met on Match.com in 2016 on New Year's Eve. She lived in Las Vegas and he lived in Orlando. But, age and distance didn't matter to them. What stood out was that both of their profiles were very similar. They had the same morals and values. After FaceTiming each other weeks after meeting online, on January 27, 2017, Steven decided for the first time that he would fly to Las Vegas to finally come face to face to meet her. Chalon knew Steven was the one when he surprised her on their first date with two dozen roses. And on their second date with tickets to see Joel Osteen at the T-Mobile Arena! Steven and Chalon were inseparable months and months after visiting each other. They realized that we brought joy into each other's lives and got married two years after that fateful message. Check out their roaring 20s themed special day at Kapok Special Events, captured by Misty Miotto Photography.
Bride's full name, age, and occupation: Chalon Mone't Wynn, 27, Executive Assistant
Groom's full name, age, and occupation: Steven Douglas Potter, 50, Former Executive Chef
Place of residence: Orlando, Florida
Wedding date: July 28, 2018
Wedding location: Kapok Special Events, Clearwater, Florida
Wedding theme: 1920s Gatsby
Honeymoon Destination: White House, Jamaica
Engagement story:
We are extreme foodies! We love fine dining and live Jazz bands. A few days before my birthday in the Bahamas, we decided to go to our favorite restaurant in Orlando, Eddie V's. Right after dessert, Steven got down on one knee and expresses his love towards me and popped the question! The entire restaurant clapped for us! It was very intimate yet simple. We still consider Eddie V's our home away from home.
What makes your love special?
Our love is special because we didn't let age, race or distance get in our way. We put our spiritual, mental and emotional connection first and we let the physical connection happen when we were both ready to make a bigger commitment towards one another… Marriage!
From the Bride:
When our wedding day finally arrived, I just couldn't wait to be his wife. It was the most magical and loving day ever. I couldn't stop thanking God for molding the perfect man for me. We came up with 1920s Gatsby for our wedding day because we love events that are themed. We wanted our guests to dress the part and to feel that they are going back in time.
We added jazz music to our music selection during cocktail hour and our reception. We wanted elegance at its prime! Every table at the reception had pictured frames of celebrities and politicians in the 1920s era. Only thing I wish I can take back is allotting more time for our wedding day. It sounds cliche, but when you are having the best time ever, it always goes by fast. We danced the night away!
I did enjoy the thought of having my sister, best friend and girlfriend as bridesmaids. And my mom as my Matron of Honor! We were dancing and being goofy before the wedding. I enjoyed having both my father and stepfather walk me down the aisle together. I was so calm and was so ready to see my man at the altar.
From the Groom:
The experience on my wedding day was beyond what words can describe. Blessed and amazing are the closest words I can use. I waited a long time for God to bring the perfect woman into my life. Little did I know that he was going to use Match.com to bring the love of my life from Las Vegas to Orlando to complete me.
I couldn't wait to become one in God's eyes. Celebrating in the classic style of The Roaring 20s with family and dear friends from near and far, to be with us on our special day was amazing! I am beyond thankful!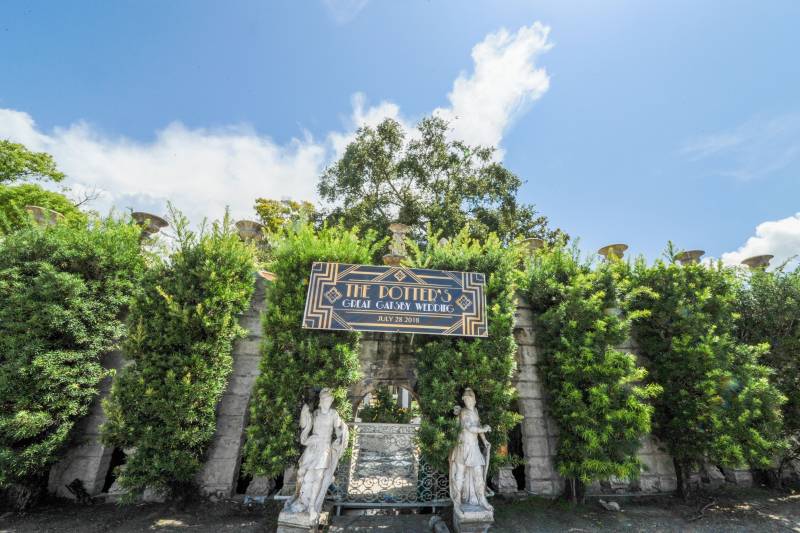 Your most memorable moment:
I always said to myself… "To my future husband: 'I will sing a very special song to you on our wedding day.'"
So, after Steven danced with his mom, I sang "If I Ain't Got You" by Alicia Keys. This was my most memorable moment because I worked so hard on perfecting my voice until our wedding day! Also, the look on his face was priceless!
Wedding song:
"Share My Life" by Kem. In the beginning of us dating, Steven asked what kind of music do I like and my favorite artists. I mentioned Kem being one of them. We listened to "Share My Life" almost every day while dating. And we wouldn't have chosen any other song to dance to.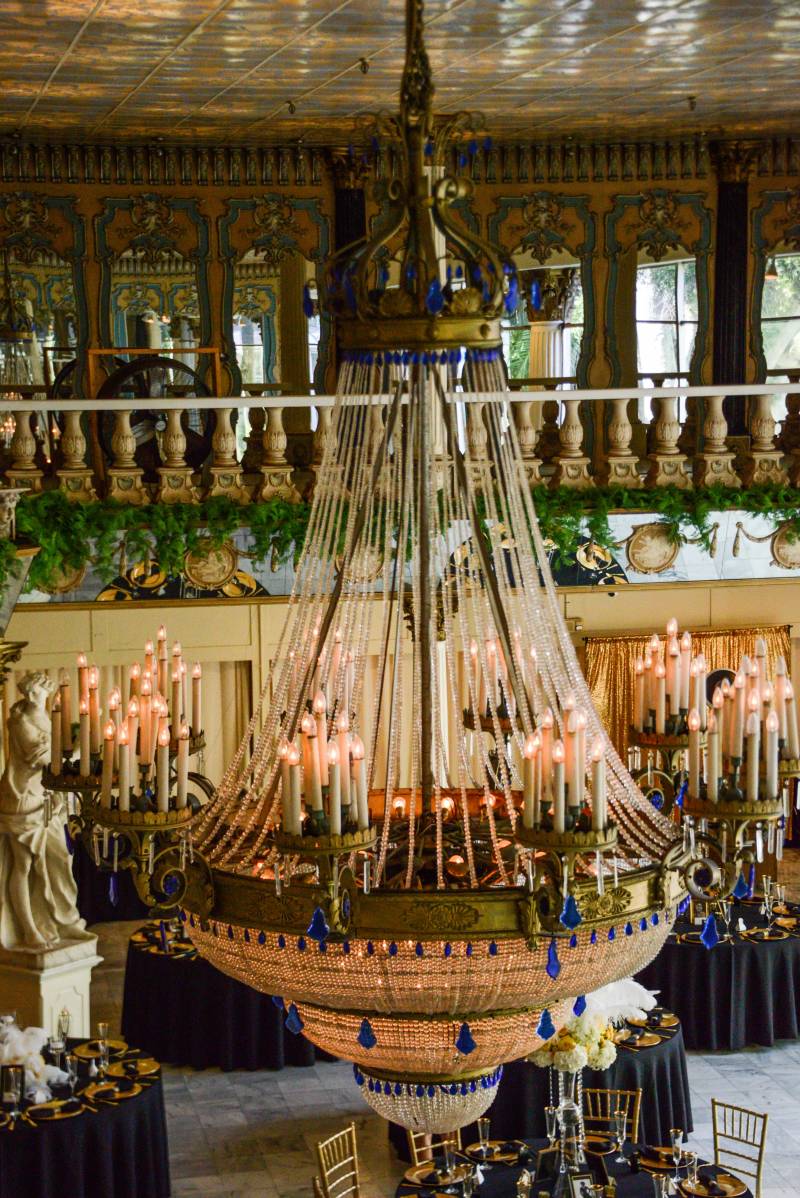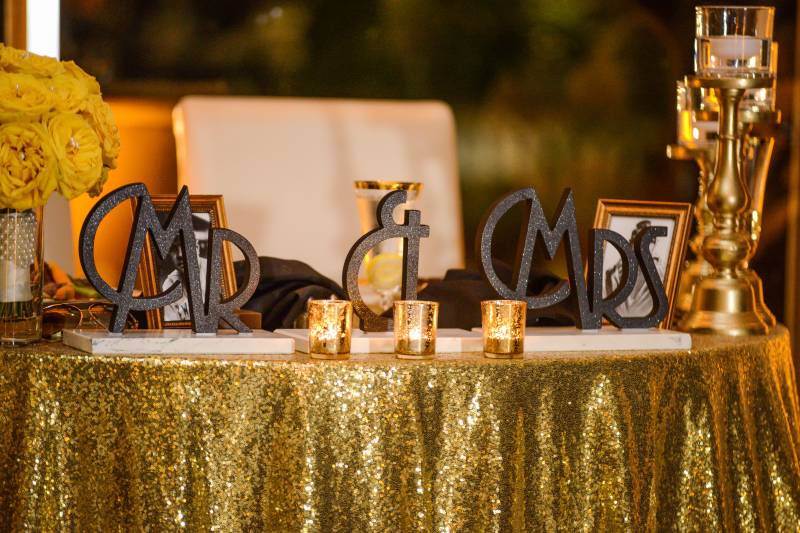 Favorite wedding detail:
Our favorite detail was the food! We made sure Steven, being a former Executive Chef, that our food would not taste like typical wedding food. We also made sure that we enjoyed our guests and didn't miss out on getting to eat ourselves. Haha! We enjoyed watching everyone come into character with their Gatsby costumes!
What are you most looking forward to as a married couple?
We look forward to creating a triumphant legacy together for our family and future children. We also look forward to making a difference in people lives. Our motto is pray and you shall receive!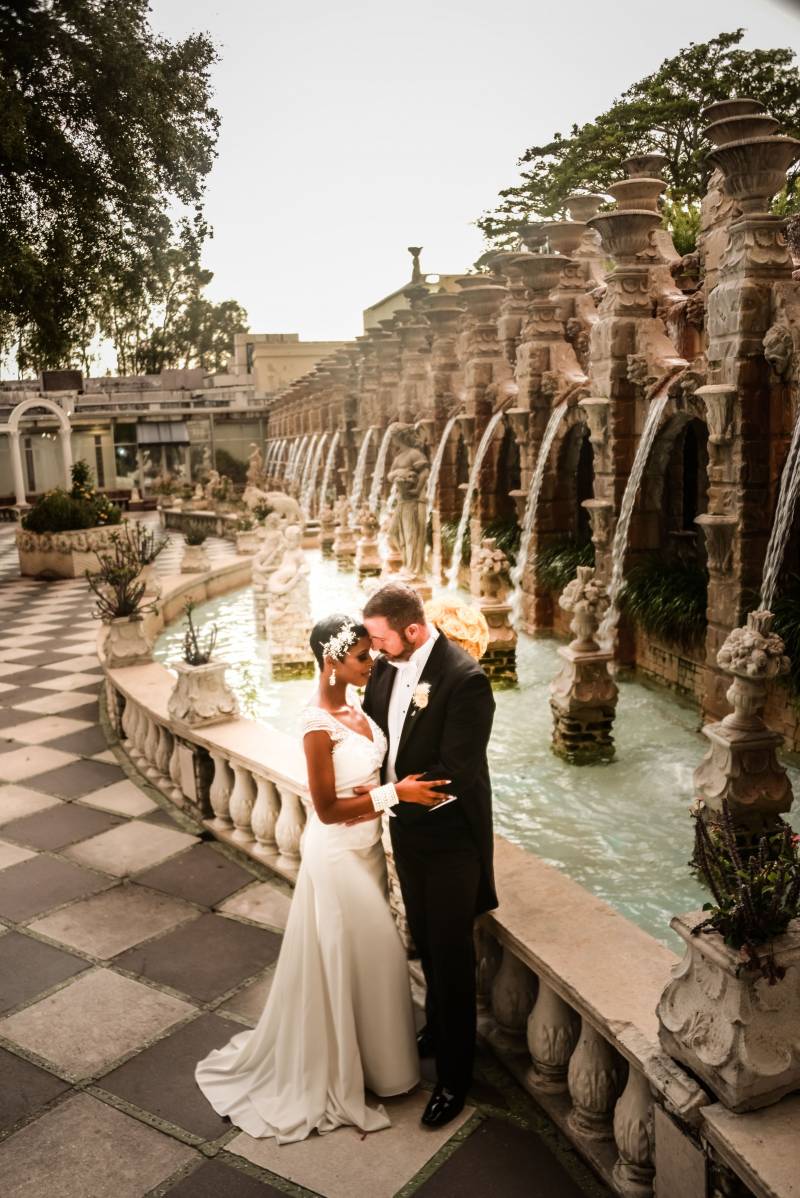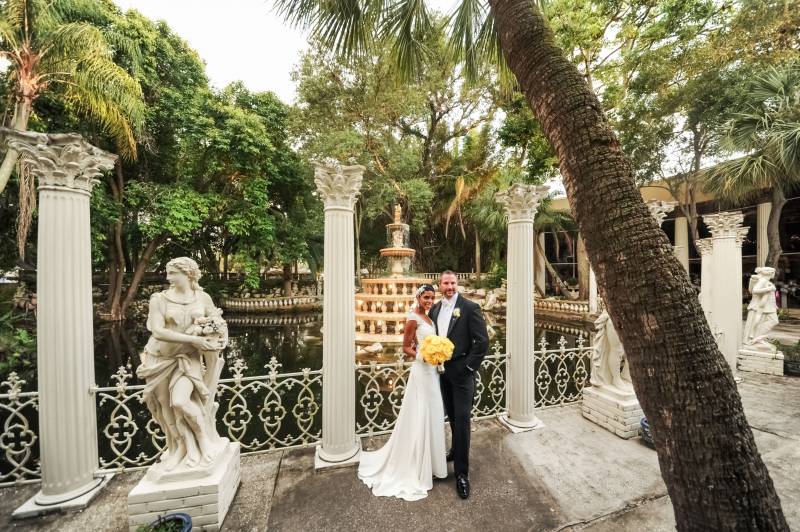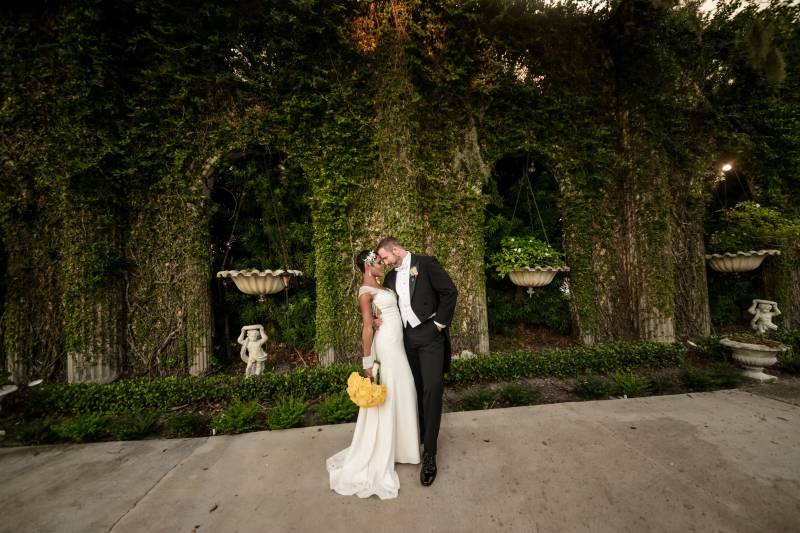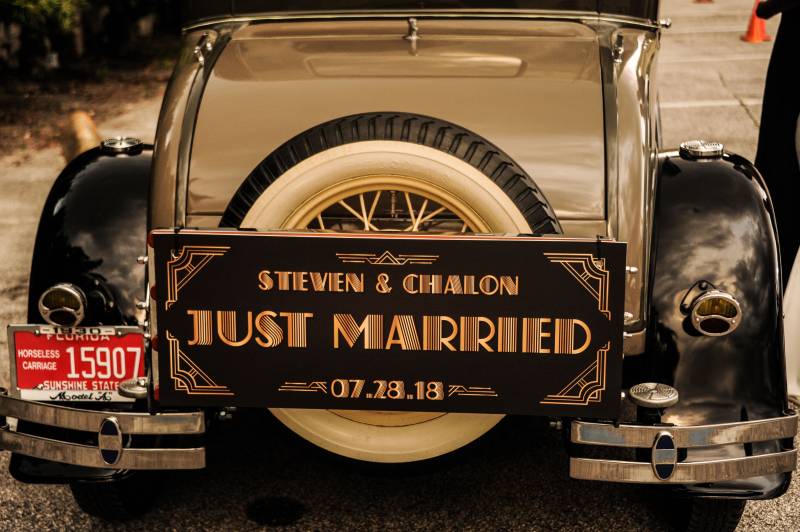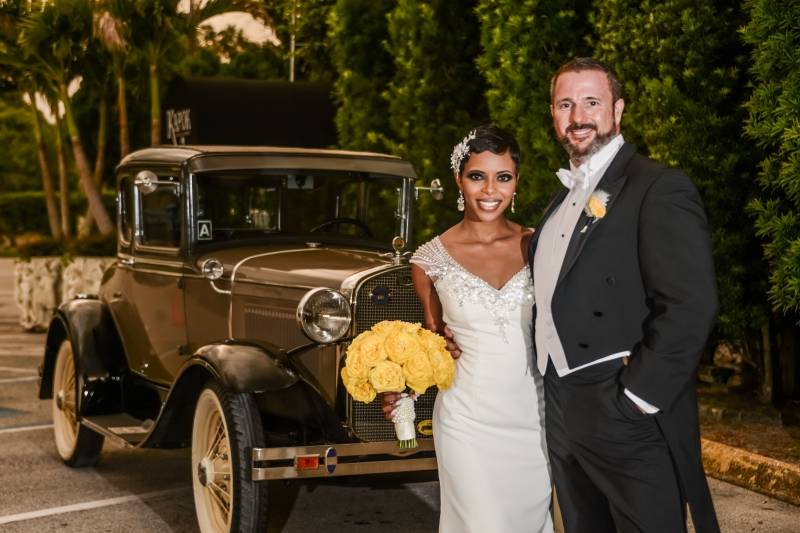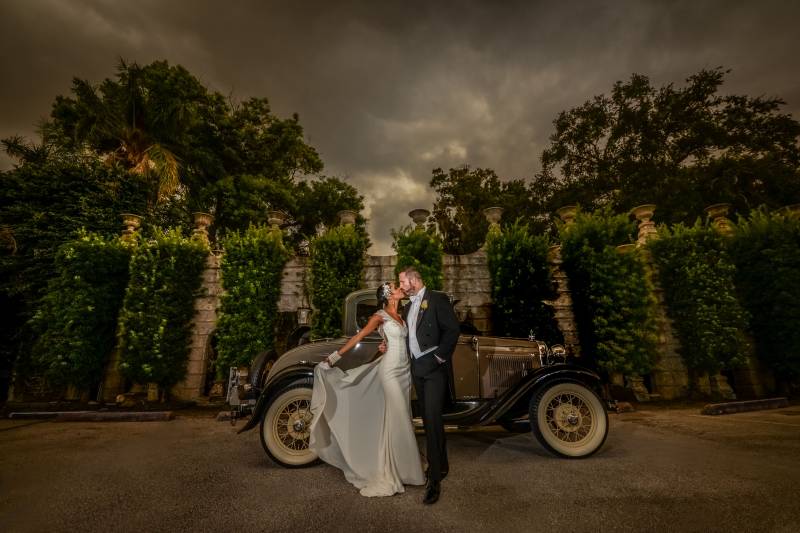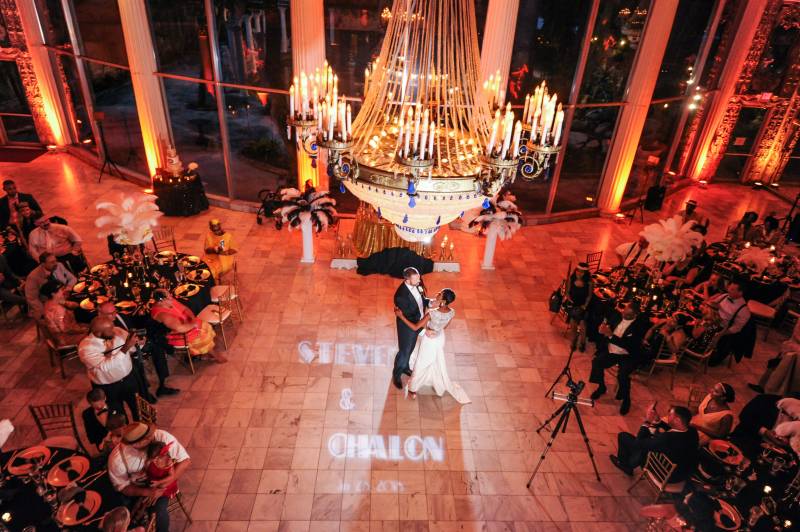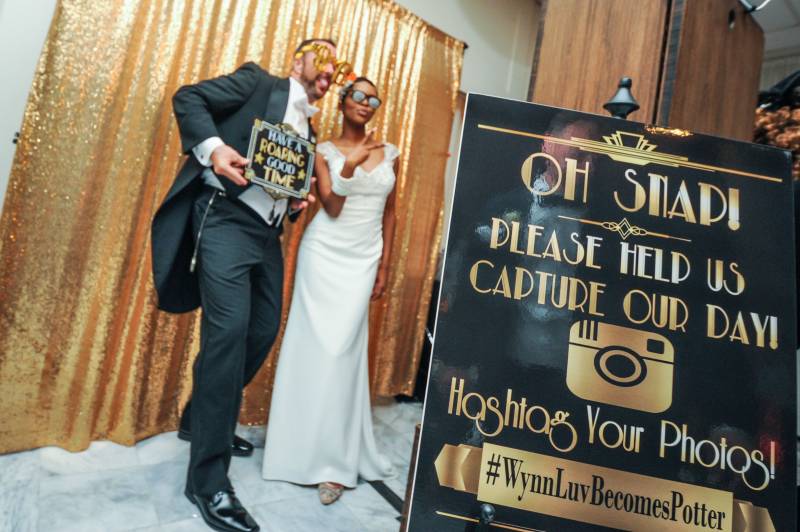 Advice for a Bride and Groom on their wedding day:
Our number 1 tip is to plan accordingly before your wedding day arrives because when the actual day comes, you won't have to worry about a thing! Just sit and look pretty, love and have a great time! Our second is to make sure you eat before the wedding day festivities begin! Number three, as a bride, bring cute flats because once the photos have been taken, you are going to want to rest your feet! And our last piece of advice is: Don't forget to step away and thank God for a moment like this!
Please feel free to include any other interesting anecdotes from your big day!
Our evening concluded with all of our family and friends sending us off with a sparkler salute and riding away in a 1920s vintage vehicle! What a way to end and begin such a beautiful and blessed event!
Congratulations to the happy couple! We wish you many years of wedded bliss!
Sources
Misty Miotto Photography|Kapok Special Events|David's Bridal|Lily's Bridal|Men's Wearhouse|The Artistic Whisk|Olympia Catering|Orlando Bridal Warehouse|Steven and Chalon|DJ Jeff Boone|Kat Jackson|Lea Cakes|Events in Bloom