What started off as clicking each other's follow buttons on Instagram in 2017, turned into Shay and Jeremiah finding true love. The two began dating in 2018 and a year later they were engaged. They opted to tie the knot in a small ceremony in August 2020 with just their parents, then had a formal celebration in February 2021. Their big day almost did not take place due to unforeseen bad weather, but Shay and Jeremiah's Black Excellence-themed ceremony proves that love will always find a way! Read more of their love story and check out the details from their gorgeous day captured by Champagne Love Stories.
Bride: Shay Regis, 31, Program Manager
Groom: Jeremiah Regis, 29, Corporate Recruiter
Photography by: Champagne Love Stories
Place of residence: Houston, TX
Wedding date: February 15, 2021
Wedding theme/motif/inspiration: Black Excellence (Guests wore all black to celebrate Black Love during Black History Month)
Honeymoon Destination: Undecided (taking our time to plan it later)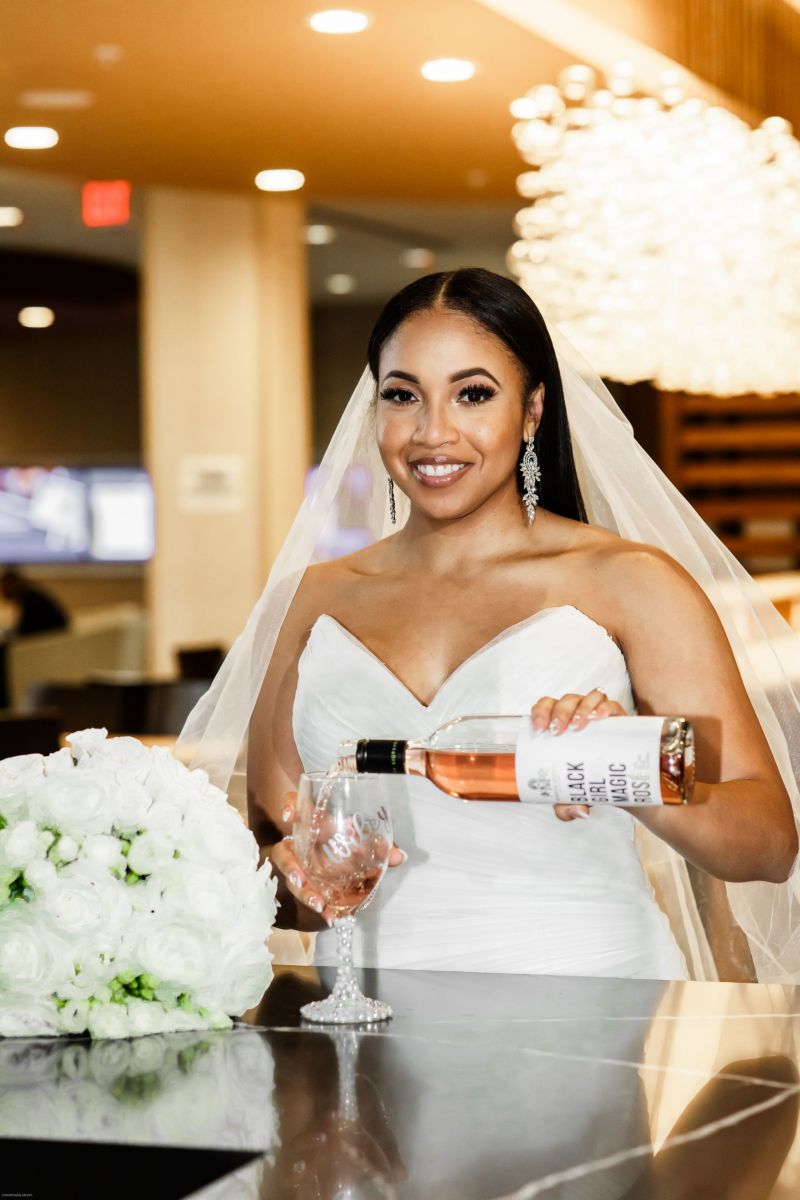 What makes your love special?
Our lives were so intertwined before we ever met. We had no idea our families lived minutes away from each other in NY, we crossed paths several times while visiting each other's HBCUs, and most importantly I had a tattoo of his name years before ever meeting him. The tattoo is of my favorite scripture, which happens to be Jeremiah 29:11.
Engagement story:
Jeremiah spent months planning the proposal. We flew to NY for Thanksgiving, to see our families, and then went to dinner with just our parents the day after. After dinner was over, I walked outside of the restaurant on the waterfront, and all of our family and close friends were there! People flew in town from all over to witness him pop the question. It was incredible.
From the Bride: (briefly tell us about your wedding experience and how you felt on your big day)
Everything that could've gone wrong, did! It was the coldest day, on record, since the late 1800s. No one could've anticipated this, because Texas rarely gets snow and definitely doesn't see freezing temperatures! I had so much anxiety at first, after I learned that we wouldn't be able to use our wedding venue, all of our vendors cancelled on us except 2, and there was a city wide power outage. I immediately called on my closest family and friends, as my prayer warriors. I knew that God didn't bring us all together for no reason, and that we could somehow make this ceremony happen. So with prayer, team work, and a spirit of optimism we pulled it off! What started off as a nightmare, turned into the best day of my life.
From the Groom: (briefly tell us about your wedding experience and how you felt on your big day)
They day started out rough, because I felt so bad knowing I couldn't give my wife the wedding of her dreams. We spent over a year planning this celebration, and within a few hours we learned that it was going to fall apart. But God makes no mistakes. We worked together with our supportive tribe to create a ceremony and reception in the hotel we were all stranded in. We learned that it doesn't matter where you get married, as long as the people who mean the most to you are there. All you really need is each other!
Your best/most memorable moment:
The best moment was the exchanging of our personal vows. Although we'd already been married for 6 months, that was the first time we took vows in front of our loved ones. It felt so good to know how much support we had in one room.
Wedding song, explain choice for song:
We didn't have one particular song for the wedding, but we had our first dance to "You" by Jesse Powell because the lyrics represent exactly how we feel about each other.
Favorite wedding detail (favors, cake, food, band, etc.):
Our favorite detail was the cupcakes Shay's aunt made. She drove all the way down to Texas from Virginia to bake them for us.
What are you most looking forward to as a married couple?
Creating generational wealth and opportunities with each other. We both come from hard working families, who sacrificed a lot for us growing up. Now it's our turn to be the providers and use the tools we were given to build our own empire.
Advice for a Bride/Groom on their wedding day:
Know that everything most likely won't go as planned. Hopefully you don't experience a random blizzard like we did lol, but regardless of what the issue is, you have to see the bigger picture. The wedding is literally one day. Your marriage will be for a lifetime. So no matter what happens, be at peace knowing that!
Congratulations to the happy couple! We wish them a fruitful marriage and many years of wedded bliss!
Sources
Kendal Lanier|Designer- Phil Adesulu|Wayne Lewis|Monica Lyles|Shari Costigan|Michele McKnight|Events Deluxe