Laura and Ivan met as teenagers at a youth church service. "We've known each other for 14 years. However, we both lived very separate lives. My husband had one child from a previous relationship and I had two from my mine. After reuniting, almost 9 years later, we've been living our "happily ever after" ever since," said Laura.Laura and Ivan now have a new little one together and are happy to be a beautifully blended family. On their one year wedding anniversary, they celebrated thier love with an indoor picnic styled photo shoot with a 1950's/Marilyn Monroe theme, captured by Joey Rosado of Island Boi Photography.

Husband: Ivan Pamphile, 28, Electrician
Wife: Laura Pamphile, 28, Registered Nurse
Place of residence: Queens, NY
Wedding date: 12/12/13
Honeymoon Destination: Negril, Jamaica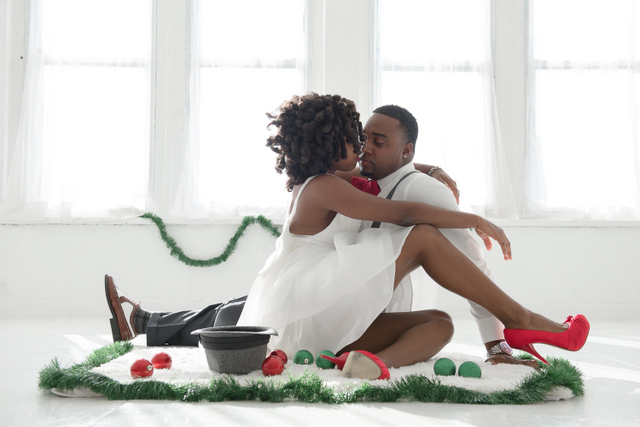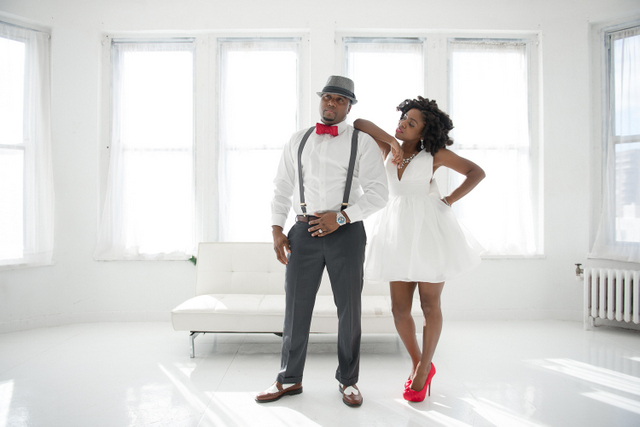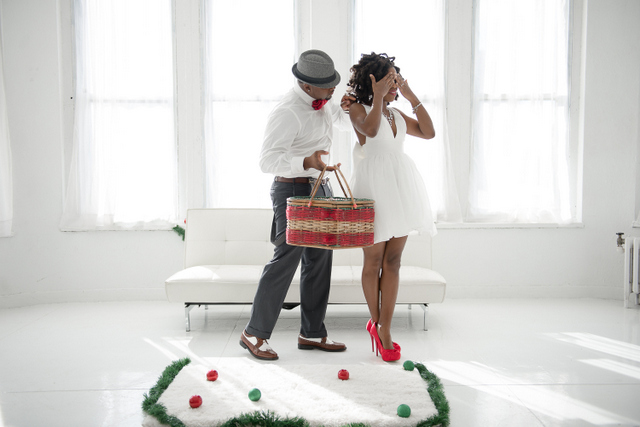 How did you know your partner was the one?
I knew he was the one because despite having two children he always made me feel so special and loved my children as his own. Being with him always felt so natural. Falling in love was easy and felt so right.
What makes your love special?
Our love is special because we have a long standing history as friends that later developed in something more. We were always very fond of one another, but never thought that we would ever be together.
Tell us about your partner:
We both share Caribbean roots from the island of St. Lucia. He is a crafty electrician by day and serious BMW enthusiast by night. He enjoys modifying his vehicle, especially its sound system. Ivan is very charming, helpful, selfless, and strikingly handsome, might I add. I can even see a sparkle in his eyes when he smiles at me!
Engagement story:
There wasn't much of an engagement story. After courting for 3 years, and living together for 2, we went to our parents and told them we were ready to get married. Two months later we went down to City Hall to officially become Mr. and Mrs. Pamphile. The rest is history.
The Big Day (From the Wife):
I was a big D.I.Y. Bride that had a huge hand in the planning of every detail of the wedding. I could hardly wait to put all the pieces together of my "project" and show off the beauty of it all on that day. We actually initially got married in NY City Hall on 12/12/13. January 1st, 2015, I told my husband that I would actually love for us to have our moment and plan a beautiful summer wedding together. We planned our wedding in a matter of 6 months. We had a beautiful outdoor ceremony on 7/24/14. Before saying "I do," I wasn't nervous about marrying my husband again (this time in front of all of our guests), but about how everything would come to life from the ceremony to the close of the reception. Of course every bride wants her day to be perfect. The day couldn't be any more beautiful from the weather to the beautiful ambiance. After saying "I do," I felt relieved that the big day was finally over, but sad that it couldn't last forever.
The Big Day (From the Husband):
The big day was very exciting. I wasn't nervous at all. I had a great time. The day after, I was still in shock that we really had such a wonderful wedding. There was such a wonderful turnout and I was glad that everyone had a joyous time.
Wedding Details:
Wedding location: We chose the Woodbury Country Club because we were looking for a venue with beautiful outdoor scenery for our ceremony and pictures, as well as a modern vibe for the reception.
Wedding song: We chose Jah Cure's "That Girl" because we both loved every word of the song. It has a Caribbean flavor and the words described our love to the 'T'.
Favorite wedding detail: My favorite wedding details were our dancing flip-flops for our female guests that were stamped with a monogrammed "P". I also absolutely loved my exclusive cape veil by Mori Lee Angelina Faccenda. Our wedding cake was designed with our children's name written all over every tier to symbolize their significance in this union.
Were there any cultural or spiritual elements that you added to make your wedding unique?
We lit four additional candles for each of our children (along with the traditional unity candles) to symbolically include them in the union.
Your most memorable moment as a couple:
I will never forget the day he told me, with his sly self, that one day I will have his daughter. We were teenagers then. Needless to say, baby Kayla is here!
What's the best part about being a married couple?
The best part of being married is that we spend a lot more time in each other's company. We value the little things like just kicking up our feet late at night and falling asleep cuddled up in front of the TV.
What's the best advice you received about marriage that you actually use?
We agree, that the best advice we've received was that marriage is hard work and takes a lot of compromising. We should always try to consider each other's needs and take time out to meet them.
How do you think being parents will change your life?
We were both already parents as a result of previous relationships prior to marriage. Our life has only become busier now that we have a new little one together to add to the count.
Congrats to the happy husband and wife duo Laura and Ivan Pamphile. We wish you many more years of wedded bliss!
Curated by our Wedding Features Editor, C.K. Alexander. C.K. is the owner and founder of Love Ink and Brownstone Bridal. Keep up with C.K. on Twitter here: @Love_Ink