Cadesha and Tramaine met 4 and a half years ago in 2010. "I had been studying the entire day for an exam and for some reason my friend and I decided at the very last minute to go out for drinks. I was at the bar ordering a drink and the guy next to me (Tramaine, who I never even saw walk up) gives me some corny pick-up line complementing my lips of all things. I said thank you and turned to walk away without thinking anything else of it and he asked me for my number and because he wasn't rude I gave him my number and to this day we still laugh about this because I usually would give a fake number but for some reason I blurted out my real number," recalled Cadesha. It must have been the universe's plan for these two perfect strangers to to meet. Once Cadesha completed her exams they went to dinner on a date and have been together ever since. Check out their fun football themed engagement shoot, captured by Fotos by Fola.
Bride: Cadesha West, 28, Attorney
Groom: Tramaine Jehovah, 29, Personal & Sports Trainer
Place of residence: Atlanta, Ga
Engagement Shoot Location: Grady Stadium, Glen Hotel, & 17th Street Bridge
Wedding date: 5/24/2015
Wedding location: Wyndham Peachtree Hotel
Wedding theme: A Chic & Romantic Affair with a hint of Glamour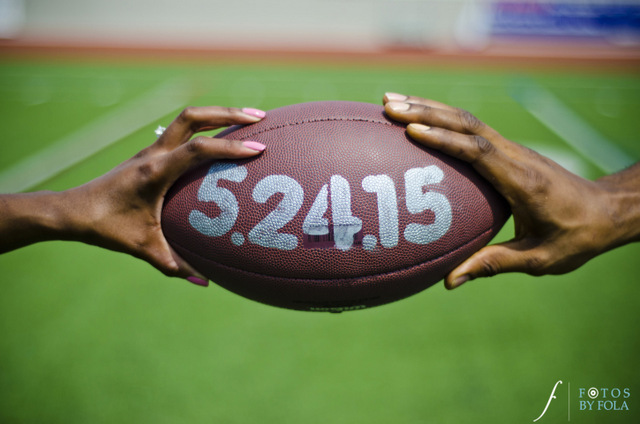 Engagement story from the bride-to-be :
I had mentioned causally to Tramaine that I wanted to see the Christmas lights display at the Botanical Gardens. I never thought we would go because that's not his thing. A couple of weeks later Tramaine told me we were going to the Botanical Gardens that night. I was a little surprised and I got really suspicious when he suggested I wear a certain dress. Truthfully, I got a little aggravated because I planned to wear that dress to a friend's upcoming wedding but I complied. We arrived at the Gardens and it was beautiful all lit up and kind of romantic so I started thinking "oh he might propose," especially since he was kind of rushing us through the gardens so every time we turned a corner or were in front of a nice display I would prepare but he never proposed. We left the Botanical Gardens and I let the idea of him proposing go. So we are in the car and Tramaine is acting strange and he keeps looking at his phone and keeps getting lost so we are just riding around in circles in Midtown. At this point I'm starving and started to get aggravated because we keep passing the same buildings as we ride in this circle and then we passed by this building and everyone is dressed in Santa Claus and Miss Claus outfits and I blurt out "I hope this is not where we are going." So Tramaine speeds off and we finally go to dinner. After we finally eat he goes into a speech about our relationship and how much I mean to him and proposes. I wasn't expecting it all because I was so distracted from the riding in circles and the crazy costume party we passed. He later told me we were going to that lounge with the crazy costume people but after he saw my face and the costumes he changed his mind at the last minute.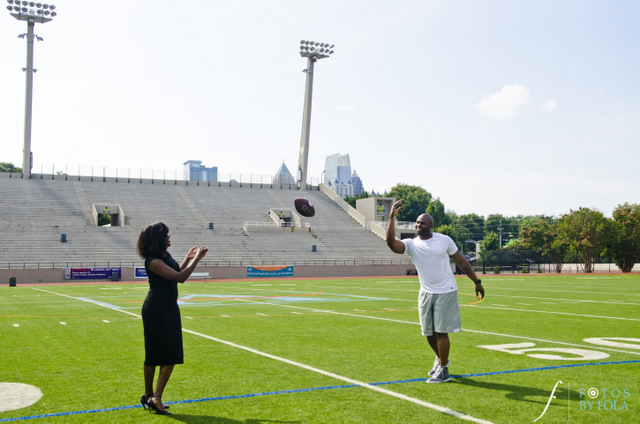 From the Groom: Walk us through the behind the scenes of creating this special day:
I originally planned to take Cadesha to the light display at the Botanical Garden at her friend's suggestion and propose to her at this nice lounge. I coordinated the night's events with her best friend and planned to meet her at the lounge but we didn't know that a Santa Clause costume party was scheduled at this lounge for the same night so things didn't go quite as planned. When we finally arrived at the lounge it was easily 100-200 people lined up outside with Santa Clause costumes on and Cadesha blurts out "I hope this isn't the place." So I abandoned the mission with her friend inside ready to capture the moment with her camera and we ended up going to dinner. After dinner, I told Cadesha how much I loved her and how my world has changed since we met and asked her to be my wife. She said YES. Later that night at home, I got on one knee and asked her the old-fashioned way.
What was the theme of your Engagement session?
When Tramaine and I met I was a law school student and he was a football player. We always joke that we are polar opposites so we wanted to incorporate that into our engagement pictures. We also love the city of Atlanta's skyline and our photographer found the perfect stadium that married the two ideas. We also wanted some shots of Atlanta's skyline all lit up after nightfall. I think the shoot turned out better than we could have ever imagined.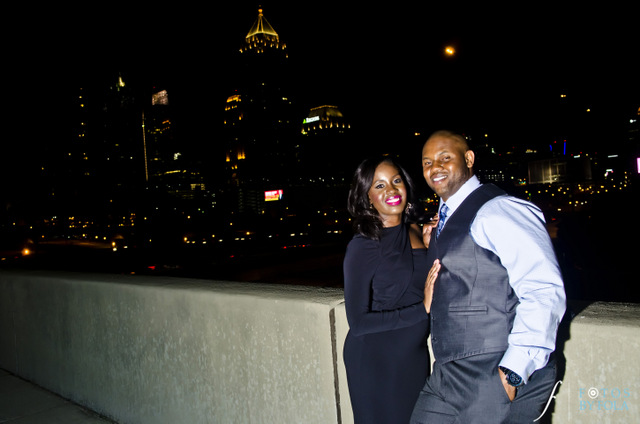 What makes your love special?
We have grown together and a relationship that is perfect for us has developed from that growth. We loved things about each other immediately and have learned to love other things as time has passed. We both feel comfortable enough to be ourselves and not apologize for it. I don't know if anything sets our relationship apart all I know is that we continuously fight for this love because we'd rather be together than apart.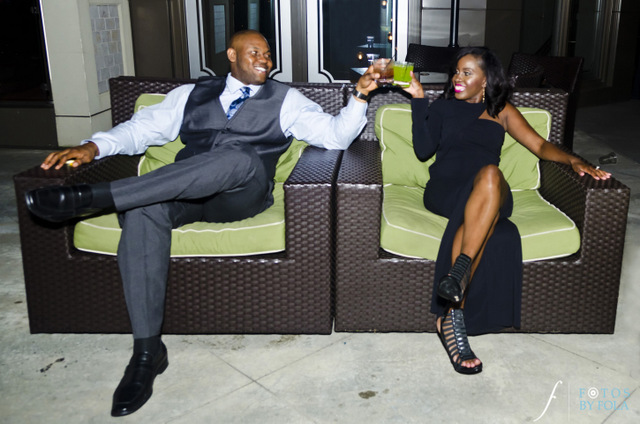 What are you most looking forward to about your wedding?
We are most looking forward to sharing the day with friends and family. We hope they party hard and have as much fun as we plan on having.
Have you started planning your wedding?
We plan on exchanging vows at sunset with lots of candlelight so that it feels very romantic. Of course we hope the reception is one big party that our guests will not want to end.
Congrats to the happy couple Cadesha and Tramaine. We wish you a wonderful wedding and marriage!
Vendors:
Photographer: Fotos by Fola
Make-Up: Kristi Jones
Stylist: Brittany Jenee
Curated by our Wedding Features Editor, C.K. Alexander. C.K. is the owner and founder of Love Ink and Brownstone Bridal. Keep up with C.K. on Twitter here: @Love_Ink