Krishelle and Brandon met in 2014 after being introduced through a mutual friend. They enjoyed a night out on the town in Kansas City. A year and a half later and this beautiful pair were engaged. In May 2017, Krishelle and Brandon made their union official at The Terrace on Grand in Missouri. Check out their chic wedding photos, captured by Amanda Jones at Freeland Photography.
Bride: Krishelle Ivory, 29, pediatric nurse
Groom: Brandon Ivory, 30, account executive
Place of residence: Kansas City, M.O.
Wedding date: 05/27/2017
Wedding location: The Terrace on Grand, Kansas City, M.O.
Wedding theme: Classic and chic with touches of romance and nostalgia
Honeymoon Destination: Greece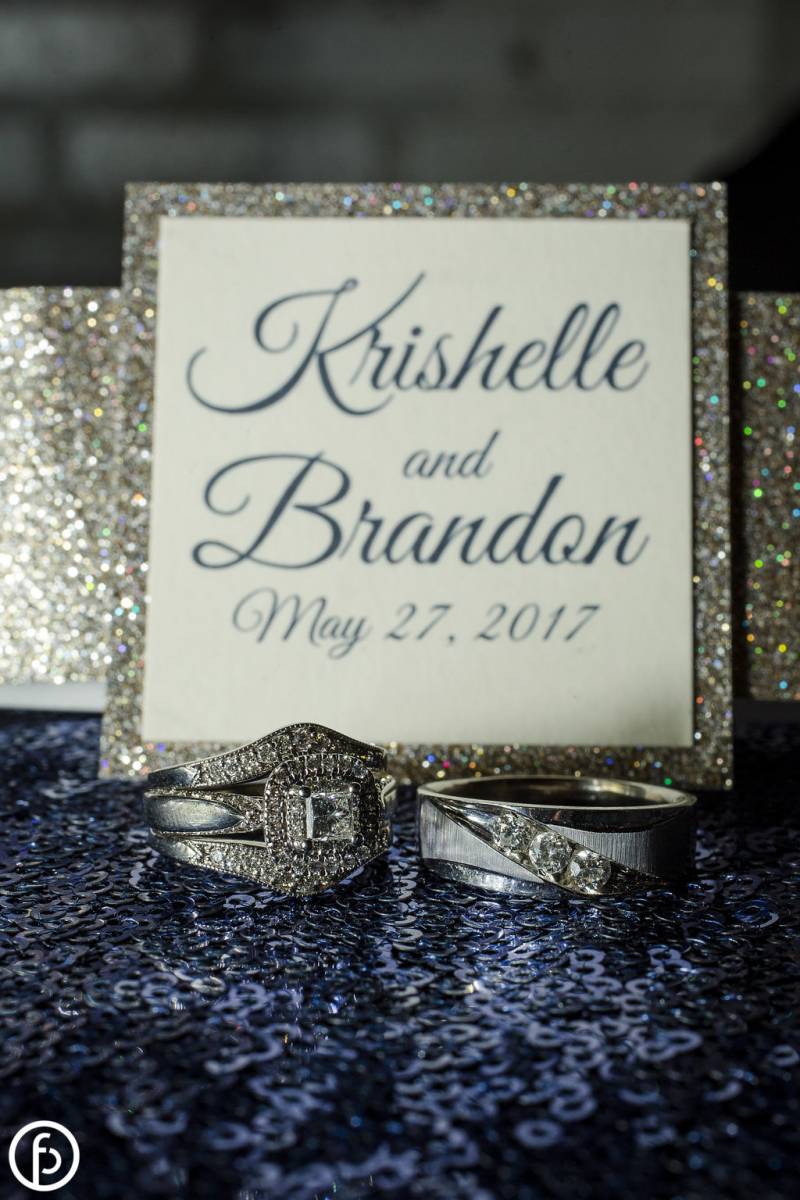 Engagement story:
We got engaged on my birthday, December 10, 2015 to be exact, but the proposal started the day before. Brandon set up a series of clues that led me to Napa Valley in California. On December 9th, I received two clues; one delivered to me at the nail shop, the other at my pre-birthday dinner. Each clue contained a plan of what I was supposed to do. The next day, I made my way over to my parents, as I was told, who handed me clue three. By this time, we were on our way to the airport. It was not until I made it to the airport that I realized where I was going; California! I made my way to baggage claim where Brandon's best friend (and then best man) was waiting for me holding a "Happy Birthday" sign and clue four. We made our way to the car and drove for what felt like forever. Once we got closer, he asked, "do you know where you are?" I said, "NO" and he replied, "you're in Napa Valley. Brandon is in there waiting for you." I walked into this beautiful space called The Celadon where Brandon was standing there waiting for me. He walked me to clue five, which was a Vera Wang jewelry box. He said, "this is it babe!" He dropped to one knee, and I said "yes"! We spent the rest of the weekend celebrating in Napa Valley and San Francisco.
From the bride:
My wedding day was everything I could ever ask for, but it did not start off that way. The morning of our wedding was cloudy, which made me nervous since our ceremony was planned to be held on the rooftop of The Terrace. Our venue and florist were called and asked if I wanted to move everything inside. My response, nope, this will pass. It rained that afternoon, stopped, and rained again while guests arrived. Six O'clock came, the time of the ceremony, and the rain cleared. My heart was so happy. My prayers were answered. I knew our union was blessed. I felt so loved that all our family and friends took the time to travel near and far to celebrate our special day.
From the groom:
I started the day started off with a fresh haircut. My groomsmen, ushers, and I reminisced in my suite, sipping Remy Martin, while free-styling, and rehearsing our surprise New Edition routine. Before we knew it, we were standing at the altar, and I was looking out in the crowd at all my family and friends who had traveled from all over to be a part of this special day.
Our wedding turned out to be beautiful, although it did not seem like it would be in the beginning. The entire family on both sides prayed for the rain to cease, and for the sun to come out and shine on our day. Ten minutes til' show time the rain stopped, the clouds completely dissipated, and the brilliance of the sun had finally appeared. The magnitude of the love and support I felt in that moment is indescribable. It was soon followed by a night of dancing and lifelong memories.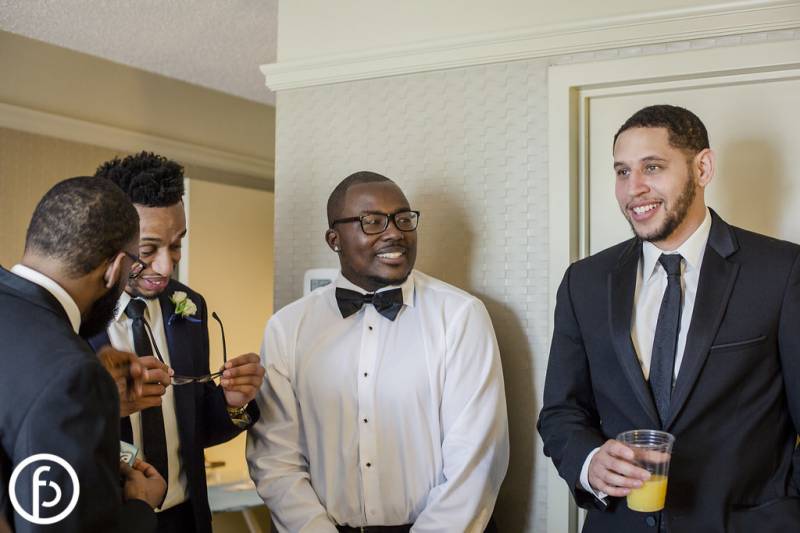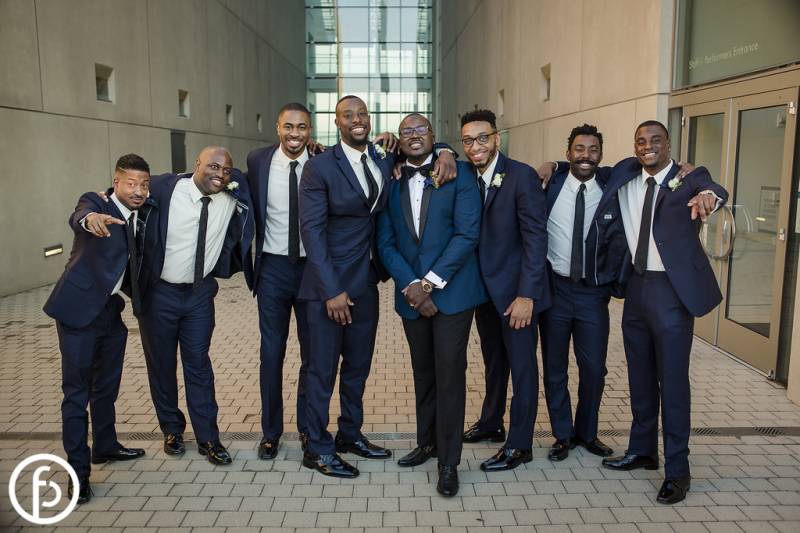 Your most memorable moment:

Our most memorable moment had to be when we first walked out to the crowd at the reception. We were introduced as Mr. & Mrs. Brandon Ivory. We'll never forget the joy we felt hearing our names announced together.
Another great moment happened for our wedding party. We woke up the crowd when they were ready for the finale and came out hype dancing to "Wipe Me Down," "Juju On That Beat," which led to some Alpha Phi Alpha rambunctiousness.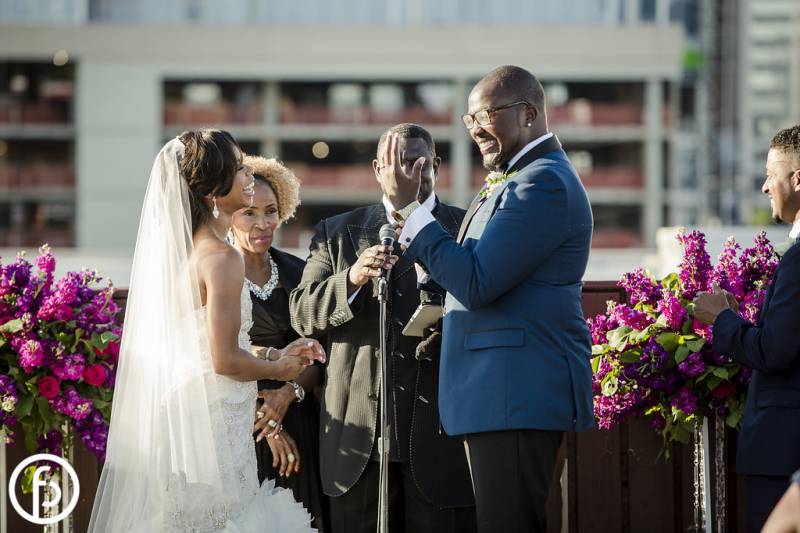 Favorite wedding detail:
Our absolute favorite wedding detail was the Caribbean band that performed during cocktail hour. My family (bride) is from Jamaica so we wanted to surprise guests with some authentic reggae tunes. To top it off, it was my uncle's band. To hear him sing and entertain our guests was an incredible experience!
Wedding song:
Our wedding song was "Adorn" by Miguel. He was our first concert together, so that song holds a special place in our heart.
What makes your love special?
Honestly, neither of us were looking for love when we first met, yet neither of us wanted to leave the other alone. Our personalities are as different as the sun and moon, but our bond is inseparable. It truly feels like fate brought us together.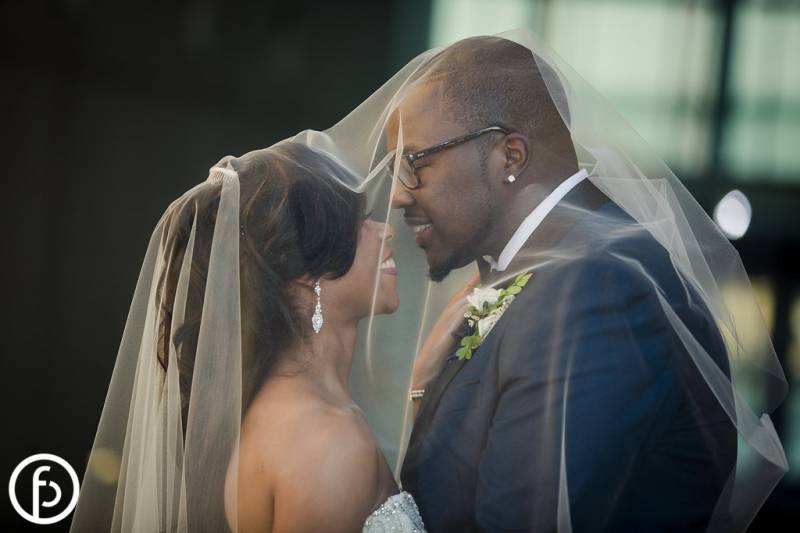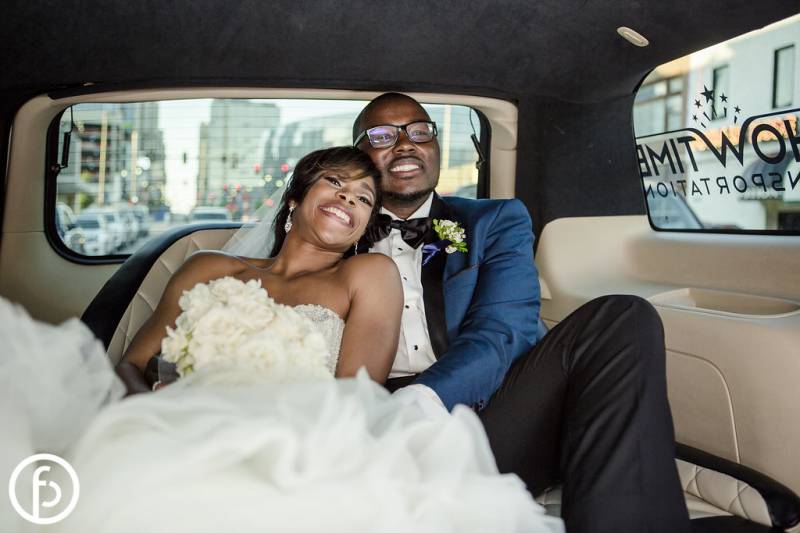 What are you most looking forward to as a married couple?
We're looking forward to starting a family and making up our own family traditions.
Advice for a bride and groom on their wedding day:
Don't worry about the small details, they will work themselves out. Just enjoy your day to the fullest. Live it up!
Congratulations to the newlyweds! We wish you many more years of wedded bliss.
Sources
Syniara Toombs|Luse Hairs|Freeland Photography|Lazaro Bridal|Good Earth Floral Design Studio|Bari Jay|JPRSTYLING|The Terrace On Grand|Shutterbooth KC|Adorn Cakes|DJ Johnny Quest