In 2006, while at a Labor day weekend church camp, Dorson noticed Lucile and had to find out who she was. He was able to get her name from his friend, but had no idea what he would say to her. After noticing that she was wearing a couple of gold rings on her fingers, he decided to seize the moment. Dorson complimented her on the rings and asked to see one of them. It definitely was not the coolest line, but it worked! Lucile gave him one of her rings and the two had the chance to get know each other over the course of the weekend. Their teenage romance blossomed into the couple becoming husband and wife on December 15, 2019.
Share in the joy of their glamorous day captured by Reem Photography.
Bride: Lucile Dort, 30, Doctor of Physical Therapy
Groom: Dorson Dort, 30, Doctor of Physical Therapy
Place of residence: Delray Beach, Florida
Wedding date: December 15, 2019
Wedding location: Church: First Presbyterian Church of Delray; Reception: Delray Beach Marriott
Wedding theme/motif/inspiration: A mix of romance and with a rebellious spin.
Honeymoon Destination: Mykonos, South Aegean Greece
Engagement Story:
On December 30th, 2017, Dorson and Lucile went to their last dinner date of the year, which is something they had done for the past four years to plan their goals for the upcoming new year. As they were walking towards the restaurant, Lucile saw a canopy filled with lights and beautiful white roses, but didn't think much of it. Then, Dorson insisted they move closer to take a look. Lucile was still completely clueless as she took his hand and started walking towards all the action.
That's when she heard romantic music and cameras flashing. Squinting her eyes to get a better look, Lucile realized that her family and close friends were all there. At that exact moment, she realized what was really going on and started crying her eyes out! She was SHOCKED, SPEECHLESS and in TOTAL DISBELIEF! Dorson proclaimed his love for Lucile and how much she meant to him. Then he got down on one knee and said "I want to give you this ring the same way you gave me yours years ago. Will you marry me?" With tears running down her face she said yes!
From the Bride:
My wedding experience was simply amazing. The entire day was filled with so many emotions! My wedding planner did an amazing job and she kept everything going so smoothly! Because of her, I was able to really enjoy getting ready with my girls while singing and dancing all morning! The actual ceremony was a fairy tale. I remember being fully focused on my husband and taking everything in. From the décor to the intimate ceremony, everything was simply breathtaking. The reception was a PARTY! Everyone was dancing from the cocktail hour until it was time to leave. My day was extraordinary, and I thank God for everyone that made all my dreams come true!
From the Groom:
Prior to the day starting, I prayed that everything we planned would come to pass without a hitch. I knew this was one of the greatest days of our lives, and our families and friends were going to be present to witness our love come full circle. I double and even triple checked in with everyone involved on the big day. I am a very detail oriented person, so I wanted the day to be perfect for her. Our planner ensured all was well, which gave me comfort. I was more excited as the moment got closer because I knew that this was the day I would be able to call her my wife. Once the groomsmen and myself were all dressed and at the church, that excitement heightened. Seeing my bride walk down the aisle gave me a sense of joy. She was stunning. It all came together so well and I enjoyed every moment of that day.
Your best/most memorable moment:
The best moment was saying "I DO". Knowing that this is my partner for life was the most amazing feeling ever!
Wedding song, explain choice for song:
Walking down the aisle: "The Vow" by Ruthanne. This was a song that explained my exact feelings/emotions towards my husband and my love for him.
First dance: "Only Wanna Be With You" by Samm Henshaw. This was just a beautiful song that really touched our hearts. The words in the song described a story of our love journey.
Favorite wedding detail:
Our favorite details from the wedding included how well the reception ball room was set up. We had a plan to have an elegant flow to our reception and with the
round table centerpieces there were crystal clear Gardiner vases filled with water and submerged orchids which came out so beautiful. The number of flowers with candlelight made the entire room and our vision come true.
Daniel Events designed a lighting package that lit the entire room perimeter with high LED theatrical up spots in candlelight colors. This allowed the room to be painted in an elegant candlelight atmosphere with the entire arches, columns and facades.
Our reception dance floor included our wedding monogram in emerald green and gold on a pure white floor.
The Wedding Cake was a 3-tier beautifully finished buttercream cake decorated with seasonal white flowers. The flavors of the cake included Red Velvet and Dulce de leche.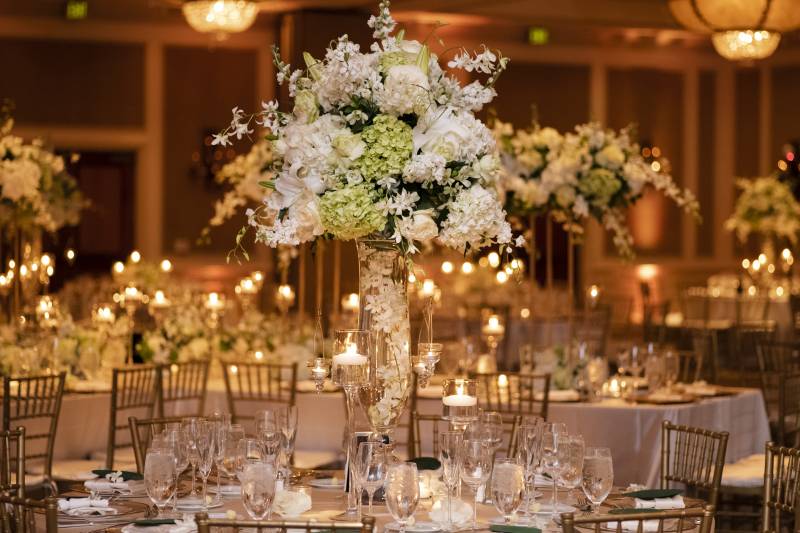 What are you most looking forward to as a married couple?
Knowing that you have a teammate for a lifetime! There's so much power being together rather than being alone; walking side-by-side, and hand-in-hand in this world. We're excited to start this new journey together while encouraging one another to be our best selves!
Advice for a Bride/Groom on their wedding day:
The advice I would give soon-to-be-brides during their wedding planning is to remain organized. What you think will go wrong will most likely go wrong. Having a planner who had my intentions in mind really helped decrease my stress level. It's also important to set clear expectations with everyone that will be a part of your wedding, especially your families, friends and vendors! With all the planning that goes into weddings, I would say ENJOY YOUR DAY!
Congratulations to the happy couple! We wish you a fruitful marriage and many years of wedded bliss!
Sources
Reem Photography|Linedge Events|Delray Beach Marriott|Bricks Group Media|First Presbyterian Church of Delray|Zola Keller|Alamour the Label|Garcon Couture|Rich Men Looks|Bryant White|Bianca M.|Thalia Robinson|Daniel Events