Anique and Ali met after their freshmen year of college at Central State University in 2009. The first time Anique saw Ali, he was in the gym punching a boxing bag and she took a second look because he had the best body she'd ever seen! Later that semester they started hanging out with mutual friends and Anique played hard to get while acting like she wasn't into Ali, until one day she asked for his number and he said he forgot it! Anique was in so much shock and thought he didn't like her because who really forgets their number anyways? Come to find out, he really did forget his number because he had gotten a new phone and he messaged Anique on Facebook to give it to her. They officially became a couple in 2010 and they've been soul mates ever since. They had their first child in their senior year of college in 2013, lived apart for a year to jump into their careers, and recently started a business passion together. They are truly best friends, which is why they married with a traditional and rustic wedding at the Shiloh Baptist Church and Jorgensen Farms in Columbus, Ohio. Check out their elegant barnyard affair, captured by Dream Moore Photography.
Bride's full name, age, and occupation: Anique Russell, 25, Educator and Co-Owner & Founder of Too Good Eats
Groom's full name, age, and occupation: Ali Russell, 28, Environmental Engineer and Co-owner of Too Good Eats
Place of residence: Columbus, Ohio
Wedding date: July 8, 2017
Wedding location Shiloh Baptist Church and Jorgensen Farms
Wedding theme: Rustic Chic
Honeymoon Destination: Ocho Rios Jamaica planned by Cheryl Stewart of From This Day Forward Travel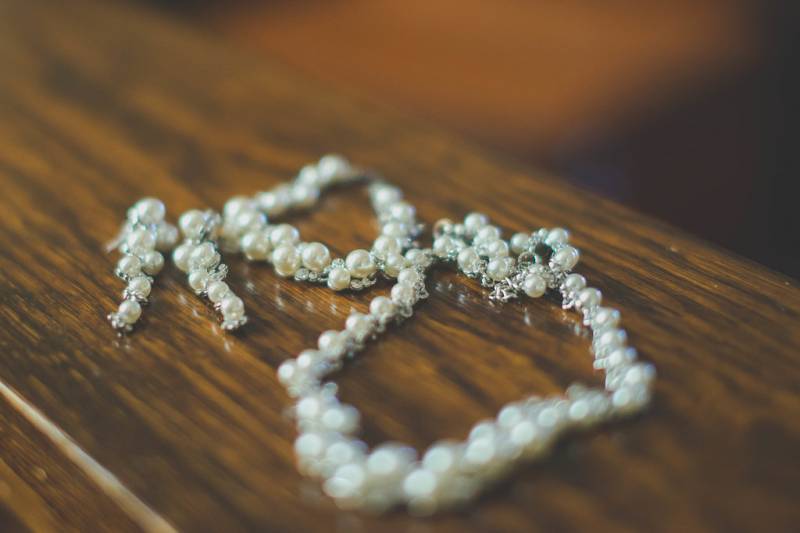 Engagement story:
On November 27, 2015 which is our son Shine's birthday, Ali asked me to be his wife. As I was helping our son open gifts, the last gift was a small box inside of a bigger box. I had no idea that a ring would be inside! I was in so much shock because I had no idea. When I finally saw the ring box Ali got down on one knee, held my hand, and said, "You know I love you right?" Then he asked me to be his wife! I relive that moment till this day.
What makes your love special?
Serving as each other's help mate and holding each other accountable is what makes our love so special. Our love for each other is the definition of agape love. We don't let the noise of the world enter our love life and we have our own unique way of growing through life together. We like to call ourselves the "Too Good Team." Love is what you do and how you react and not so much what you say in the moment. God truly made us for each other.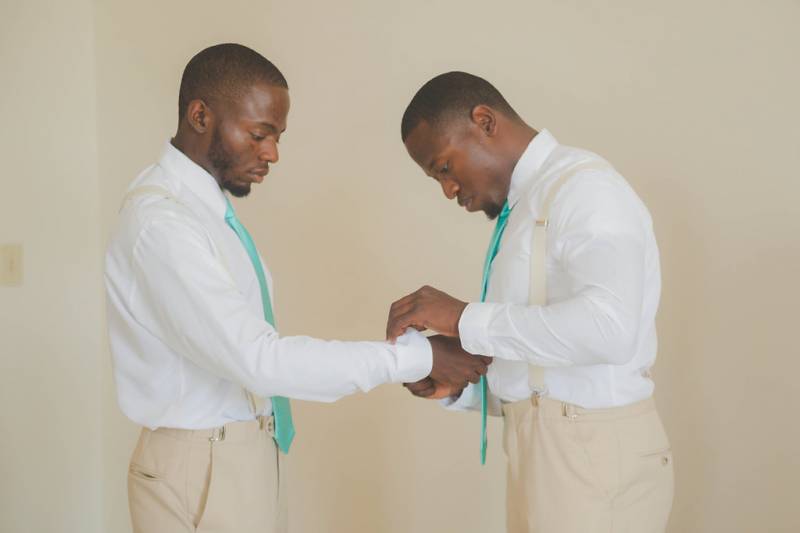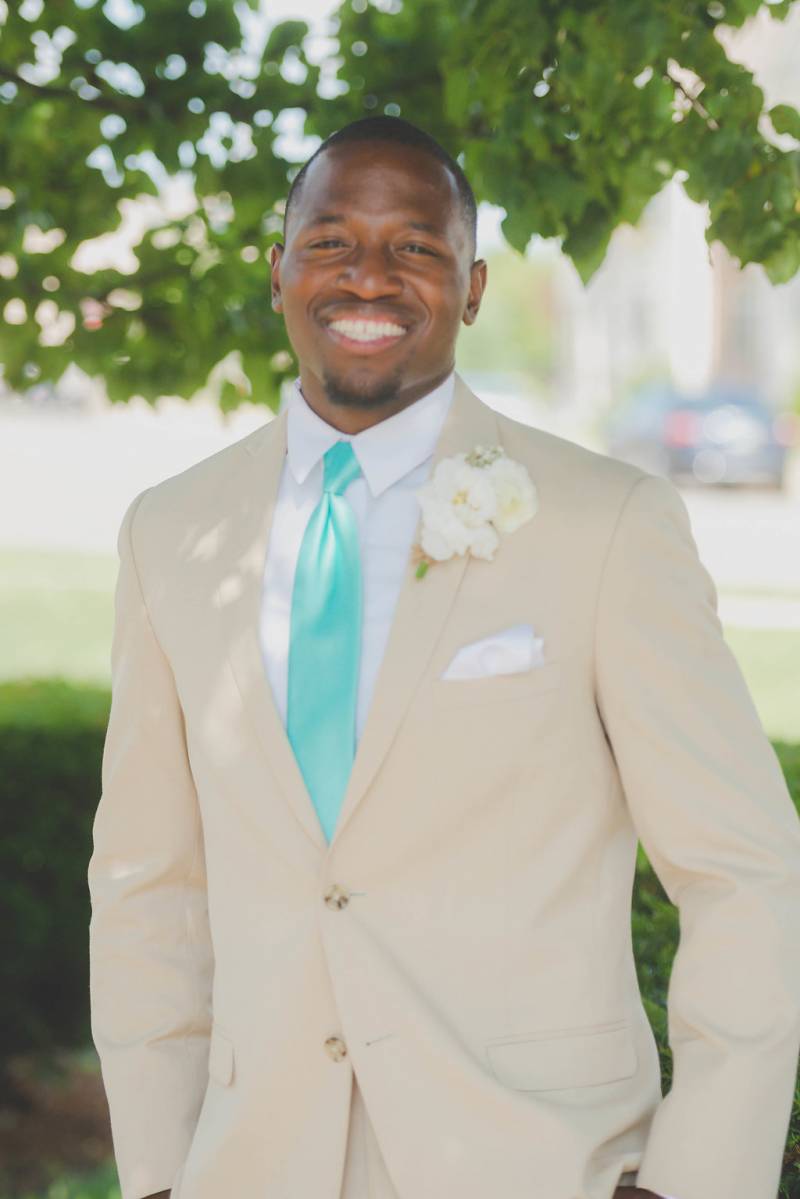 From the Bride:
I had the most magical wedding experience ever from start to finish. I am playing our wedding song as I type, to relive that very moment of walking down the aisle with my dad who told me, "Don't be nervous." My wedding experience was so magical because I had an organized and talented wedding planner and a group of family and friends who were committed to my wedding journey and happiness. My least favorite wedding task was making our guest list and making a seating chart. The day of our wedding I was so focused. I was very emotional and I literally wanted to soak in the entire moment…I didn't want any social media around me, all I wanted to do was live in that very moment. I've dreamed about getting married since I was a little girl and it was really happening and with a man I respect and love so much! After walking down the aisle and jumping the broom I was ready to party and pose! I took my heels off at our reception and put on my flats! Our reception was beautiful and had every small touch I desired, from custom drinks, signage, our business showcase, custom seating chart, beautiful scenery, fresh flowers, and amazing food. I wanted our ceremony to be all about the values of marriage with little to no decoration, so for our reception, our theme came to life #aTooGoodWedding #RussellEverAfter. Being HBCU alumnus, we swag surfed and danced the night away.
From the Groom:
I let Anique make most of the wedding decisions. I was in her corner to listen, oversee certain things, and choose the food and beverages. The day of our wedding I was happy and ready to marry her. When she walked down the aisle I got emotional and I didn't think that would happen to me. Our reception was one of the best I've been to. I enjoyed everything. The black family is so important and I believe weddings make people excited about black love.
Your most memorable moment:
Walking down the aisle. My dad gave me a pep talk before walking down and it will be a moment I will never forget. My husband and I actually had personal vows but we decided to do them privately because I was too emotional. Also, seeing my father-in-law cry tears of joy, as well as my husband when I walked down the aisle was the be
st feeling.
The mother-son dance was another emotional moment. Watching my husband and sister-in-law dance together in remembrance of their mom was a touching sight for our guests. Of course, I also enjoyed my father-daughter dance. My dad and I broke out into a full jam session after our formal dance; and guess what, we didn't practice. No one knew because our chemistry was great.
Our sparkler send-off at the end of the night was beautiful. To see all of our loved ones sending us off was an unforgettable moment. The sparklers under the stars in the middle of summer was so beautiful and romantic.
Wedding song:
"So High" by John Legend. This song speaks to how we build each other up and how high our love is going to go far after our wedding day! Our wedding was literally cloud 9 for us.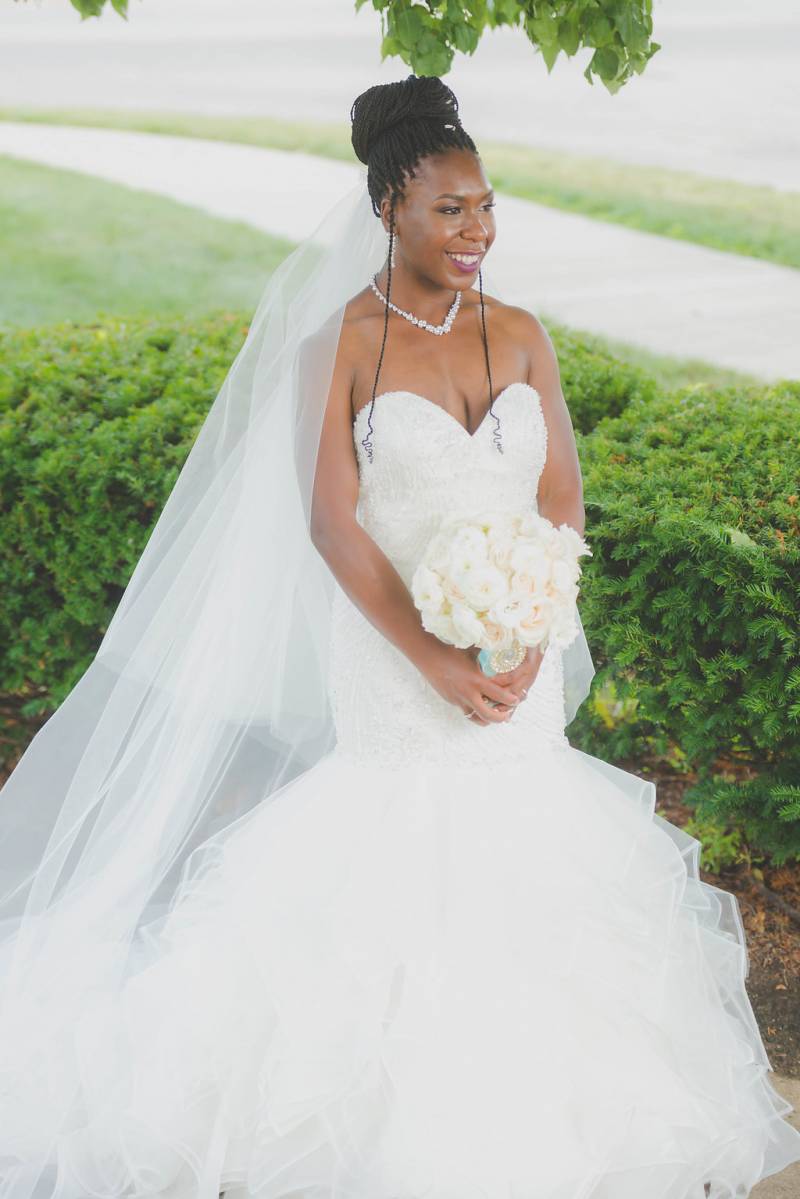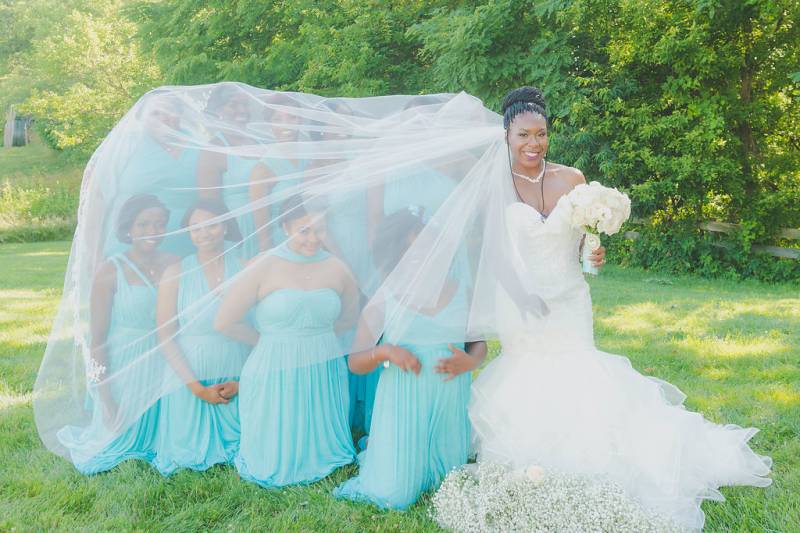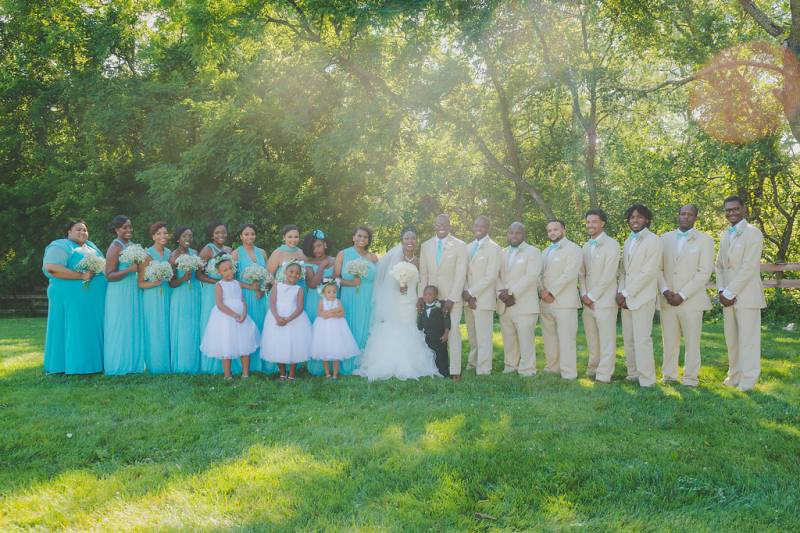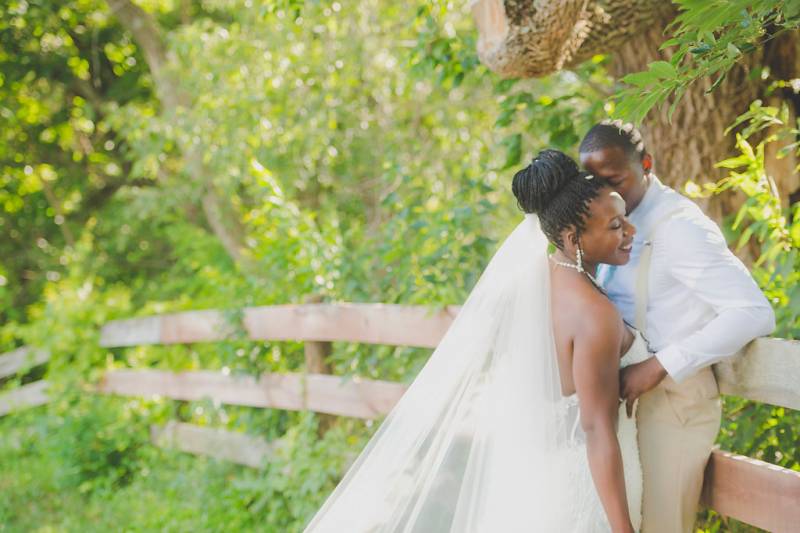 Favorite wedding detail (favors, cake, food, band, etc.): Our venue and having childhood photos according to table number for guest to take journey through memory lane. Sparkler send off.
What are you most looking forward to as a married couple? More laughter and growing our family.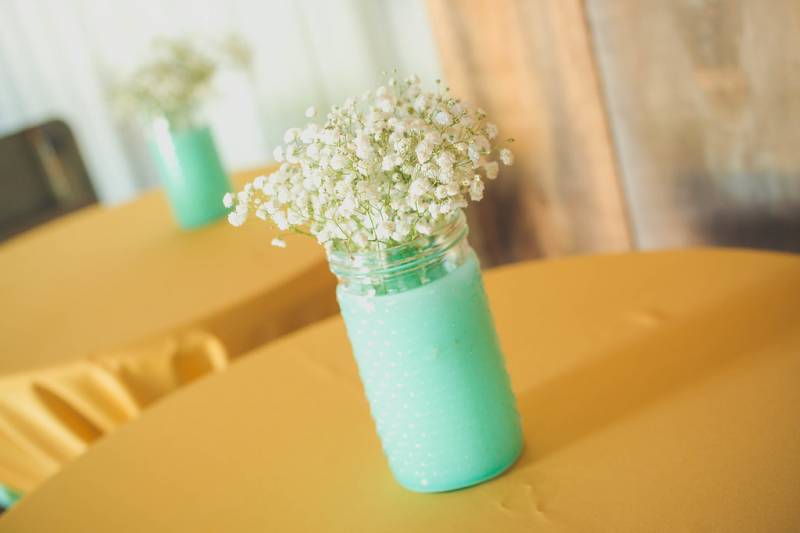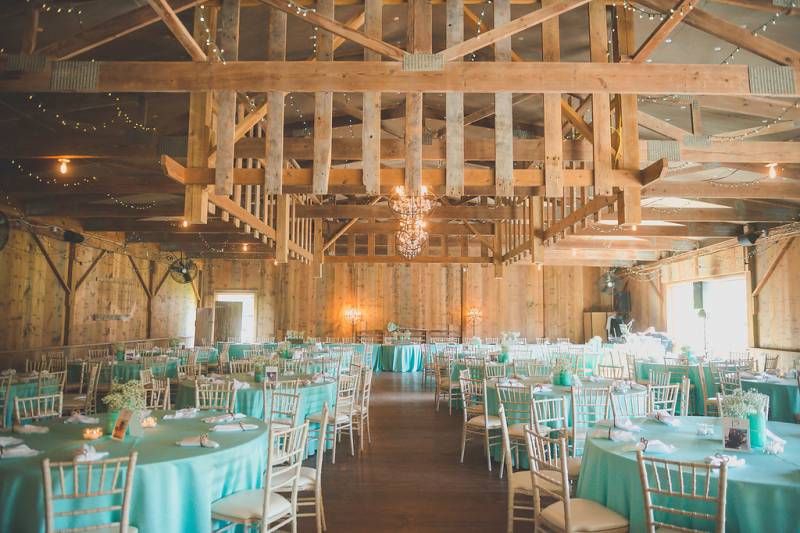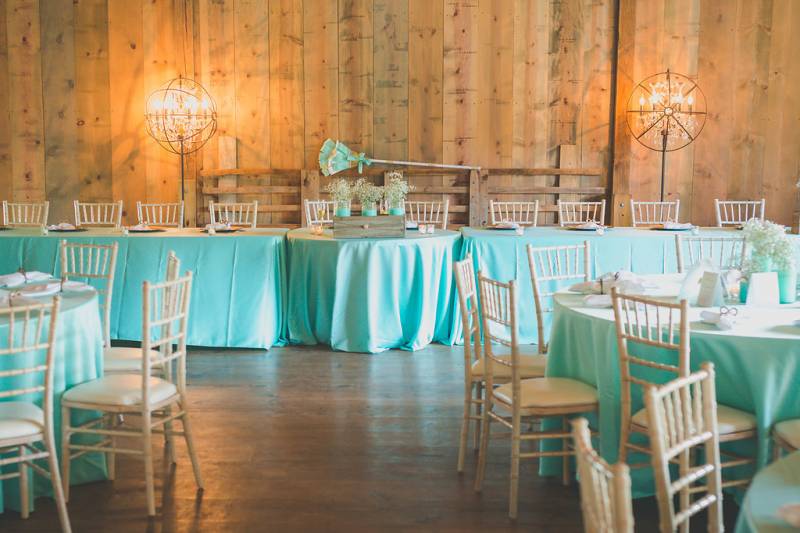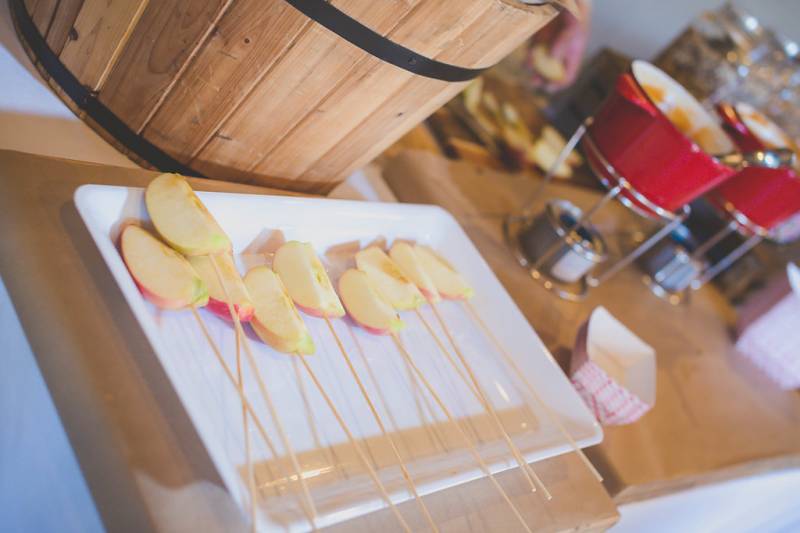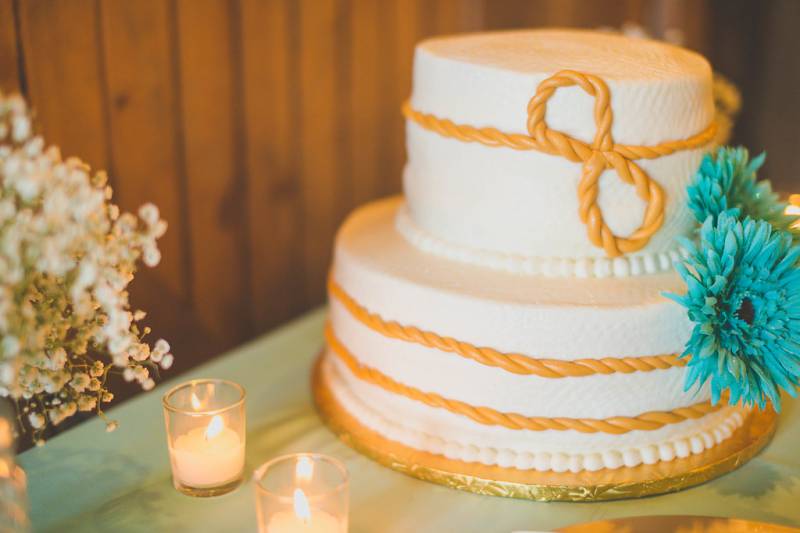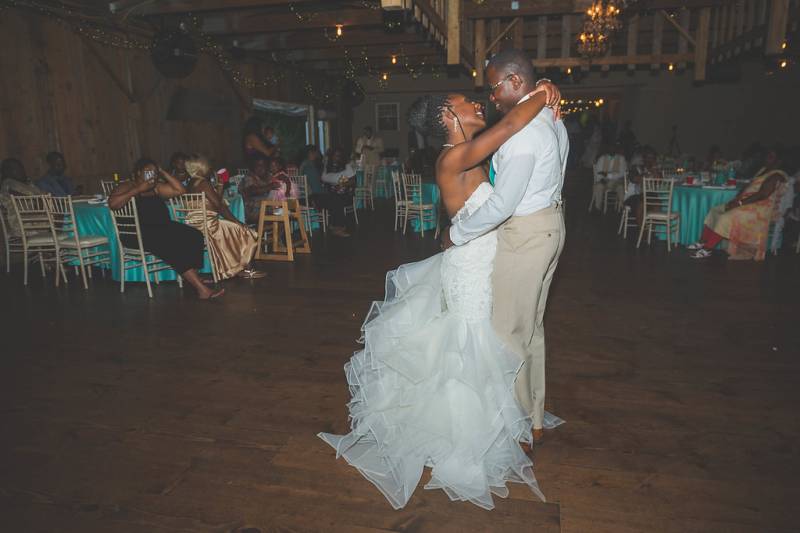 Advice for a Bride and Groom on their wedding day:
You need a wedding planner. At first, my mom and I were going to plan everything ourselves and now that we look back on all that planning and decision making-I wonder how the heck were we supposed to plan a wedding ourselves and enjoy it! Do you spend your money how you like or prioritize your budget? Your big day is about you and your future husband, so keep all decisions around why you two are getting married in the first place. I strongly recommend going on your honeymoon right after your wedding. It was the best decision we made to relax and enjoy each other after the anxiety-filled celebration of our union.
Please feel free to include any other interesting anecdotes from your big day:
Once Ali proposed, my dress was the first thing that came to my mind! After proposing to my bridesmaids I planned our trip to Atlanta to buy my dress from Bridals by Lori. I wanted a low see-through backless dress and a very dramatic long veil. I got my shoes last and found the perfect beaded pearl heels. My wedding dress was timeless and I chose the very first dress I tried on! My wedding dress had just arrived at the store the morning I arrived at Bridals by Lori, so I'm sure it was meant to be.
I thought I would be a "know it all bride" but I was not! I was actually really easy to work with and I just wanted our love to be showcased with a rustic glam concept. My husband just wanted good food, enough space, and for us to stay within budget. Our colors were Tiffany Blue and shimmery gold. I wanted a non-traditional venue so my wedding planner, Lucretia Williams, found the most beautiful rustic barn to hold our 230 guests. We had our wedding reception at Jorgensen farms with beautiful scenery and nature. Our cocktail hour was outside and our guests enjoyed endless amounts of food and drink. Later, our guests were let inside the barn to enjoy the party. Our live band, Soul Derivative was a crowd favorite accompanied by our DJ, Mix Master Ice. We chose not to decorate our church because we simply wanted our ceremony to reflect our love and for guest to really be present in our moment.
Ali and I jumped the broom and we honored Ali's mom, Carrie Russell, who passed in December 2009 with a single rose.

Congratulations to the happy couple! We wish you many years of wedded bliss!
Sources
Dream Moore Photography|Prodigy Cinema|Distinct Event Planning|Shiloh Baptist Church|Jorgensen Farms|City BBQ|SHE Floral Design Co|Alternative Hitches|Three D Cakes|Too Good Eats|Soul Derivative|Mix Master Ice|Makeup By Apryl|Nikki Snyder with Ki'Essence Grand Beauty & Barber Salon|Bridals by Lori|Chris Williams|Joseph A. Bank|David's Bridal|David's Bridal|Joseph A. Bank|Ten23 Designs