Jasmine and Adrian first met in 2010 during a mentorship outing. Adrian had invited his sister to join him taking his mentees out to see a movie. His sister invited Jasmine along since they had an extra ticket. Next thing you know this pair was in love and spent seven beautiful years together before getting engaged. To celebrate their upcoming nuptials, Jasmine and Adrian shot their engagement session in New York's famed Central Park. Check out their romantic day, captured by Megapixels Media Photography.
Bride's full name, age and occupation: Jasmine Hampton, 28, Senior Account Executive
Groom's full name, age and occupation: Adrian Brooks, 34, High School English Teacher
Place of residence: Harlem, N.Y.
Engagement Shoot Location: Harlem, N.Y. (110th Steet Central Park and a friend's Harlem Brownstone)
Wedding date: August 25, 2018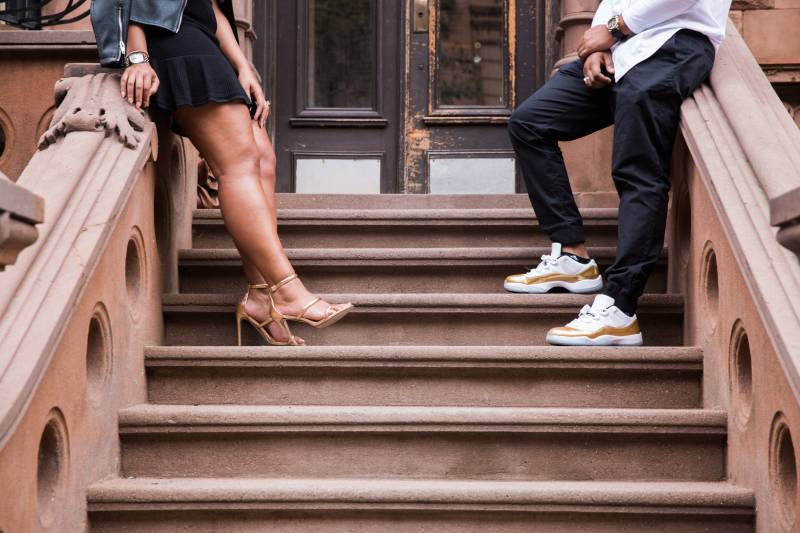 Engagement story:
Jasmine and I had been planning our trip to Dubai for some time. While I was ready to propose a year prior (2015), she'd conveyed that it wasn't yet where she was at – not because she didn't love me, but because there were career and personal goals she'd wanted to achieve first. However, in our talks she'd made it clear that she'd love to be proposed to while on vacation because that place would be forever stamped in her heart. Fast forward a year, our careers were moving and Jas started to discuss marriage more openly as something she wanted, more specifically with me.
We were already planning our trip to Doha and Dubai. In my heart, as we planned our trip, I knew we would leave as boyfriend and girlfriend, but return as engaged. Unlike many others, I didn't look to orchestrate the perfect moment. I was committed to carrying the ring on me throughout the trip until the perfect time presented itself. With all we did in Dubai, carrying something so expensive became rather nerve-racking. It was our second day in Dubai that the perfect opportunity presented itself. That morning we went on a tour of the Burj Khalifa (which I thought would be the perfect place to propose until fear or dropping the ring and watching it roll off the roof set in). After the tour, we wandered around a shopping mall and searched for Parker Restaurant's hidden key. In order to dine at the restaurant, you have to find one the keys they hide in the mall. Once you have the key you have access to dine as often as you want at any of their locations. Parker's provides clues every day on Snapchat; and this was one of the main reasons Jasmine was excited to visit the mall, she's a foodie. After we ate at Parker's for dinner, which created for one of Jas' most joyous moments during the trip, we walked out to the mall's bridge and watched the fountain show before catching a cab back to our hotel.
While in the cab, Jas exclaimed that it had been the best day out of our vacation, which had consisted of five days prior spent in Doha, Qatar where we visited family and friends. Upon entering our hotel room, we noticed housekeeping had place towels in the shape of swans on our bed. I did not plan for that but took it as another sign. We laughed with each other about how corny the swans were, but how much they added to what felt like the perfect day. Jas took a seat in the room chair, which was positioned between the bed and room window, with a view overlooking the city. After some chit-chat about all we saw and how good the food at Parker's was, I reached for the ring box in my camera bag, got down on one bended knee in front of Jas and asked her to marry me. Jas got teary-eyed, said yes, and pulled me in for a hug.
For the Groom: Walk us through the behind the scenes of creating this special day.
As Jas and I were planning our trip to Doha and Dubai, I felt like it would be the perfect time to ask for her hand in marriage. I spent the year working closely with a New York jeweler to craft her desired ring. I spoke closely with a few friends of ours as advisors, showing them images and ring designs throughout the year to assure I was moving in the right direction. I sold my car, taught summer class sessions, and saved the money made from a commercial I was featured in to have the money for her ring and our trip. For me, there was more time spent getting the ring right, rather than the arrangements of a proposal. So long as the ring was right and the trip was adventurous, I believed she'd say yes.
What makes your love special?
We strive to keep our lines of communication open and value each other's individual growth.
What was the theme of your shoot?
Black Love in Harlem
Were there any memorable moments during the shoot?
The most memorable moment of the shoot was discovering this amazing secret garden at the top of Central Park. It's a hidden gem and we were happy to have our pictures taken in this location.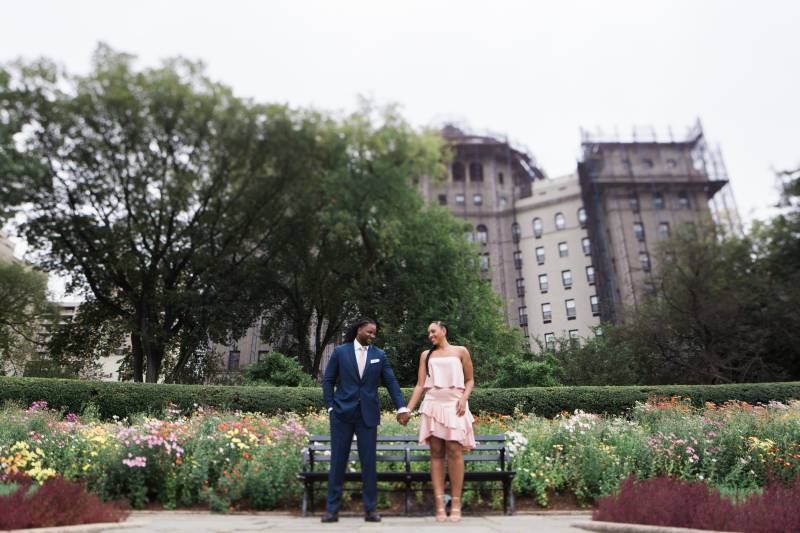 What are you most looking forward to about your wedding?
Celebrating this moment with each other. Being able to see each other in our gown and tux, while slow dancing in a room full of people we love is what we look forward to most.
Have you started planning your wedding?
Yes, we have started wedding planning. We have secured our venue, selected the dress, picked our bridal parties and have sent our save the dates. Our wedding will be taking place in Baltimore, Maryland on the Harbor.
Congratulations to the happy couple! We wish you a fruitful wedding and marriage.
Sources