For Sacha and Jake, love arose in the most unexpected place. They first met in college, while Sacha was in a relationship with someone else. Sacha hadn't noticed him then, but that all changed on September 5, 2011 during her sophomore year. A mutual friend invited Sacha and Jake to the Orange Street Fair, and the pair had an instant connection. From that moment on, Sacha and Jake talked every day and were completely inseparable. Almost six years later, and this lovely couple can't help but thank the friend and fair that helped set them up. Sacha and Jake plan to celebrate their nuptials this Summer. Check out their romantic vineyard inspired engagement session, captured by Danielle Nicole Photography.
Bride: Sacha Breanna Pettis, Visual Merchandising Team Leader.
Groom: Jake William Fey, Athletic Director & High School Football Coach.
Place of residence: Temecula, CA
Engagement Shoot Location: Backroads of Temecula's Vineyards.
Wedding date: July 29th, 2017
The Proposal Story:
Jake proposed to me at Disney Land in the middle of the crowd and it was a complete surprise. He was able to capture my exact vision and when I approached him in the crowd I couldn't help but cry with tears of joy that this was it. This was our time. After that we scheduled an engagement session and took to the hills of wine country in Temecula. We paraded up and down the vineyards, we smiled through the sunset, and we kissed each time more and more excited to make our love official. We decided not to waste any time getting married. Our wedding will be on July 29, 2017. And our venue will be a beautiful estate owned by a friend in Temecula wine country. Surrounded by 360 degree views of our city and beautiful greenery, we couldn't be more excited to celebrate with 200 of our closest friends and family. Our colors are taupe and navy, with gold and wooden accents throughout, and I can't wait to watch our dream come true.
For the Groom: Walk us through the behind the scenes of creating this special day:
During the proposal I felt surprisingly calm, but very excited. I knew what her answer would be, so I was confident going in. When I saw Sacha walk up, I remember thinking how lucky I was. And when I bent down on one knee, I couldn't contain my joy. I was smiling ear-to-ear when I asked her and then embraced her like never before. During the engagement shoot, I remember thinking how beautiful Sacha is. How blessed I am that God put her in my life at exactly the right time. I remember feeling like a million bucks in clothes I had worn a million times.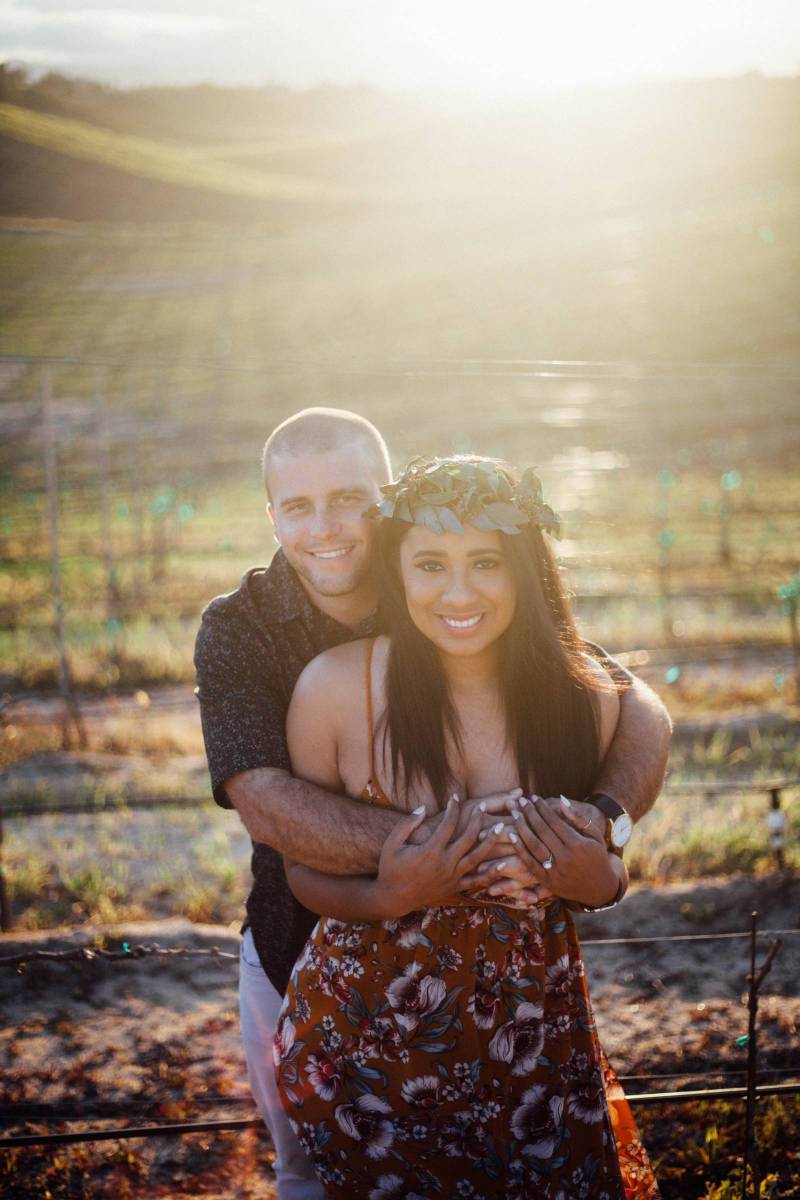 What makes your love special?
What makes our love special is that we love each other for exactly who we are. We accept one another whole heartedly and have never tried to make each other change, and we always push each other to be our best possible selves. At the end of the day we are genuinely best friends. My favorite thing about my relationship with Jake is how much he makes me laugh. We've spent plenty of nights sitting on the couch laughing about the silliest things that only we would get, and sometimes I will actually cry from how funny he is. We also have the best communication. We talk about absolutely everything, and we aren't afraid to share how we feel.
What was the theme of your shoot?
We didn't have so much of a theme as we wanted to be comfortable and modern but also fit in with the beautiful surroundings of the amazing vineyards.
Were there any memorable moments during the shoot?
The most memorable moment from our engagement shoot was right after my outfit change. Our photographer asked us to walk towards her and act natural. So of course Jake immediately starts making me laugh while leading me on this slow walk towards the camera. I was so genuinely happy in that moment. Those pictures were my favorite because they captured our love perfectly.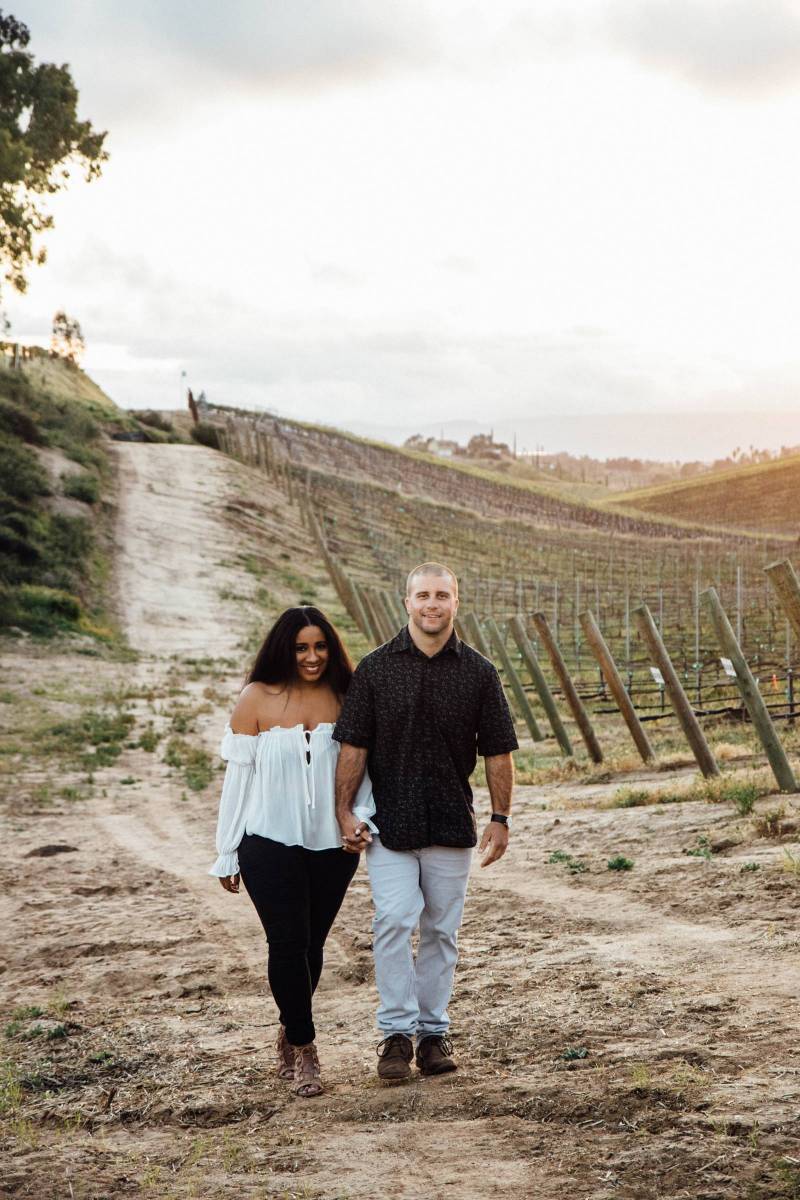 What are you most looking forward to about your wedding?
We are most looking forward to being surrounded by all of our family and friends. Having the most important people in our lives there while we say "I Do " makes it even more special. Plus our wedding day is the day we officially get to start the newest chapter in our life together.
Have you started planning your wedding?
Yes. Most of it has been decided and figured out in the short five months since we were engaged.
Congratulations to the happy couple. We wish you luck on your journey as soon-to-be husband and wife.
Sources