Jada and Malik met ten years ago through mutual friends. They would always see each other in passing at different parties during their college days and eventually became friends. In 2013, Malik asked Jada out on a date but she was in a bad place emotionally due to a recent breakup and the passing of her grandmother, so she declined. However, persistence pays off because Malik tried his luck again the very next day and this time she gave him a chance. Seven years later, the lovely couple exchanged vows in an intimate garden wedding ceremony in Washington, D.C. See more from their gorgeous day captured by Terri Baskin Photography.
Bride: Dr. Jada Tucker, 30, Behavior Analyst/Entrepreneur
Groom: Mr. Malik Edwards, 29, Video Producer for Morgan State University
Photography by: Terri Baskin Photography
Place of residence: Laurel, MD
Wedding date: August 8, 2020
Wedding location: Tudor Place Historic House and Garden, Washington, D.C.
Wedding theme/motif/inspiration: Garden Chic
Honeymoon Destination : We originally booked a two week Fiji honeymoon but sadly, it was cancelled due to COVID.
Engagement story:
On February 10, 2019, I went out to spend the day with my girlfriends for a series of 'Galentine's Day' festivities. We all coordinated cute outfits and went to the movies, out to dinner, then back to one of my friends' houses to play a few games. During a blindfolded 'Guess the Condiments' game, I had to guess the correct condiment before I could take my blindfold off- chocolate. I remember thinking, "why would they give me this easy condiment to guess?". When the blindfold came off, all I saw were bright camera lights from the girls recording on their phones. Malik was down on one knee asking for my hand in marriage. I was so surprised! All I could do was cry tears of joy.
What makes your love special?
Our love is very special because our journey together was not your typical one. We spent the first three years of our relationship as long-distance lovers while we both pursued our Masters degrees. That was NOT easy, by any means, but we refused to give up on each other. Now, we really feel like we are stronger than ever and that love undoubtedly conquers all.
From the Bride:
Despite our wedding day not being the one we originally planned (we postponed our dream wedding until next year due to COVID), I felt so happy to still be able to get married on our original date. I was so overjoyed. The whole day was still so special and intimate. Fifteen of our closest family members and friends attended our ceremony. We had the best ambiance, and everything was so beautiful. We ended the day with a private mini reception at Sequoia in DC. Nothing felt rushed, like a blur, or unorganized; The entire day was so perfect and filled with so much love.
From the Groom:
I felt so prepared to take my then fiancé's hand. Of course, the normal nerves were there because I wanted to make sure everything was perfect. But everything that day was done seamlessly. It was a great day surrounded by our closest friends and family members; the vibes were amazing. I will say, it was definitely an experience getting married during a pandemic. Never in my life did I ever think I would be getting married under these conditions, but I am grateful that we were still able to.
Your best/most memorable moment:
The most memorable moment on our wedding day was the intimacy of our ceremony.
Malik says: When I saw you walk down the aisle and your dad gave you away, I knew it was real and I was ready for forever.
Jada says: I loved our vows to each other. They were definitely heartfelt, and I knew that we both meant every word that we promised each other. That was everything to me.
Wedding song, explain choice for song:
Eric Benet and Tamia – "Spend my Life with You". We probably sat and listened to about 100 songs one day trying to find the perfect one. When we finally got to this song, it just hit different! In that moment, we just knew it was the one.
Favorite wedding detail :
We loved our wedding colors and our florals! The blush colors with pops of greenery were perfect for our lush garden themed wedding. The bridal flower crown and groom's green suit were perfect to fit the theme as well. We had all of our guests wear shades of nude or pink to coordinate with the wedding colors. It all looked so beautiful.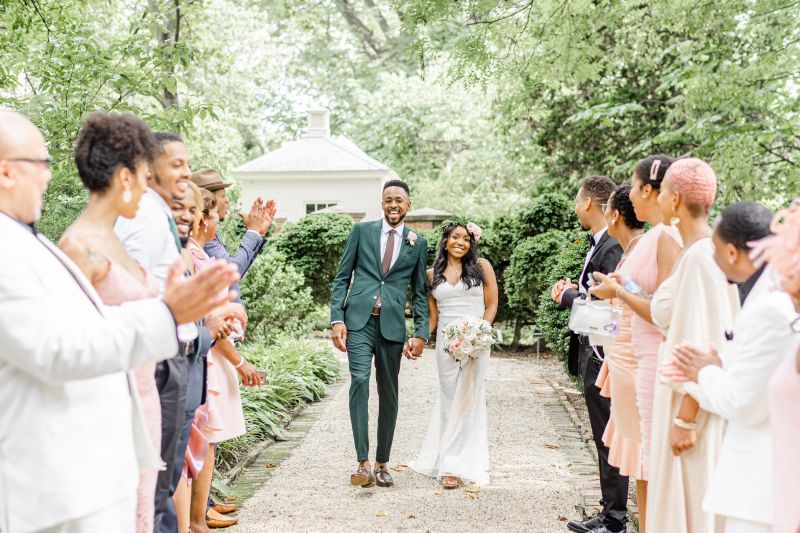 What are you most looking forward to as a married couple?
We are looking forward to starting a family and continuing to build a legacy for our future kids. We also can't wait to continue traveling (when it's safe to do so) and exploring the world together. We love achieving our goals while making lasting memories along the way!
< strong>Advice for a Bride/Groom on their wedding day:
Before you plan the wedding, make sure you plan your MARRIAGE. But on your actual day, remember that it is the marriage that you are celebrating! Bask in all of the joy that surrounds you and enjoy every moment of it! Do not let anything that may occur that day to take your happiness away from you.
Please feel free to include any other interesting anecdotes from your big day!
We have to give a huge shout out to our wedding planner, Melissa at Bastonished Events! She is amazing at what she does! Our quarantine wedding was planned in only two months and was exactly what we wanted. We can't wait for the big wedding on August 8, 2021!
Congratulations to the happy couple! We wish you a fruitful marriage and many years of wedded bliss!
Sources
Terri Baskin|B Astonished Events|Tudor Place Historic House and Garden|Betsy Robinson Bridal|ASOS|Jenny Baked It|Custom Masks- For Your Party|Shaddah Elyse|Lauren J Makeup|Pretty Petals Flowers|Blair Williams Productions