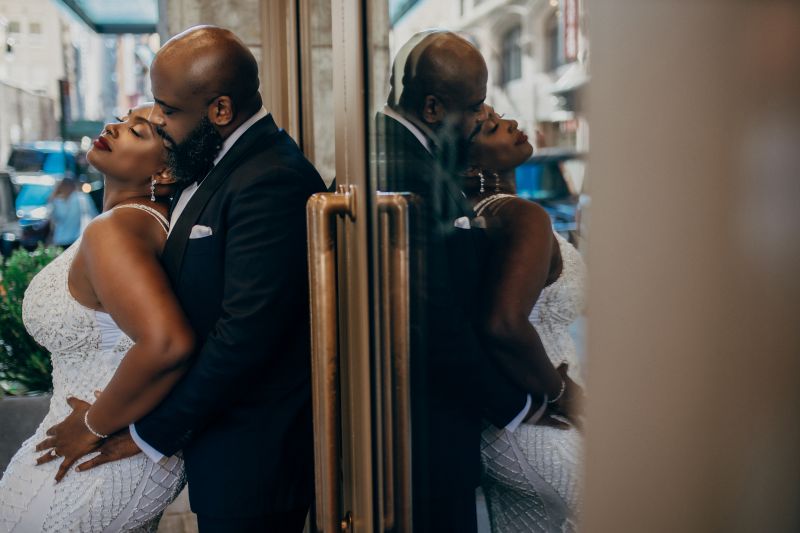 Jessica and Brian first met on Instagram in 2013. Brian would always comment on Jessica's pics and find other subtle ways of flirting with her online, but she did not pay him much attention. A mutual friend of theirs told Jessica that Brian would be a good match for her and finally she decided to DM Brian asking him to meet her for coffee. However, Jessica's schedule quickly became packed when she left to do makeup on tour. Brian suggested that Jessica find a nice restaurant to go to while he made dinner at his home and they ate together on Facetime! Brian says, "It was honestly one of the best first dates on my life." Months later, they officially became a couple on 10/18/2018 and one year to the day later, they were engaged to be married. Check out their romantic micro wedding captured by our Bridal Suite member Reem Photography.
Bride: Jessica Pearl Langston, 38, Celebrity Makeup Artist
Groom: Brian Troy Langston, 39, Retail Management
Photography by: Reem Photography
Place of residence: New York, NY
Wedding date: September 30th, 2020
Wedding location: Jolie Studio, Brooklyn, NY
Wedding theme/motif/inspiration: Rustic Glam/Chic
Honeymoon Destination: Playa Mujeres, Mexico
Engagement story:
Jessica and I were already going to dinner at One If By Land, Two If By Sea to celebrate our one year anniversary. Behind her back, I called a few of her close friends and family members and asked for them to meet us at the restaurant. Jessica and I ordered dessert and the manager brought out the ring on a silver plate in a bed of white rose petals. Jessica saw the ring, then looked up and saw all of her loved ones standing around us with smiles on their faces. When the tears took a pause, I got down on one knee at the table and asked my best friend if she wanted to spend the rest of her life with me. She said yes!
What makes your love special?
Our love is special because it comes with no judgment. From the very first conversation, we were able to talk about everything from what happened in our past to whatever we were currently dealing with. It was very easy for us to build a friendship that led into a relationship. In doing so, we were able to become best friends who fell in love with each other.
From the Bride: (briefly tell us about your wedding experience and how you felt on your big day)
I woke up that morning at peace. After months of planning and re-planning I was finally marrying my best friend. The day felt like a fairy tale. My haircut and makeup were perfect, my dress fit like a glove and my son told me I looked like the most beautiful Mommy in the world. The weather called for rain, but there wasn't any in sight. When I finally made it to the aisle my heart began to race, but when I locked eyes with Brian, it put me in my safe place. I grabbed my father's arm and proceeded to walk towards my new life as Mrs. Brian Langston. We only had 25 guests, but the love and energy that night was on 100 trillion.
From the Groom: (briefly tell us about your wedding experience and how you felt on your big day)
I felt perfectly fine leading up to the day of the wedding. When I woke up on 9/30, I was very nervous. I realized that I was marrying my forever crush. As for the ceremony & reception, I loved the intimacy of the wedding. I enjoyed being able to see every face and shake every hand as well as take photos with each guest without my face hurting at the end of the night.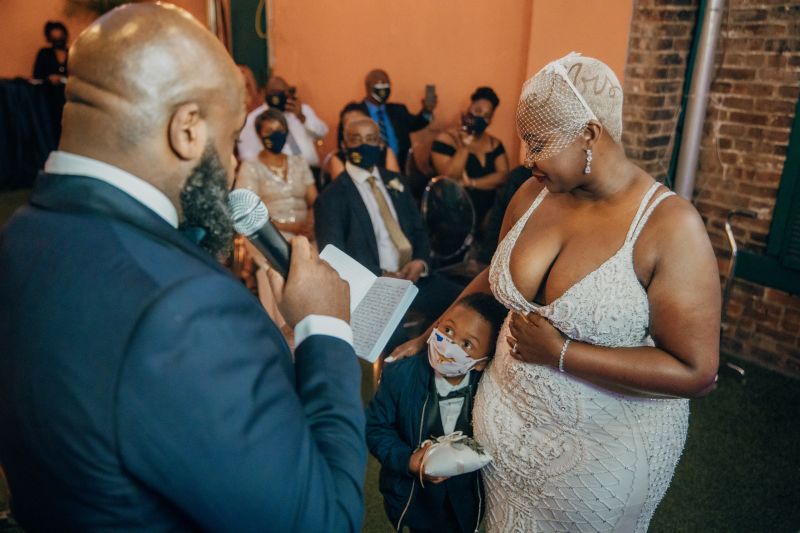 Your best/most memorable moment:
(Bride) My father walking me down the aisle. He had two strokes the previous year and the last one was severe. The doctors told us that my father would most likely be wheelchair bound going forward. However, when I walked into the ceremony, there was my father at the end of the aisle waiting to walk me down. Also, Brian reading his vows to Christopher. Him vowing to cherish and love my son like his own was heartwarming.
(Groom) Besides watching Jessica walk down the aisle, I'd say my most memorable moment was dancing with my mom. We danced to a song she used to sing to me when I was a baby. I cried as soon as I felt my mother's embrace.
Wedding song, explain choice for song:
We wanted something you could grove to and "All This Love" by Debarge definitely has a groove. Also, it's a song about finding and trusting love again and we definitely found a great love in one another.
Favorite wedding detail (favors, cake, food, band, etc.):
We have two, the wedding cake and the drinks. The drinks were so good. Everyone had a glass in hand. We had the "Happy Wife" which was a Mezcal drink and the "Happy Life", which was a whiskey drink. The cake was a marble cake with caramel buttercream. It was so delicious. We took the top portion of the cake back to the hotel with us with the intention of freezing it for our anniversary, but we couldn't wait. We ate it while lying in bed looking at our guest's pictures from the wedding.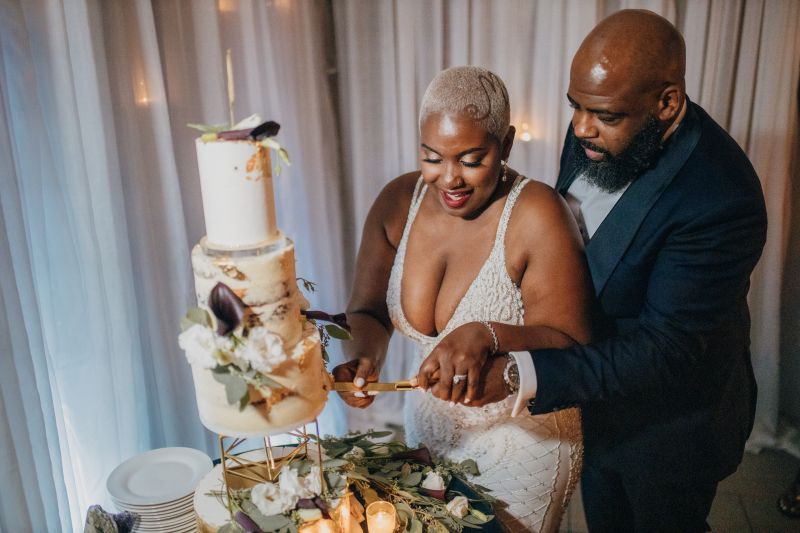 What are you most looking forward to as a married couple?
Growing old together, sitting in our home watching our grandchildren run around.
Advice for a Bride/Groom on their wedding day:
Your wedding schedule is only a guided timeline and can be adjusted. If you're feeling rushed slow down. This is a day to be savored and enjoyed.
Congratulations to the happy couple! We wish you a fruitful marriage and many years of wedded bliss!
Sources
Reem Photography|HAK Weddings|Jolie Studio|Rev. Orsella Hughes|NYC Glamour Couture|Suit Supply|Ambrosial Confections|Missing Ingredient Catering|The Urban and the Mystic|Chelsea Russell|Ricky Bonds|Barber- Adrian Fanus Grooming|Bride- Jessica Smalls|Fun Fete Fabulous|Jolie Studio