Posted on October 3, 2012 by Charanna Alexander
"Jumping the Broom" is more than just a hip term for nuptials in the African American community. This is a tradition rich in history that dates back to slavery, when Blacks were not allowed to legally marry. During that time period jumping the broom signified the joining of two people and two families. Today, this tradition is practiced as a way to pay homage to our ancestors. Marayah Lane of Marayah's Creations has taken jumping the broom to the next level with her beautiful custom brooms and wedding accessories. These custom creations not only match the creativity and style of the couple , but they also pay respect to a timeless tradition in a glamorous way! Check out our interview with Marayah on how she got swept into the wedding broom business!
1. How did you get started creating custom wedding brooms?
I owned an online boutique consisting of custom gift baskets and wedding favors when the opportunity presented itself to design wedding brooms. A friend was preparing for her big day and asked if I could design a broom for her. I agreed to give it a shot and I've handcrafted wedding jumping brooms ever since. I will never forget that broom; it was dressed in shades of yellow adorned with pearls. She and her husband loved it!
2. What are some of the materials you use to create your brooms?
I choose from a selection of materials that behoove the individual broom design and my client's vision. Quality silk flowers, satin ribbon, and genuine Swarovski crystals are to name a few. My newest broom design 'Bezeled N Blinged' is handcrafted with various stones, Swarovski elements, beads and other elements that sparkle and dazzles the crowd. The key is to have fun with the materials and keep your client in mind.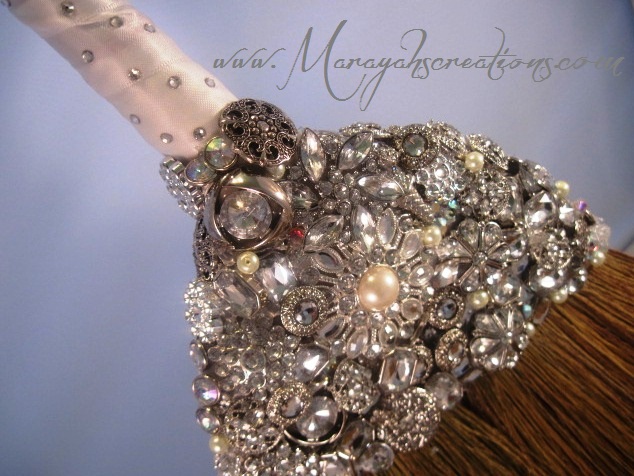 3. What is your favorite part of designing a wedding broom?
I love designing for my clients. I have some of the most confident, respectful and delightful clients. They are full of ideas, color schemes and themes that are expressive of their personalities and love for one another. From the au courant to the timeless classic, no two designs are exactly alike. Everyone gets their own Marayah's Creations experience.
4. Do you do any other wedding accessories?
Marayahscreations designs a handful of wedding day accessories. I have classics such as my wedding broom collection of course and the 'Endless Summer Luv' collection, which includes bridal hair accessories, ring pillows and flower girl baskets created with hundreds of shells, pearls and more. My favorite feature of this basket is the shell and crystal handle. This winter we will have the 'Bezeled and Blinged' ring box that will join the design family, as well as a ring pillow alternative designed to coordinate with the 'Bezeled and Blinged' broom.
6. What makes Marayah's Creations different from other wedding broom suppliers?
People see beauty in my designs and that is not to be taken for granted. When a client says they want a Marayah's Creation to be a part of their special day, I put forth my best to ensure they don't regret that decision. Heartfelt testimonies of their satisfaction with my work are one of the great joys designing bestows on my heart. My mission is to create more than a broom, a hair adornment or a flower girl basket. I want to create a design experience and fond memory just like any other aspect of their wedding or special event planning journey.
For more information on Maryah's Creations visit www.marayahscreations.com and be sure to check out her boutique on Etsy ! Click here to see more of Marayah's Creations!