Meigan and Reginald met while they were in undergrad at Spelman and Morehouse College during 2012. After spending six lovely years together, this happy couple solidified their commitment in front of all their family and friends. Check out their classic rose gold and maroon wedding at the Summit House in Fullerton, California. Furthermore, these beautiful details were captured by Lunabella Photography.
Bride's full name, age, and occupation: Meigan Bryant-McCrimmon, 25, Medical School Student
Groom's full name, age, and occupation: Reginald McCrimmon, 25, Middle School Teacher
Place of residence: Washington, D.C.
Wedding date: June 10, 2018
Wedding location: Summit House, Fullerton, California
Wedding theme: Rose Gold and Maroon
Honeymoon Destination: Bali, Indonesia
Engagement story:
Meigan is from Los Angeles, it was her twenty-fourth birthday and her last name is Bryant, just for context. To celebrate her birthday, we had a big cookout at her house in LA and all of her family came over. My parents and a few mutual friends were "coincidentally" in town, so they stopped by as well.
Once everyone settled in, we started giving Meigan gifts. My gift to Meigan was a Kobe Bryant Laker's jersey, or so she thought. Kobe's number is 24 and Meigan was turning 24, Kobe played in LA and she was from the town, Kobe's last name is Bryant, just like Meigan's… You get the picture; it was perfect. Meigan opened her gift and saw it was a jersey and immediately said "Nice, a Kobe jersey." She held it up and flipped it over to see what she thought would be her last name, Bryant.
Instead when she flipped it over, she saw McCrimmon. A little surprised and confused Meigan put the jersey down from her eyes in time to see me go down on one knee. Cue the floodgates of the happy, ugly tears and an announcement of "I do," that I barely heard over the cheering family members.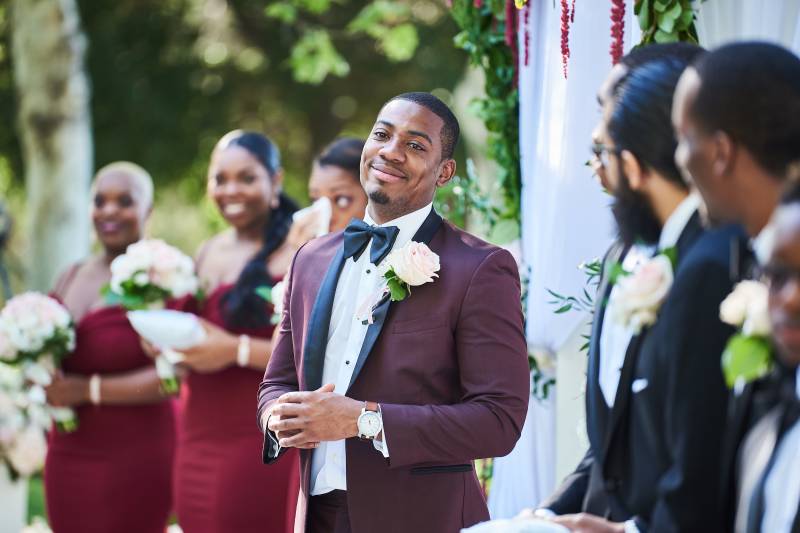 From the Bride:
My wedding was amazing! The morning of the wedding I was super nervous and crying randomly. On the drive to the venue, I told my mom lets just ditch the wedding and go to Disneyland instead. (Reggie and I ended up going to Disneyland the day after the wedding.) But once I got to the venue, it's like all the nervousness disappeared, and I was ready to party.
My wedding planner made the day perfect because she handled everything, like I literally just sat in the room and drank champagne until the wedding started. The ceremony was perfect and once that was over, I felt so relieved. We wanted our reception to be like the parties we went to in undergrad, and it was! The day was perfect.
From the Groom:
Recovering from a slight headache, for obvious reasons, and in typical groom fashion, we were running late. We packed up our belongings and went to change at a family members house near the wedding venue. "Nervous" isn't the word that explains how I felt. I spent one hour and 30 minutes changing into my tux because I popped the button on the tuxedo jacket. My groomsmen happened to have a mini sewing kit at least. I also forgot to bring my black socks, so another groomsman elected to go sockless (#clutch). Then I lost my tie, which happened to be in my garment bag the whole time, but Meigan's brother luckily had an extra. Who brings extra ties to weddings? He does! After changing, we popped several Tylenol pills and some anti-nausea medicine and made it to the venue just in time for the pre-wedding photos.
Once at the venue, it all felt surreal. Having all my friends and close family members around, generations of married men who made the commitment of "Love and Vulnerability" only made me even more proud to embark on that same journey. The wedding went off without a hitch. Everything flowed in perfect harmony. It was the perfect mix of holiness, humor and happiness. Once the vows were spoken, the kissing was done, and I finally stopped crying, the reception was set to begin. In short, it was a lot of fun!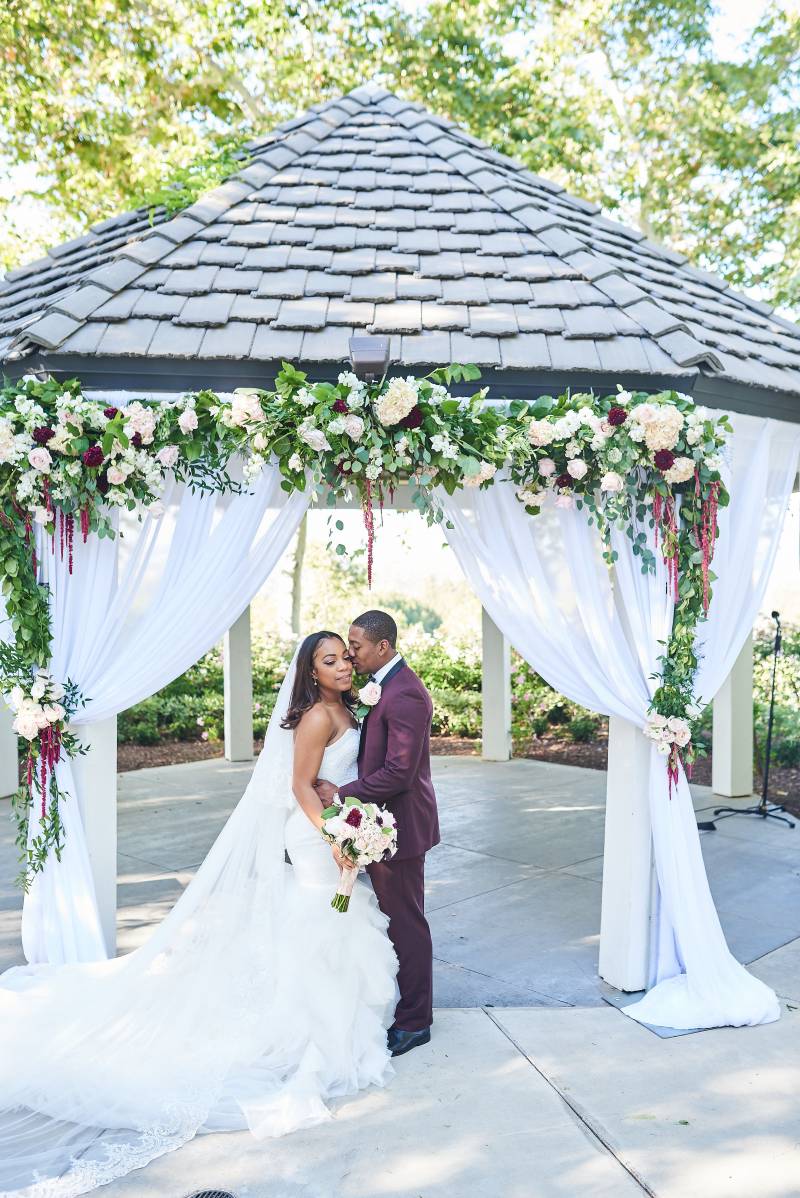 Your most memorable moment:
Seeing Meigan walk down the aisle was unbelievable. I immediately started crying, and to this day, just the thought of her walking down the aisle brings me tears of joy.
What makes your love special?
What makes our love special is our foundation in friendship. We were best friends before we started dating and we've committed to remaining best friends during our marriage. It's cool to learn and grow with your spouse, but it's even more fun to do life with your best friend by your side.
Wedding song:
The end of ceremony song was John Legend's "Good Night." We chose this because we love that song and wanted something upbeat to walk back down the aisle to. Our first dance song was Ed Sheeran and Beyonce's "Perfect" duet because it literally described our relationship.
Favorite wedding detail:
It's a tie between the cak
e and the centerpieces. The cake was basically a combination of a bunch of different cake designs and each layer was a different flavor, and it ended up being beautiful. And the cake was so good, everyone wanted multiple slices so they could try each flavor.
The centerpieces were also amazing and exactly as we described them to our florist. We actually used the centerpieces as the flowers to line the aisle, which was our florist's idea, and no one even knew they were the same flowers.
What are you most looking forward to as a married couple?
We are most looking forward to traveling together. We first started "talking" when I was in Germany doing a summer program, so traveling has always been a part of our relationship. But now that we're married, we're excited to explore the world together.
Advice for a Bride and Groom on their wedding day:
Have fun! As much as you want the day to be perfect you also want it to be memorable for you all, so forget about everyone else and do what makes you happy!
Congratulations to the happy couple! We wish you many years of wedded bliss!
Sources
Luna Bella Photo|Summit House Weddings|Flawless Weddings and Events|Flawless Flowers Weddings and Events|Spider Monkey Art|Bethesda Fine Stationery|Vox DJs|Vivienne Atelier|Friar Tux Shop|Diamond Beauty Hair and Makeup|Hair by Erica|Ultimate Music Entertainment|Glow Concepts Fine Linens