Amanda and Zavier met in 2011 and have been together for six years. They were first introduced to each other in college; Amanda attended Florida State University and Zavier attended Florida A&M University. At the time, Zavier worked for the apartment complex Amanda lived in. And one day, Amanda locked herself out of her apartment and needed to get back in. She walked into the front office and Zavier happened to be the only person working that day. They flirted back and forth but were too shy to ask for the other's phone number. Amanda walked out the office and bragged to her friend Acoreous, who then said, "Girl, you better call him!" Still sitting in the office parking lot, Amanda called the front office pretending she needed Zavier to put in a work order for her sink but the end goal was to get him to take her number down. He did, and since that day, they have been inseparable. Now this happy couple is ready to take the next step in their relationship. Check out Amanda and Zavier's Bonnie and Clyde-inspired engagement session, captured by LaJoy Photography.
Bride: Amanda Richardson, 25, Account Manager
Groom: Zavier Solomon, 28, Property Manager
Place of residence: Tallahassee, FL
Engagement Shoot Location: Abandoned Warehouse, Alfred B. Maclay Gardens and The Wine Loft
Wedding date: September 7, 2018
Engagement story:
Zay proposed to me on our fourth anniversary. The days leading up to our four-year mark, Zay began to drop hints. He sent my favorite flowers to my work with a sweet note that read "The best is yet to come" and also surprised me with a spa day. The night of the engagement, we enjoyed a romantic dinner at one of our favorite restaurants; I just knew that's when he was going to propose, but it didn't happen after dinner. While waiting for the valet, Zay blindfolded me and we drove around town, eventually arriving at our home. When the blindfold came off, I was surrounded by a rose shaped heart and candles. Zay then started telling me how much he loved me and our life together while getting down on one knee. With many screams, of course I said "yes!" I have always fantasized about my dream proposal, and Zay definitely went above and beyond to give me more than I could ever imagine. The most memorable moment of that night, is when I looked over my shoulder and seen both of our families on Skype witnessing Zay proposing.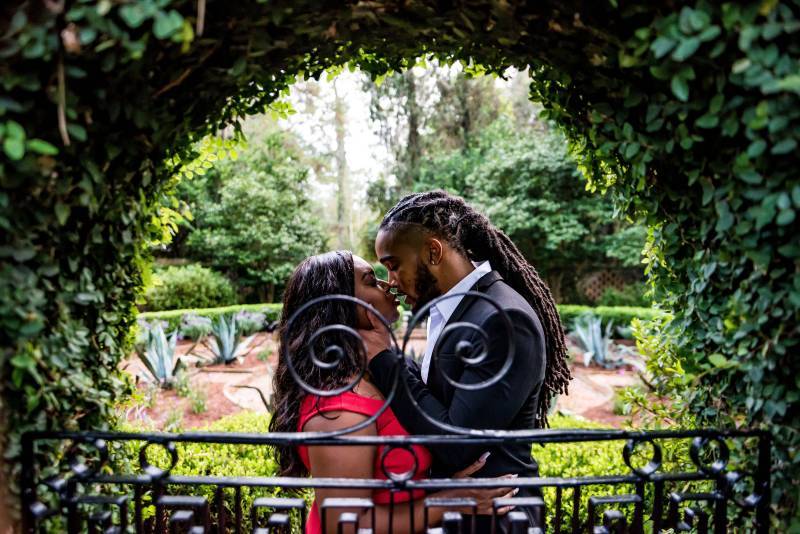 For the Groom: Walk us through the behind the scenes of creating this special day.
I wanted the engagement to be special and memorable. I asked my friend Anthony to assist me with capturing the proposal and setting up the engagement atmosphere. As I spoiled my future fiancee with gifts and a lovely evening while the final pieces of the proposal were being put together. I made arrangements so that both of our families could share the experience as I knew this was something that meant a lot to Amanda. I was extremely nervous and it was solely because I needed everything to be exactly what she imagined it to be. After a loud scream and a few tears, she said "yes" and our engagement has truly been the best journey of my life.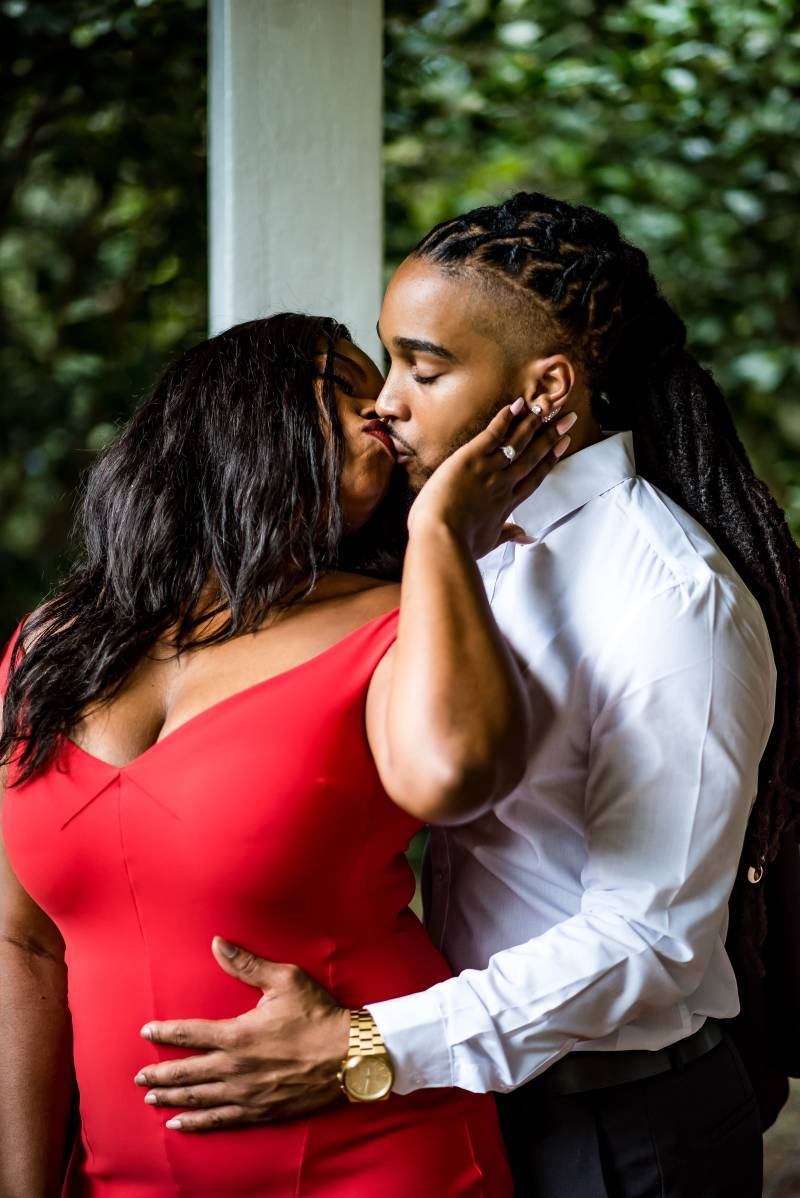 What makes your love special?
What makes our love special is the patience and appreciation we have for each other. We know it was in God's plan for us to meet and become one. We provide each other with support and encouragement. We balance each other out, and make each other better, which is why we believe it's been so easy for our love to flourish.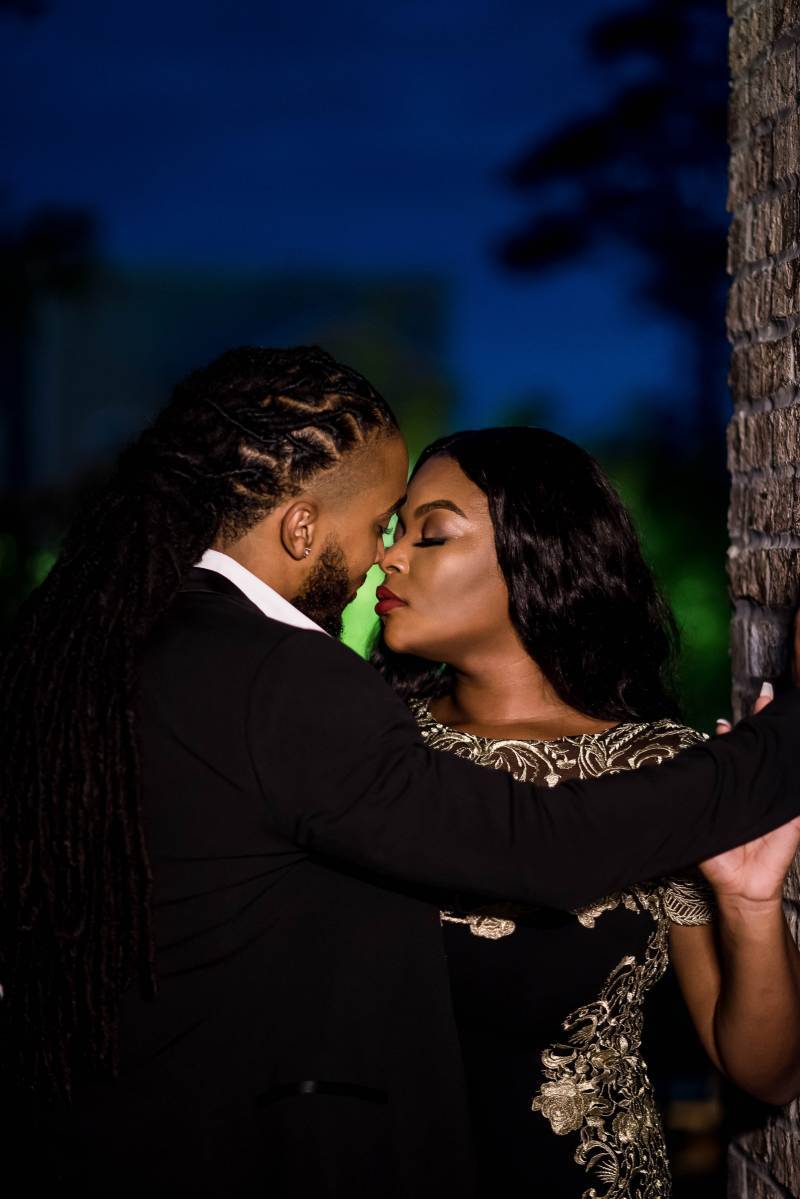 What was the theme of your shoot?
Sexy and glamourous, but with a tad bit of toughness. I wanted to make sure our photos came out super dope and memorable but also represent us as a couple.
Were there any memorable moments during the shoot?
There were so many! For the both of us, the most memorable moment took place at our last location; that is when we started feeling ourselves. Our photographer, LaJoy Cox, played some slow jams and we just let the music take us away. It was very sexy and romantic. Another memorable moment took place in the garden. As we were posing, LaJoy asked Zay to smell my perfume. Let's just say, Zay did a bit more than smelling.
What are you most looking forward to about your wedding?
Amanda: Our first dance. I feel as if it signifies us stepping into the world as husband and wife. I'm also excited to see all of our family and friends in one room together. It's going to be super lit.
Zavier: Getting to see my future wife walk down the aisle while either weeping or fighting back tears.
Have you started planning your wedding?
Yes! I've been planning our wedding since we've became a couple. Planning has been a blast. We've been engaged for almost two years and we're now less than a year away from the wedding. We are from Florida, but our wedding will be located in Atlanta, GA. Atlanta gave us the vibe we wanted for our wedding, plus the food there is amazing and we love to eat! My planner, Zephanie, has made being an out of town bride str
ess-free, she's easily accessible and very accommodating.
Congratulations to the happy couple! We wish you many years of wedded bliss.
Sources