Ever since I was a little girl, I've been a Disney super fan. My earliest memories literally are made up of my toddler self watching The Lion King on repeat, much to my parents' dismay, while I ran around our three-bedroom apartment on all fours and recited Simba's lines as if I were the exiled cub. That fun-filled imagineering led me down the Disney Vault, a place where I discovered epic tales of love, adventure and triumph. Every subsequent film that featured a strong woman or girl of color always made me fall deeper in love with Disney's magic. From Jasmine to Pocahontas, Esmeralda, The Muses, Kida, Nani and Lilo, Tiana, Moana, and many more–it's no mystery why I've admired and identified with these animated heroines throughout my lifetime.
So, of course, the second I learned it was possible to have a Disney wedding, I decided I have to have one. Becoming a Disney Princess would simply be a dream come true, and luckily for me, I'm a stubborn gal who likes to make her goals a reality. Which is how I ended up at Walt Disney World from March 1 to 3 for Disney's Fairy Tale Weddings Showcase.
With my fiancé in tow, we boarded a plane and ditched snowy, cold New York City for the sunshine and palm trees Orlando is famous for. Our first stop, Disney's Yacht Club Resort. We were greeted by cheerful staff donned in nautical attire and made way to drop off our belongings after checking in with the front desk. As we traveled down winding hallways, it was easy to feel a little overwhelmed. Disney's Yacht Club Resort is a grand New England stylized estate that houses a whopping 621 rooms for guests near and far.
When we finally found our room, we were treated to a spacious Water View suite that faced the Yacht Club's Quiet Pool. Inside were two queen-sized beds and a stately couch that are equipped to house up to five adults comfortably. Seeing as it was just my fiancé and myself staying here, I couldn't help but feel a little fancy amongst the room's elaborate decor. My personal favorites included the midnight blue constellation curtains along with the maritime dresser and nightstands outfitted in marble and gold accents. And, of course, I couldn't ignore the pristine bathroom that held all the Disney branded toiletries my heart could have wanted as a novelty soap lover.
The rest of the Yacht Club is just as immaculate. From the stunning lobby that makes you feel like you've been transported back into time to the gorgeous lakeside where you can hop on a ferry to Epcot or Hollywood Studios, the Yacht Club is a convenient and glam abode for families and couples alike. Other cool perks and amenities include a new Skyliner gondola system that's set to open in fall 2019, a delectable Yachtsman Steakhouse, a Ship Shape Health Club that provides fitness and spa services, a three-acre water park at Stormalong Bay, watercraft rentals at Bayside Marina, dog-friendly accommodations, and plenty more.
Black Bride Tip: The best times of year to book your trip to Disney include early to mid-January, mid to late February, early March, the second half of August, most days in September, and most weekdays in October, November and December (minus holidays).
But, enough about Disney's amazing resort. Let's get back to everything weddings. Our first night, we met up with a group of journalists and boarded a bus to Disney's Contemporary Resort. There, we were introduced to many of the talented crew who make Disney weddings come to life while we ventured upstairs for a sunset dinner at California Grill. As we entered the private space, we were welcomed to a reception styled tablescape adorned with cream blooms, lush greenery and crystal candleholders paired with off-white candles–all of which, I found to be a simplified and sophisticated taste of what the Disney's Fairy Tale Weddings team is capable of.
While we ate and chatted, we gained an overview on how weddings at Disney started in 1991 and that over 30,000 weddings have taken place on Disney properties, which includes their many amusement parks, resorts and cruise lines. We also received insight as to why couples choose Disney as their wedding venue. Disney is a one-stop shop for all your wedding needs if you're determined to get hitched at the "House of Mouse." Complimentary wedding planning services are offered to help you and your beau figure out what your top wedding must-haves are and how to best achieve them based on your budget. Add in the onsite Disney Fine Art Photography, Disney Floral and Gifts, unique venues, branded enhancements like character meetups, and gourmet chefs that can replicate any culinary desire you have; why would you ever want to look elsewhere? Disney is all about making your wedding journey simple so you can actually enjoy your big day when it comes.
I could go on and on about all the amazing perks and options Disney provides for their brides and grooms, but I want to get back on track about our trip. The night ended on a high note for me in particular because we got the chance to tour Disney's Wedding Pavilion–the venue I hope to say "I do" in. I'm totally not ash
amed to say I was near tears when I crossed that beautiful white footbridge lined with romantic archways and entered the pavilion. And it wasn't from the champagne they handed me at the door, I swear! It was such a surreal feeling to walk into that space. The pictures and videos I've seen over the years hadn't captured the pavilion's grand elegance or finer details. This included the soaring Victorian spires, airy vaulted ceilings, and its graceful cupola.
I found myself walking straight up to those monumental arched windows and taking in the vibrantly beautiful stained glass along with the storybook depictions of Cinderella's coach. Through the main window, my eyes were treated to a spectacular view of Cinderella Castle and the Seven Seas Lagoon. When I managed to pull myself away and turned around to look at the rest of the room, I immediately envisioned my family in the pews and my groom-to-be at the altar. This was all the confirmation I needed that this venue is well worth the splurge.
Black Bride Tip: Disney's Wedding Pavilion is a nondenominational wedding chapel, but you can dress up the space for any of your religious or cultural needs. Just let your Disney Wedding Consultant know and they'll help you make the proper modifications.
Before we left the ceremony hall, we got a quick tour of the guest bathroom, followed by the adjacent bridal and groom suites. All of which, were fit for the regal fairy tale wedding theme you'd expect for a princess and her valiant partner. In particular, the bridal suite is a spacious area that's outfitted with multiple vanities, its very own washroom, coffee makers and more–making it an excellent place to have a "get ready" photo session taken. The groom's suite, on the other hand, isn't as large as the bride's, however, I suppose that's the tradeoff you get when you're not expected to wear a giant ball gown. Despite this fact, there's more than enough room to fit a number of groomsmen and any visiting family members that want to sneak a peek before the aisle.
To finish the night off, we were directed to follow a path towards the garden that leads to the ivy trellis archway known as Picture Point for a dessert party and firework viewing. I never considered a dessert party before, but I seriously want my guests to experience this moment now that I've done so myself. It's probably one of the best ways to kick off your pre-wedding celebration for out-of-towners. A seemingly endless supply of sweets while watching Magic Kingdom's 18-minute firework show above Cinderella Castle is a once in a lifetime opportunity that very few have partaken in. Channeling your inner Gaston and saying, "I deserve the best," has never been easier. And if you're a fan of cookies like myself, be sure to request the vanilla Mickey Mouse macarons–you won't regret it, I promise.
Black Bride Tip: The best time to book your Disney wedding depends on what you're looking to prioritize. The best weather tends to happen around March, April, November and December. Whereas you can expect the best pricing from January to mid-February, July through September and November to mid-December.
The second day of our trip is where a bulk of the action took place. We woke up bright and early for an exclusive tour before the actual showcase. Our first stop, the Yacht Club Gazebo. This uber romantic structure has hearts carved throughout its roof and sits in the middle of an expertly sculpted rose garden. For a realistic setup, Disney decorated this outdoor venue with white lawn chairs and blooms while a pink and blue sand ceremony station rested on a table under the gazebo. Following the brick path that leads away from the gazebo, we were able to see more nautical inspired tablescapes for sea-loving couples.
Next on our list, Sea Breeze Point. This large and airy gazebo is situated on Disney's BoardWalk and faces the Crescent Lake. Just like the Yacht Club Gazebo, Sea Breeze Point doesn't require much decorating since nature steals the show here in addition to its sweeping arches. In terms of furnishing, this venue featured cherry wood Chiavari chairs lined in rows alongside golden lanterns and white candles. At the center, sheer curtains were held in place with bouquets of pink and white roses so would-be guests can see you get hitched by the water. It might be a simple setup, but it works beautifully. Even better, right outside this venue, we saw Disney's vintage Ford Model A town car with a "Just Married" sign, which really drove home the elegance of this occasion.
By 10 a.m. we had worked up an appetite and headed for Disney's BoardWalk Inn for brunch. Instead of dining inside, we were led to Quiet Pool Lawn, a gorgeous area nestled within the resort for garden ceremonies and receptions. The first thing we saw when walking into the space was a stunning circular flower arch adorned with pink, white and peach blooms, which sat directly in front of a therapeutic fountain. Rustic wooden chairs were arranged for an intimate ceremony that seated up to 24 people. A short distance away was the reception setup with two rectangular farm tables at the center. The tables featured idyllic centerpiece bouquets that were composed of the same flowers seen in the ceremony arch.
When it came to meal time, I was impressed with how the buffet style catering still provided a sense of sophistication. In total, there were stations for mimosas, coffee and tea, waffles, omelets, and standard brunch favorites for all your sweet and savory needs. My personal favorites included the tropical mimosas with edible orchids and splashes of sparkling Domaine Ste. Michelle Brut. The bananas foster waffles with vanilla drizzle were also high on my list thanks to fiancé's killer sweet tooth. Aside from eating, we also got our food questions answered by Disney chefs. To summarize what we learned, Disney can cook up anything and everything you want for your wedding menu. Even if you want to mix and match cultural delicacies. So,
if you're like me and wonder if you'll be able to appease your Guyanese and Puerto Rican relatives, you have nothing to worry about.
Brunch was already a blast, but it went up a few notches when Mad Hatter, Alice and The White Rabbit decided to join the party. Their method acting was absolutely spot on and they even had us flexing our improv skills with their hilarious antics. We were even lucky enough to get a photo op with the wonderful trio to commemorate this brunch of the ages.
For my own wedding, I've been eyeing the Farewell Brunch option as a final thank you for our guests. I'll have to save every penny until 2020 rolls around for all these enhancements I want to add, but the experience is worth it in my eyes. Destination weddings are always better when you have activities planned, and that's exactly why I want to go so big for my family. We don't see each other often, so these add-ons really up the ante and turn your wedding into a vacation for all those who attend instead of having a one-day event that flies by way too fast.
Black Bride Tip: The key to wedding planning is figuring out what's most important to you as a couple. Make a list of your top three wants and compare them with your partner's to see where you're both in agreement. This way, you'll be able to make a unified decision on your wedding non-negotiables.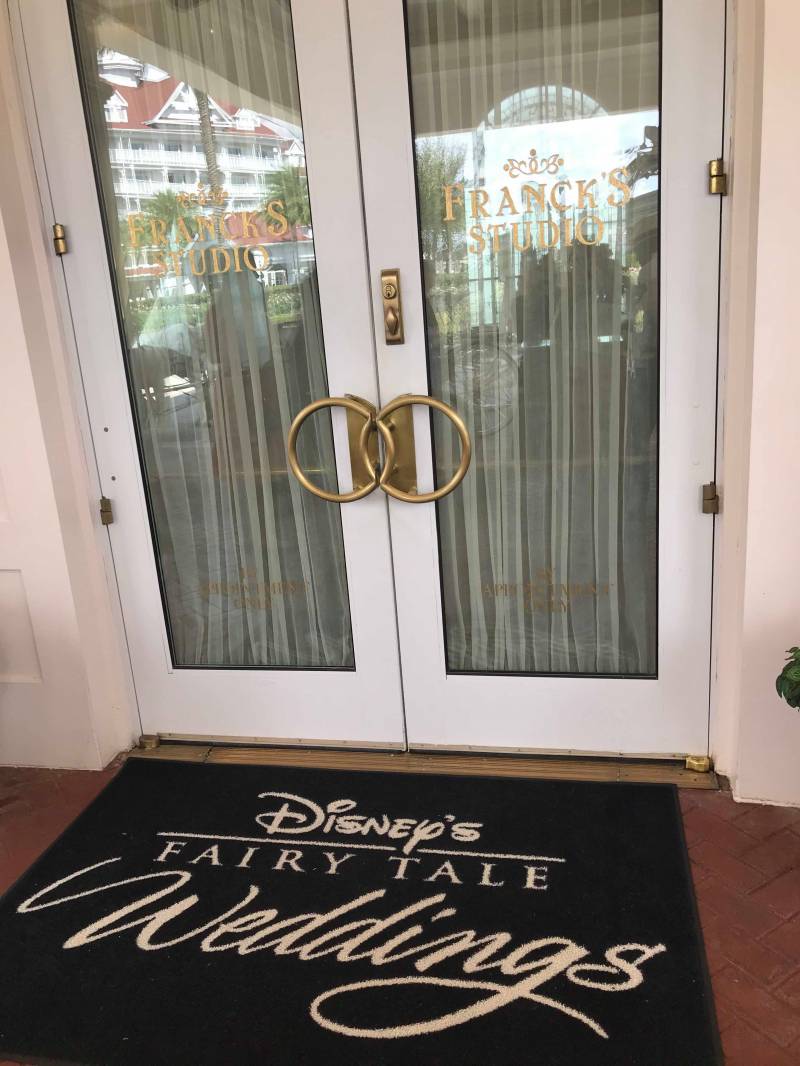 Next, we boarded a luxe limousine and stopped by Franck's Studio, the very location where all the Disney wedding magic happens. And yes, this spot is aptly named after wedding planning extraordinaire Franck Eggelhoffer from the 1991 classic Father of The Bride. Inside, you'll find that this Victorian summerhouse is filled with wedding inspiration and resources that will help you plan the Disney wedding of your dreams. The best part is that Franck's Studio rotates their designs a few times per year, so you'll be treated to different tablescapes if you schedule visits seasonally.
When I walked in, I immediately went to the regal and romantically red Beauty and The Beast section. The centerpiece was the encased rose from the film, which is exactly what I've had my eye on for my own wedding since I fancy simpler centerpieces that aren't hard to talk over. I'd just want to switch out the red detailing for purple, and when I asked one of the Disney Wedding Consultants whether this was possible, they gave the answer I was hoping for–yes, you make any changes you want because Disney doesn't deliver cookie-cutter weddings. Everything you want decor-wise is customizable.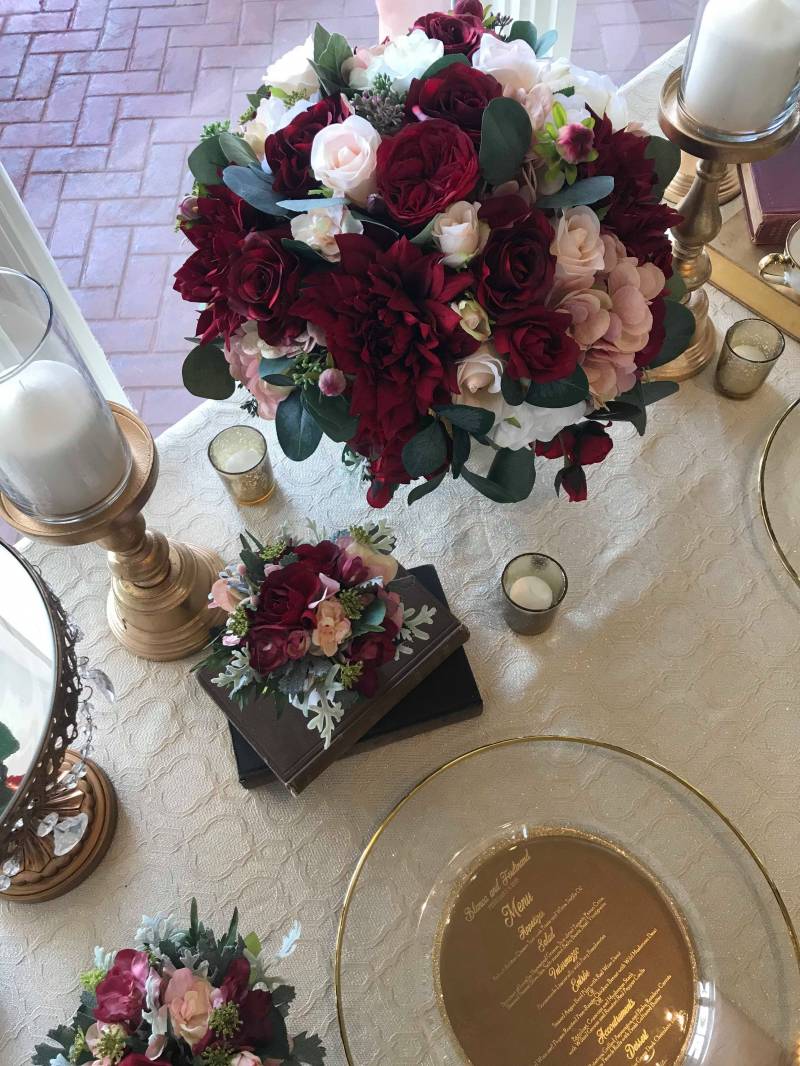 Other areas were beautifully decked out with mini tablescapes inspired by Cinderella, Alice in Wonderland, Snow White and The Seven Dwarfs, Tangled and The Little Mermaid. Aside from having remarkable Disney themed place settings, centerpieces and favors on display, Franck's Studio has an area where you can compare linens as well as a variety of model cakes that you take note of if you think you'd want something similar on your special day. At the center of the studio is a gigantic six-tier cake with Cinderella Castle as the topper, which, if you haven't already guessed, is a sight to behold. My fiancé was baffled that it's nearly as tall as I am but lucky for him, I'm not that extra when it comes to cakes.
In front of the gargantuan Cinderella cake is a desk that shows off a colorful array of bubbly. My eyes automatically went to the ethereally turquoise sparkling wine, Blanc de Bleu Cuvee Mousseux, and the ultra-feminine pink and gold wine bottles from Mediterranean favorite, Cote des Roses.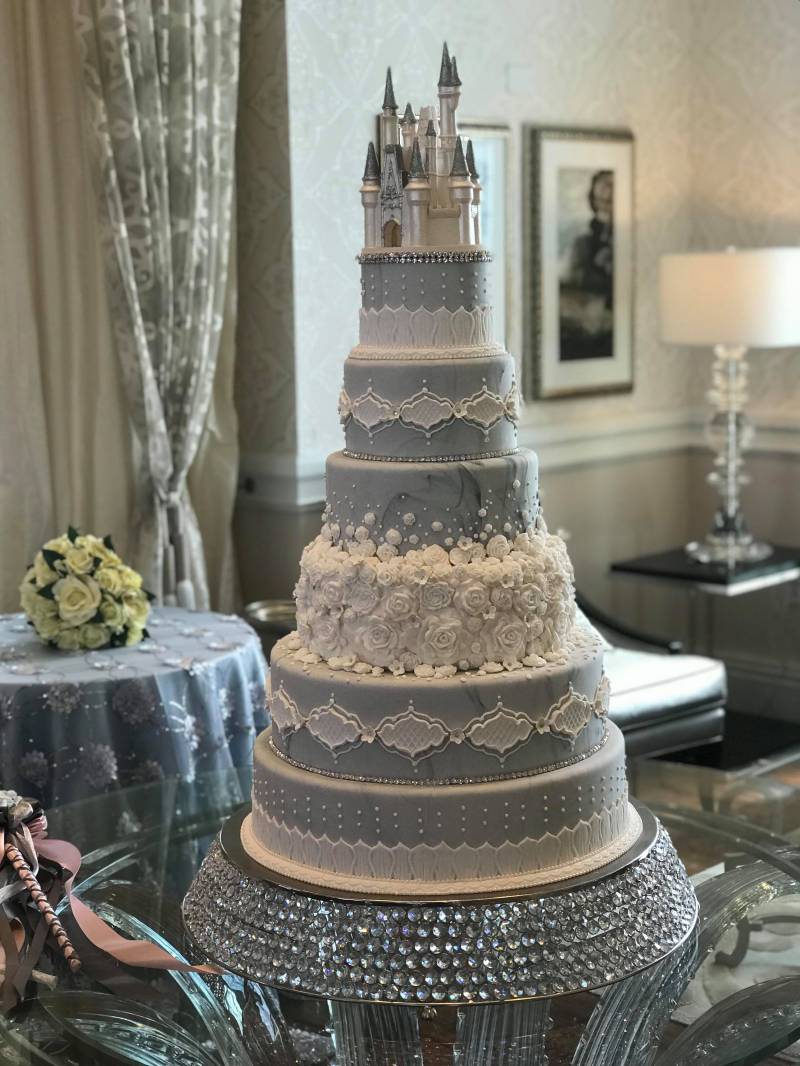 Of course, we can't forget the talented planners inside Franck's Studios who work every day of the year to ensure each Disney bride and groom achieve their wedding goals. These dedicated experts work with you to narrow down your desired details, including your color, theme, floral options, decor, favors, venues and so on. They'll even make informed suggestions that'll help you stay within budget. So, let's say if your heart is set on a particular type of flower that's out of season, your Disney Wedding Consultant may recommend another breed of flower that's in season for cost-effectiveness. And with over 20 years of experience in producing successful weddings, the folks at Disney have seen it all and have probably bypassed a number of obstacles that make them more equipped to deal with potential issues that may arise during the planning process or even the day of.
After spending some time exploring Franck's Studio, we were ushered outside and offered delectable watermelon mint champagne flutes in time for viewing a real Disney bride's entrance into the Wedding Pavilion! The lucky bride arrived in style with Cinderella's Coach, a gorgeously all-white pumpkin-shaped carriage led by stately ponies and two footmen in full regalia just like you see in the movies. We cheered for the bride while she exited her lavish carriage and struck her poses for her photographer and videographer. It was truly a magical moment to witness. I've had Cinderella's Coach high up on my wedding must-have list, so this moment was extra special and let my imagination fly. Disney was even kind enough to let us get a photo with this famous fairy tale coach, which is a moment I'll cherish forever with my fiancé.
Not long after, we journeyed back to Disney's Yacht Club Resort so we could prepare ourselves for the Fairy Tale Weddings Showcase. Doors were set to promptly open at 2 p.m. at the Yacht Club Resort Convention Center, and with 800 brides registered to attend, we had no idea how this event was going to go.
Black Bride Tip: You should schedule a meeting or phone call with a Disney's Wedding Consultant as soon as possible. However, if you're opting for the Wishes Collection, events are booked one-year prior to your requested wedding date, where
as the Escape and Memories Collections can be booked up to ten months prior. Your Wedding Consultant will email you a confirmation when your date is held.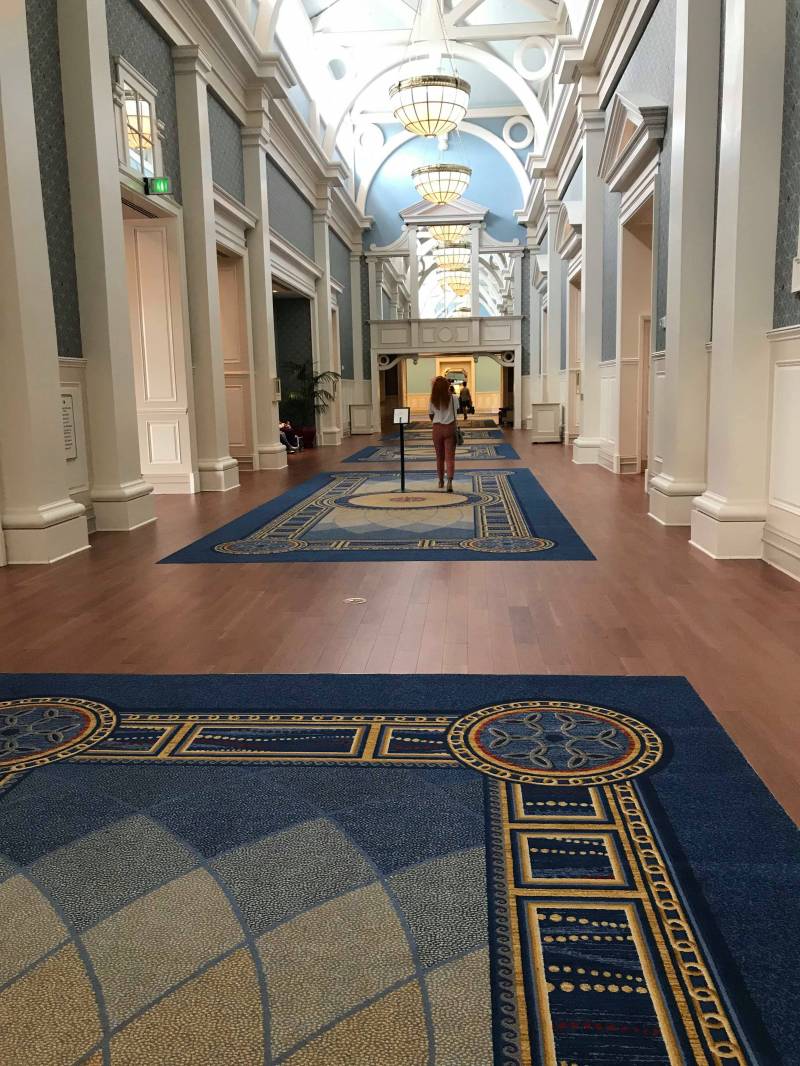 Finally, it was time! The showcase was upon us and I couldn't have been more excited. Even my fiancé seemed to be fueled by the energy in the room. Though it was a bit crowded and overwhelming when we first arrived, I had to remind myself that this is what's expected from brides and grooms on a mission to solidify forever in one of the most magical places in America.
At the registration areas, couples and even families grabbed their swag bags and spoke with third-party vendors like makeup artists, spa specialists from Senses Spa (who offered free massages BTW), male grooming experts, and more. Other neat spaces included a vibrant pastel paper flower wall for Instagrammable selfies and an augmented reality photobooth for souvenir keepsakes with Mickey and Minnie Mouse. There was also a live band that puts on an amazing rendition of the Pirates of the Caribbean theme and even took on spot requests.
But, on to the actual expo in the Convention Center's Newport Ballroom! When we entered the space, the first thing we saw was a gown exhibit by Kleinfeld Bridal. Six beautiful models showed off whimsical gown silhouettes along with a dress rack and brand rep who was able to answer any questions for those looking to say "Yes" to a dress. Right next to this setup was a table for Disney Floral and Gifts, who displayed an assortment of wedding novelties like an epic Endless Bliss gift basket, A Wish Come True in-room celebration enhancement, Minnie Mouse Headbands, and small to large bouquets. The florists at the table made sure to answer inquiries about the floral and decor options implemented throughout the showcase and how they can apply similar methods to your wedding day. Additionally, Keepsake Floral shared a table with the floral and gift team as an official Disney partner and showed off their bouquet preserving wares that come in stunning frames, domes and cubes, so you can remember your wedding day always.
Other cool vendor tables included: Themes Come True, a licensed bespoke stationery company that has worked with Disney for 21 years; Disney Fine Art Photography, a multi-talented team with an abundant collection of portfolios filled with storybook-like still shots; Switzerfilm and Perfect Sky Productions, who are two video production companies that can churn out award-worthy sizzle reels or documentary film style packages; Disney Food & Beverages, which provided four sample menus and tastings of mouth-watering bites like Korean fried chicken and mini caprese salads; access to representatives from Disneyland and Disney Cruise Line for couples who don't want to wed at Walt Disney World; and Disney Honeymoons, which provided various destinations and properties for a Disney-filled ever after.
The standout vendors of the day, however, were the Disney Wedding Consultants who were armed with 2019 fact sheets and ready to answer any and all planning questions, and the Disney Pastry Chefs who kept the cake samples coming effortlessly. The line for this table was a constant stream, yes, because it was cake, but also because the flavoring was so distinct. From lavender cake with peach schnapps mousse, French toast cake with maple white chocolate mousse, confetti cake with raspberry buttercream, a smores cake and a few other creative concoctions, this showcase was unbelievably sweet. Though, I'd like to note that my fiancé wasn't a fan of the lemon ginger cake, I absolutely loved it! It made me feel like I hitched a ride on a magic carpet and soared through East Asia.
When it came to decor, the Disney Fairy Tale Weddings Showcase was arranged as a branded activation that allowed brides and grooms to tour and interact with venues throughout Walt Disney World. Within the Newport Ballroom, there was a pipe and drape setup sectioned off into a quadrant with cream colored curtains. Within these sections were four themed and expertly styled tablescapes that capture different types of fairy tale.
The Wish Upon a Star section gave off ethereal wintery vibes with translucent chairs, a mirrored tabletop, crystal glassware, white candles, woven silver chargers and utensils, navy napkins and stationery, pastel blooms, and four small centerpiece flower vases in addition to its large string light vase as a focal centerpiece. It was paired with a lovely four-tiered white wedding cake that was accentuated with silver calligraphy and embellishments. Classic brides and grooms are sure to love this traditional and timeless tablescape.
The Esmeralda and Phoebus section took inspiration from The Hunchback of Notre Dame for a flashy French-Romani affair. Cushioned gold Chiavari chairs were positioned around a brown wooden farm table and a showstopping centerpiece arrangement composed from tall golden pedestals holding up a romantic red, violet, pink and lush green floral wreath. Next to it were matching blooms in stately vases, decorative orbs, candlesticks supporting floating white tea candles, glassware, glittering gold-rimmed chargers, utensils, place cards, teal napkins, navy and gold stationery. At the base of the table, the wreath snaked around sultry floor candles, which I found to be extra regal. This elaborate display was paired with a three-tiered white wedding cake with pink and turquoise fondant stripes, blooms, purple pearls and gold flakes sprinkled on top like fairy dust. As someone who loves the color scheme and character Esmeralda, this setup is one of my favorites and will definitely go in my inspo pile.
The Copper and Tod section took inspiration from The Fox and the Hound for a rustically chic wedding day. Cushioned wooden chairs surrounded a farm table along with a blue marble table runner, antique gold-rimmed glass chargers and candlesticks with white candles. Copper Moscow mule mugs and utensils, hexagonal coasters with engraved names, periwinkle napkins, pink and white roses with lush greenery added to elegant county ambiance in a way lowkey couple will love. It was all paired with a three-tiered, matching blue marble wedding cake that was graced with gold vines and hexagons.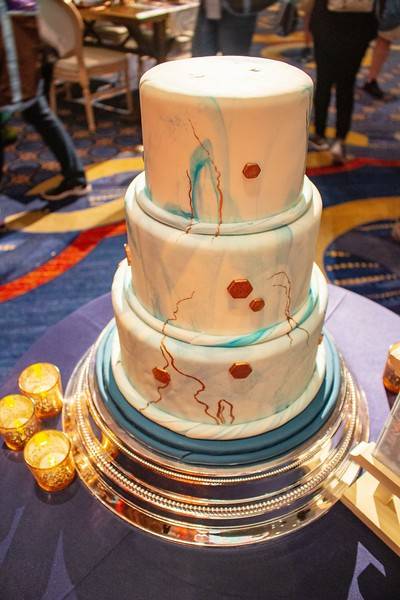 The Enchanted Forest section was surprisingly a winner for my fiancé, which I was totally stoked about because I loved it too. And through good old-fashioned compromise, we pretty much agreed that this tablescape is what we'd aim for on our wedding day. Round wooden chairs circled a matching table while a whimsically large candlelight tree centerpiece stole the show with its plum, magenta, cream and white bouquet at the base. This tablescape kept up the woodsy fairy tale aesthetic with a storybook display, an empty gold-framed mirror with a grassy backing and an "Enchanted Garden" inscription, mini tree trunk candle holders for the tiny tea candles, and leaf adorned place cards that were positioned above petal pink napkins. For the place settings, there were natural wood chargers accompanied by white plates, stationery with golden typography, translucent purple glass chalices, silverware and mirror-shaped chocolate favors that say, "Dreams Do Come True." This princess inspired tablescape was paired with a three-tiered wedding cake that resembled tree trunks with cartoony swirls.
Outside of the Newport Ballroom, brides and grooms were allowed to explore other nicely decorated venues throughout the property, including the same places we did earlier in the day like the Yacht Club Gazebo, Sea Breeze Point and Quiet Pool Lawn in addition to three areas my press group hadn't stopped by.
Ariel's, which is located within Disney's Beach Club Resort, featured a private dining room with an "Under The Sea Over The Moon" theme and a capacity to hold up to 50 people. Silver Chiavari chairs surrounded an oval-shaped table while crisp white linens and a sandy table runner set the scene along with teal napkins, glassware, decorative lanterns, shells, coral and candles. The mermaid tail cookies were a nice touch as a favor your guests might actually enjoy. As for the rest of the room, your inner water nymph will really dig the paintings, fish sculptures and floating bubbles.
For a small and cozy gathering, you'll fall in love with The Attic at Disney's BoardWalk Inn. This venue is a quiet location that's away from the hustle and bustle and can fit up to 34 guests. A long winding hallway leads you to this rustic dining area that captures a bed and breakfast charm with its overstuffed armchairs, comfy sofas, wooden tables, balcony and sweeping views of Crescent Lake. Knick-knacks adorn the room, so you and your guests will have a great time looking around until meal time.
Last but not least was Atlantic Dance Hall, which is located in the heart of Disney's BoardWalk. This magnificent multilevel venue can hold up to 150 guests for a movin' and shakin' soiree. Your guests will feel inspired by the space's Atlantic City allure, complete with a checkerboard dance floor, bandstand stage, balcony seating, and state-of-the-art sound and lighting. There are also two large terraces available with excellent views of Crescent Lake, so you can sneak away with your new spouse for a quick smooch if you need to.
Once we were done at the showcase, we hopped on a ferry to Epcot for a night of exploration. My fiancé hadn't been to a Walt Disney park before, so I was more than happy to show him around and see how much has changed since my last visit in 2006. Our inner travel buffs were delighted while we journeyed through France, Morocco, Japan, Italy and Germany. By 9 p.m., we got to witness the IllumiNations: Reflections of Earth firework show before we headed out. You'd think our night would be over with my feet so sore, but I was crazy enough to drag my fiancé on the Monorail for a direct connection at Disney's Magic Kingdom. Thank goodness for MagicBands, FastPass+, and the generous Extra Magic Hours bestowed on Disney Resort guests because somehow I managed to fit a visit to Cinderella Castle, snapped pictures at Princess Fairytale Hall, sailed through Under the Sea ~ Journey of The Little Mermaid, boarded the Seven Dwarfs Mine Train, and snacked on a way too big ice cream sandwich at Plaza Ice Cream Parlor all before 11 p.m.
In other words, add these ticket enhancements if you're planning to have a stress-free and productively timed wedding weekend filled with park visits and ride hopping.
Black Bride Tip: If you opt for an evening reception at Epcot, you and your guests can enjoy the park's firework show at 9 p.m. on one of the available terraces. It's an excellent way to make your nuptials special while also saving money since you won't have to pay for a private show.
With the showcase over, and my fiancé and I being exhausted beyond belief, it was finally our last day at
"The Happiest Place On Earth." We soldiered on with our group however and ventured to Disney Springs, formally known as Downtown Disney. If you've never been, it's a well worth it trip for pre- or post-nuptial celebrations. Particularly for weddings, I feel Disney Springs is an excellent option for bachelorette parties or bridal showers. This sprawling 120-acre metropolis has a variety of shopping and culinary offerings that make it perfect for a day out with your girls. DisneyStyle, Mickey's Pantry, Goofy's Candy Company and The Ganachery are just a few hot spots that are sure to create unforgettable moments for all those fashionistas out there with a sweet tooth. Other notable areas you may want to consider for a groom-friendly affair or if you just want a fun-filled family gathering include the Star Wars Galactic Outpost, The Void: Step Beyond Reality, Build-A-Dino by Build-A-Bear Workshop at T-Rex and Silhouette Portraits.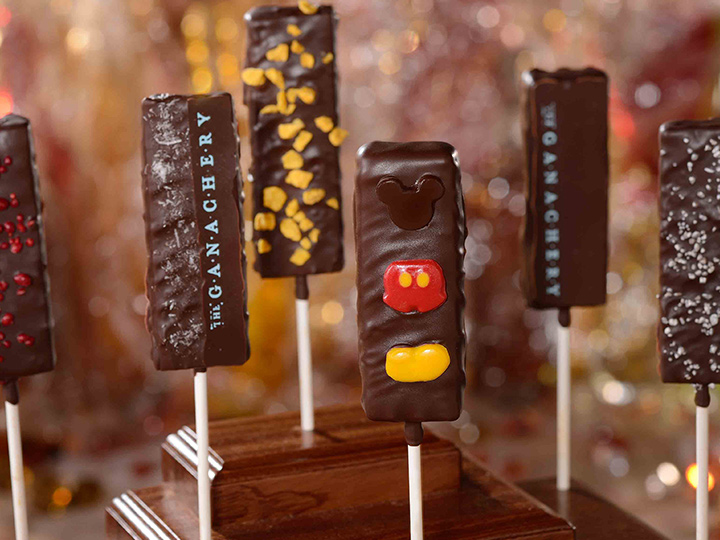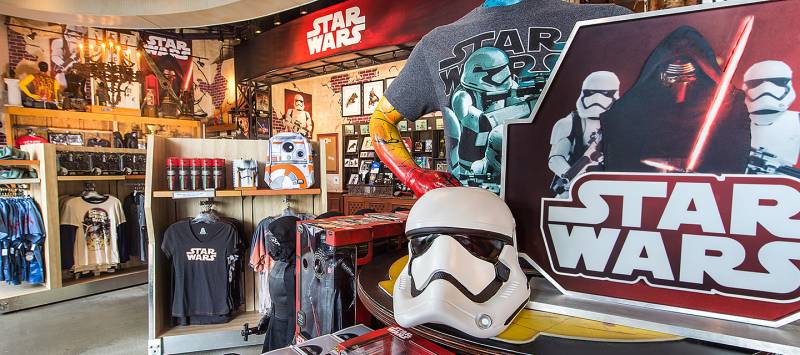 There's also a variety of non-Disney shops and restaurants available for guests visiting Disney Springs. Whether you need an emergency caffeine kick at Starbucks or need to snag a new red lippie at MAC Cosmetics–your needs will be covered. This fact also extends to weddings if you find yourself wanting to get hitched at Disney Springs. We saw a few of the venues that are available for events firsthand under the Patina Restaurant Group, which encompasses The Edison, Enzo's Hideaway, Maria & Enzo's Ristorante, Pizza Ponte and Morimoto Asia. Each of these restaurants are best suited for brides and grooms that rather not go the fairy tale route.
Black Bride Tip: If you're planning an adult only wedding, you should consider The Edison and Enzo's Hideaway for their industrial Gothic and prohibition-era speakeasy decor. A weekend cabaret with aerialists and live music are a possibility after 10 p.m.
You might think by the last day of our trip that we'd be all wedding-ed out. Wrong! Disney kept the surprises coming for us exploring Disney Springs. Just as we stepped out of Enzo's Hideaway, fully intended on heading to brunch, we saw a bride that looked happier than ever while she entered the Aerophile balloon. Yeah, you read that right, this bride got married in an unconventionally fabulous way that made our heart soar–literally–and you can too if thrill-seeking is your thing. Go up 400 feet and float high above a sparkling lake in the world's largest tethered helium balloon. This hand-painted blue and orange balloon ascends into the air with 210,000 cubic feet of helium and can hold up to 29 guests with its 19-foot-diameter basket. The ride usually eight minutes long, but if your ceremony has special requirements that require more time, make sure to let your Disney Wedding Consultant know right away so accommodations can be made. Regardless of what you need, this unique experience is one that'll leave a lasting impression on not only your guests but also your love as a whole. I even dare say I'm tempted to elope this way instead if my guest count is low enough.
With so much excitement in the air, we worked up an appetite and stopped by Maria & Enzo's Ristorante for brunch. Since it was early March, the interior was decorated for Italian Carnevale. The colorful masks, balloons and streamers reminded me so much of my time in New Orleans and Venice while an authentic Sicilian inspired buffet delighted my palate. Handmade pastas, steaks and fish were offered along with American favorites like eggs, toast and bacon. Despite the food being delicious, I couldn't resist the Bellinis or chocolate fountain.
When it finally came time to say goodbye to all the amazing people we met during our visit, I was very much bummed out. The weekend was a whirlwind that I never wanted to end. I know there are so many other options for brides and grooms out here in Walt Disney World and I wanted to discover them all. But time was against me and it's worth it to note that their properties are so vast it would definitely take a handful of visits to see every combination possible.
With my mind secretly planning another visit, I called our Minnie Van through the Lyft app. Seeing that bright red, polka-dotted van helped lift my spirits about leaving. I mean it's not every day you catch such a cute Lyft. From there, we departed Disney Springs and stopped at the Yacht Club one last time before heading to the Orlando International Airport. I'd also like to note that the Yacht Club's staff were kind enough to allow for late check out since our flight was scheduled later in the afternoon–just proving yet again that Disney cares about the
ir guests having an easy and enjoyable stay. I've traveled around a bit and late check out isn't always an option, so I really appreciated that they permitted this arrangement for my convenience.
Now that some time has passed since the showcase, what's my take away? Well, if a Disney wedding is what you desire, you should absolutely go for it. There's a misconception that having a wedding at one of the Disney properties is extremely expensive and out of reach. This is far from the truth, though. With a Memories package starting at $3,500, you can have a Disney-fied fairy tale wedding that costs well below the national average of $33,931 as reported by The Knot. If you'd like to have a larger celebration, the Escape or Wishes package will be more your speed, which starts at $7,000 and $12,000 respectively. What's more, Disney is a perfect provider for those who don't want to stress about planning a wedding themselves or be bothered with varied contracts or gratuities assigned to different vendors. For me, I'm sold on this part alone since I lead a very busy life.
All in all, this trip to Disney's Fairy Tale Weddings Showcase was an unforgettable one. My fiancé and I feel motivated more than ever to get our budget and timeline together for our own wedding. I can't wait to go back and make these longtime dreams come true.
Thank you so much to the amazing team at Disney who made this trip possible. Michelle, Angeline, Korri, Paula, Manoela, and friends, you all rock! I can't wait until our paths cross again.
And to our beloved Black Bride readers, let us know if you have dreamed about a Disney wedding. If you have any questions about how you can become a Disney bride yourself, put them down in the comments below!
Sources
Walt Disney World|Ever After Blog from Disney Fairy Tale Weddings & Honeymoons|Cortney Moore of Black Bride Magazine|Carrie Hayward of Disney Wedding Podcast|Jet Blue