When companies reach out to us for a product review, we look forward to receiving the product with high hopes that it is worthy of a review on our website. We are not easily impressed, and will only share the best with our bridal community. Today we are excited to talk about Bandari! Don't you just love the name? Bandari was created by a small group of passionate menswear aficionados, encouraged by the global movement back to thoughtful dressing. These fine tailored bow ties are made out of authentic vintage silks and are limited editions so the man of the hour has a sense of uniqueness when wearing a Bandari bow tie.
Bandari says…
"Bow ties are a natural starting point; they make a statement about the wearer, and bring to mind a period in time when getting dressed was an event in and of itself."
"You can never be overdressed or overeducated." Oscar Wilde
Branding
One of the golden rules about branding is, the first impression is a lasting one. Well we love the way the Bandari bow tie arrived from the handle with care box, to the labels that match their website and how everything was neatly packaged. The dapper delivery really left a lasting impression on us!
Your order will arrive in a custom 100% cedar box to safely store your new purchase. We were pleasantly surprised to find a coordinating pocket square which is hand-rolled for a distinct look. Dear bride-to-be, if you are reading this post do share it with your groom-to-be. Bandari bow ties are BB approved, and perfect for before and after the aisle style!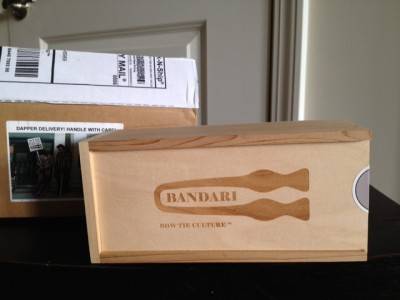 Click here to visit Bandari on Facebook for new product updates and promotions. Head on over to their website for more select bow ties by clicking on their fab banner right above this post, and to the right of your screen!