Jennifer and Greg's love story took 6 years to come to fruition, but it was so worth the wait once they finally connected and found love. "I worked with Greg's best friend Maurice at a Pharma company in 2006. Every Monday, he would come to my office to give the "deets" on his crazy weekend. Of course, you could understand why I would shoot him down every time he'd try to pitch this "friend [Greg]" who would be perfect for me. I eventually left the company for another opportunity and lost contact with my partying friend. Fast forward to 2009, my former co-worker found me on Facebook, and we began catching up on life. After perusing his pics, I saw this hot guy and inquired. Ironically, this was the "friend" he was pitching all those years ago. I asked if he could introduce us and he agreed," recalled Jennifer. Jennifer's former co-worker never got a chance to make the introductions so Jennifer decided to take matters into her own hands and reached out to Greg by sending him a friend request on Facebook. He accepted. However, the two still didn't speak. On February 2012, while Jennifer was preparing to throw a 30th birthday bash she decided to reach out to her friend Maurice and asked if he would come and invite some of his friends. Maurice invited Greg and he reached out to Jennifer on Facebook and expressed his interest in attending, and asked if he was invited. "I had to play it cool of course, so I simply responded "Sure". He said he didn't want to just attend a stranger's party and asked if I would be interested in having dinner sometime and get to know each other." said Jennifer. That first dinner became one of many and the two embarked on a beautiful relationship. Check out their "Romance in the City" themed engagement session, captured by Tangie Renee Photography!
Bride: Jennifer Sears, 32, Regulatory Affairs Manager

Groom: Greg Pointdujour, 31, CEO of Hybrid Impact Fitness
Place of residence: Atlanta, GA
Engagement Shoot Location: Atlantic Station
Wedding date: September 20, 2015
Wedding location: The Peachtree Club
Wedding theme: "Romance in the City"
Engagement story from the bride-to-be:
He surprised me at his family's house during dinner. We are both very family-oriented and are the youngest of both families. He even pulled off having my family come into town and had them hidden away upstairs while he "set things up". Next thing you know, he was bringing me into the family room to show me something and there stood my family. I was surprised and still clueless. He drops down to a knee and says the most heartfelt words I've ever heard and then… "Will you marry me."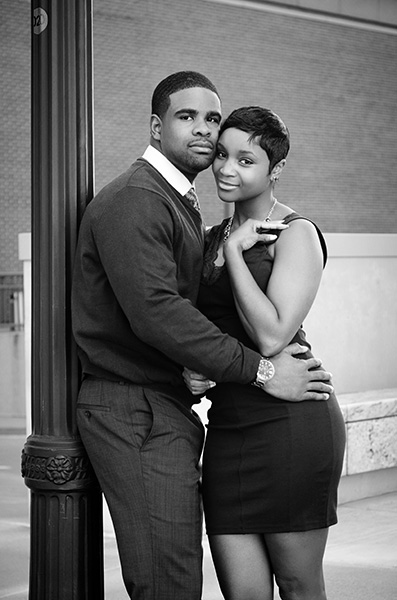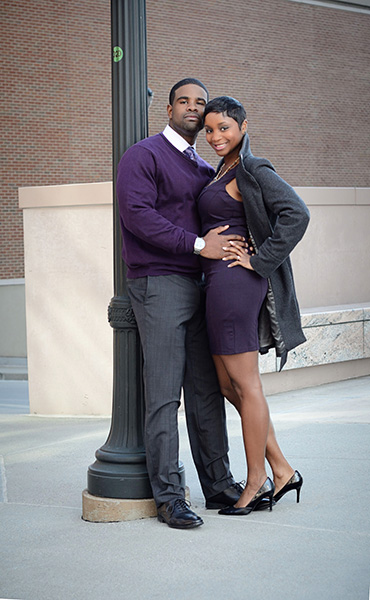 From the Groom: Walk us through the behind the scenes of creating this special day:
I selected a particular day that I wanted to pop the question. Every year, we participate in an annual cancer (LLS) walk in memory of her brother. I figured that would be the best time since some of her family will be in town. I arranged for my family to fly down from NJ two months in advance, and called her mother two weeks prior to the event to ask for her daughter's hand in marriage. The cancer walk was on a Saturday, and on Sunday after church service we all went to my family's house for dinner. While everyone was eating, laughing, and enjoying each other's company, I proceeded to sneak the rest of her family and friends into the house and immediately upstairs so that she wouldn't see them suspecting something was up. During dinner, I slid the ring box into my back-pocket and created a reason to pull her into the family room. There stood her family who came into town just for this very special moment, and I dropped to my knee. Before I could even say anything, she was already in a stage of hysteria. I waited patiently while she had her "moment" and then I told her how much she means to me and asked her to marry me. She broke out into some sort of break dance and then screamed "YES!!!" It was all captured on video, shared on social media, and went viral. There you have it… a homemade romantic comedy.
What was the theme of your Engagement session?
The "Romance in the City" theme (same as the wedding theme) – Half of the engagement photo shoot took place on the 17th street bridge with the cityscape as the backdrop to create the "city" aspect of the wedding theme. The remainder of the shoot was inside Atlantic Station to capture some hip, metro shots and to stage the shoot as if we were just a doting couple caught candidly in the air of love and romance.
What makes your love special?
It was 6 years in the making but was well-worth the wait. We were both involved in other relationships when one showed interest, but it just goes to show you that you can't rush God's timing. What's meant to be will be.
What are you most looking forward to about your wedding?
The blending of the two families, celebrating our love, and making a covenant before God in the presence of our family and friends.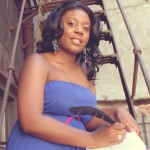 Curated by our Wedding Features Editor, C.K. Alexander. C.K. is the owner and founder of Love Ink and Brownstone Bridal. Keep up with C.K. on Twitter here: @Love_Ink