Qiana and Adrian met on November 14, 2009. Qiana was attending a birthday party for her mentor at a lounge called Taboo 2 in Roswell, GA. Funny enough, Adrian, who also happened to be at the lounge, shared with his friends earlier that he was going to meet his wife that night. Adrian spotted Qiana on the dance floor and was instantly captivated by her dance moves. Adrian spent most of the night admiring Qiana from afar until he finally decided to approach her. Adrian asked Qiana if she would join him in VIP. However, Qiana was on her way out and opted to exchange numbers instead. However, Adrian could not let Qiana leave until he knew she was safe. "I left and headed to Valet to get my car, I looked up and there was this tall handsome man walking towards me. I had no idea who he was, he came a little closer and it was him, Adrian, checking to make sure I made it to my car." As fate would have it, four and half years later, Qiana and Adrian's chance nightclub meeting would soon turn into happily ever after. Check out their cute and sassy engagement shoot, captured by one of our favorite photographers Sophia Barrett of Sophia Barrett Studios!
Bride: Qiana M. Brown, 33, Relationship Manager, Corporate Development
Groom: Adrian Williams, 37, Industrial Engineering Technician
Place of residence: Atlanta and Chicago
Engagement Shoot Location: Georgian Terrance Hotel – Atlanta, GA
Wedding date: 9/28/14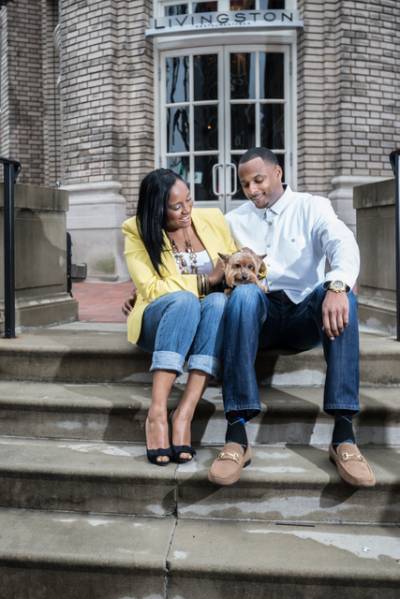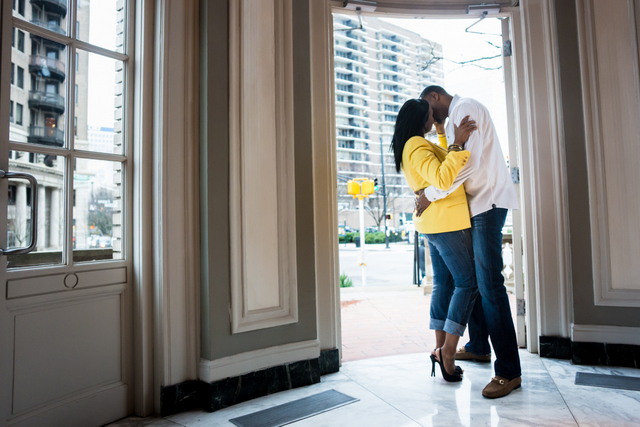 Engagement story:
Adrian's proposal was truly very special. As an only child, I am extremely close to my parents. My love, took this into consideration when he asked for my hand in marriage on my parents 38th wedding anniversary, June 30, 2011. We took my parents to dinner to celebrate their love at the Westin Sundial restaurant in downtown, Atlanta GA.
After dinner he took my parents and I upstairs to the observation level with beautiful 90+ story views of the city. It was just perfect. There was a trio band playing and he told me he was going to give a speech to say congratulations to my parents on their anniversary. During his speech the piano player started playing ribbon in the sky, in the middle of his speech he asked me to come up to the piano; I just knew he needed my help because he's typically a little shy. As I came up to help, he started telling me how special I was and got down on one knee and asked me if I would spend the rest of my life with him. Then he said "Qiana will you marry me?" I cried hysterically and finally said "Yes and thank you for making my dreams come true."
For the Groom: How did you decide that you wanted to propose in such a grand way? Walk us through the behind the scenes of creating this special day
One day Qiana decided to do something special for her parent's anniversary on June 30, 2011 in Atlanta. Her plan was to surprise them with a nice dinner and a nice stay at the Westin Hotel Downtown Atlanta. Qiana and I had been talking about getting married for a while, so I decided to propose to her on the day her parents would be in town, because I knew that would make her feel special. When we were all at dinner I went up stairs where the band was playing and told them I was about to propose to my lady and could they play a song once I propose. The band said "yes." After dinner we went up stairs where the band was playing, I told her I wanted to congratulate her parents on their anniversary. I announce happy anniversary to them over the microphone, then I ask Qiana to come up where I was standing. I got down on one knee and ask her to marry me. She was so amazed. Everyone around was so happy for us. Later on the band played us another love song as we exited the restaurant, to a waiting horse and carriage ride outside.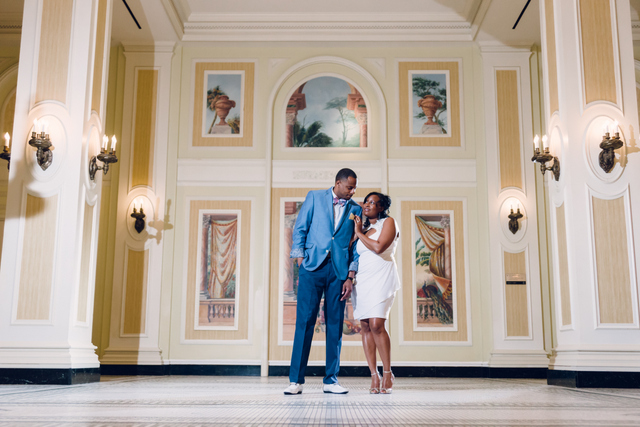 What makes your love special?
Our love is special because we are complete opposites, but we balance each other out in a very unique way. He's the apple of my eye and I'm moon and stars in his sky. We created a beautiful love story that has stood the test of time, in which we want to share with others through our love story.
What are you most looking forward to about your wedding?
I am looking forward to the moment the intro to the music plays that I will be walking down the aisle and looking into my father's eyes to say "Thank you Daddy for setting such a wonderful example of what a man should be. Now it's time for him to marry me." Walking down the aisle with my father is a special moment I've been looking forward since I was a little girl. I am also looking forward to taking our first communion together as husband and wife. Being able to have my dream wedding with all my family and friends there to witness, is a true blessing!!!
Have you started planning your wedding?
Yes, we've been planning our wedding for quite some time and we have the best wedding planner in the WORLD! De' (Day) of Weddings by Day has made this process so much easier because I am currently working in Chicago and we are set to marry in Atlanta.
Congratulations to Qiana and Adrian! We wish you a wonderful wedding day and marriage.
Vendors:
Photographer: Sophia Barrett
Beauty – Make-Up: Nora
Stylist: The couple styled themselves
Planner: Weddings By Day
Curated by our Wedding Features Editor, C.K. Alexander. C.K. is the owner and founder of Love Ink and Brownstone Bridal. Keep up with C.K. on Twitter here: @Love_Ink