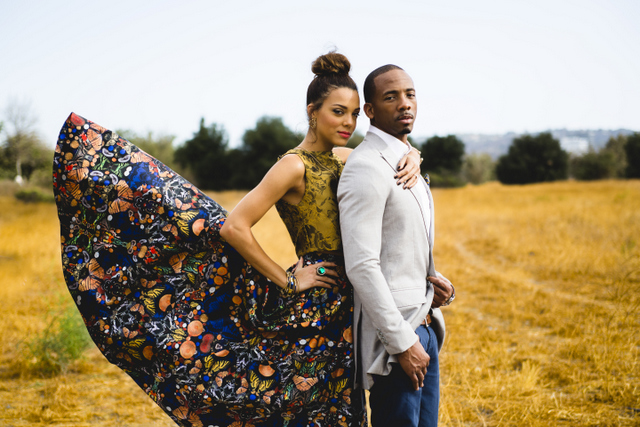 Christina and Stephon met back in September 2013 at the Unlikely Heroes Justice Ball and developed a friendship, that led to their first "date" the following March. "It was nothing romantic or over the top, it was Cold Stones," recalls Christina. Although their first date wasn't romantic, their relationship blossomed into a beautiful romance. Christina and Stephon will celebrate their union with a Spring wedding at the classic Sportsmen's Lodge event center in Studio City, California. The couple has already planned a top secret wedding theme that will be a surprise for their guests. Check out their fashion forward engagement shoot captured by photographer James Davis !
Bride: Christina Segarra, 27, Model/Singer
Groom: Stephon M. Chaney, 31, Sales and Marketing consultant
Place of residence: Los Angeles, CA
Engagement Shoot Location: North Hollywood and Encino CA
Wedding date: 4/19/2015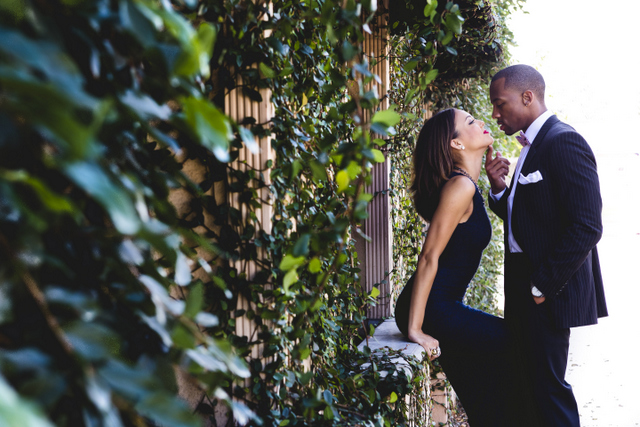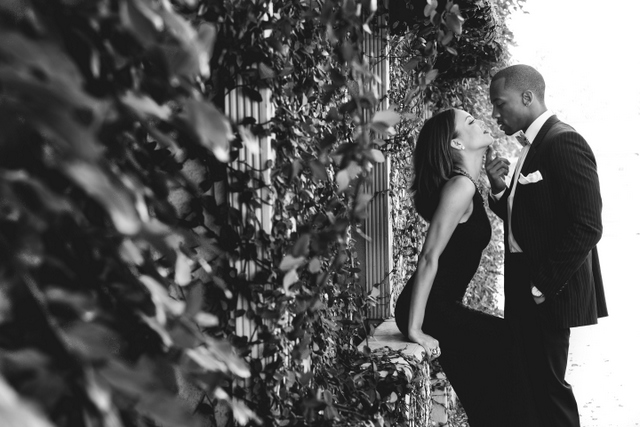 Engagement story:
It was the night after Stephon's birthday and He had insisted on celebrating "part 2" at the One Lens Film Festival. I didn't think much of it, especially when his two Frat brothers came into town to celebrate along with us. We arrived at the event with a group of our friends and everyone was behaving normally. I didn't see the signs of my Fiances nervousness, the wide eye exchanges to and fro from the few that knew, and I definitely didn't see his balled up fist inside his pants pocket. We get to our seats and throughout the entire event, Stephon kept getting up and walking out of the theater. I didn't suspect a thing. We knew so many people there, he could have just been saying hi to someone. They began to show the short films one by one followed by a question/answer segment. As the host was in the midst of closing out the night, the lights blacked out cutting her off. A production logo appears on the screen and I recognize it immediately. It's my best friend's work. He was sitting next to me at the event so I tapped him with excitement " They sneaked one of your movies in Ronny"! He looked at me like he didn't know what I was talking about. The narration began and Stephon popped up on the screen. It was like a movie trailer. I thought to myself "Why is Stephon up there? Are they filming this live outside? No, its edited and too perfect. What is going on?" He was walking around L.A narrating his life's story in a nut shell, and then he mentions me. Towards the end of the trailer, it shows him walking into the theater with a box in his hand. I'm still lost and confused at this point because Stephon had convinced me that we wouldn't be engaged for at least another year. The screen blacks out, the lights go on, and there went the sound of his voice live on the microphone. He appears on stage with this beautiful speech entitled "Let's make a movie" None of it was scripted or rehearsed, but straight out of his heart. He looked so comfortable on stage, and I looked so uncomfortable in my seat. In utter shock and complete awe, I couldn't take my eyes off him. This man is everything I've prayed for and more. The amount of joy, happiness, and bliss I've felt in that moment exceeds any great thing this world has to offer. Finally, my friend Elaina had to push me out of my seat to meet him half way. Thank God for her because I was glued to that chair. Out of everything he said, the only clear thing I can remember is him saying "Christina Segarra, will you marry me?" After my hallelujah moment, I shook my head and said yes to my future and everything God has in store for me!
From the Groom: How did you decide that you wanted to propose in such a grand way? Walk us through the behind the scenes of creating this special day.
Initially, when contemplating how I was going to propose to Christina, I honestly didn't know where to start. I knew that I wanted it to be special, but had no idea as to how I would carry it out. However, things tend to change significantly when you begin to incorporate prayer, and after looking back at what transpired, there's nothing that anyone can say to convince me otherwise. I specifically asked God to give me the words to say; and that those words would be a direct reflection of His love, which is what enables Christina and I to truly love one another. I prayed that my proposal to Christina would bring people closer to God, and that they would understand that He is the reason behind the powerful experience in which they were soon to take part. I prayed that my proposal would reveal the power of transformation (which I was only able to experience by rededicating my life to Jesus Christ), and how transformation lends itself to great reward. And lastly, I prayed that God's will be done above all things. After praying for God's direction, I experienced His favor like never before. Ideas were sown, venues were made available, schedules were changed, resources were freely given, cameras, lighting, music, a movie director/editor, sound, YOU NAME IT… and it was made available! So in retrospect, it's not that I planned such a grand proposal because it was never about me. That proposal is what was required by God, for no one knows better than him the caliber of woman that is Christina. She is deserving of every good and perfect gift that God has for her, and I refuse to drop the ball when He chooses to use me as a vessel. Christina is a Queen, so it's only fitting that she would receive a Kingdom proposal. The fact that "everything was perfect" (her words, not mine) is a testament to God's faithfulness when we choose to seek Him first. The successful execution of this Kingdom proposal also served as further confirmation that Christina has been ordained by God to be my wife. I couldn't have prayed for a better co-star to accompany me on this journey. "Let's make a movie!"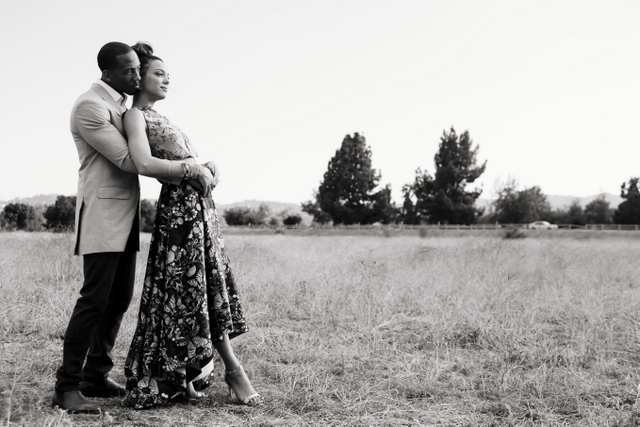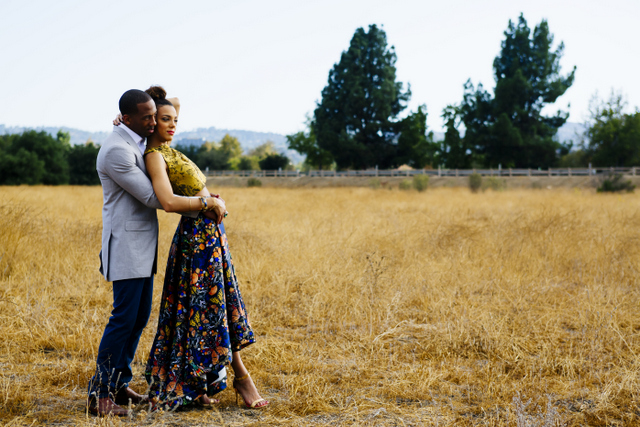 What makes your love special?
What makes our love special is the God factor. We base everything on Him. Both of us committed ourselves to a lifestyle of purity (even before we started dating), leaving no room for error. We understand the importance of sex after marriage and honor that command. We're no different from any one else. We just live our lives on biblical standards, not worldly.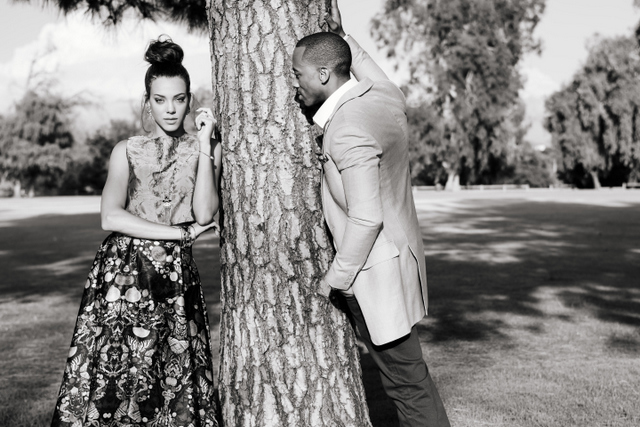 What are you most looking forward to about your wedding?
We're looking forward to all of our family and close friends getting together in the same city under one roof. This will be the first time our families meet. Did I mention we are celibate?
Have you started planning your wedding?
We began planning the moment after our engagement. After all, the purpose of being engaged is a grace period to plan your wedding. Otherwise, people would skip the engagement process and just elope.
Check out Christina & Stephon's surprise proposal video and pictures below:
Congratulations to Christina and Stephon! We wish you a wonderful wedding and marriage!
Vendors:
Photographer: James Davis
Stylist:
Celebrity Stylist Melanie Powell
Make-Up:
Celebrity Stylist Andrea Pezzillo
Curated by our Wedding Features Editor, C.K. Alexander. C.K. is the owner and founder of Love Ink and Brownstone Bridal. Keep up with C.K. on Twitter here: @Love_Ink