Chinasa and Emeka's love story starts with a little divine intervention. The two met through mutual friends at their church in 2013. The two have been together for 11 months and plan to marry this summer in Atlanta, GA. Check out their fun outdoor engagement session captured by Fotos by Fola!
Bride: Chinasa Ordu, 29, Assistant Professor
Groom: Emeka Elue, 29, Chemical Engineer
Place of residence: Atlanta, GA
Engagement Shoot Location: Atlanta History Center & Buckhead
Wedding date: 8/ 30/14
Engagement story:
I went home to Atlanta, GA for the weekend and stayed at my parents' home. I woke up around 6:30 am to turn on the heater and as I was going down the stairwell I was intercepted by mother, who then asked me "Do you really want to look like that?" I was so confused and taken aback by this question as I know that I did not wake up looking like a beauty queen that morning. When she repeated the question again my intuition prompted me to retreat back to my room and at least brush my hair. When I came downstairs to my pleasant surprise my love was on bended knee in the living room and asked me to be his wife. I was truly shocked and of course I said "Yes!" The most memorable moment of the proposal was being surrounded by my family as they witnessed this precious event take place.
From the Groom: Walk us through the behind the scenes of creating this special da.
Chinasa is very inquisitive and I knew I had to do something out of the box in order to surprise her. I thought about taking her on a night out in town and then popping the big question, but I knew she would be suspicious. So I decided to contact her parents when she was coming into town for a visit and arranged to surprise her in the home where she grew up. When I arrived around 5:30am her mother let me in the house and I quickly set up in the living room. As I heard the dialogue taking place on the stairwell, I was tickled because I knew she would not be expecting anything at that hour in the morning and my thoughts were right! I caught her off guard and asked my sweetheart to spend the rest of her life with me and to my joy, she said YES!
What makes your love special?
The constant laughter we share and our friendship makes our love special. We laugh all the time and there is never a dull moment when we are together.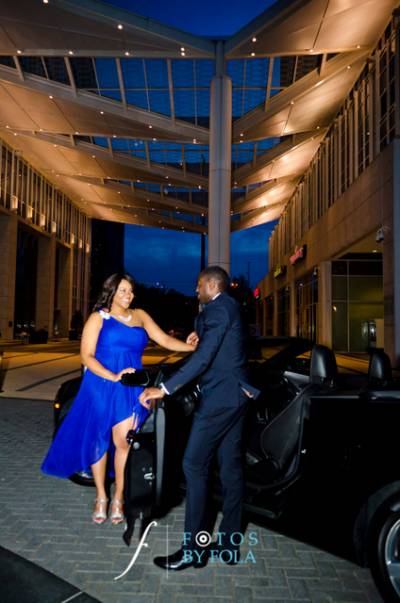 What are you most looking forward to about your wedding?
We are looking forward to celebrating our love with our closest family and friends.
Have you started planning your wedding?
Yes! We are excited about incorporating aspects of our rich Nigerian culture into our wedding.
Congratulations to Chinasa and Emeka! We wish you a wonderful wedding day and marriage!
Vendors:
Photographer: Fotos by Fola
Make-Up: Boundless Beauty by Bola Oyeku
Stylist: Funmi Ogunkunle from Anointed Hair Studio
Curated by our Wedding Features Editor, C.K. Alexander. C.K. is the owner and founder of Love Ink and Brownstone Bridal. Keep up with C.K. on Twitter here: @Love_Ink