Krystle and Derrick met through their mutual friends, who are both members of their respective Greek organizations. Krystle and Derrick had seen each other several times in passing and were both mutually interested in each other, but needed a little help in making the first move. "Our mutual friends arranged for us to meet at a social gathering, and from that day forward, we have been inseparable, on cloud 9 and enjoying life together," said Krystle and Derrick. The happy couple is planning a Masquerade Ball – Black Tie Affair themed wedding in Atlanta, GA, next year. Check out their fun outdoor engagement session at Piedmont Park, beautifully captured by Janelle C. Photography!
Bride: Krystle L. Woods, 28, Business Manager Sales
Groom: Derrick R. Kennedy, 33, Regional IT Director
Place of residence: Atlanta, GA
Engagement Shoot Location: Piedmont Park – Atlanta, GA
Wedding date: 3/19/16
Wedding location: Atlanta, GA
Wedding theme: Masquerade Ball – Black Tie Affair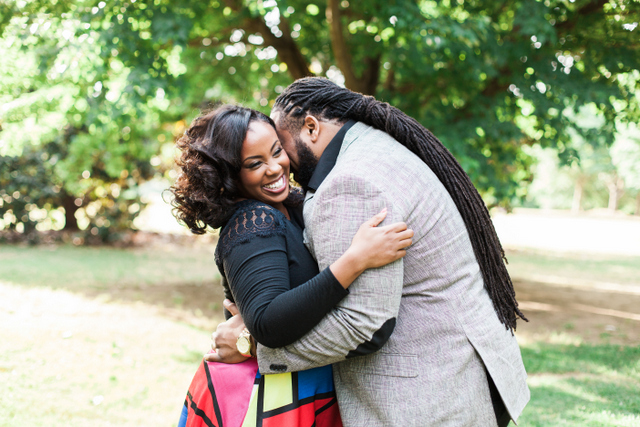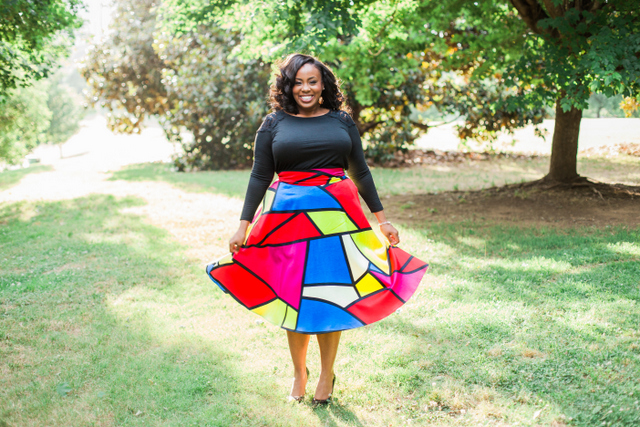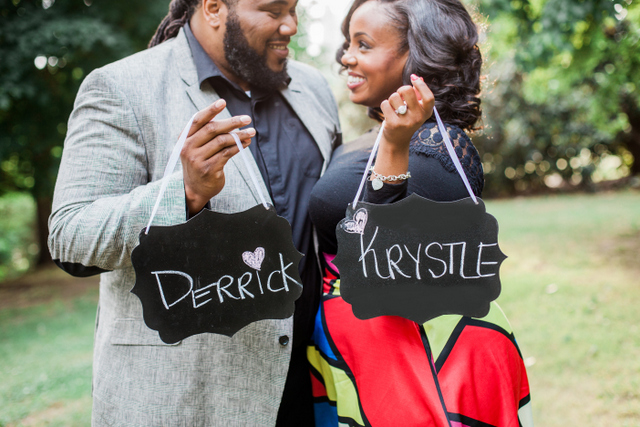 Engagement story from the bride-to-be:
After having a few packed months of traveling for work, Derrick told me to to reserve January 16th, 2015 for a spa and pampering day. Knowing how much I love spa days, Derrick knew I would make time, of course. Closer to the date, Derrick told me he decided to take me to the Lakers game, because I enjoy watching Kobe play. So I took a day off work and got packed for our flight. Several hours before the flight, Derrick still hasn't told me what all the events were for the trip. I had no clue what to wear and took forever to pack. Derrick said "just look nice, like you always do." Although that was a nice comment, I was still lost. Finally I packed and begged Derrick to tell me more about the events he had planned, but I was unsuccessful. During the same time we were getting ready to leave, my line sister told me she was landing in Atlanta, en route to teach a dance camp. She didn't have a ride, so I asked Derrick could we leave early to pick her up so she wouldn't be stranded. Derrick said we wouldn't have enough time and that we were running late. After we packed our suitcases in the car and got ready to pull off, Derrick said "baby, I have something to tell you, but please don't be mad." I responded with concern and hesitation, "sure baby, what's up?" He responded, "The Laker tickets I tried to get were reported as fraudulent, so we aren't going to Salt Lake City to see Kobe. Instead, I was able to plan something that is going to be much better." In slight disappointment, I responded, "Okay, babe. What do you have planned?" Derrick proceeded to place an address in the GPS and we just started to drive. At this point, I had no clue where we were going, so I just sat back and continued to ask questions. 45 minutes later, we pulled up to a beautiful winery called Château Élan. I was so excited and started smiling. He said he was treating me to a "staycation" for relaxation. We did wine tasting and toured the grounds. After wine tasting, I went to the room and took a nice long nap. Derrick woke me up and told me to get ready for dinner. We went to dinner and I ordered a steak. Of course my steak didn't come out the way I requested, so I asked our waitress could my steak be cooked a little more. She was very apologetic and brought my steak out perfect the next time. After we finished our food, our waitress came back out and said "Since we messed up on your steak, the Chef has invited you both to dessert on the rooftop." I was so very shocked and immediately accepted the invitation. We followed our waitress upstairs and immediately I saw the beautiful rose petals and candle lite table. There was a Chef preparing table side bananas foster (one of my favorites). I turned to Derrick and said "wow, this is really nice. We need to come here and get our steak prepared wrong more often." Derrick smiled and held my hand. He then started to tell me how much he loves me and appreciates me. During that time, the side balcony door opened and a swarm of people in all black started walking in. I didn't want to be rude and stare, but I turned and looked and instantly started recognizing the faces of both our family and friends. I just couldn't stop crying and smiling! Derrick got down on one knee and said " Krystle Le'Shawn Woods, will you be my wife forever, will you marry me?" Still crying at this time, all I could do was shake my head and said YES!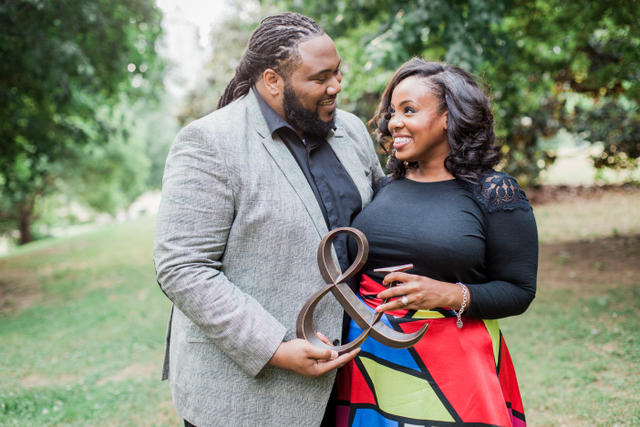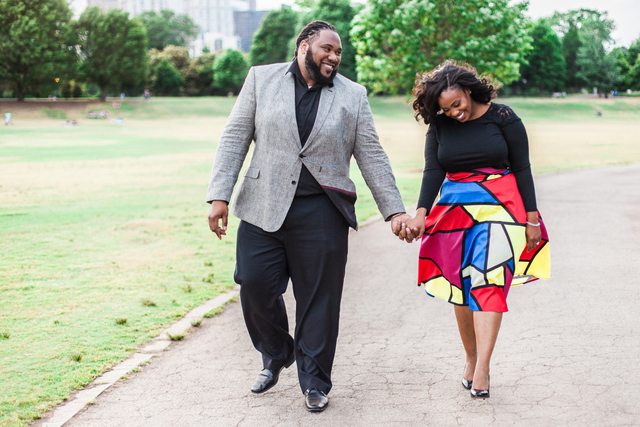 From the Groom: Walk us through the behind the scenes of creating this special day:
Planning this engagement was challenging. Krystle is quite the inquisitive person so whatever I did, it would have to be flawless and planned to perfection. I tossed around several ideas but I wanted to plan something big and something that would catch her off guard. I solicited the help of her best friend for some ideas that would capture the essence of surprise but the memory would also be held near to her heart. All of the ideas that where given to me where great. However, it was not the avenue I wanted to take for this special moment. I decided on Château Élan Winery and Resort because it was out of the normal and she mentioned how she wanted to spend a weekend there just for a bit of rest and relaxation. I was able to get a great event planner from the resort to help me coordinate the events for that weekend. After booking the special weekend for the two of us I felt accomplished and excited. I told Krystle that I wanted to do something special for her since she has been working very hard. I asked her to keep January 16th open and to let me take care of the rest. She agreed but then a host of question followed. Krystle wanted to know everything that was going on and what I had up my sleeve. The sheer excitement from her voice was funny but I had to keep this event a complete secret so no clues would be given. She attempted to figure out what I was planning but every attempt she failed. I told her that we were going to see Kobe in Salt Lake City just to throw her off and to stop the questions. It wasn&rsqu
o;t until the day of the event when we got in the car that she would figure out where we were going. The next step was to gather all of our friends and family for this special occasion and pray that they had availability to be there. I guess all the cards lined up because everyone who was invited was able to make it and happy to share our special moment. I asked everyone to wear all black and I allowed the ladies to jazz it up a bit with some type of jewelry but the clothing had to be all black. This idea would help them to identify other people there for the engagement. The event planner had a special room for them on a balcony eatery so they would be out of sight as we had dinner. During dinner, my phone was blowing up with text messages with all sorts of questions from our guests. Krystle, unaware of what was going on, was trying to have a conversation with me but I wasn't paying attention and she was upset. I had to quickly think of a lie so I told her my cousin was having a serious issue and needed my help. I guess that little white lie was okay because Krystle turned from being upset to concern. We placed our food order and I encouraged her to get the steak knowing that they were going to make a mistake on the food order in order to get us up to the balcony for dessert. While waiting on her replacement steak, we talked about life and getting married and childhood memories. These topics where great while I was able to distract her from seeing our guest walking across a walk way right behind her. I slowly moved her glasses away from her so that would also help her in not seeing anything in the distance if she so happened to turn around. Her replacement steak finally came and she took a few bites and was full (because she was eating off of my plate but I'm not complaining. The waitress came and gave me a wink and told Krystle that they were going to give us dessert on the balcony because of the incident with her steak. With a surprised look, she said okay and we proceeded to walk up to the balcony. The stairs and floor was decorated with rose petals and at the top we had our very own chef who prepared her favorite dessert. It was action time for me so I quickly got my composure and asked the waitress to gather our guests and bring them in. Sitting at the table, I had Krystle sit where her back was to the walk way and I told her how much I cared for her. I expressed my plans for us and how I didn't want to do them without her and how much I loved her. She looked at me smiling and then slowly turned around and saw all of our friends and family from all over surrounding her. Immediately the tears started to fall and I got on one knee and asked for her hand in marriage.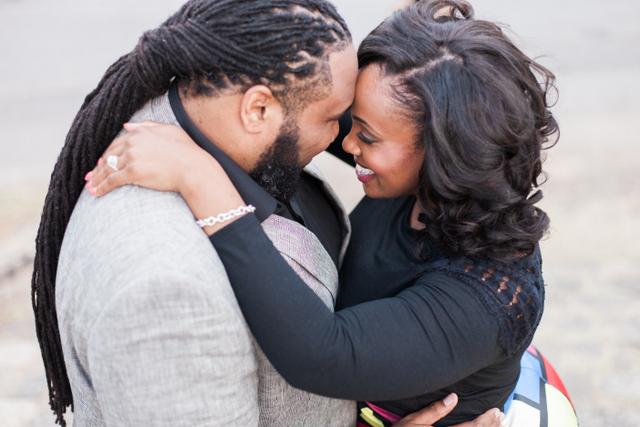 What was the theme of your Engagement session?
Stevie Wonder – Knocks Me off my Feet "I see us in the park, strolling the summer days.."
What makes your love special?
Our love is unique, kind, has withstood the test of time, and most of all , we are each other's best friend and laugh, joke and talk about everything under the sun. We finish each other's sentence and often perform the very action that the other was thinking. We can literally sit in a corner and entertain each other all day and wouldn't get bored. Sometimes we laugh so hard our stomachs start to hurt. It gets so crazy that we answer a question that the other was thinking. It is so crazy that we just sit back and smile at how in synch we area.
What are you most looking forward to about your wedding?
The opportunity to display our love with the people we love the most. In addition to my wedding dress I designed, our delicious cake and dancing the night away to start our future together.
Have you started planning your wedding?

We have started planning and are excited to incorporate masquerade elements throughout the day. Also, we are not trying to do the traditional wedding, but are more focused on the overall experience.
Congrats to the happy couple Krystle and Derrick! We wish you a wonderful wedding and marriage.
Vendors:
Photographer: Janelle C. Photography
Make-Up: MAC Cosmetics
Stylist: Bride: Jelisa Juwen
Curated by our Wedding Features Editor, C.K. Alexander. C.K. is the creator of the Single Bride Blog and the owner and founder of Love Ink and Brownstone Bridal. Keep up with C.K. on Twitter here: @Love_Ink