A love connection can happen anywhere and anytime. For Natasha and Christian, love would find them when they least expected it, and possible when they needed it most. Natasha and Christian were both new to the city of Atlanta and met at a "new in town" networking event in 2010. Since then the two have been inseparable. Almost four years later, the two are planning a "European chic" wedding at a Private Estate on Marco Island, Florida, later this year. Check out their super sweet outdoor/picnic themed engagement shoot, captured by Janet Howard Studios!
Bride: Natasha Anderson, 30, Consulting Executive
Groom: Christian Vorspel Rüter, 36, CFO
Place of residence: Atlanta, GA
Engagement Shoot Location: Tanyard Creek Park (Atlanta, GA)
Wedding date: 3/8/14
Engagement story :
We are extremely chill; we try not to take ourselves too seriously, so our engagement story speaks to that. We were hanging out on the beach in Amelia Island, FL the weekend of Labor Day. In true, Natasha & Christian style, we had our blanket, a beach bag and wine. Chris starts talking about the future & asking what I see for us in the future. Out of nowhere he puts a red box with a red bow in my hand. I'm thinking they're earrings because I had been talking about a pair of diamond earrings earlier in the week. So as I'm opening the box, I start to say babe you didn't have to buy me the…..and there it was….a really beautiful diamond ring. My response to this discovery, are you f**king kidding me?! So he says you know what this means, if I say something I'll say something stupid. After all the tears and laughing, he said so what do you say? Of course I said Yes!
Were there any memorable moments during the shoot?
The most memorable moment was realizing that I had my ring on the "wrong" hand, which doesn't really matter for us. He's German and it's European tradition to wear the engagement ring on the right hand while it's American tradition to wear the engagement ring on the left hand. Even with that little slip up, the picture turned out fantabulous & we'll always have this memory.
What makes your love special?
I always become so consumed with emotion when I think about our love. We have found in each other a friendship that is filled with love, laughter, travel & lots of good times.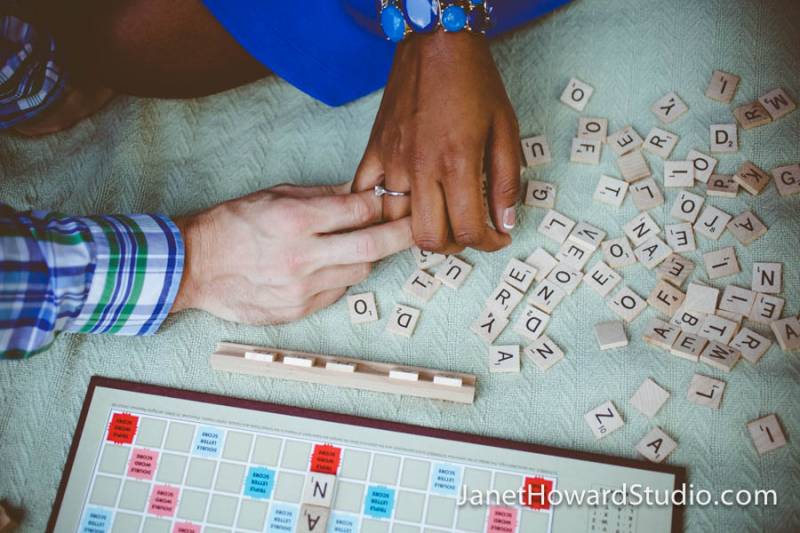 What was the theme for your engagement shoot?
Our theme was a picnic! We LOVE the outdoors, love to wine and love cupcakes (who doesn't love cupcakes?!). We wanted to find a way to incorporate all of our favorite things into the photos, so off on a picnic we went!
What are you most looking forward to about your wedding?
We are both looking forward to seeing all of our family & closest friends together. We'll have a mix of different cultures and languages during our ceremony, so it should be VERY interesting!
Congratulations to Natasha and Christian! We wish you a wonderful wedding and marriage.
Vendors:
Photographer: Janet Howard Studios
Beauty – Make-Up: Scoobie West
Curated by our Wedding Features Editor, C.K. Alexander. C.K is the owner and founder of Love Ink. Keep up with C.K. on Twitter here: @Love_Ink