Jenell and Ted met the first week of their senior year in high school through a mutual friend, Renee, in September 2004. The two started dating in 2005 on New Year's Day shortly after the ball dropped. After 10 years of dating the high school sweethearts will celebrate their union with a July Beach themed wedding in Oyster Bay, NY. Check out their outdoor engagement session, captured by Frank Segalla of Photography Elite!
Bride: Jenell John, 28, Registered Nurse
Groom: Ted Solages, 27, Architect
Place of residence: Brooklyn, NY
Engagement Shoot Location: Dumbo, Brooklyn, NY
Wedding date: 07/23/2015
Wedding location: Oyster Bay, NY
Wedding theme: Elegant night at the beach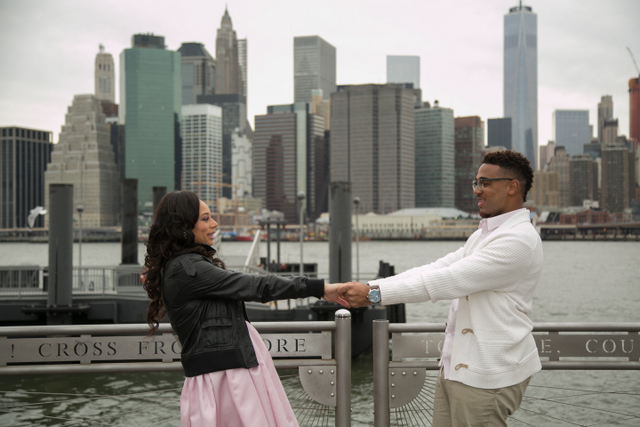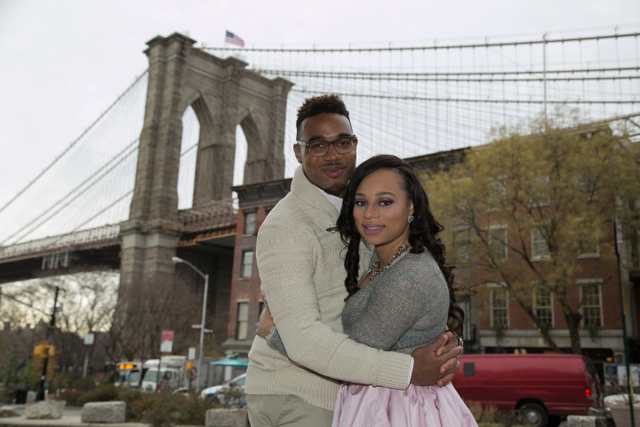 Engagement story from the bride-to-be:
When I think about my proposal, I am still blown away to this day. I remember every detail about it from the beginning to end. First, lets just say I was surprised. I was surprised not because I was not expecting it but I did not think it would be when we would be on vacation in Costa Rica. When we first got up that day to head to Arenal from Rio Celeste, I was excited not only because it was two days prior to my birthday but because we were going zip lining which I have never done before but always wanted to. When we went to check in, Ted kept saying he had to go to the bathroom. He actually went to the bathroom several times before we took the trolley to the zip line location. I was actually annoyed because I did not understand why he kept going to the bathroom. When we finally started the obstacles he seemed to still be nervous. I thought maybe he is afraid of heights. When we started to zip line he kept asking questions. I assumed he was nervous since each line was longer and the height was also increasing. When we were going on the second line (the longest and highest line) he told me he would go first and I said to him "Are you sure?" He said yes, and started making monkey sounds, as he was zip lining. Everybody started laughing saying he is such a great guy and that it's so wonderful that he took you out here for your birthday. When it was my turn to go, the instructor said, "just take in the nature you are surrounded by, look at the volcano, trees, water and be free." That is exactly what I did. When I was landing I thought I did something wrong because the instructor kept trying to turn me around. I kept talking to him, asking " Did I do something wrong?" I did not realize he was trying to get me to face Ted. Ted yelled, "Jenell, turn around" I was thinking why is he yelling and screamed. "Yes, Ted" and then he said, "Will you marry me?" I was so shocked. I did not even realize he was on his knee. I honestly could not believe what was happening so I asked him, "Are you serious?" Once he said, "Yes, Jenell my knee is burning me." I screamed, "yes" and ran down the ramp to him. I could not believe I was engaged, that he planned this proposal, I was clueless and I did not expect anything. Even the instructors were aware of this epic proposal. I also found out the reason he kept going to the bathroom was to make sure the ring was secure in his pocket.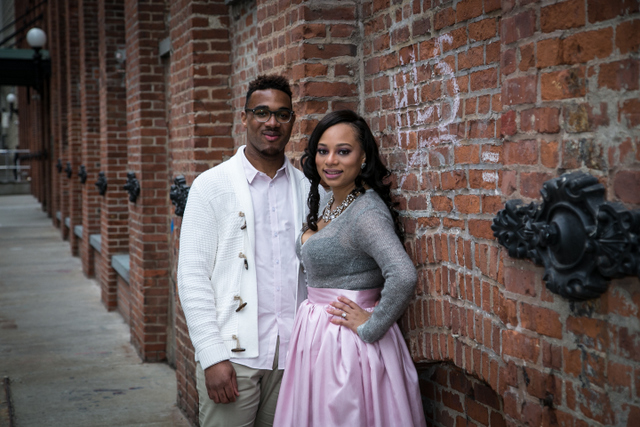 From the Groom: Walk us through the behind the scenes of creating this special day:
Initially I wanted to propose to Jenell at her favorite restaurant in the Meat packaging district, with friends and family present. Nervous that someone would spoil the surprise, I decided that I would have to record the whole event in order to keep it unforeseen and extraordinary but include our loved ones. With our vacation approaching, I saw that as an opportunity to pop the question. I proposed to Jenell in Costa Rica during our spring vacation. After spending 3 days in Costa Rica enjoying the ocean, outskirts and sunsets, I decided that on the 4thday, I would pop the question and I was getting tired of hiding the ring from Jenell and checking that is was still there every night. On July 7th 2014 we headed out bright and early, to make it to our 10 a.m. zip lining appointment. The drive to sky adventures was eventful. After driving on unpaved bumpy roads, steep narrow dirt roads, and having our car slide down a cliff in reverse. Popping the question was the least of my worries; I was more concerned with keeping her safe. Upon arrival, I told Jenell I had to use the bathroom in order to pull our chaperon to the side and understand the zip lining terrain. There were 9 lines and the last line was the highest and longest, I decided that would be where, I would get down on one knee and ask her hand in marriage. I recorded every moment from her point of view as well as my point of view with a go pro.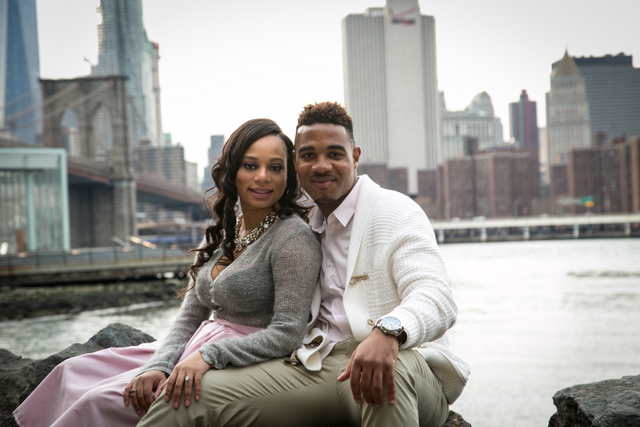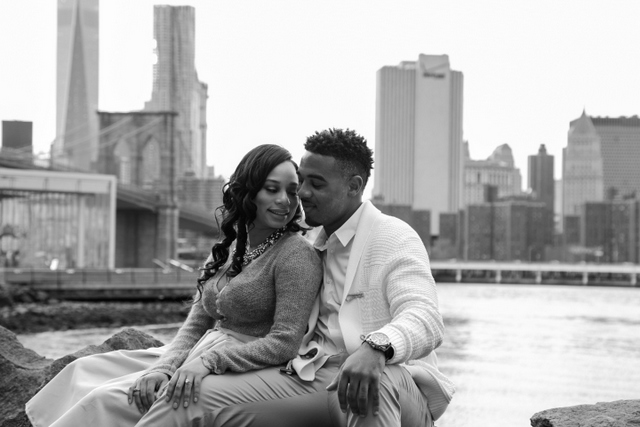 What was the theme of your Engagement session?
The theme behind the engagement session was to showcase our love, happiness and the beauty of the location, such as its vintage railroad track, the Manhattan Bridge, the view of NYC and the classic cobblestone streets.
What makes your love special?
Our love is special because despite all the challenges and obstacles we face together or personally we have still managed to remain together as a couple and as great friends for a decade.
What are you most looking forward to about your wedding?
We are looking forward to the execution of everything we planned; we want to see everything in person. We want to see if everything lives up to our expectations or more.
Have you started planning your wedding?
Well our wedding is two months away. Everything is finalized in the planning department except for the wedding cake, favors and minor details. The feel or vibe we want for our wedding is light and airy so we chose very neutral colors such as blush pinks cream and peach. The goal of our wedding is to make everyone feel that they are at a destination wedding without traveling. Although it's our big day, the activities will make everyone feel part of our momentous event.
Congrats to the happy couple Jenell and Ted! We wish you a wonderful wedding and marriage.
Vendors:
Photographer: Frank Segalla of Photography Elite
Beauty: Make-Up: Tenelle Veira
Stylist: Vivian Briggs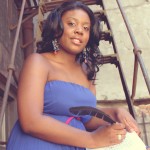 Curated by our Wedding Features Editor, C.K. Alexander. C.K. is the owner and founder of Love Ink and Brownstone Bridal. Keep up with C.K. on Twitter here: @Love_Ink