Lauren and Elo met on June 21, 2008 at Lauren's parent's home. "My parents were throwing me a birthday/ going away cookout and Elo attended with my cousin, who he was close friends with. After awkward interactions with Elo throughout the day, I didn't think too much of him," recalled Lauren. Two days after the party Lauren received a friend request from Elo on Facebook. The two spoke via messages back and forth for about a week. Finally Lauren asked if this messaging would continue or if Elo was going to ask her for her number. Elo asked Lauren for her number and called her two days later, and they've been talking every since. Elo and Lauren are planning a "Midnight Romance" themed wedding this fall at the Four Seasons in Washington D.C. Check out their super chic engagement session captured by Wale Ariztos Photography!
Bride: Lauren A. Johnson, 27, Creator of Mummy Chic Inc.
Groom: Elo Oji, 29, Financial Analyst
Place of residence: Allentown, PA
Engagement Shoot Location: Washington, DC
Wedding date: 9/12/15
Wedding location: Four Seasons; Washington, DC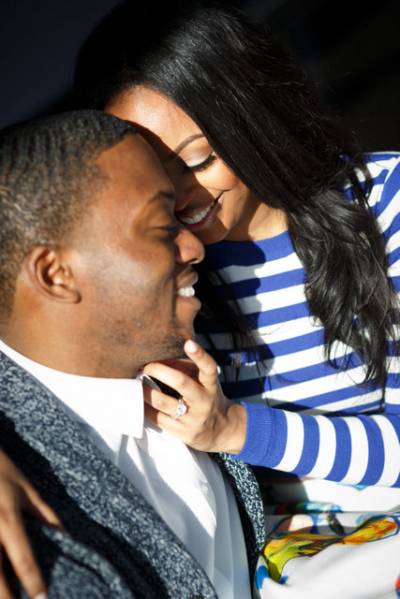 Engagement story from the bride-to-be:
August 24, 2013, Elo and I were expecting our first child and my family and friends were throwing me a baby shower. During the opening of gifts I was directed to only open several gifts, and then give out my gifts and thank you speeches to the party hostesses. Following my speeches, Elo told me that he had a gift for me. He presented me with a big pink box. Inside the box was a willow tree statue of a man and a pregnant woman. This statue was sentimental to me, as my parents gift me one every Valentine's Day. As I was admiring the statue, Elo pulls a blanket out of the box. Facing me, the blanket read "Greysen's Mommy," and facing my guests the blanket read "Boog, will you marry me? Elo" The crowd erupted in cheers and tears, and then Elo got down on one knee, pulled out the beautiful ring, and asked if I would marry him. I had several memorable moments from the proposal. The first was being completely oblivious to what was going on. I was not anticipating a proposal, as I did several times in the past and was disappointed. So a proposal was the last thing on my mind at the baby shower. Another memorable moment was the crowd's reaction to the proposal. They erupted before I knew what was going on and I remember being so anxious! Everyone was in tears and genuinely happy for Elo and I and I love that Elo wanted to share that moment with our closest family and friends. The last most memorable moment was what Elo said when he got down on one knee. He told me that I was his soulmate and he could not imagine sharing his life with anyone but me. In the midst of the noise from the crowd, he still wanted me to know exactly how he felt about me and it was the most special moment in my life.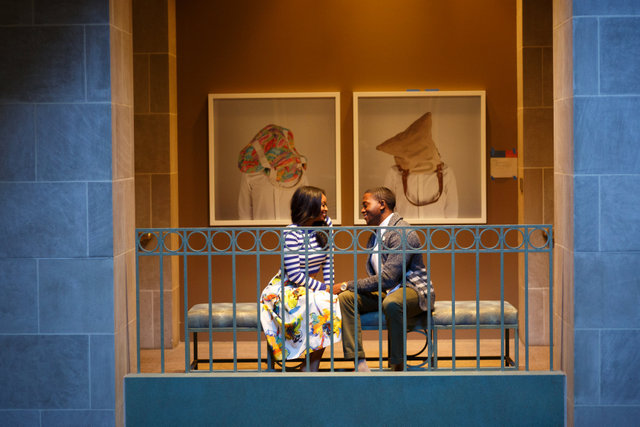 From the Groom: Walk us through the behind the scenes of creating this special day:
Lauren A. Johnson is by far the most inquisitive person I know, which is the politically correct way of saying she is nosy. If you are doing something out of the ordinary, it takes her little time to notice and inquire. Needless to say, planning a surprise for Lauren has always been difficult. Taking that into consideration, I decided that using a diversionary event would keep her observant nature at bay.
After securing a rather expensive blessing from her father and a beautiful engagement ring from a knowledgeable jeweler, the proposal planning officially began. First was finding the venue. Lauren is a family oriented person, so having friends and family present was important. Although I would have loved to talk to them about venue ideas, Lauren has a knack of extracting secrets from them. Then when Lauren provided the details of our baby shower, it hit me! The baby shower was the perfect venue/ event to surprise Lauren. All of our family and friends would be in attendance and she would be too preoccupied with the shower activities to notice if anything was amiss.
The shower went off without a hitch, there was a nice turnout and she was too preoccupied by the shower to notice my standoffish behavior. After she presented her mother with a beautiful bracelet and pair of earrings, she gave her a heartwarming speech of appreciation. Before she could thank everyone for coming, I interrupted her and said I would like to give her a special gift. I presented her with a pink medium size gift box. Inside the box laid a Willow tree figurine of a young man and his pregnant wife. [Figurine Backstory: Every Valentine's Day since Lauren's freshmen year at Hampton University, her parents have given her a Willow tree figurine. Unfortunately, the previous year all of her figurines fell victim to the DC Earthquake of 2012.]
As she presented the gift to the crowd, I interrupted her yet again to bring attention to another gift underneath the figurine. I pulled out a tightly folded blanket and unfolded it; which displayed the message, "Greysen's Mommy". Unbeknownst to her as she was reading the message the crowd was reading the message on the opposite side of the blanket: Boog,Will you marry me?-Elo
The crowd erupted in screams and applause. When I turned the blanket around to reveal the second message, her puzzled look turned into shock. As I bent down on my knee and proposed, her surprise quickly turned in to tears of joy. Luckily my planning was not in vain, and she said YES!!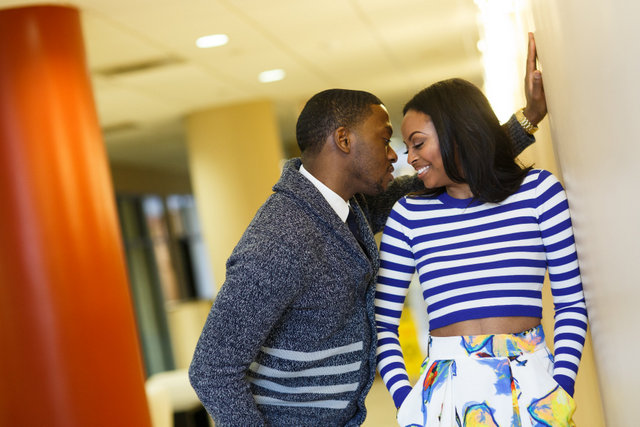 What was the theme of your Engagement session?:
Elo and my parents are DC natives and I was born and raised in Prince George's County Maryland, right outside of DC, so we wanted to capture some of DC's history. The hotel we chose for the shoot was the Mayflower, which is one of the most historical venues in DC. Outside of it being absolutely gorgeous, we knew that Washingtonians would be able to connect with the location and it would say "Welcome to DC." We originally wanted to take photos in front of the capitol, but it was under construction. So we opted for the white house and got a great shot with it as our backdrop.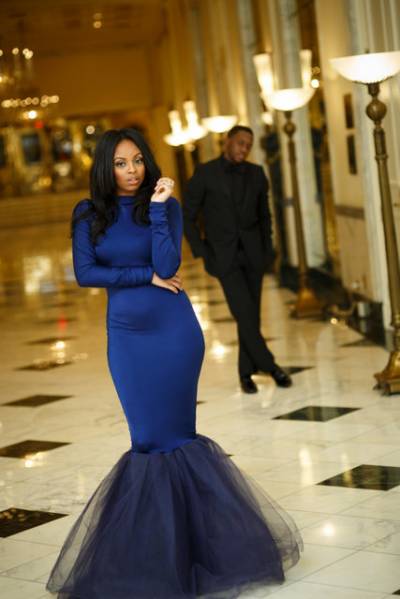 What are you most looking forward to about your wedding?:
I'm most looking forward to exchanging vows with Elo and our son Greysen. In addition to our vows for each other, we have written vows to our son because he has enhanced our love for each other and brought us even closer than we were before. Sharing my feelings for my men in front of God, and our closest family and friends is a once in a lifetime opportunity and I'm honored to have the privilege to do so. I am also looking forward to introducing my family and friends to Elo's culture. He is of Nigerian descent and we wanted to make sure to incorporate some traditional elements throughout our day. The entire weekend will truly be one to remember.
Have you started planning your wedding?
I have! My wedding is four months away and we are planning to have an evening ceremony at the Four Seasons in Washington, DC and party all night long. Following the ceremony we have an after party planned. Our colors are midnight blue, blush, silver, champagne and white.
Congrats to Lauren and Elo! We wish you a wonderful wedding and marriage.
Vendors:
Photographer: Wale Ariztos Photography
Beauty – Make-Up: KashBarb
Dress: Honesty Gray
Curated by our Wedding Features Editor, C.K. Alexander. C.K. is the owner and founder of Love Ink and Brownstone Bridal. Keep up with C.K. on Twitter here: @Love_Ink