Chanae and Michael met at the University of Florida in 2009. Michael's fraternity was hosting a tailgate party and Chanae and her best friend were in attendance. However, Michael and Chanae's first encounter wasn't quite love at first site. In fact, their introduction actually began with a debate. As fate would have it, Michael and Chanae would definitely meet again, but this time on much better terms. After seeing each other at various campus events, Chanae decided to look her future guy up on Facebook. It didn't take long for Michael to respond saying "Bout time you found me." A straight forward response that let Chanae know that the feelings that were growing between the two of them were mutual. The couple has been together for a little over 5 years and are planning a Black Tie Affair just before the end of the year. Check out their romantic engagement session, captured by Will Forshee of Star Image Photography!
Bride: Chanae Forshee, 23, Commission Aide for Miami Dade County
Groom: Michael Wood, 29, High School Educator
Place of residence: Miami, Florida
Engagement Shoot Location: Country Club Prado Entrance & Ingraham Park, Coral Gables
Wedding date: 12/18/15
Wedding theme: The Wood Union: Black Tie Affair
Engagement story from the bride-to-be:
Anyone who knows me knows that I've been talking about marriage for as long as I can remember. Michael and I would always discuss the idea and after dating for 4 years I started to become a bit anxious about us taking that next step in our relationship. I would always bring it up, and he would always get annoyed. Apparently he purchased my ring almost a year before actually proposing, but he put on a great act pretending as if marriage wasn't in his plans at the moment. Michael proposed on our 5 year anniversary. Leading up to the week of the engagement I became suspicious. One of my close friends randomly texted me, and asked if I wanted to have a nail date. It was pretty random so I figured she was asking, because Michael was going to propose. I started noticing weird behavior amongst my family members as well. The day of the proposal my friends and I got together. We were supposed to have a small girls gathering in honor of our girlfriend's birthday. The plan was to spend time with my girls and then Michael and I would go to dinner to celebrate our anniversary. I think the biggest giveaway were my friends' behavior. They were just too excited to help me get dressed and fix my hair. I knew something was up. They took me to the Westin Diplomat in Hallandale. The "story" was that we were going to take pictures of Jalisa (the birthday girl), because the Westin had a great view by the pool. As we entered the pool deck, one of Michael and I favorite songs (Trey Songz Til the Day I Die) began to play. My three friends started to sing it to me. Immediately I knew what was happening and I began to scream (I couldn't contain myself!). They led me to another portion of the deck, the song switches and two of my sisters began to serenade me with another song (Tank-Celebration), next thing the track switches, and a different group of my friends come out performing Beyonce 's Love on Top. They created a mini flash mob! Then they led me upstairs. My heart stopped when I saw Michael standing under a circular canopy with all of our family and friends surrounding him. The song switched to "OUR" song, Unthinkable by Alicia Keys. While I knew that he was most likely going to propose to me on our anniversary, I could have never imagined how it was going to happen. It was absolutely perfect! And to top everything off the next day he let me watch the video diaries he created leading up to the day! He knows I am a hopeless romantic so, I think that was the best part for me…. just seeing how thoughtful he was. He planned our engagement for months and it was just absolutely perfect!
Check out their surprise proposal HERE.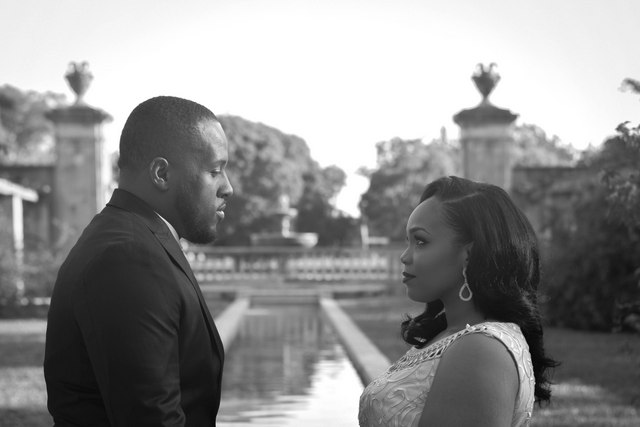 For the Groom: Walk us through the behind the scenes of creating this special day:
I wanted to make this day one that she would never forget. From the time I met her she has always spoke about making memorable moments in her life, and I wanted to make sure that it was something we would indeed remember.I planned the engagement for months. She and I had been watching videos, and we came across different proposals. We stumbled upon one that included a flash mob, and from the look in her eyes while watching it; I just knew I had to do one. When she asked my thoughts about it I told her it was just okay and that was something I would never do.Once I got the ring I decided to call her best friends and inform them of what I wanted to do. We looked for different flash mob groups and then decided that her friends would be the flash mob. I compiled a list of songs that I felt described us as a couple, with the final song being a personal version of Alicia Keys' Unthinkable (our song), which was sang by one of our closest friends. After everything was set into place I could do nothing but smile as the engagement day approached. Prior to the actual day she kept asking questions about the proposal such as "when am I going to do it " and have I ever thought about buying a ring. Every time she brought up the idea I would either start a fight or say to her that we had time. Those days were priceless because she would get so mad, but it made it more enjoyable. I decided that once we hit 7 days from the proposal that I would make small videos… just to keep track of everything that it took to make this day special. I enjoyed just making that day all about her and the end result made it all worth it.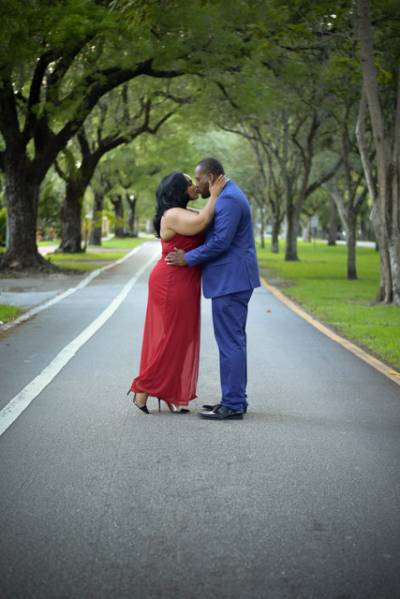 What was the theme of your Engagement session?
I would say Parisian Romance/Elegance. I fell in love with Paris when I studied abroad in College. I always wanted to go back, and haven't had the chance to do so. Michael and I scouted for locations in Coral Gables, and stumbled upon the Country Club Prado Entrance. It had beautiful columns and gorgeous fountains that reminded me of Paris. We both fell in love with the site, and knew that the location would give us the romantic feel we wanted. We are going to have a Black Tie, formal wedding; therefore we wanted our guests to understand that through our photos. For our second location we wanted something a bit more modern, but still including the classic columns and fountains. We found that at Ingraham Park in Coral Gables. For this site we wanted a more chic/modern look.
What makes your love special?
Our love is special, because it's genuine. We both have been there for one another through the highs and lows. But once we both gave our lives to Christ, we realized how even greater of a partner we could be to one another. There hasn't been as many "lows." By including God in the center of our relationship we have been able to establish an even stronger bond. We lift one another up and share a love that runs deep. It's authentic, it's true, and it's simply genuine.
What are you most looking forward to about your wedding?
We're looking forward to being able to stand in front of our family and friends and confess our love to one another. We'll be writing our own vows, so we're really looking forward to the ceremony. We have a bet going on, on who will actually shed the first tear!
Have you started planning your wedding?
I'm one of those brides who have dreamed of their big day since I was a little girl. So, let's just say most of the wedding planning was done prior to the ring lol. We will be having a winter wedding with approximately 130 guests. We envision it being intimate, and focused on the love we share. I don't want to give too much away to our guests, but we have some great things in store.
Congrats to Chanae and Michael! We wish you a wonderful wedding and marriage.
Photographer: Will Forshee of Star Image Photography!
Beauty – Make-Up: Chanae Forshee
Hair: Camree Forshee
Videography: Maximo Brito
Curated by our Wedding Features Editor, C.K. Alexander. C.K. is the creator of theSingle Bride Blog and the owner and founder of Love Ink and Brownstone Bridal. Keep up with C.K. on Twitter here: @Love_Ink