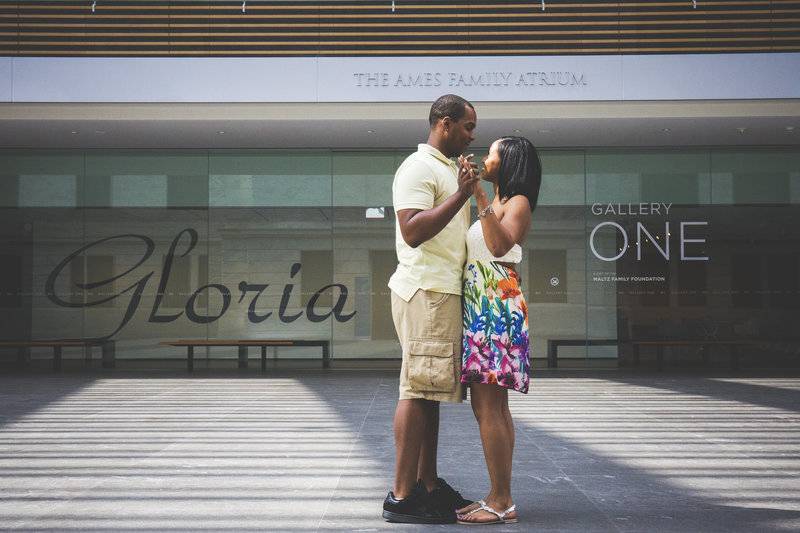 Camille and Tare' first met while they were both students at Bowling Green State University, back in 2009. However, it wasn't until 2012 that the two college co-eds decided to take their friendship to the next level. The happy couple have been inseparable ever since, and will be saying their "I do's" in just a few short months. Check out their engagement session, captured by Jazzymae Photography!
Bride: Camille Stewart, 26, Nurse Assistant
Groom: Tare' Beaver, 30, Sales Rep.
Place of residence: North Royalton, Ohio
Engagement Shoot Location: Art Museum and First Energy Stadium
Wedding date: 5/7/16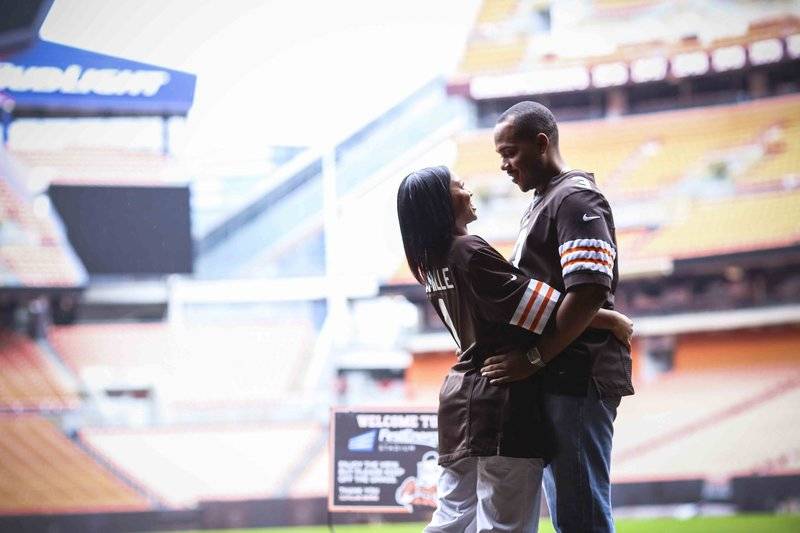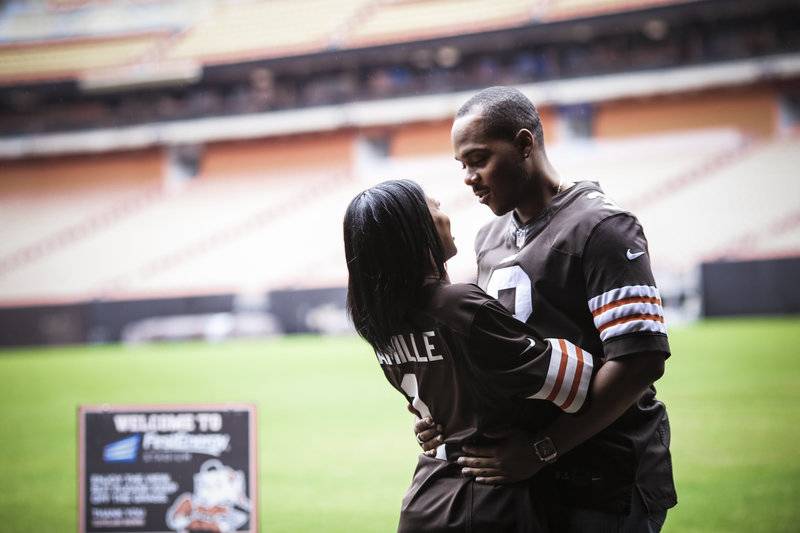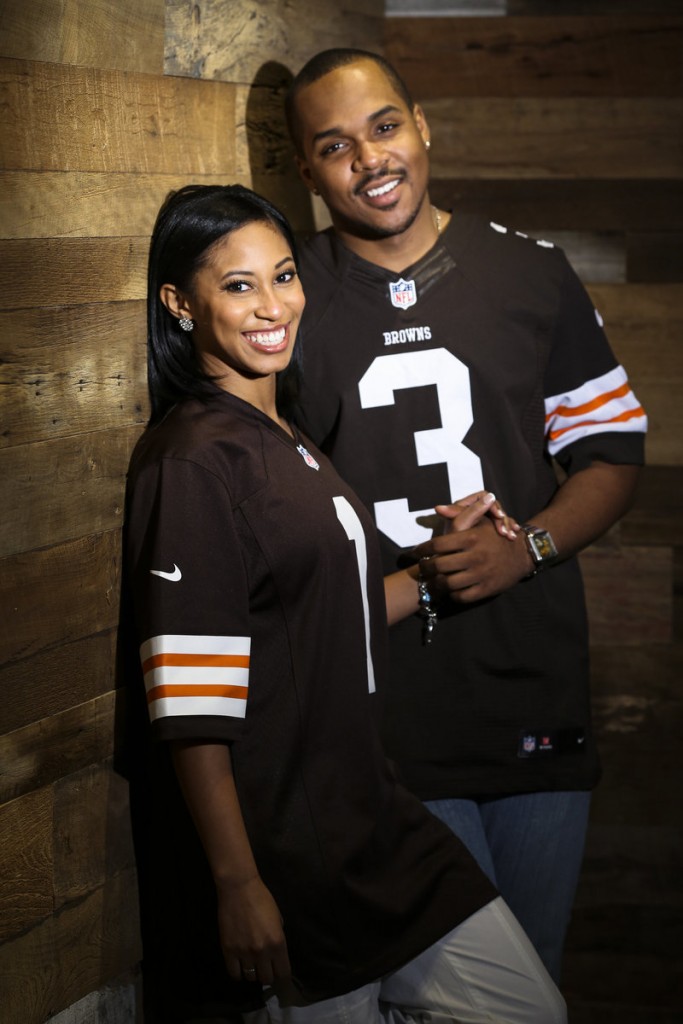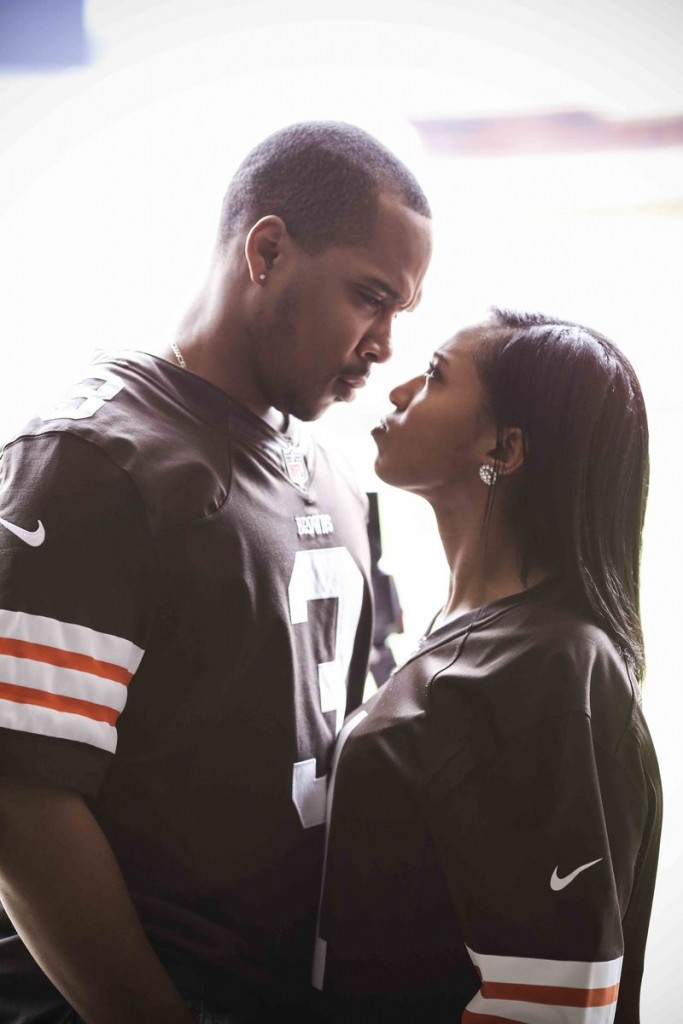 Engagement story:
Two years before we got engaged Tare' took me to the park and recorded me swinging and asked me questions about a future together, but unfortunately we lost the video. Fast forward two years and Tare' recreated the same scene at the same park but this time at the end he dropped down on one knee and proposed.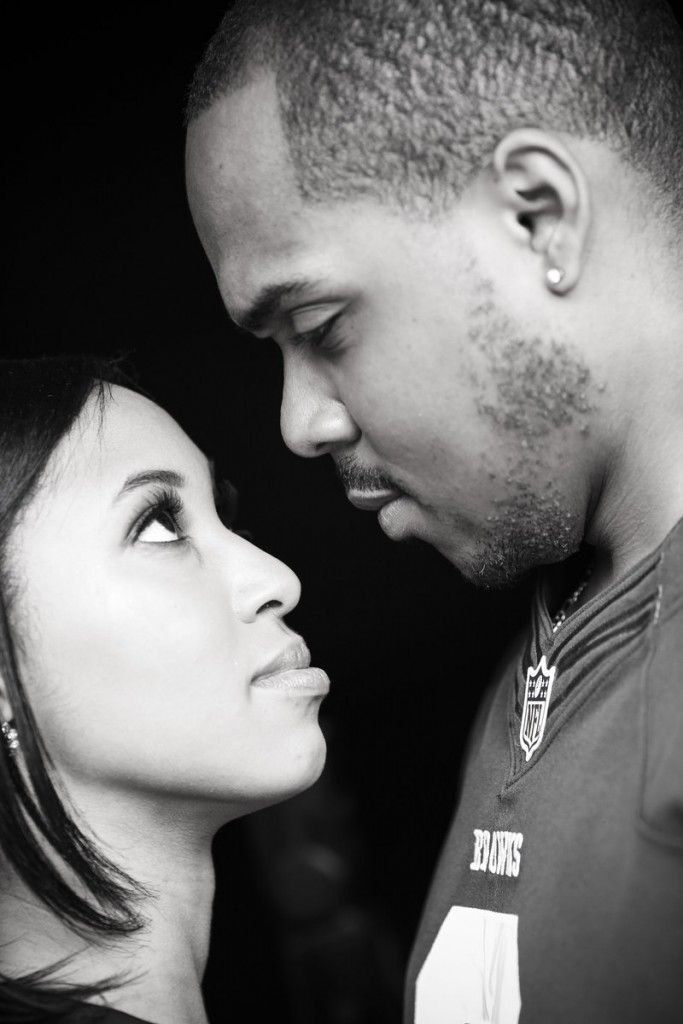 From the Groom: Walk us through the behind the scenes of creating this special day.
Camille is being a bit modest when it comes to the story of the swing. For me, it is where I even started talking about a future with us. Saying things like "say hi to our future children" and other flirtatious things. I even bought her a charm for her bracelet with a girl on a swing. So when it came time to propose, I had all these ideas, but it came back to the swing. Fortunately, (and unfortunately) my phone had broken and the original video was gone. So I told her lets go recreate the scene that we both cherished. The same "say hi" question came as I was pushing her I also followed up with "I have something to do first". The knee was dropped and now we're here.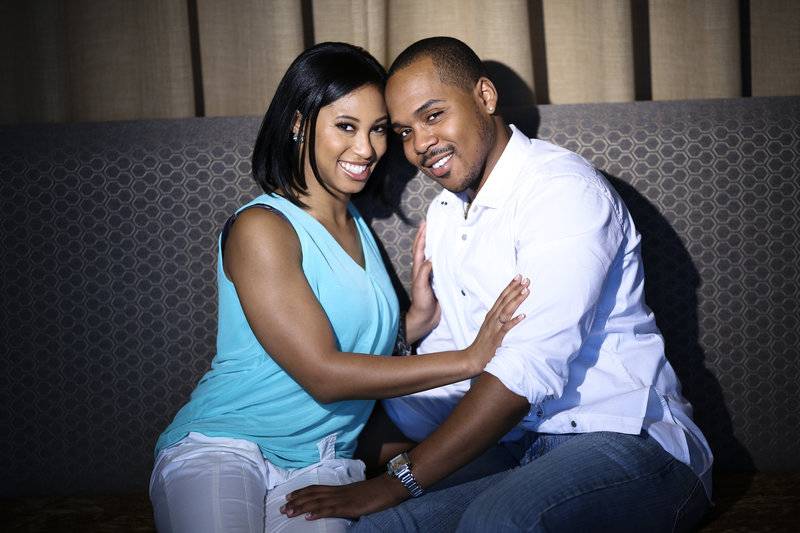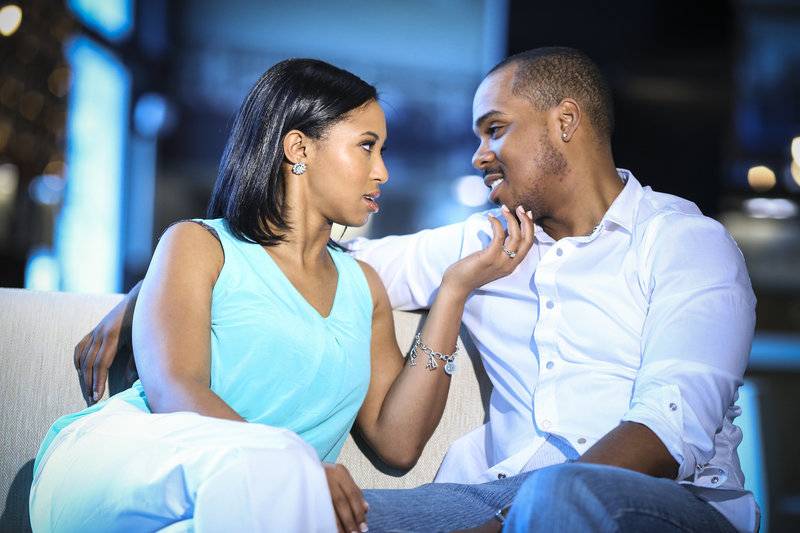 What makes your love special?
The thing that makes us work is how deeply we love for each other. We are polar opposites in the best way, because we complement each other. I am very lively, full of energy and can be a little "extra" at times. Taré has a way of making sure to keep things in perspective without making me feel bad for being myself. Tare on the other hand is very reserved to a point of not really embracing the wonderful person everyone knows him to be. I try and lift his spirits and make him smile without forcing him out of his comfort zone of serenity. We encourage and challenge each other and while constantly making each other laugh, we are best friends. We really would do anything for each other and that is what makes our love so special.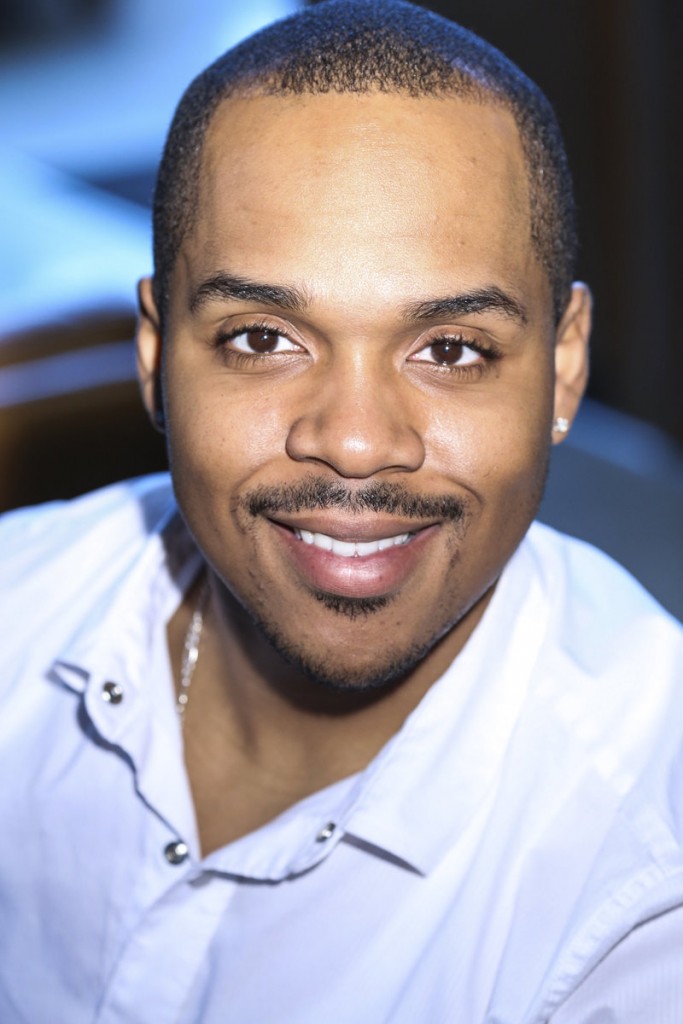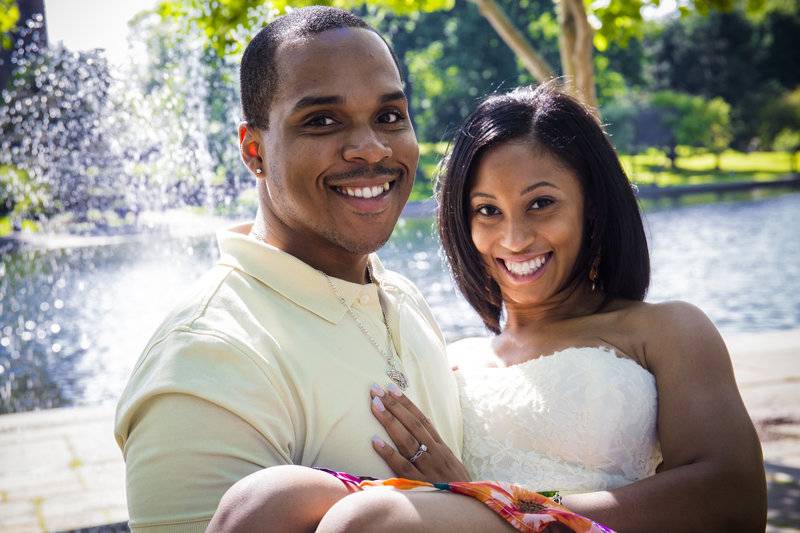 What was the theme of your shoot?
We wanted to capture special moments in places that meant something to us. So we took pictures by the pond in front of the art museum, at a swing in little Italy and at the Browns stadium where we will be sharing our wedding day.
Were there any memorable moments during the shoot?
The most memorable moment in our shoot was being able to take pictures at the duck pond which is the location Tare' parents took their pictures on their wedding day.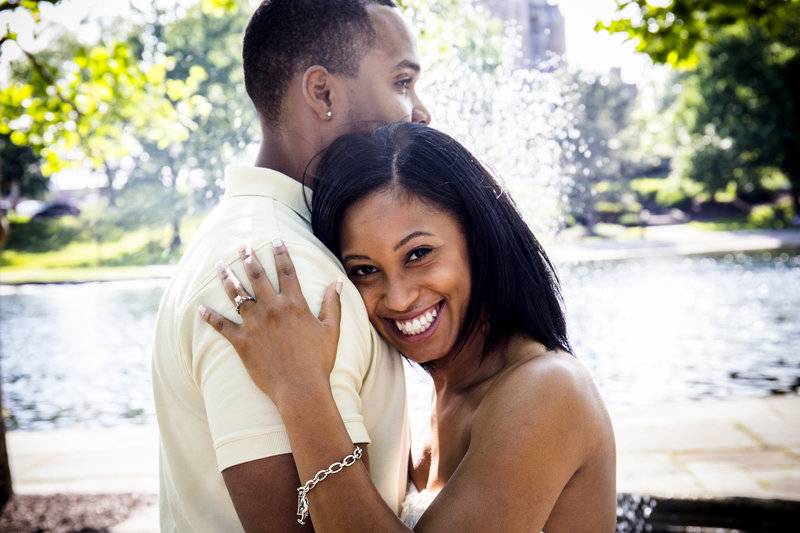 What are you most looking forward to about your wedding?
We are most looking forward to embodying our friendship to a union under God, family and friends. Opening a new chapter filled with memories, laughs, tears, smiles, hopes, dreams filling every page to completion together! We look forward to growing in love, faith and admiration of God.
Have you started planning your wedding?
We have started planning our wedding we are currently less than two months until the big day and could not be happier.
Congratulations to the happy couple Camille and Tare'! We wish you a wonderful wedding and marriage.
Vendors:
Photographer: Jazzymae Photography
Event Planner: Save the Date Event Planning
Decor & Design: A Picture Perfect Wedding, LLC
Decor & Design: Elegant Assets