Laquisha and Corey met a party through a mutual friend, in 2008. A game from the movie "The Five Heartbeats," inspired Corey to make his move on Laquisha. "Two of the characters had a game they would play to pick up girls and it was called 'Shy Brother.' Shy Brother meant sending your friend to talk to the girl of interest to put in a good word on the other's behalf. Well what can I say, it worked and now we are soon to be husband and wife," said Laquisha. Laquisha and Corey are planning a destination wedding at the Dreams Sugar Bay Resort in St. Thomas. Check out their chic engagement session captured by Bonnie Nichoalds Photography!
Bride: Laquisha Brooks, 32, Human Resources Professional
Groom: Corey Hill, 35, Network Manager
Place of residence: St. Louis, MO.
Engagement Shoot Location: St. Louis
Wedding date: 4/16/16
Wedding location: St. Thomas USVI
Wedding theme: Destination Wedding
Engagement story:
One day a friend of mine asked me to help her coordinate a surprise Birthday Party for her cousin, the night of 1/31/15. I said sure. On the Thursday before the weekend of the party this same friend invited me to go to the nail spa ( I always joked with Corey about making sure that he has one of my friends to get my nails done before he proposes lol!) So my friend offered to pay for my services in return for helping her plan this "party" (however it was Corey that gave her the money to cover the services). Earlier this week my aunt calls and asked if my children could come and spend the weekend with her (this way I wouldn't have to worry about a sitter for this "party"). So Saturday 1/31/15 gets here, and I called another friend of mine to see if I could get dressed for this party at her place because I didn't want to drive all the way home after work, with the location of the party being the opposite way. With her being in on it, she agrees and even offers to do my makeup. So I get dressed and head down to the Four Seasons Hotel where I was supposed to let them know at the front desk that I was here to pick up a key for my friend. I now have the key and head up to the room. I was supposed to be the one in charge of gathering all the ladies for this "surprise party." I opened the door and the first thing I see are some rose petals on the ground. I remember thinking, "why would she have rose petals just for her cousin?" I then turn the corner, and there Corey was, standing there, looking so handsome in a smoky grey suit with only my very close family standing behind him. I was so in a shock that I couldn't move, he had to tell me to, "come here." I walked over to him and he explained how much he loved the kids and I and he doesn't want to spend a day without us. Then he says,"Are you ready?" He got down on one knee and says, "Laquisha Annette Brooks, will you MARRY ME?" and my response was, "OF COURSE!!" My uncle begins to sing " You are so Beautiful" by Joe Cocker in the background. But wait there's more- Corey had two black dress for me to choose to wear for the night, remember I'm dressed to go to someone else's birthday party, not dressed to be the woman of the hour. So I change clothes and we went downstairs to where I thought we would have just an intimate dinner with my family. I was so wrong, ALL of our friends and more family were there waiting for us and the night turned into our engagement party… I started to cry all over again. The amazing thing is that when Corey and I first started dating 6 years ago, we had snuck up to the rooftop of the Four Seasons and he asked me then, if I would have wanted him to propose to me in a place like this and I remember saying that I would want the actual proposal to be intimate then turn into a surprise engagement party. It was perfect, I still can't believe how perfect that night was.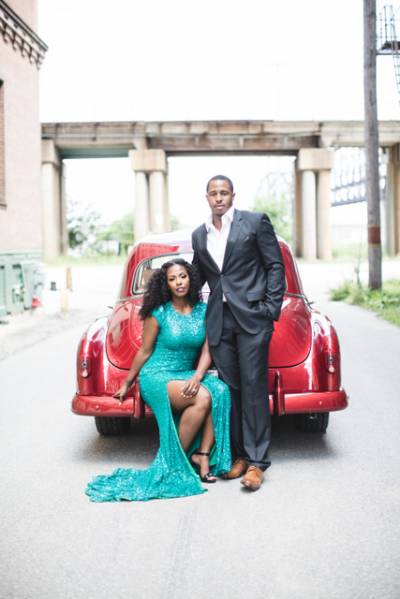 For the Groom: Walk us through the behind the scenes of creating this special day.
Well I knew that I wanted to do something special. She works hard and she is always there for the people she loves. We both are very close to our friends and family and gained so much support from them and I knew that she would want them to be involved in some type of way. I made sure to delegate all the responsibilities according to the type of relationship she had with everyone, so that she wouldn't be suspicious of anything. For example, her aunt loves getting the kids and her and her friend always gets their nails done together. I took her best friend with me to help pick out the ring because I knew they had discussed what type of ring she would have wanted. Her cousin helped to arrange all the details and gathering everyone. Had another friend pick out the two dress for her to choose from. So it all was a team effort, everyone really helped me to make that night a success.
What makes your love special?
What I feel that makes our love special, is that it's not the typical perfect love story. While dating we faced plenty of obstacles, from facing the fears of becoming a blended family to just dealing with the day to day of being a young adult and making sure that we were right for each other. But we kept God first and realized that we did not only choose each other but it was God that had chose us for each other. "Therefore what God has joined together, let not man separate."
What are you most looking forward to about your wedding?
I am most looking forward to seeing his face when he watches me walk down the aisle. I am also looking forward to celebrating with our children as we become officially ONE family.
Have you started planning your wedding?
Yes, I've secretly been planning this wedding in my head for 3 years. LOL
Congrats to the happy couple Laquisha and Corey. We wish you a wonderful wedding and marriage.
Curated by our Wedding Features Editor, C.K. Alexander. C.K. is the creator of theSingle Bride Blog and the owner and founder of Love Ink and Brownstone Bridal. Keep up with C.K. on Twitter here: @Love_Ink