Lauren and Ritney met when their mutual friends decided to play a game of matchmaker. They were both in town on the weekend of April 11, 2014 and their friends had a feeling that they would be perfect together. As it turns out, their friends were right. Lauren and Ritney had an instant connection and on April 22, 2016, two years and two weeks after their first meeting, Ritney proposed at the same restaurant where they met. This couple did not let a little rain spoil their romantic D.C. engagement session. Check out the fun photos captured by James Kegley Photography.
Bride: Lauren-Brianna Fields, 27 Association Events Planner
Groom: Ritney Adam Castine, 29 Non-profit Management in Public Health
Place of residence: Washington, DC
Engagement Shoot Location: Southwest Waterfront DC
Wedding date: 6/3/17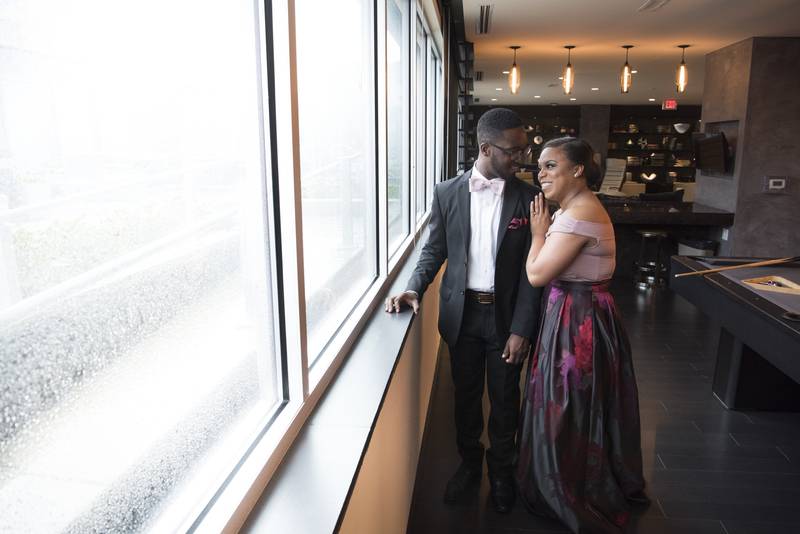 Engagement story:
Ritney decided to invite me to "late night dinner and drinks" at the restaurant where we met. I thought nothing of it as it was a frequently visited spot of ours. He presented me with a Pandora necklace charm with a crown stating that every King needed his Queen. After a bout of excitement, Rintey got down on one knee presenting me with a ring and asked me to marry him.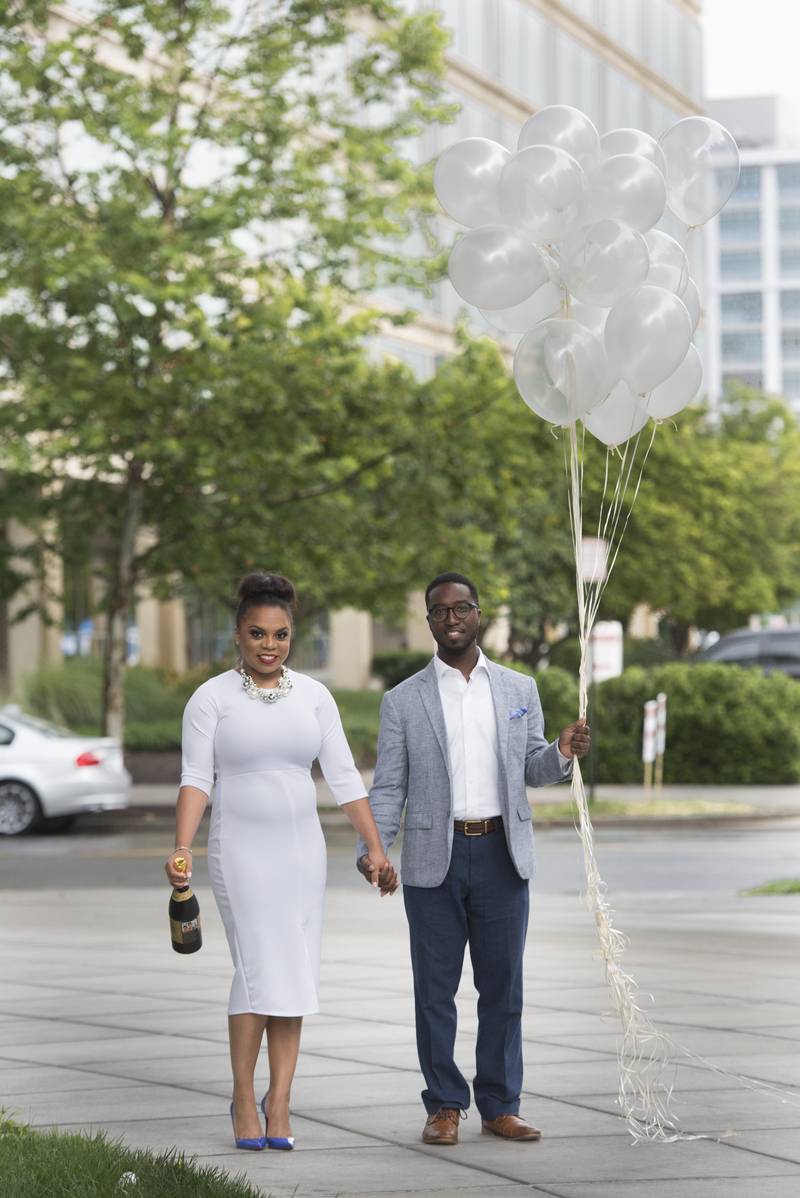 From the Groom: Walk us through the behind the scenes of creating this special day.
For some time, I had been planning to pop the question I thought I had everything planned out! First, I reserved tickets for the Spring White House Garden tour, but saw a week before there was just another White House proposal. I wanted something intimate and special for us. A few weeks before Lauren's birthday I planned a winery tour and horseback riding in Virginia, but that was TOO easy. I made her wait until the perfect moment and I knew that our first date spot would serve as the perfect location!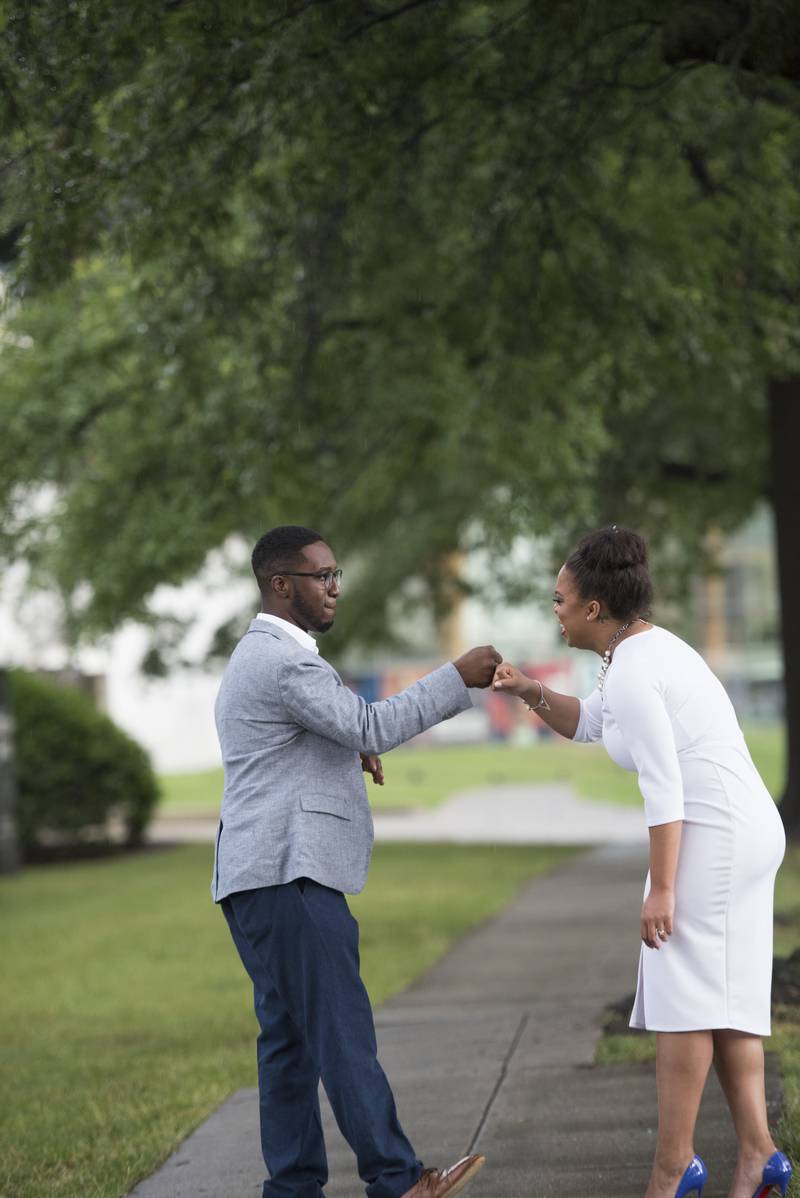 What makes your love special?
We have something like a long distance relationship while living in the same city, it is very unique and something I know will allow us to stand the tests of time. We both travel a lot; about 50% of both of our jobs consist of traveling and we have very demanding work schedules. In the two years that we've dated we've made it work. Even though neither of us are perfect with our planning we always make the best of the time that we have together! Even though we don't see each other every day, Ritney still seems to make me feel as if I am the most important factor in his life.
What was the theme of your shoot?
Our hashtag is #CheerstotheCastines, the balloons were inspired by the bubbles of a champagne toast, the champagne bottle (actual confetti shooter) was of course the highlight of our photos. We were going for a "Formal Celebratory Picnic.
Were there any memorable moments during the shoot?
The rain! It was a great downpour of rain! In the end we really believe that it added a bit of character to our photos!
What are you most looking forward to about your wedding?
Having our family and friends witness our love and commitment to one another; and of course it's always a party when we're with our loved ones in New Orleans, laissez les bons temps rouler!
Have you started planning your wedding?
Yes! We're planning a New Orleans wedding as we are both from Louisiana. While visiting home I was also able to purchase my dress, a custom Alvina Valenta from I Do Bridal Couture.
Congrats to the happy couple, Lauren and Ritney. We wish you both a wonderful wedding and marriage.
Vendors:
Make-up: Tiyana Robinson
Photography: James Kegley Photography