Michelle and G. Paul met in 2010 on the campus of their alma mater through a mutual friend. When G.Paul first laid eyes on Michelle he knew that she was the woman that he was going to marry, in fact, he even said it. As fate would have it, G. Paul's words have finally come to pass after five years of being together. The couple plans to make their union official with an elegant wedding this summer. Check out their romantic surprise proposal on the rooftop of the W Hotel Downtown in Atlanta, captured by Howard Jerome Photography.
Bride: Michelle Faith Becton, 24, Patient Associate
Groom: G. Paul Foster II, 26, Accountant
Place of residence: Michelle: Wilson, North Carolina,
G.Paul: Milwaukee, Wisconsin
Engagement Shoot Location: Rooftop at the "W Hotel Downtown"
Wedding date: 6/5/16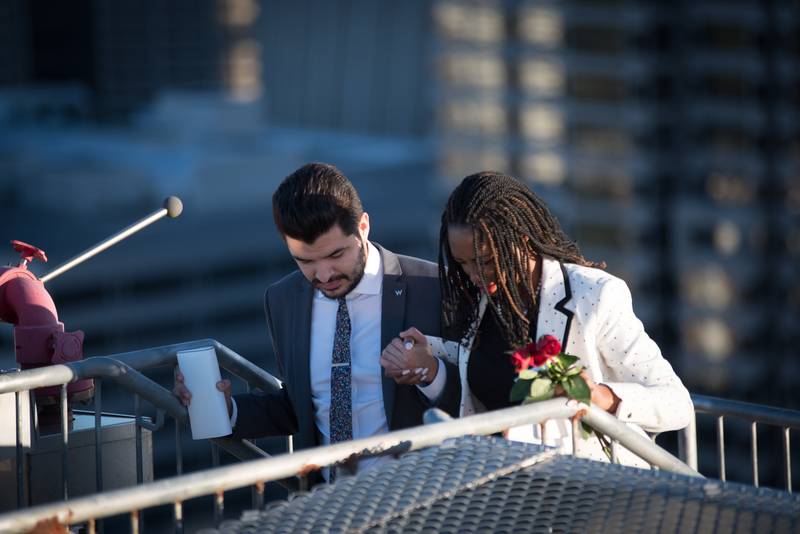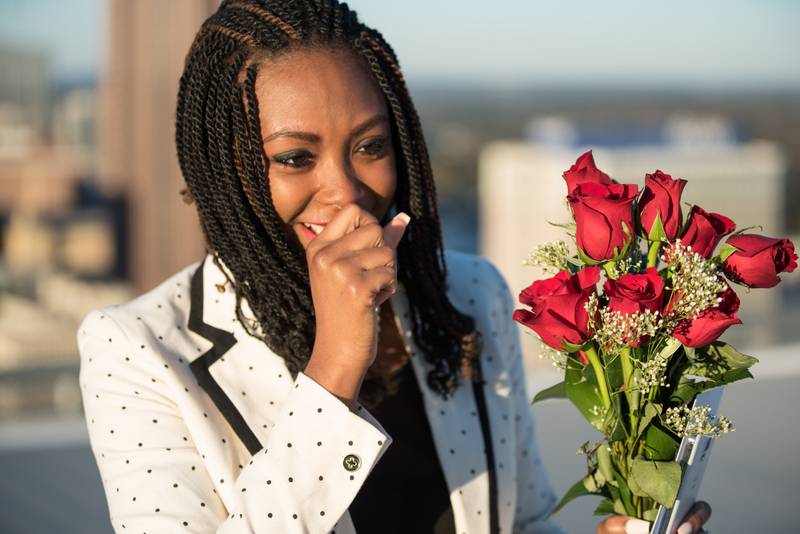 Engagement story:
Never in a million years did I think my proposal would be so grand yet alone with the man of my dreams. On a Sabbath afternoon after church G.P. was nowhere to be found, only a text reading "in order to get to me you must follow each step I have laid out for you carefully". Of course, confused I went home. When I got to the house awaiting me was a short stem rose and envelope giving me instructions for Step 1, which was to get dressed in the outfit he had laid out for me, leave the house by 4:30 p.m., and to check my trunk before I left. Step 2, There was another envelope with a short stem rose in my trunk with an address. The note read, "Upon arriving, give the valet my keys and proceed to the front desk for another package." Step 3, After being greeted, one of the front desk staff immediately handed me another package, which again had a short stem rose and envelope with instructions that I would be meeting a man named Mr. Lopez. Step 4, Upon meeting Mr. Lopez he handed me yet another short stem rose and an envelope with instructions to trust Mr. Lopez no matter what. Mr. Lopez led me down a dark and exclusive area and awaiting me was the final step. Step 5, A short stem rose and envelope with instructions to not only put all my trust in Mr. Lopez but also I would need to close my eyes from this point on. Doing exactly what my King asked, I closed my eyes and trusted Mr. Lopez. After walking up several flights of stairs I opened my eyes. I was standing on the rooftop and awaiting me was my King dressed in a black and white tux holding a bouquet of red roses. By now I had all types of emotions going through me, not knowing what was going on. My King proceeded to express his love and gratitude for me. He kneeled on one knee and asked if I would be his forever and always!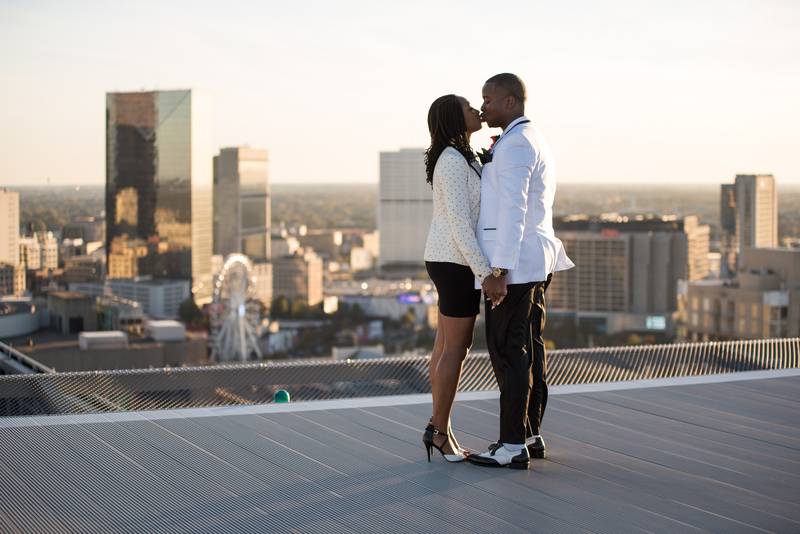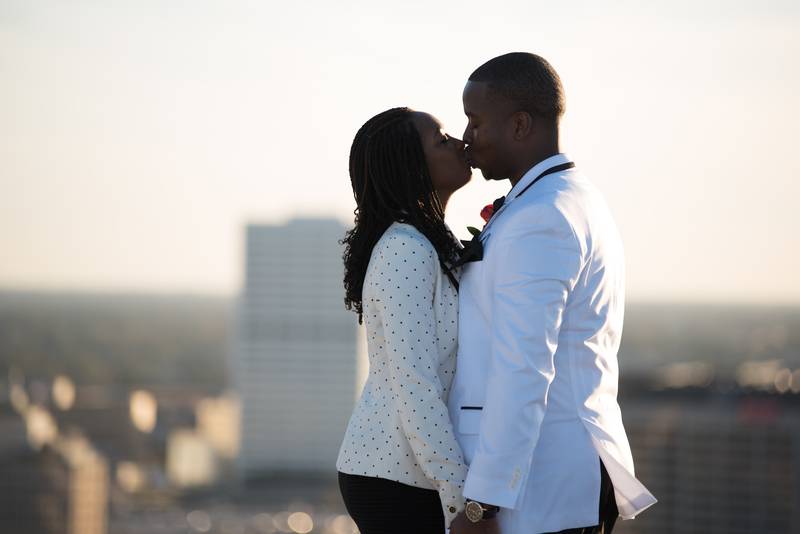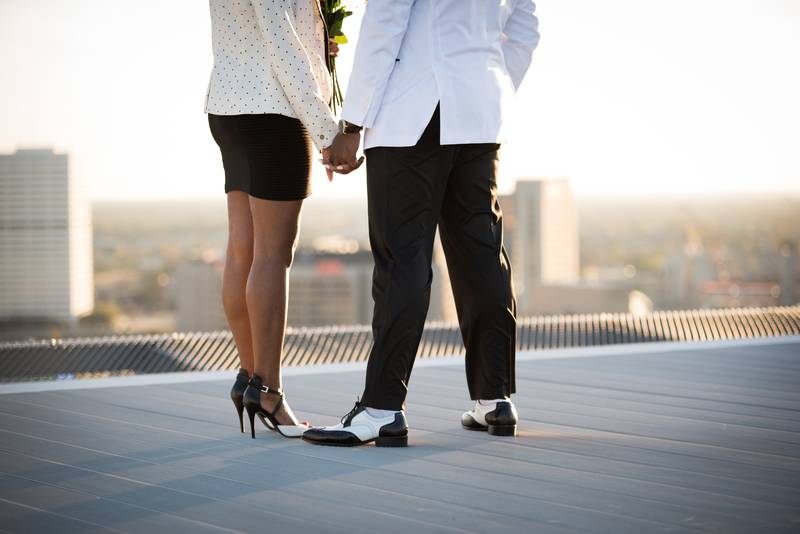 For the Groom: Walk us through the behind the scenes of creating this special day
The love that I have for this woman is so unconditional. They say when you find a good woman you should pour into her. Well I got on a bended knee and told her listen "I don't have much right now, but all that I have is yours." A lot of people don't know this but I asked this woman to marry me a long time ago. At the time I couldn't afford a ring or even a proper proposal. Like many women, she could have complained about a ring and all the formalities that come with a marriage proposal. But no, she never even mentioned it. She was just happy that we were getting married. She loved and supported me every step of the way. Call me silly but that blew my mind. So I worked day and night and saved for 2 years to make this proposal as special as possible. A couple weeks ago with tears in my eyes I got down on one knee before my queen and asked her to spend the rest of her life with me. This is for you Jada Faith and I love you more than life itself. I thank you for supporting me through this journey and for loving me despite of my deficiencies and my flaws. I know it's not easy at times, but God promised to never leave us or forsake us. I pray that God continues to bless our unity.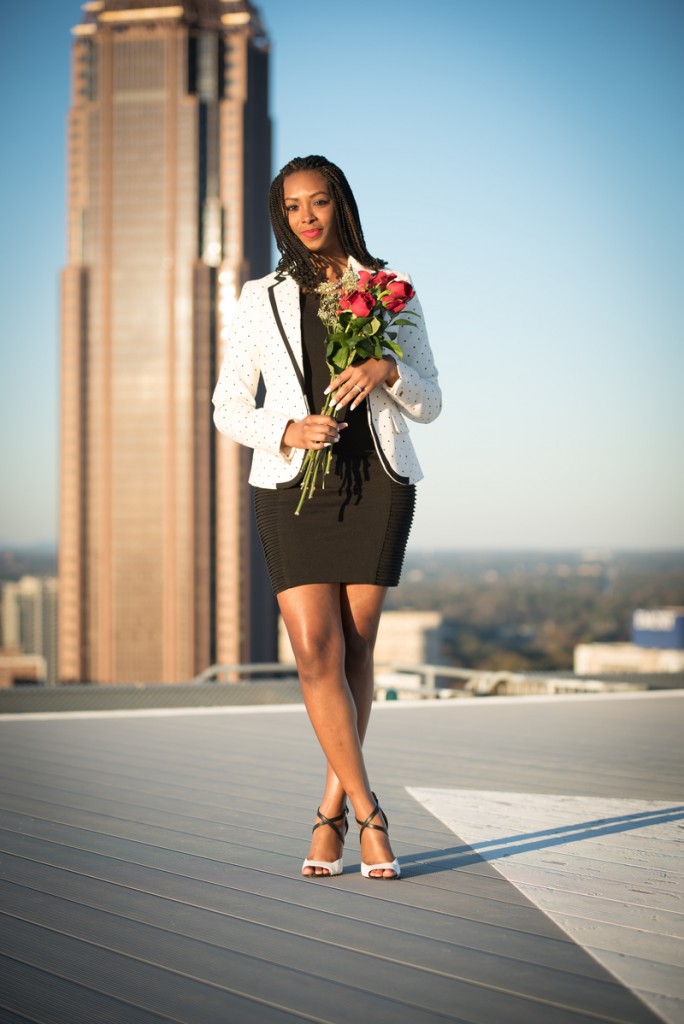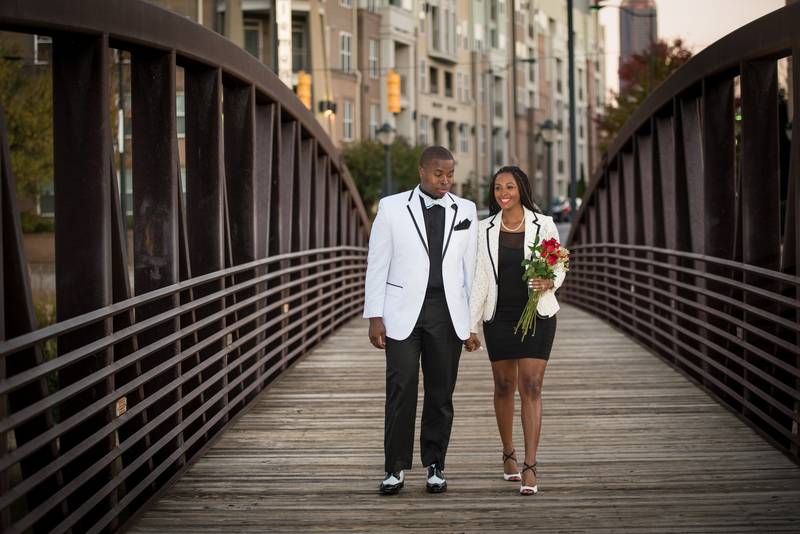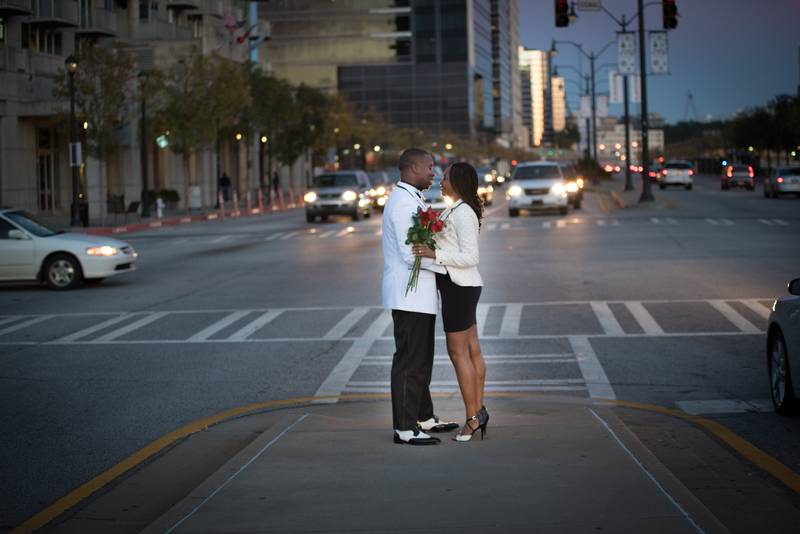 What makes your love special?
Before we started dating we were praying that God sent us someone we could spend the rest of our lives with. We started out as friends, which quickly turned into good friends. From there, I started to develop feelings for him but I was never verbal about it. Its funny because G.P. always had feelings for me but I didn't know how serious he was. It wasn't until he told me "the first time I saw you I told your home girl that I was going to marry you." He's my soul mate and I wouldn't trade our love for anything in the world.
What was the theme of your shoot?
The theme of the shoot was classic vintage. Classic vintage is the theme of our wedding so he made sure our shoot captured a classic vintage backdrop. It still baffles me how he was able to capture our theme all while surprising me.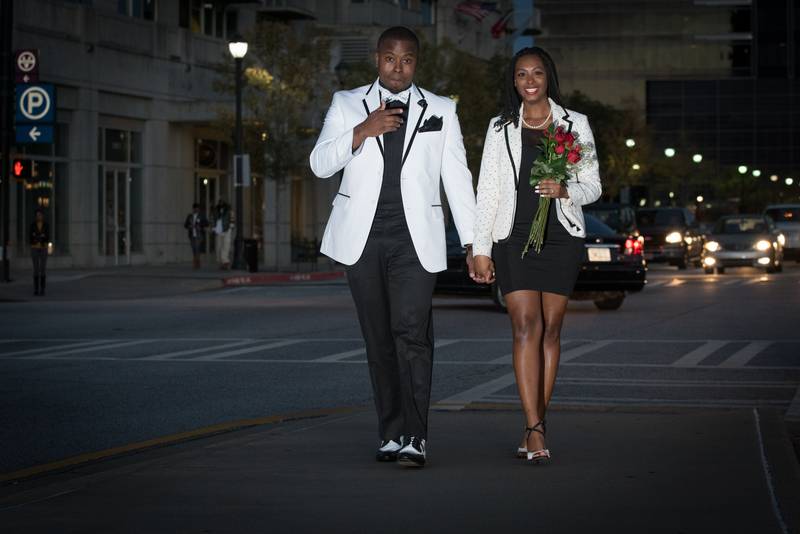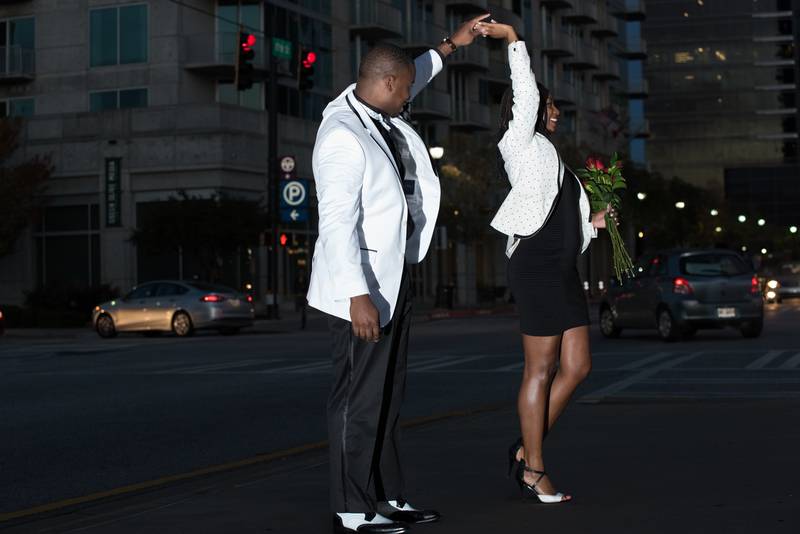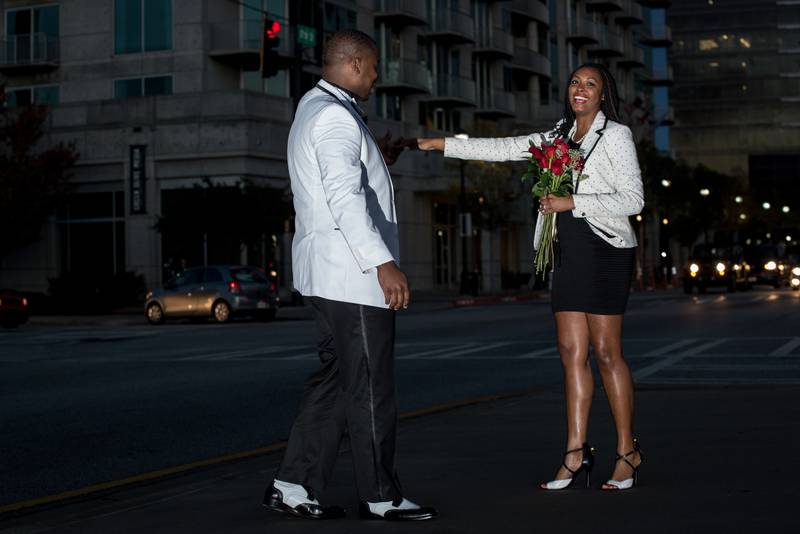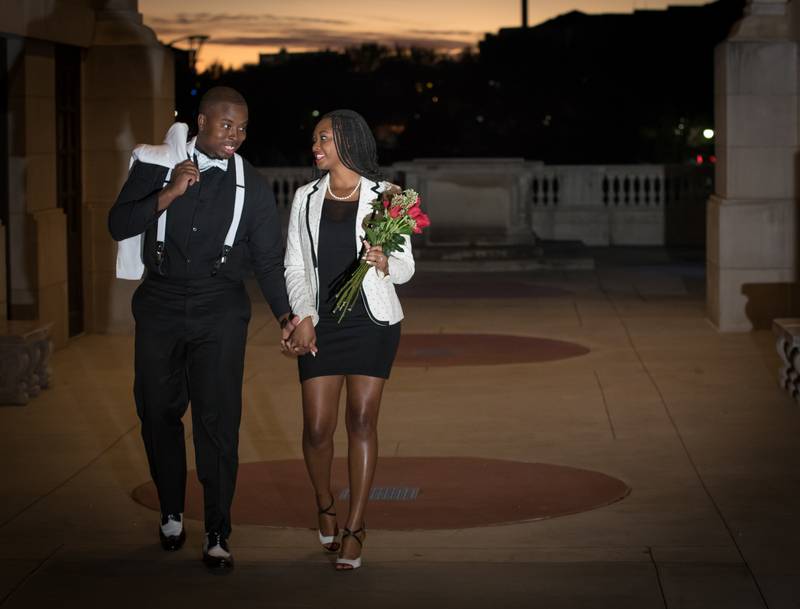 Were there any memorable moments during the shoot?
The entire shoot was memorable but overall my most memorable part of the shoot was the surprise engagement. I will never forget walking up the steps not knowing where I was or where I was going. The moment of finally reaching the top and opening my eyes to the city of downtown Atlanta and realizing that I was standing on a helipad will forever be embedded in my mind. I will never forget that image of my fiancé standing there with a bouquet of red roses. OMG, when he dropped down on one knee and proposed, it truly took my breath away.
What are you most looking forward to about your wedding?
I am looking f
orward to seeing all of the hard work we put in to formulate into something beautiful. I will say this, though, it's going to be a bit difficult leading up to the wedding because my fiancé and I agreed not to see each other two months prior to the wedding. Lastly, I'm excited to wear my custom designed wedding dress made by the Ms. Myriam Moffet owner of "Belasse Boutique."
Have you started planning your wedding?
Yes, I have definitely started planning my wedding. I am actually mid-way through the planning process. I have selected all of the major vendors and my beautiful wedding venue. The countdown is in full effect.
See more from this beautiful proposal in the video below:
Congrats to the happy couple Michelle and G. Paul! We wish you a wonderful wedding and marriage.