The only thing better than a beach getaway is meeting the love of your life while you're there! Vonetta and William met on July 3, 2007, while they both were vacationing in South Beach, Miami FL. The two spotted each other at the infamous Wet Willies on Ocean Drive and exchanged pleasantries over a "Call a Cab," frozen drink. Vonetta remembers the connection being instantaneous! The two exchanged phone numbers and made arrangements to meet in New York City for a reunion and like they say in the movies, the rest is history! Check out this gorgeous tropical destination wedding on the beach of the Riu Palace Aruba Resort captured by Kenneth Theysen of Timeless- Pixx.
Bride: Vonetta Elaine Threat, 39, Family Nurse Practitioner
Groom: William Troy Alexander, 39, Beverage Store Owner & Real Estate Investor
Place of residence: Shelton, CT
Wedding location: Riu Palace Aruba
Wedding date: 10/20/12
Honeymoon Destination: Aruba
What makes your love special?
"My husband and I dated long distance for 15 months before we were engaged. We were dedicated to making our relationship work, traveling from Connecticut to Ohio and vice-versa, a minimal of twice a month. This was a costly effort, but we knew it was worth it. Shortly after the engagement, I relocated to Connecticut to be closer to my fiancé'. Meanwhile, I completed my graduate studies and started my new professional career. We were together 5 years before we married in the fall of 2012. We are a prime example that long distance relationships can work and last a lifetime."- Vonetta
Engagement story (from the bride):
"This was another one our coveted weekends together when William came to visit me in Ohio. This particular weekend, William suggested dinner with my parents at one of our favorite Italian restaurants. During dinner, William asked for a moment alone with my father and as the two men leisurely walked over to the bar, he asked my father for permission to marry me. Surprisingly, my father kept William's intent to propose a secret. It wasn't until a month later William actually "popped" the question on a sunny September afternoon. And I said YES!"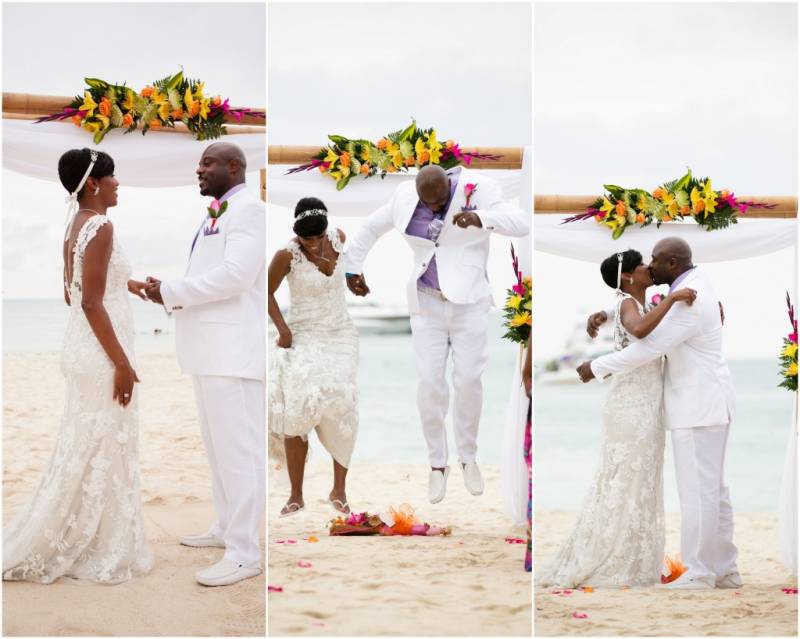 Favorite wedding details:
Favors- seashell wine corks, orange and fuchsia parasols with tags attached that read "Vonetta & William, Our Sweetest Day, October 20, 2012" and lastly orange and fuchsia silk ribbons tied around flip flops for the guest.
From the Bride:
"On my wedding day it felt surreal to dedicate my life to the man of my dreams in front of all my closest family and friends. Most importantly, to have my father who had recently fallen ill, be present and able to give his little girl away."
From the Groom:

"Much to my surprise, I felt calm during the entire wedding weekend festivities and the day of the wedding I felt reassured that I was marrying my one true soul mate."
What are you most looking forward to as a married couple:
"We are looking forward to building irreplaceable memories together. We look forward to embracing our peaks and valleys together, because it makes our love more resilient."
Advice for a Bride and Groom on their wedding day:
"Allow others to help or participate in making your wedding memorable. Allow yourselves to be in the moment and relinquish some control. It makes your wedding day less stressful."
Congratulations to newlyweds Vonetta and William! We wish you many more years of wedded bliss!
Vendors: Photographer: Kenneth Theysen of Timeless- Pixx/ Ceremony location: Beach of Riu Palace Aruba/Reception location: Nautilus Steakhouse at the Riu Palace Aruba Resort/Bridal gown: gown by Allure, headpiece and jewelry by Belaire purchased at Majesty Bridal in Danbury CT/ 2nd dress/ party dress by Adna, Atiana Boutique in Milford CT/ Shoes: Christian Louboutin/Groom's tux: White linen suit by Hugo Boss, white loafer shoes by Gucci/Favors: wine corks and parasols from Luna Bazaar/Wedding planners: Corinne Willemsen of Riu Palace Aruba/Music: Local Steel band drummer/Hair and makeup: hairstylist-Sharon Clemons of Sharon & Joy Salon, New Haven CT/ Stationery: wedding invitations, tags attached to parasols, and tied ribbons to flip flops by Zeb Powell of Praez Occasions/Outside Travel Consultant, Rose Ann Deprey of Astro Travel Service/Travel leader